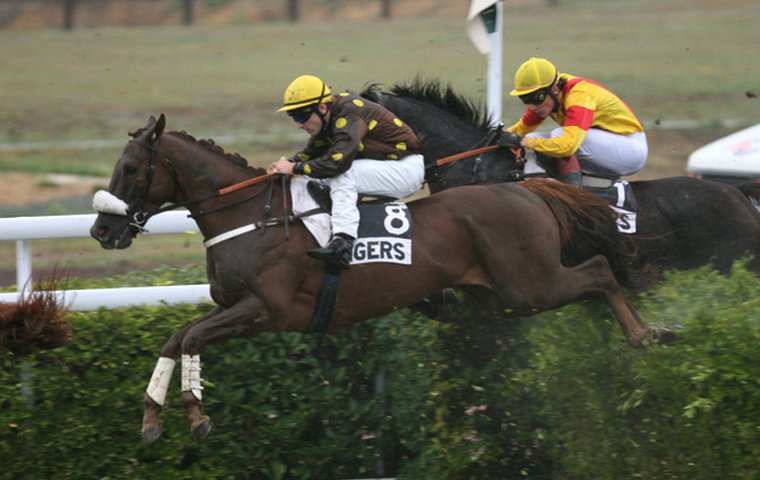 In the latest in our series in which TRC contributors write about their favorite horses, French writer and broadcaster Emmanuel Roussel ignores the more obvious claims of some of the greats of the turf and instead chooses a horse that had minor success in relatively lowly French jump races. But he has very special reasons for picking him…

Scandale was born on February 28, 2006, a day after my mother's birthday at Pierre de Maleissye's stud farm near Le Mans in northern France. It was the first Thoroughbred I'd ever bred. My first and, so far, only son, Paul, was about three months old back then.
We all went to see him at Pierre's farm on a miserable day. Led out of his box along with the grey mare, our little chestnut colt looked tiny, but he was pushing his mum out of the gate, as if there was already something to be conquered out there. At least that was how we chose to see it that day at Pezé-le-Robert, a rather odd name for such a tiny village, two and a half hours west of Paris.
There was never anything special about Scandale. He grew well under the good care of Pierre. I had met the breeder over the phone a few years earlier, when his home-bred Azertyuiop won the Queen Mother Champion Chase at the Cheltenham Festival in 2004.
I was there and discovered his name on the race card, found his phone number and decided to give him a shout, just to get some intel on French-bred jumpers.
Pierre was happy and we had a good chat. I liked his story and the way he told it. We actually met face-to-face nine months later, when Guillaume Macaire, the perennial French champion trainer, introduced us at the 2004 breeding sales. I had just bought Lady Mixa, a grey, barren Linamix mare, for €3,500 on the advice of Benoît Gabeur, a vet turned breeder, who bred 2013 Grand Steeple-Chase de Paris winner Bel La Vie. He bred subsequent Cheltenham Gold Cup winner Long Run, too.
Anyway, when I told Macaire I wanted to start breeding, he sent me to Benoît, who bid for that mare on my behalf. By then, I had left the venue because I was annoyed. The German-bred mare we had previously selected had eluded us to join Jean-Paul Gallorini's growing breeding operation, even though we had offered twice the budget we were anticipating.
"How come she [Lady Mixa] came so cheap?" I asked him when he gave me the news over the phone later that day.
"Well she's barren for the third consecutive year," he replied. "But I can guarantee she will be in foal. She's a listed winner from Lagardere's dispersal. It's a bargain!"
"Linamix huh," I came back. "I don't like them that much. What kind of legs will we end up with?"
"If you don't take her, I'll keep her," Benoît said.
I gave up. "Okay. All right then. You know better anyway."
"Of course I do," Benoît said, and he hung up - in a nice way of course.
Lady Mixa went to Pierre's and that was that. We did a foal sharing with Guillaume Macaire, who provided the fee for the mare to visit Kapgarde, a nice young sire he'd trained. Benoît treated the mare so that she got in foal as promised and everything was looking great.
Then Scandale was born. My son named his toy horse after him. They would grow up together.
I must have seen Scandale about six times by the time he went to Guillaume Macaire to be properly trained. I met lots of people thanks to him. Breeders, stud farm owners, members of various associations I got involved in, jockeys, grooms, head lads, and travelling lads. I visited pre-training facilities, asked for advice about training and breeding from many esteemed professionals, who seemed happy to share their views without fearing seeing them in print. It was good fun. It was a hobby.
I can't say I was in love with the horse. I was raised in a trotting family, where horses are a mere commodity you work on. I never liked to ride them and never developed any sort of special relationship with any of them. Yet, there was something about Scandale. A sense of responsibility for having bred him, I suppose. He kind of grew on me.
As a racehorse, he wasn't quite as good as we'd have liked. He won over hurdles at Toulouse and Fontainebleau, two of Macaire's favorite playgrounds. There were amazing days, but we quickly realized he'd never make it to Auteuil, let alone Britain, which was the dream I had kept aside all these months.
I wanted to breed another The Fellow, or Jaïr du Cochet. I wanted to win at Cheltenham. Only days before Scandale was born, I met an English bookmaker and asked him for a quote. My question was: "How much for that foal, be it a colt or a filly, to win anything at the Cheltenham Festival by the age of 10?"
I figured out that 10 of the 26 winners at the Festival each year were French-breds. Ten being about one in 500 of any annual French Thoroughbred generation. 500-to-1 would be a fair price. He gave me that and I put €30 on it. I framed the betting slip and hung it next to my desk.
I never got rid of it. It is the living proof I dreamed for real.
Walking Scandale back to the winners' enclosure, even for minor meetings (there was not even chilled Champagne available at Toulouse when he won there, let alone anybody to celebrate with properly), always made me very proud. It was not deserved as I obviously had nothing to do with it, but it was a brief and shallow hint of what it could be. One day.
The first time Scandale won, it took me about three days to celebrate. Most of the prize money went down the drain during that brief interlude. I took a few days off out of the blue, and spent them inviting all my available friends to celebrate.
It was not something I really believed. I never saw myself as a "winner" in life, rather a lucky man whose mistakes had never caused anything really bad to happen. Winning a race or two was nice, but it was not a miracle, nor an achievement, just something that happens when you breed a horse, get the right connections, and are a bit lucky. Nothing to boast about really.
So no wonder I was in Deauville when he went to the start, blinkers on for the first time, at Pompadour, a charming racecourse beneath a castle in the middle of nowhere. Surely this is how a medieval-themed racecourse at Disneyland would look.
Barbara Guenet, an accomplished rider and Macaire's girlfriend, was on board. I had met her at Deauville the evening before at the gentlemen riders' gala party. She was looking great. We had our picture taken together at the cocktail and, as usual, I told her to do her best and come back in good shape the next day on Scandale.
The thing is, she did not. Barbara lost sight of a hurdle early on and the horse, who had always been a good but rather brutal jumper, vacated her. She broke her collarbone and nearly missed the European Championship she had been preparing for so dearly. But she was okay.
Scandale went astray, got confused, and crashed into a wall. I never got the details and never watched the race. I'd rather not. Worried about Barbara's fall, I had called Macaire to get some news but never asked him anything about Scandale. I assumed he was okay as he hadn't fallen himself.
I was told that he was dead the following evening by a friend who thought I knew.
I still feel bad about it and I think that I lost something that day. Some would say innocence. Maybe. I'd say I am too sensitive. I don't like to watch any horse I am involved in jump around. I can't afford a proper flat horse, though, so I keep on brutalizing myself.
It took a while for my wife, Laurence, and I to tell Paul what had really happened. He's nine years old now and still sleeps with his plush horse, Scandale.
As far as I am concerned, Scandale is the best horse that ever set foot on earth.