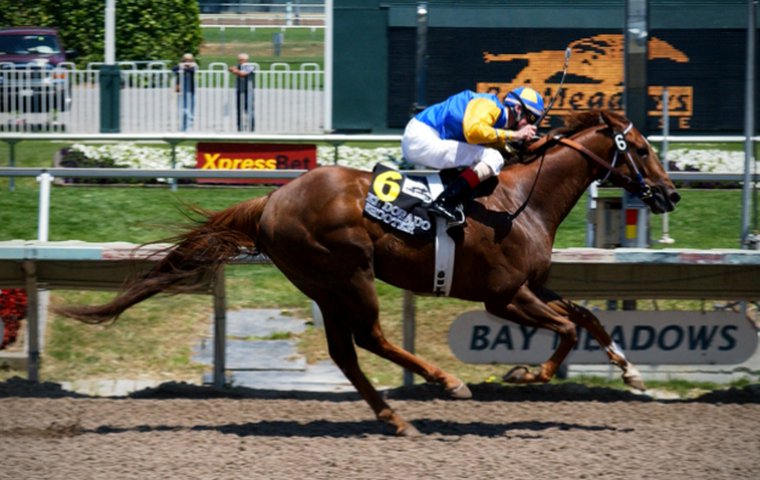 Everyone has a favorite racehorse. As part of a continuing series, we've asked contributors to write about theirs. Today it is the turn of Jon Forbes, patrol/placing judge at Golden Gate Fields in northern California, and previously media specialist at The New York Racing Association.

June 7, 2003 is probably best remembered by American racing fans as the day Empire Maker won the Belmont Stakes, as third-place finisher Funny Cide came up short in his attempt to sweep the Triple Crown, but for me there was a race of greater gravity that day.
The race took place at the now-defunct Bay Meadows Racecourse in San Mateo, California, nearly 3,000 miles away from Belmont Park. Six horses lined up for the G3 Bay Meadows Breeders' Cup Sprint, which served as a final showdown between the top three sprinters on the usually unacclaimed Northern California circuit.
El Dorado Shooter, Presidio Heights, and Halo Cat had taken turns beating each other during the winter across the San Francisco Bay at Golden Gate Fields and at the start of the Bay Meadows spring meet. With the Bay Meadows Breeders' Cup Sprint serving as the circuit's only graded stakes for sprinters, the race had the feeling of a rubber match.
At the time, I was 17 years old and had recently concluded my junior year of high school.
Although I had attended Bay Meadows with my father, a horseplayer, since my infancy, I had been an obsessed racing fan for a little more than a year. Living in Northern California - home to a racing circuit that ekes out a humble existence in the shadow of the elite racing racing in the southern part of the state - meant I had to watch the simulcast races and national television broadcasts if I wanted to follow the top horses in North America.
I eventually realized that racing stars can be found anywhere - if you are willing to look, and to extend the definition beyond G1 competitors. To me, El Dorado Shooter was a star, and I was much more concerned about the possibility of the chestnut gelding becoming a graded stakes winner and proving his superiority over Presidio Heights and Halo Cat than I was about an East Coast-based 3-year-old attempting to win the Triple Crown.
El Dorado Shooter, a homebred, was trained by veteran conditioner Clifford DeLima and owned by his wife, Barbara. The gelding's breeding was modest, being by Man From Eldorado, who had won Goodwood's listed Predominate Stakes in 1991 and Hollywood Park's G2 American Handicap in 1992, and out of Maui Lyphear J., who had been trained by DeLima to a pair of sprint stakes victories in Northern California in the 1980s.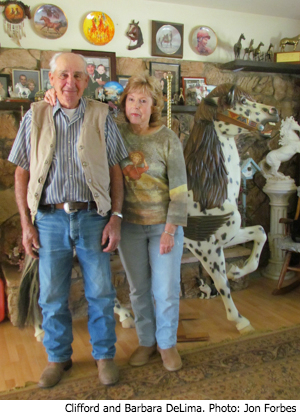 "[Man from Eldorado's] horses couldn't run," Clifford DeLima admitted. "How [the breeding happened] was that one day I saw a picture of [Man from Eldorado] and said, 'Gee, what a beautiful horse.' I liked his looks and I looked at his breeding and saw he was a son of Mr. Prospector. I was reading books about breeding, and one of the best crosses was Mr. Prospector with Northern Dancer horses, and so we took a shot and bred [Maui Lyphear J.] to him and got El Dorado Shooter."
El Dorado Shooter was chestnut like his father, but on the track he took after his mother, a one-dimensional sprinter. On six occasions he won after running the opening half-mile in less than 44 seconds. When El Dorado Shooter – described by former Bay Meadows and Golden Gate Fields track announcer Tony Calo as "The Fastest Gun in the West" – competed, you knew you would be treated to a brazen display of raw speed.
"When he was at his best, anybody could hook him and he'd still hold on to win," Barbara DeLima said.
Because I lacked a driver's license and was unable to make the 50-mile journey to Golden Gate Fields, I kept close tabs on Northern California racing during the winter by watching the nightly replay show. Spring meant the return of racing to Bay Meadows and convenient train rides to the track, allowing me to finally see these sprint standouts in person.
I finally laid my eyes on El Dorado Shooter on May 18, 2003 when he faced an overmatched group in the Bay Meadows' Saratoga Handicap, an overnight stakes. Watching his races on television didn't prepare me for how striking the long and lanky 6-year-old was. His chestnut coat gleamed, even inside the track's indoor paddock. His long tail appeared to nearly touch the ground. He pranced intently while being led by his groom, as if he was coiling up in anticipation of the race. I had previously been an impartial observer of the Northern California sprint division, but after seeing El Dorado Shooter in person I found myself firmly in his camp.
With Presidio Heights and Halo Cat bypassing the Saratoga Handicap, El Dorado Shooter made short work of his four opponents, winning by six lengths under Hall of Fame jockey Russell Baze. The top three sprinters would meet on June 7 in the Bay Meadows Breeders' Cup Sprint.
That morning I took the SAT and successfully blocked thoughts of the day's big races until after I bubbled in my last answer. I then hustled to the train station to catch a northbound train and arrive in time for the 1:05 p.m. opener.
The Bay Meadows Breeders' Cup Sprint was carded as the third race and drew a field of six.
Presidio Heights, Halo Cat, and El Dorado Shooter all went off at 2-to-1. The actual favoritism fell to Presidio Heights, who had defeated El Dorado Shooter in the Danville Handicap at Golden Gate and Halo Cat at Bay Meadows in his two previous starts.
Baze had been riding both El Dorado Shooter and Halo Cat but opted in favor of the latter, who on paper appeared poised to reap the benefits of an expected speed duel between El Dorado Shooter and Presidio Heights. It would prove to be a mistake.
Presidio Heights broke slowly, allowing El Dorado Shooter and his new rider Chad Schvaneveldt to clear on the lead through fractions of 21.73 and 43.58. With no opponent pressuring him, El Dorado Shooter extended his lead throughout the race, going on to score by 4 ¾ lengths in 1:08.61 as the runner-up Halo Cat chased in vain. Presidio Heights, out of his element after blowing the start, finished fifth.
Taste of Paradise, the fourth-place finisher, went on to win the G1 Vosburgh and finish second in the G1 Breeders' Cup Sprint in 2005. Jerry Hollendorfer and Art Sherman, the respective trainers of Halo Cat and Presidio Heights, in the upcoming years established strings and found success in Southern California, with both of their careers reaching apexes in 2014 with the feats of Shared Belief and California Chrome.
Fortune did not smile upon El Dorado Shooter, however, who went to the sidelines following the Bay Meadows Breeders' Cup Sprint and didn't return until February 2004. He lost 10 races before he was retired in 2005 to the DeLimas' farm in Livermore, California. The Bay Meadows Breeders' Cup Sprint remains the biggest win of Clifford DeLima's 63-year career.
I moved to the East Coast in 2008 before returning to Northern California in October 2014 to work at Golden Gate Fields in the racing office and as an official. One day, Cliff DeLima came into the office and I introduced myself. Knowing that nine years is a long time in a horse's life span, it was with a tinge of reluctance that I asked DeLima about El Dorado Shooter.
"Oh, he's doing great!" DeLima said. "He's at my farm."
Happy to know that one of my equine heroes from my adolescence was alive and well, I later arranged a visit with him at the DeLima's farm, which is at the foot of the Altamont Pass of the Diablo mountain range.
El Dorado Shooter's long tail has been trimmed, but otherwise he remains the bright, feisty chestnut he was during his racing days. He shares a paddock with a 7-year-old retired claimer named Call Collect and had previously shared a paddock with Days Surpassed, a two-time stakes winner who was euthanized in December at the age of 32.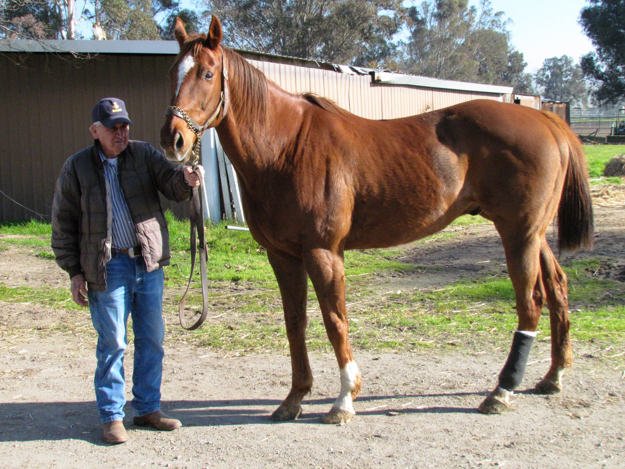 "He's usually out in out of the large paddocks with another horse," Barbara DeLima said. "He runs, and bucks, and plays, and eats horse cookies."
As far as equine lifestyles are concerned, The Fastest Gun in the West has found his El Dorado.