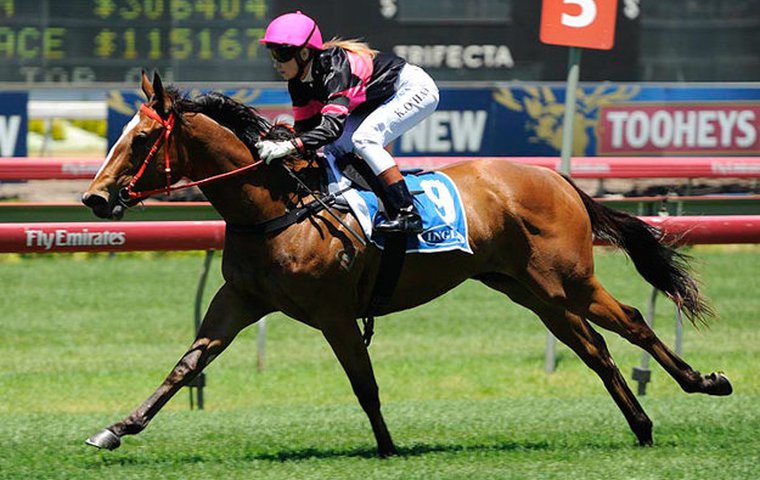 Everyone has a favorite racehorse. As part of a continuing series, we've asked contributors to write about theirs. Today it is the turn of Michael Cox, Hong Kong-based reporter who covers racing for the South China Morning Post.

It would be easy for critics to write off the career of Chance Bye as the poster child of everything wrong with Australian racing. She was a precocious, flash in the pan 2-year-old, who didn't train on at 3, and wouldn't stay more than six furlongs, even if she was running down a mine shaft. But she is my favourite horse because she also typifies everything that is good about racing - particularly in Australia, where the saying rings true: "There are two places where everyone is equal, on the turf, and under it." On a personal note, she is also my favourite for the journey she took me on as a wet-behind-the-ears, "accidental" racing reporter, and because of the close friendship I formed with her trainer, a one-of-a-kind knock-about rogue named Mick Tubman.
The day Chance Bye was purchased, the part-time horse trainer and carpet layer Tubman didn't go to the sales to buy a horse. He couldn't anyway, because he didn't have any money, or regular work. He had three horses in training, "...and none of them were any good," he recalls today. He went to keep a mate company on the 90-minute drive from Kembla Grange, a quaint provincial racecourse on the sleepy South Coast of New South Wales to Sydney's Inglis Classic Yearling Sales - and for the free beer that was offered there.
After arriving, and after a few said beers, Tubman was alerted to the presence of the filly that would become known as Chance Bye. The yearling was from a family Tubman had struck some success with - success being that he had won a race with a relative of Chance Bye. That was a big deal for Tubman: he had won an average of one race per year for the previous six years. Odd carpentry jobs paid the feed bills.
The buzz from the beers might have helped - but it was love at first sight when Tubman set eyes on the filly. She fit his simple criteria for the ideal racehorse: "A head like a princess, a rear-end like a washerwoman's, and a walk like a hooker's," as he put it.
The daughter of one-dimensional sprinter Snitzel was also very small and scrawny, with a rough looking coat and left a lot to be desired conformation wise. In fact, Tubman later admitted, this time sober: "Her legs looked like they had been painted on backwards."
The crooked legs and lack of size meant she had been passed-in at the sale, failing to meet a reserve of AUD$20,000. Tubman visited the vendor's stall and a deal for AUD$15,000 was struck - leaving the small matter of how the struggling 62-year-old would pay for his new purchase.
Local businessman Jack Knight was then called upon - he paid the purchase price and gave a half-share to Tubman in lieu of training fees. The filly was thus named "Chance Bye" and she was about to take the pair on the ride of a lifetime.
Tubman was the first trainer I ever interviewed. Thrust into the role of racing reporter at the Illawarra Mercury, the day after the departure of a colleague, I decided to call this likeable rogue everyone was talking about with the bargain buy that was a flying machine. His horse had reportedly produced an electrifying barrier trial and morning gallops that had local track watchers thinking their stop watches were faulty. Tubman thought he had a champion on his hands. "The only 2-year-olds I've seen that were as good at the same stage were Luskin Star, Todman, and maybe Manikato. She will win the Golden Slipper," Tubman proclaimed over the phone - referring to the richest 2-year-old race in the world, worth AUD$ 3.5 million and still four months away. For all Chance Bye had done - nothing - Tubman might as well have said he had found Secretariat, Frankel, and Deep Impact all rolled into one.
Tubman backed up his words with cold hard cash, gambling on the filly like she was unbeatable at her first start. He would eschew an easier option for her debut. He could have gone for a "kill" at a country track. Instead he entered the AUD$250,000 Inglis Nursery at Rosehill Gardens in Sydney.
The carpet layer might not look the most fearsome presence on a racecourse. He weighs 120-pounds, has a omnipresent cigarette dangling from his lips and an overall style that could easily have him mistaken for a downtrodden vagrant at times. But that day at Rosehill, he and his gambling buddies sent shudders through bookmakers as they bet fearlessly on Chance Bye - sending her odds plummeting from 30-to-1 into 3-to-1 favourite.
The juicy initial odds were probably helped by the fact that Tubman had chosen an out of favour jockey, Kathy O'Hara, to ride.
The betting plunge came off and Tubman's life was transformed with a blistering front-running performance that earned AUD$150,000 prizemoney - 10 times as much as the horse's purchase price - and he claims to have won nearly as much again in collects from the broken bookies.
Big money offers for the "fairytale filly," as she was dubbed by media, flooded in. But Tubman stuck solid, refusing to sell Chance Bye and keeping O'Hara on, believing the best was yet to come. Another win and another AUD$150,000, and the hype became even bigger - but when Chance Bye took her record to three from three in the Silver Slipper, it reached fever pitch.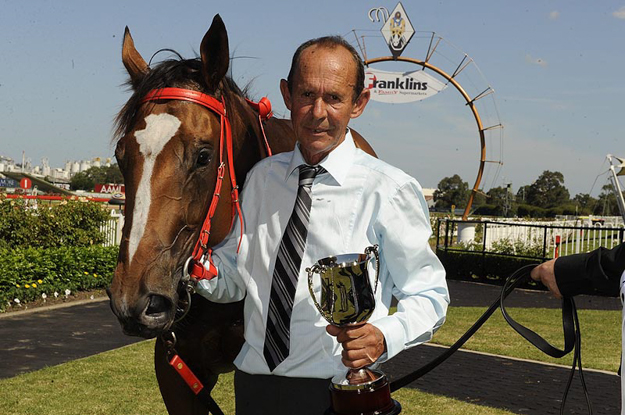 Chance Bye had now won nearly half a million dollars and was pre-post favourite for the race Tubman had proclaimed she would win months earlier, the Golden Slipper.
Mainstream media fell in love with the story and camera crews were a constant presence at Tubman's humble trackside stables. Tubman would regale reporters with stories about a "lucky rooster" who had turned up at the stables the same day Chance Bye did, with Mick's long-suffering wife Kate claiming the rooster was the real reason for the success. Or how O'Hara was as good as any jockey, male or female, and wouldn't be replaced for the big race - despite the constant calls from higher ranked riders begging for the prized mount.
At the public barrier draw, held in the middle of Sydney, Tubman held court with media long after everyone else had gone - granting interviews with every single journalist in attendance. He was a media darling and centre of the racing world for a week.
Chance Bye failed in the Slipper, and she would never win another race. When she returned at 3, she suffered severe interference in the Golden Rose, where she was nearly pushed through the inside rail, left her sore. She was never quite the same.
Chance Bye was eventually retired at 3 and Tubman made the heart breaking decision that she would be sold to a stud as a broodmare. She was sent back to the same Sydney sales complex Tubman had attended for the free beer.
But the story was far from over. In fact, if you ask the ever-optimistic Tubman - it was only just beginning. When push came to shove and it came time to sell the horse Tubman treated like a pet, money wasn't enough. This time the reserve was AUD$300,000 - 20 times what she cost - and when bidding reached AUD$270,000 Tubman prayed it would go no further. It didn't, he knocked back all other offers and Chance Bye was taken home to Kembla Grange.
Last year, Mick had a health scare. He was spending a lazy weeknight relaxing at a club close to home, playing a slot machine while sipping on a bourbon and smoking a cigarette. He felt strange and his chest hurt. In fact, Tubman was having a heart attack and his life was flashing before his eyes. So what does Mick Tubman do when he sees a white light calling him to wherever horse trainers go when they die? "I pressed the maximum value bet on the machine," he recalled. And wouldn't you know it - bells rang and lights flashed - Tubman had hit jackpot again. He won about as much has Chance Bye had cost around five years earlier. After a cheque was written out by staff, an ambulance was called. Tubman made relatively quick recovery, and promised to cut back on the cigarettes (probably from two packets a day, to one, but progress nevertheless).
In early February, I called Mick from Hong Kong, where I am working as a racing reporter with the South China Morning Post. It was his 67th birthday, and he is as optimistic as ever. Chance Bye is a mom now, and just like mom, her babies are "not for sale." "What do I need money for? You can't take it with you when you are gone," he said.
Chance Bye's first foal is now a 2-year-old and, as Mick puts in in his inimitable way, "As mad as a cut snake… nice looking horse, but out of control." A much-needed gelding operation is on the agenda. But Mick, who also lost his wife Kate suddenly last year, has a new apple of his eye - Chance Bye's yearling daughter, by Golden Slipper winner Sebring. "The big studs and stables wanted to buy her too, out of the paddock as a foal, but I said no," he said. "We have her at the stables, breaking her in, I'm not going to hype her up too much, but she is just like mom too - she is already as big as Chance Bye, and she still inherited the best parts; she has that same great big backside on her, and the pretty head."