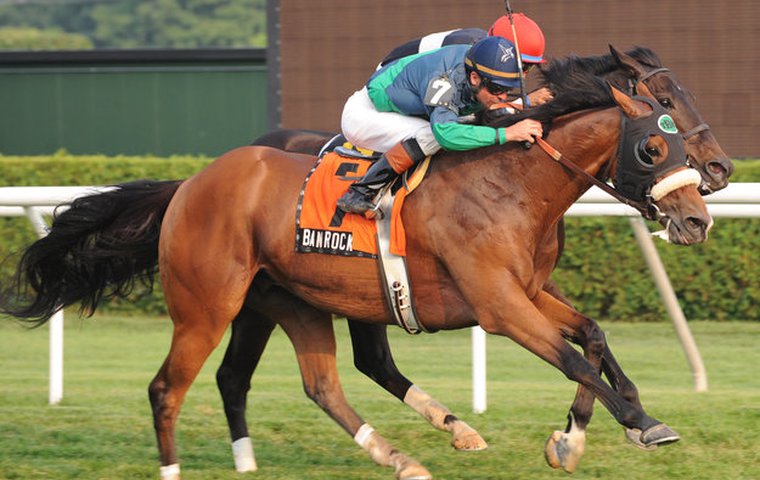 Everyone has a favorite racehorse. As part of a new series, we've asked contributors to write about theirs. Today it is the turn of TRC Editor Ashley Herriman.

My favorite racehorse* was a two-time Champion, but if you weren't following New York racing in 2008 and 2009, there's a good chance you've never heard of him.
Physically, Banrock was unremarkable. He was a handsome bay son of Go for Gin with some minor white markings on his head and two of his feet, but not the kind of imposing equine specimen that makes people stop and stare. He never won a graded race, though he came within a nose of multiple G1-winner Presious Passion in the listed Monmouth Stakes in 2009. Banrock was just fun - a solid, steady New York-bred competitor with late-running style. A local horse who earned local fans.
When I started working in the New York Racing Association (NYRA) press office in 2009, the horse was coming off his best season yet. As a 4-year-old in 2008, he swept the Kingston, the West Point, and the Ashley T. Cole - three of the four major turf stakes for New York-bred males - before falling short in the Mohawk on New York Showcase Day in October. The Tom Bush trainee capped off the year with a third-place effort in the G2 Red Smith Handicap at Aqueduct, then went to the sidelines for his customary winter spell in South Carolina.
Being a New York-bred myself, I freely admit a bias for horses foaled in my home state. Fortunately, working at New York tracks meant frequent advance and recap assignments on state-bred stakes. Banrock was the obvious horse to write about when the turf contests came around, and he made himself easy to love in the spring of 2009. It was impossible not to appreciate the horse who angled off the rail and cruised home to a 4 ¾-length repeat victory in the Kingston Stakes in May off a six-month layoff. The Kingston set up ideally for Banrock right down to the soft turf course - although he could run on anything, this was a horse who enjoyed some cut in the ground.
That victory cemented my fondness for the then 5-year-old. Seemingly poised to dominate the New York-bred male turf division again, Banrock first he ventured into open company with that good second against Presious Passion at Monmouth Park, a race that earned him a shot in the G1 United Nations, where he finished fifth. Back with New York-breds later that summer, he commenced a late rally and got up by a head at the wire in Saratoga to win his second West Point, then held on in an uncharacteristic front-running effort to repeat in the Ashley T. Cole.
Hall of Fame jockey Kent Desormeaux rode Banrock to seven victories, all in stakes.
"I have total admiration for this horse," he told the Daily Racing Form's David Grening. "He has been one of my success stories since coming to New York. Every time I see him, I start smiling. He's a nice horse and gives me a nice ride.''
In October 2009, it was time again for the Mohawk - the only race in Banrock's division to have eluded him in two attempts.
"Last year we were fourth, beaten a length, and I thought I was going to jump off the grandstand,'' trainer Tom Bush told Grening before the race. "I could see he had a lot to do turning for home and when he finally got him outside he did start to come. He just didn't have enough to get by those horses.''
Serendipitously for a horse who relished yielding ground, enough rain was predicted for New York Showcase Day on Oct. 24 so that the two turf stakes were preemptively shifted from Saturday to Sunday. Things appeared to be lining up for old Banrock.
In the end, you couldn't have scripted it better. Over soft ground under Javier Castellano, Banrock settled off the pace, rallied, and edged clear to win by a length, completing the sweep that had eluded him the previous year and sealing up New York-bred Champion honors as top older male and top turf male.
"He had the great outside stalking trip and he got his soft course," Bush said after the race. "We're very proud of him for sure. I really, really did want to win this race this year; I wanted to end it on a great note. We're thrilled."
The race would be Banrock's last victory - winless in eight starts during his 7- and 8-year-old seasons, he was retired in September 2011, his racing career ultimately ended by a condition producing jaundice and elevated bilirubin levels that was never conclusively diagnosed.
Banrock earned $830,215 over six years, with a final record of 12-5-4 from 39 starts.
Retired sound, he graduated to a second career as a riding horse in North Carolina, placed by his late owner/breeder Ruth Bedford. Although Bush doesn't get frequent updates, he said the reports he has received suggest the horse is "doing fantastic."
"He is special," Bush said after Banrock won his second Ashley T. Cole. "You're never nervous that he's not going to show up, you just hope that he gets a good trip and that he's good enough that day. That's what makes it so exciting when he wins – we feel like it's a reward for him, too, because trying to win is what it's all about for him."
---
*My definition of the word "favorite" isn't exclusive. There are a bunch of horses I consider among my favorites, so this likely won't be my last favorite racehorse piece.