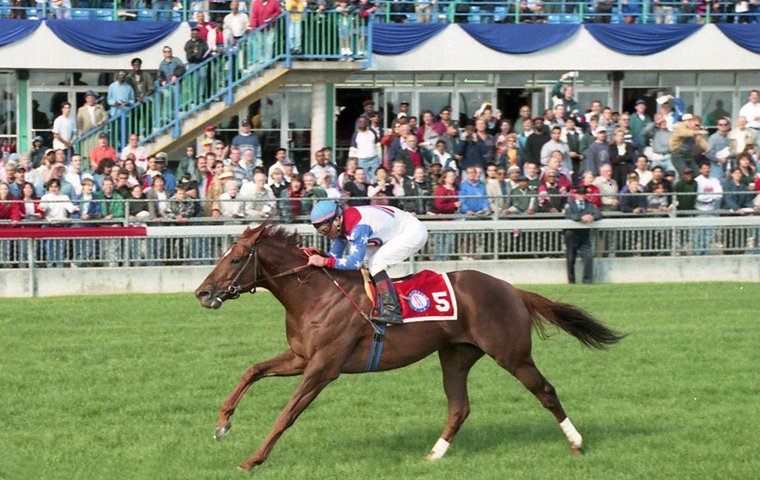 The Ricoh Woodbine Mile, set to be run at Woodbine Racetrack on Saturday (September 14), has become the leading North American destination for grass milers outside the Breeders' Cup. World Approval, Tepin and Wise Dan are just a few of the recent winners, and another stellar edition is on tap this weekend with the mare Got Stormy taking on the boys.

Before it was run at a mile on grass, the race was the Woodbine Million or the Molson Export Million around two turns on the dirt, won by the likes of Skip Away, Dance Smartly, and Izvestia. The race didn't make the surface switch until 1997, when an international cast assembled for the first official Woodbine Mile Stakes. The imposing favorite was the Argentina-bred Gentlemen, who had won eight of his last nine races, including three straight Grade 1s.
But it was a different chestnut who upset the race: 8/1 shot Geri under the late jockey Chris Antley. Geri was nearing the end of his own storied career, which concluded with nine wins in 19 starts for earnings over $1.7 million. His retirement was only the halfway point of his story.
In Cigar's shadow
Born February 5, 1992, Geri was the product of Allen Paulson's dominant breeding program, which produced the immortal Cigar among others. Geri, by Theatrical, was out of the Mr Prospector mare Garimpeiro, who went on to have 13 winners from 14 to race, including four stakes winners.
Geri went into training with legendary jockey-turned-trainer Bill Shoemaker, breaking his maiden at Santa Anita in April, 1995. He added an allowance race at Hollywood Park before being transferred to the barn of Bill Mott due to recurring, nagging physical issues. Just down the aisle was Cigar, right in the midst of his streak of 16 consecutive victories.
Under Mott's care, Geri racked up six straight victories, including the G1 Oaklawn Handicap on the dirt at Oaklawn Park in 1996. He was kept separate from his more famous stablemat, but didn't get the recognition he deserved while in Cigar's shadow. He was eventually shelved while Cigar completed his career, but came back firing for the 1997 season.
One man who spent plenty of time around Geri was Mott's assistant, Simon Bray, a former horseman-turned TVG on-air personality. "Personality wise, he was a very aggressive horse," Bray said. "You had to be very careful around him. He bit me a couple of times."
Bray, who had been with Mott for four years, was tasked with taking the horse to Woodbine for the Woodbine Mile. "I was with him on my own with the groom for four days, and it was tremendous," Bray said. "We vanned up from Belmont Park and took care of everything."
Bray remembers the Woodbine Mile as a "tremendous" race. "He broke a step slow, but the one-turn mile suited him perfectly. That horse was a true over-achiever, proven on the dirt and the turf. He wasn't the kind of horse you saw in the barn and thought he was a superstar. He just tried hard."
After winning the Woodbine Mile, Bray took Geri to Hollywood Park in California for two weeks to prepare for the 1997 Breeders' Cup Mile against some of the best grass horses in the world. Geri finished second behind favored European Spinning World.
Return from Italy
Geri was retired after winning the G2 Citation Handicap three weeks later, entering stud at Brookside Farms in Kentucky. He was first exported to Japan, then ultimately Italy, where he was discovered in 2013 by Sylvia Stiller, the officer manager at the Thoroughbred retirement center Old Friends.
"She was on vacation with her husband Jim in Italy," said Old Friends president and founder Michael Blowen. "She called me and said, 'You're not going to believe who I met here.' I went crazy because I saw Geri run."
Blowen worked hard to bring Geri home, and in late August the pensioner returned to America. He had 143 winners and five stakes winners from 224 foals to race, with his best being the Japanese millionaire Lucky Break and champion steeplechaser Party Airs.
Blowen's right-hand man, John Bradley, became close with the horse, who was as tough as Bray recalled. "He was a tough stallion, but he wasn't mean. He liked the people he liked. In the paddock, he was easy to deal with, but if you had to walk him up to the barn he would walk you."
Geri proved a fan favorite at Old Friends, which also provides homes for horses like Silver Charm, War Emblem, Game On Dude and Touch Gold. "He would try to get his paddock mates stirred up just because he wanted someone to run around with," Bradley recalled. "He would snort and huff and puff."
Geri was euthanized on May 25 due to complications from colic. He was 27.
"We really miss him," Bradley said. "He was overshadowed by the great Cigar, but he was adored by everybody."
Blowen noted that owner Allen Paulson's son Michael visited Geri a few times on the farm, and paid for his tombstone on the horses death. "I'm really grateful to be able to care for him all that time," Blowen said. "He was absolutely beautiful."
As for Bray, he looks forward to returning to Woodbine to cover the 2019 Woodbine Mile on television. "They do it right," he said of the popular racing destination. "Management is great, and it's a great place to train a horse. And I love the new inner turf course."
Although the race was an important staple on the calendar before the switch to turf – horses like A.P. Indy shipped in from the United States to contest it – it blossomed with the change. The five years before the switch saw an average field size of 8.4. The average for the five years after the switch went up to 13.
Woodbine historian Tom Cosgrove noted that the 1996 Breeders' Cup held at Woodbine had an impact on the race's switch to grass. "The huge success and rave reviews regarding the E.P. Taylor Turf Course in the 1996 Breeders' Cup had a ripple effect the following year," Cosgrove said. "It's my belief this was done by Woodbine management to obviously take advantage of the European-style course and attract more horses, both foreign and domestic, thus creating bigger field size."
Twenty-eight horses have been nominated to Saturday's race, a 'Win and You're In' for the Breeders' Cup Mile on November 3. No matter who wears the crown after the 2019 running, it was the much-loved, hard-knocking Geri who pioneered the race in its new format.