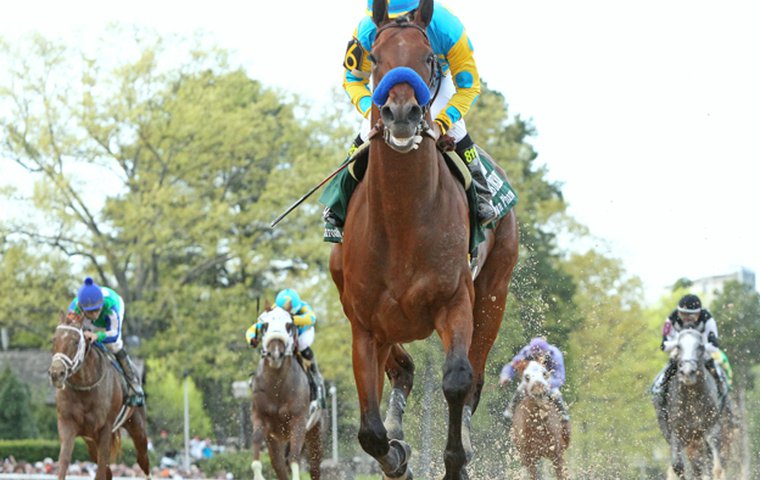 When Thunder Gulch won the 1995 Kentucky Derby at 24-1, he generated the biggest Derby win payout in 28 years. Needless to say, the grandson of Mr. Prospector – who earlier had won the Florida Derby and Fountain of Youth – did not offer that kind of value again. Victories in four subsequent major races, including the Belmont and Travers, were followed by a 3-year-old championship and a lengthy stallion career at Ashford Stud.

As it turned out, the 1995 Derby marked a watershed of sorts. It was the beginning of an extended period of dominance in American classics by tail-male descendants of Mr. Prospector that shows no sign of abating. At this point, winning Triple Crown races has become part of the line's "family business," with success passed down from generation to generation. Since 1995, descendants of Mr. Prospector have won 10 Kentucky Derbies, 11 Preaknesses, and 14 editions of the Belmont Stakes, accounting for more than half (35 of 60) of all Triple Crown wins during this period.
Mr. Prospector himself sired only two more classic winners after Conquistador Cielo, Tank's Prospect (1985 Preakness) and Fusaichi Pegasus (2000 Derby). It was a half-dozen of his descendants who went to stud in the late '80s and early '90s – sons Gone West, Forty Niner, Gulch, and Woodman, and a pair of grandsons through Fappiano, Unbridled and Quiet American – who were largely responsible for establishing the line's Triple Crown dynasty. All of these horses were among the best of their generation on the track, and nearly all were out of mares by recognized stamina influences, among them Buckpasser, Tom Rolfe, Le Fabuleux, and Secretariat.
Mr. Prospector will be prominent again at this year's Kentucky Derby. As of April 18, the likely field includes eight of his tail-male descendants, most of them by stallions who either have already sired classic winners or were classic winners themselves. The list is headed by American Pharoah, who is a great-grandson of 1990 Derby winner Unbridled, a grandson of 2003 Belmont winner Empire Maker and a son of Pioneerof the Nile, runner-up in the 2009 Derby.
Other Mr. Prospector-line qualifiers include International Star, a son of 2000 Derby winner Fusaichi Pegasus; Materiality, a son of Afleet Alex, winner of the 2005 Preakness and Belmont; Itsaknockout, a son of 1999 Belmont winner Lemon Drop Kid; Madefromlucky, a son of 2010 Preakness winner Lookin At Lucky; and Ocho Ocho Ocho, whose sire Street Sense won the 2007 Derby. A seventh qualifier, War Story, is a son of Northern Afleet, the sire of Afleet Alex.
In addition, the next three colts on the Derby points list – which would be drawn from in the event of defections by any of the 20 current qualifiers – all descend tail-male from Mr. Prospector. They include Keen Ice and Bold Conquest, two sons of 2007 Preakness winner and two-time horse of the year Curlin.
One of the reasons for Mr. Prospector's continued success is that even now, 16 years after his death, his line keeps spreading in new directions. The latest branch line to emerge is that of the recently deceased Smart Strike, whose champion sons Curlin, Lookin At Lucky, and English Channel are all off to promising starts at stud. Curlin sired a classic winner in his initial crop when Palace Malice romped in the 2013 Belmont.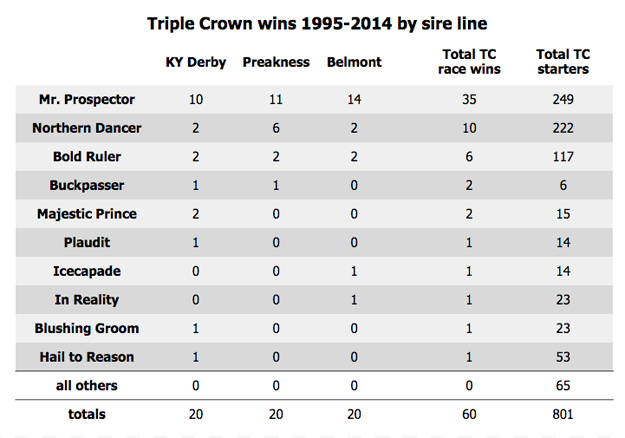 Not surprisingly, as the accompanying table shows, Northern Dancer (10) and Bold Ruler (6) rank second and third behind Mr. Prospector in the number of classic wins over the past 20 years. Note that Mr. Prospector's 35 victories came from 249 starters, while Northern Dancer needed nearly as many starters (222) to earn his 10 classic wins. Mr. Prospector averaged a classic win every seven starters, approximately one-third the figure for Northern Dancer (22) and Bold Ruler (20).
The Buckpasser and Majestic Prince male lines were next in the number of Triple Crown-race wins with two apiece. The all-but-extinct Buckpasser line accounted for only six classic starts, but they included Silver Charm's victories in the 1997 Derby and Preakness. Majestic Prince (like Mr. Prospector, a son of Raise a Native) produced only 15 classic starters, but two of them won the Kentucky Derby: Monarchos in 2001 and Super Saver in 2010.
At the other end of the spectrum is Hail to Reason, whose lone classic success from 53 starters was Barbaro, ill-fated winner of the 2006 Derby. Sire lines that have not produced a classic win during the last two decades include Ribot (17 starters), Damascus (13), and Caro (11).
One reason why the Northern Dancer male line hasn't been more of a factor in the classics is the limited role played by his most influential U.S. descendant, Storm Cat. The latter's son Tabasco Cat won the 1994 Preakness and Belmont, but in the 20 years since, Storm Cat-line runners have won just one Triple Crown race from 84 starters: Shackleford's 2011 Preakness. No tail-male descendant of Storm Cat has won the Kentucky Derby.
Storm Cat's poor Triple Crown record is less surprising when considered in the context of his overall performance in longer dirt races. Since 1995 there have been 216 Gs run at 10 furlongs or longer on that surface. Storm Cat-line runners have won only five of them. Storm Cat's three Derby qualifiers this year include the highly regarded Carpe Diem, a son of Giant's Causeway who is the line's best classic hope in years.
Bold Ruler, who dominated the Triple Crown in the 1970s with the likes of Secretariat, Seattle Slew, and Spectacular Bid, has experienced a resurgence under his fourth-generation descendant A.P. Indy. The line of the 1992 Belmont winner and Horse of the Year has produced six classic wins, beginning with Bernardini's score in the 2006 Preakness. Victories by Rags to Riches in the 2007 Belmont and Orb in the 2013 Derby were followed by last year's sweep of the Triple Crown races by California Chrome and Tonalist.
It's too early to tell if A.P. Indy will become a serious classic challenger to Mr. Prospector over the long run. His line's five Derby qualifiers this year include Frosted and Upstart, both of whom have their supporters. Most of the smart money, however, will be on Dortmund, Carpe Diem, and a quartet of Mr. Prospector-line colts, International Star, Materiality, Mubtaahij, and the likely favorite, American Pharoah.
---
TRC apologizes for an editing error that resulted in an inaccuracy in the chart accompanying this story. It has now been amended.