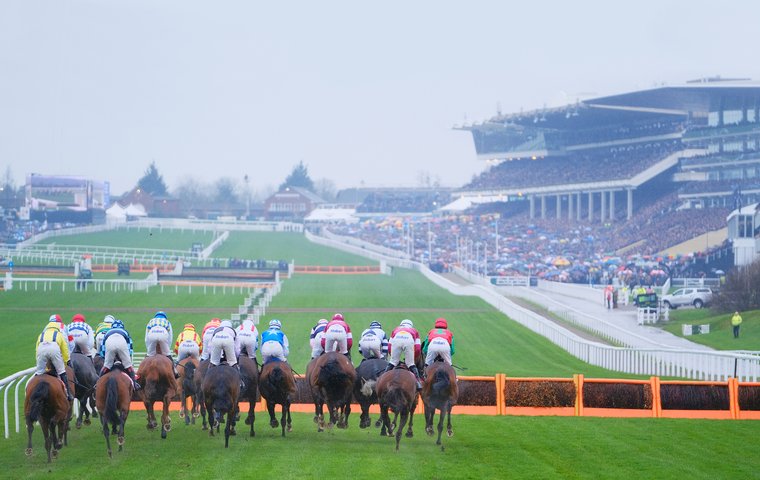 As the most important week of the year in jump racing begins, Kentucky resident Patrick Lawrence Gilligan, who was born in the U.S. but has trained at Newmarket in England, explains to those who may not quite appreciate it just how powerful the love is for the Cheltenham Festival in Britain and Ireland.

The Cheltenham Festival starts on Tuesday. The most ferocious four days in racing there is. Steeplechasing's Breeders Cup. When the tape goes up and the runners set off for the first race on the first day, there will be a roar that shakes the surrounding hills.
Imagine if every big race of the Saratoga meet was squeezed into four days. Imagine if all those fans of Saratoga, all those people in love with the place, had only four days to savor it, to breath it in, to experience it, imagine if all those great Saratoga horses were all there for only four days.
It is too much really, an assault on the senses, 50,000 spectators, every one of them there to watch horses and to bet like they don't have a wife or family.
Fortunes are bet, individual wagers in excess of £100,000 are recorded. The Irish come over like an invading army, to take on the old enemy, seeking reparations from when the English came and overstayed their welcome (they seemed to do a lot of that). The Irish make the festival, there for the craic, there for the horses, there for the stout.
An Irishman one year claimed he won enough on the first day to clear his mortgage. On the third day he lost his house. "It was only a small house," he said.
The horses, beautiful, big, gallant, strong. I've jumped steeplechase fences on those horses. It was the best feeling in the world back then. You will never know how strong a racehorse really is until you fly over a big fence at speed, when they launch. It is a game for young men, though, young men made of steel and coated in titanium. There are some young women doing it now, as good as the best men. They are made of steel too and coated in titanium.
John Francome, legendary ex-steeplechase rider, was asked by a reporter once if he ever missed it. "Miss it?" He said. "I can't believe I was ever bloody daft enough to do it in the first place."
It is crazy, and crazily dangerous too, but beautiful and poetic at the same time. Such a spectacle.
The horses return tired, exhausted, three miles, 20-plus fences, carrying over 160 pounds often. It seems cruel maybe. Maybe it is cruel. Life is cruel. But these warriors, if they aren't taken by injury, return year after year, they are loved and become friends, heroes. The best of them have their exploits detailed on the national news.
Four days, full Irish breakfast, to the races, read the form, look at the horses, bet. Repeat seven times. Leave the racecourse, head to a country pub, sit by the fire with a hot toddy, eat steak, talk about today's racing and tomorrow's over more drinks, go to bed. Repeat for four days, then go home and don't look at another horse race for at least a week.
You can't. It is too pale, too wan, after what you have just experienced.