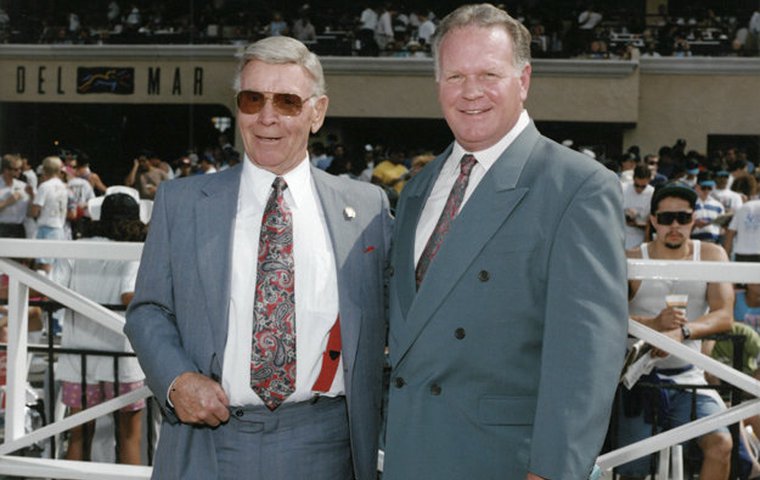 Gary Jones understands timing.

For a decade, Jones, 70, was a Hall of Famer in waiting. Year after year, the trainer was on the list of candidates nominated to receive racing's highest honor in the United States, yet he was never picked. There was concern that he was being overlooked because he had been out of the spotlight for so long. Despite a superb résumé, might he be a victim of bad timing?

Gary Jones took over training duties from his father, the legendary Farrell Jones, in 1975 and won with the first horse he entered in his name. He exited in style, too, winning with his last starter in a graded stakes race in 1996 when health issues forced him into an early retirement. At 51, an age when many top horsemen are in the midst of the prime years of their careers, one of America's most successful trainers left the stage and never returned.
In April, the call came, telling him that he had been elected and would join the elite best-of-the-best club at the National Museum of Racing's Hall of Fame in Saratoga Springs, New York. He was stunned by the news.
"I was totally flabbergasted," Jones said. "I knew it was possible, but when you get rejected nine times in a row ..."
Jones will be formally inducted on Aug. 8 with jockeys Lloyd Hughes and Alex Solis, the racehorses Ashado, Clifford, and Curlin, and breeders-owners Edward R. Bradley and Edward P. Taylor. Jones, Solis, Ashado, and Curlin were elected in the contemporary category. Hughes and Clifford were chosen by the Historic Review Committee, while Bradley and Taylor were selected by the Pillars of the Turf Committee.
During his relatively short but brilliant career, Jones saddled 1,465 winners, earned more than $52 million in purses, and accumulated 15 meet titles at Southern California tracks. He won 102 graded stakes and 233 stakes over all with 104 horses, a roster that included champion Turkoman and Hall of Fame member Best Pal.
Since he was elected, Jones said he has thought about the honor and the people who helped him reach the top and stay there.
"What it means to me is how hard my crew worked and how much they belong a part of this, as much as me," he said. "It's not an award that you can say, 'I, I, me, me.' It's a 'we, we' award. I'll name some people on the stage, who made big, big differences on whether I stood there or not. Hopefully people won't mind that. If they do, they do."
For those who watched him emerge from his father's considerable shadow and build his own reputation, it wasn't a matter of if Jones would make it to the Hall of Fame, but when.
"He's very deserving," said Dan Smith, a former Los Angeles Times sports writer, who has spent 50 years in communications and marketing at Del Mar. "Gary was a very good trainer, a very detail-oriented type of a guy. He loved what he was doing. A hyper kind of a guy, but a very good horseman. He learned from the old hands around the barns. Not only his father, but Buster Millerick and Willard Proctor, guys who were through-and-through horseman."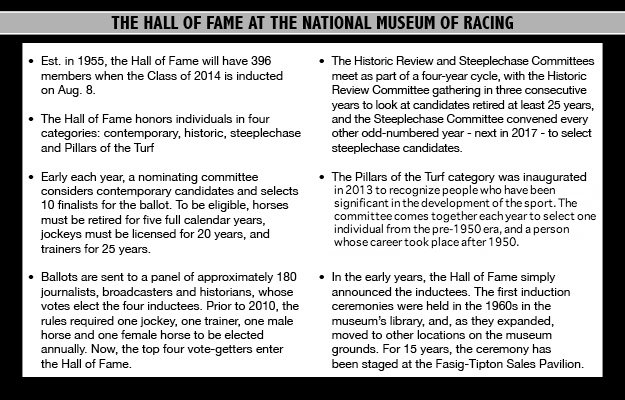 Farrell Jones moved to Southern California from his hometown of Malad, Idaho as a teenager in the 1930s to be a jockey. He was under contract to Seabiscuit's owner Charles Howard for three years, working for trainer Tom Smith, and he sometimes rode the famous horse during morning exercise. When his riding days ended, Farrell Jones became a Quarter Horse trainer and made the transition to Thoroughbreds in 1955. In a little more than 20 years, he won 28 meet titles, including a record 11 at Del Mar.
Gary Jones worked for his father and was thrust into the lead role when his father had a heart attack in 1974 when he was 51.
"He damned near died," Jones said. "His heart stopped."
Farrell Jones lived to be 84, but his career at the track was over. For the rest of that year and most of the following season, Jones managed his father's stable. In December 1975, on the opening day at Santa Anita, Jones, then 31, won with his first starter, King Wako.
"His dad was a tough act to follow, so I'm sure Gary felt the pressure," Smith said. "Gary inherited those clients his dad had, but I'm sure he felt the pressure to pick up where his dad left off.
"I don't think he ever let on. He was hard-working guy. You wouldn't find a harder working guy around. He's a Type-A kind of guy, and that Type-A thing has its plusses and minuses."
During his first full season as the head trainer, Jones won the G1 San Antonio and the G2 San Pasqual with Lightning Mandate, In 1978, his star was G1 Swaps winner Radar Ahead. He won three G1 races with Fali Time.
Well-traveled Turkoman was voted the 1986 Eclipse Award winner for Outstanding Older Horse after victories in the G1 Marlboro Cup in New York, the G1 Widener Handicap in Florida, and the G2 Oaklawn Handicap in Arkansas. He finished second to the speedball Groovy in a memorable running of the G2 Forego at Saratoga.
"That horse was something else," Jones said. "He didn't care one bit about running. He didn't have any desire to run, whatsoever. I used to have to breeze him the morning of the race just so he would be halfway ready. More talent than brains."
After finishing second in the 1991 Kentucky Derby and fifth in the Preakness Stakes, Best Pal was moved to Jones' barn. He promptly won the Swaps and beat older horses Twilight Agenda and Unbridled in the inaugural Pacific Classic. During that year, Kostroma won the G1 Yellow Ribbon and two other stakes. Those two standouts were tough again in 1992 and won several high-profile graded stakes. Best Pal prevailed in the G2 Strub and G1 Santa Anita Handicap, and Kostrama was best in the G1 Beverly D and the G3 Santa Barbara. With Best Pal leading the way, Jones won 23 stakes in 1993. Lakeway emerged as star in 1994 and won three G1 stakes in California and the G1 Mother Goose. Stuka ended up as Jones' second Santa Anita Handicap winner in 1994 through a controversial disqualification of The Wicked North.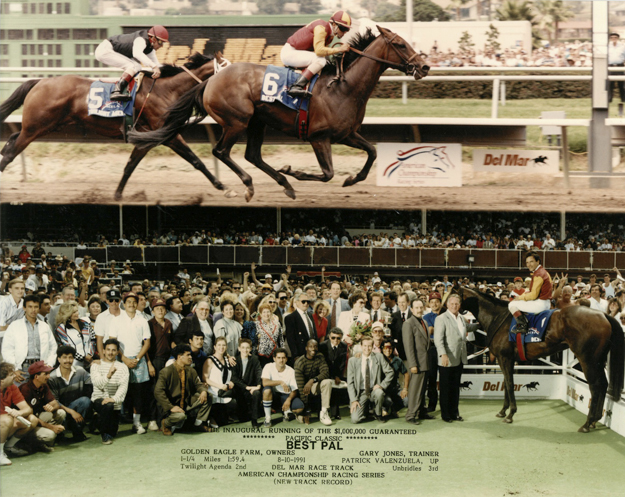 However, he realized it was the beginning of the end when he suffered a heart attack in February 1993 at the age of 48.
"If you ever saw me in action, every race was the Kentucky Derby. Every one of them," he said. "I was just like a clenched fist all those years. I knew if I didn't stop I was going to die."
It took a while, but at the end of the Santa Anita meet in April 1996, Jones retired and handed his stable to his 24-year-old son Marty. On his final weekend, he won two stakes and punctuated his career by taking the G3 San Simeon Handicap with his last starter, Ski Dancer.
"I just walked away and said, 'Hey, what's more important to you? Your family?'" he said.
Today, he and his wife Joan are enjoying a quiet retirement in Del Mar. He has no regrets.
"To me, the definition of success is happiness," he said. "I watched a lot of trainers around there, who were great horse trainers, like Bobby Frankel, and they didn't have that happiness..."
But there was that annual matter of timing with the Hall of Fame, of getting close, frustratingly close.
"It's something I've looked forward to my whole life," he said.
Now he's there. Forever
"I got too many rejections," he said, chuckling. "It's a hard fraternity to get into."