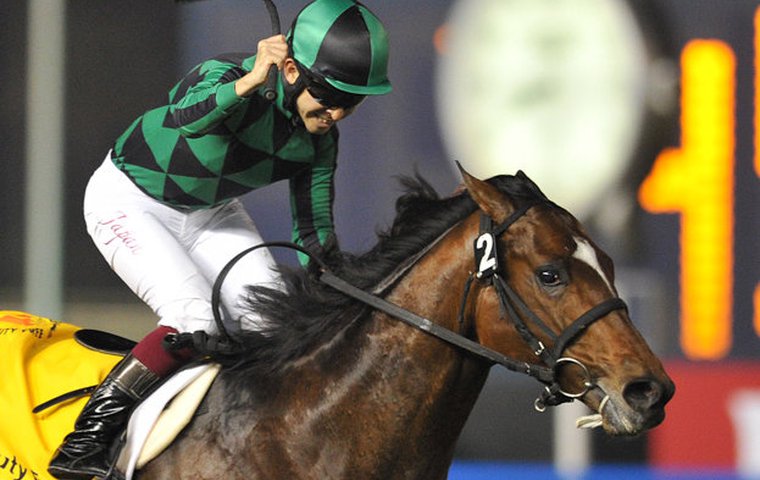 Timeform's Simon Rowlands on the announcement of the Longines World's Best Racehorse Rankings for 2014, which crowned a Japanese horse as the best on the planet and included only one U.S. runner in the top 10.

Even the most numbers-obsessed among us have to admit there is room for disagreement where the pecking order of the world's best racehorses is concerned. "Room for disagreement" was in plentiful supply at the Longines-sponsored World's Best Racehorse Rankings (WBRR) Awards at Claridge's Hotel in London this week.
The WBRR represents the combined work of a veritable army of international handicappers (in the non-American sense of people who assess performance rather than pick bets). These individuals confer at distance on a regular basis through the year and meet in person – 19 of them, plus observers – over five days in December in Hong Kong.
Not for them, the claims of America's Horse of The Year, California Chrome: he lies outside the global top 10. Not for them, either, the claims of American Pharoah, or Texas Red, or even Daredevil, to be the best juvenile in the world in 2014: The handicappers admitted they do not rate non-European 2-year-old form, a long-standing oddity for an occasion that claims to be globally defining.
Indeed, the only North American-trained horse to sneak into the top 10 of either juvenile or non-juvenile category was Bayern, joint-ninth among older horses on 125.
It was not that 2014 was a particularly strong year for flat racing elsewhere in the world, either. The highest-rated horse at this year's ceremony was, on 130, the joint-lowest champion since Invasor led the way with 129 in 2006 (Frankel, on 140, was highest in 2012).
That horse was Just A Way, a mightily impressive winner of the Dubai Duty Free at Meydan in March but beaten in his last three starts of the year, including when out of the first three at longer distances in the Prix de l'Arc de Triomphe at Longchamp and the Arima Kinen at Nakayama.
The WBRR panel felt that that one electrifying performance by Just A Way was the best by any horse in the world in 2014, citing the horse's sectional times to support this assertion, but not being prepared to countenance any approach that traded a one-off superlative performance against a horse's wider record.
As one journalist intimated, the title "World's Best Racehorse" is a misnomer: it should be "Racehorse with World's Best Single Performance." That might be a tougher sell, admittedly.
In this respect, in the panel's view, Just A Way was challenged only by his compatriot, Epiphaneia, the four-length winner of the Japan Cup at Tokyo from Just A Way but only fifth in the Arima Kinen afterwards.
Epiphaneia was followed on 127 by Able Friend (winner of the Hong Kong Mile at Sha Tin among other races), Australia (Derbys at Epsom and the Curragh and International at York), Kingman (St James's Palace Stakes at Royal Ascot, Sussex Stakes at Goodwood, and Prix Jacques le Marois at Deauville), The Grey Gatsby (Irish Champion Stakes at Leopardstown), and the South African Variety Club (Champions Mile at Sha Tin), a log-jam that made for a drawn-out ceremony for the rather forgettable title of Co-Third-Best Single Performance by a Flat Racehorse in 2014.
Of those, the panel acknowledged that Kingman was the one who had the most potential to rate higher than 130 and thereby be top-rated of all. But it was not prepared to rate Kingman on other than what he had strictly achieved in terms of final results.
"Our job is to handicap horses on what we have seen," said one member of the panel. Despite the earlier mention of sectional analysis relating to Just A Way, and the statement "sectionals are really helpful in explaining races to us," the panel was not prepared to use sectional times to rate Kingman more highly than it had done.
Nonetheless, Kingman's St James's Palace Stakes win – in which Timeform manually recorded the colt running the last two furlongs in 22.35 seconds – was the best in that feted Royal Ascot race this century, according to the WBRR.
Timeform rates Kingman best of the lot in 2014, by the way. Timeform also has Palace Malice and Shared Belief in the world top 10, and it has Lankan Rupee joint second, whereas the WBRR has that gelding as joint-best sprinter in the world (along with fellow Australian Terravista) but only joint-18th overall. There is, indeed, room for disagreement.
In the absence of non-European 2-year-olds, the surprise Dewhurst Stakes winner Belardo earned top billing, while Tiggy Wiggy (winner of six of her eight races in Britain) and Aidan O'Brien's Found (Prix Marcel Boussac) were joint top filly, though Belardo's 119 figure is the joint-lowest for a juvenile champion since the classification began.
British Horseracing Authority handicapper Matthew Tester revealed that he had been privately assessing North American youngsters for some time, and that Breeders' Cup Juvenile winner Texas Red, and probably American Pharoah, would have ratings higher than Belardo's if those figures were to be published. Let's hope they are soon -- it is long overdue.
The discussion of ratings is a peculiarly geeky affair, of no more than passing interest to many in the wider world of racing (and, seemingly, to many of the journalists present at the Awards). But ratings have proved their worth time and again in providing a powerful framework for comparison within a population of horses and across generations and continents also.
The WBRR is to be applauded for its efforts to give such assessments a wider audience and a wider relevance. If it is to gain further in credibility, it should be looking to embrace more modern ways of tackling the subject matter, such as by using algorithms and automations to tackle new territories and to standardise assessments in existing ones, and by integrating sectional analysis more widely and properly.
Like Claridge's Hotel itself – a bastion of conservative privilege in the heart of one of London's most exclusive neighbourhoods – the WBRR has much to offer but does seem to have one foot still in the past.
----------
Simon Rowlands is head of international research and development at Timeform.