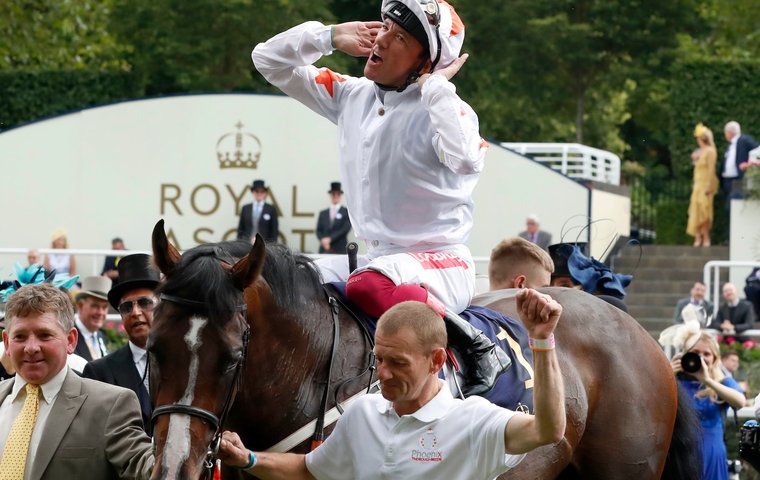 Could Frankie Dettori be heading towards his first #1 world ranking since TRC Global Rankings began in 2014? James Willoughby assesses the evidence.

TRC JOCKEY OF THE WEEK
It has long seemed unthinkable that any rider could depose the great Ryan Moore (-1pt, stays #1), but Dettori (+4pts, stays #2) is now only 17pts behind. This week, the Italian gains a net +5pts on Moore, last week it was +4pts Dettori and the week before +13pts in his favour; that's a gain of 22pts on Moore in three weeks.
Dettori has never been ranked ahead of Moore in the entire 288-week evolution of our rankings. The biggest gap between them was 74pts in July of last year, while the smallest gap was just 4pts in October 2015.
The trajectories of Moore and Dettori's TRC Performance Index (points) is shown by the time series plot below. The graphs are in step with each other because of the seasonality of opportunities in Group races in Europe.
Note, however, that the gradient of Dettori's line is generally steeper in sections than Moore's. This may reflect the belief widely held among racing experts in Britain that Dettori's success includes a stronger momentum effect than other riders: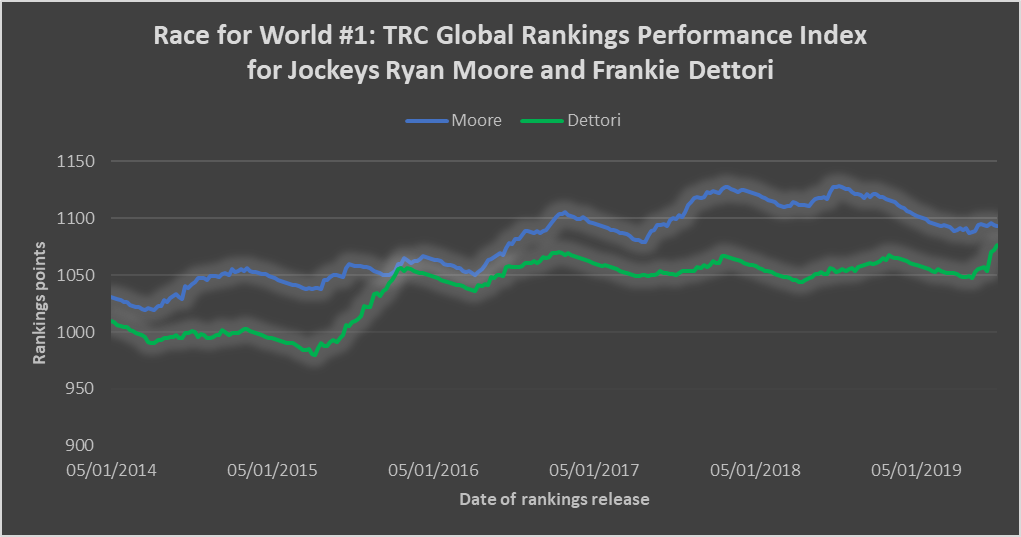 Can Dettori do it before Moore's exceptional retainer Aidan O'Brien finds his form again? The former world #1 trainer is on a streak of just 5-85 in Group races since late May, but surely this nadir in terms of strike rate won't last forever (Moore is 4-32 in the same epoch).
This a remarkable season for 48-year-old Dettori, who now leads the world in 2019 in overall Group/Graded wins (jointly with Javier Castellano), G1 wins and G2 wins following a G1 double last weekend. The world's top 15 riders by Group wins for the year is shown here: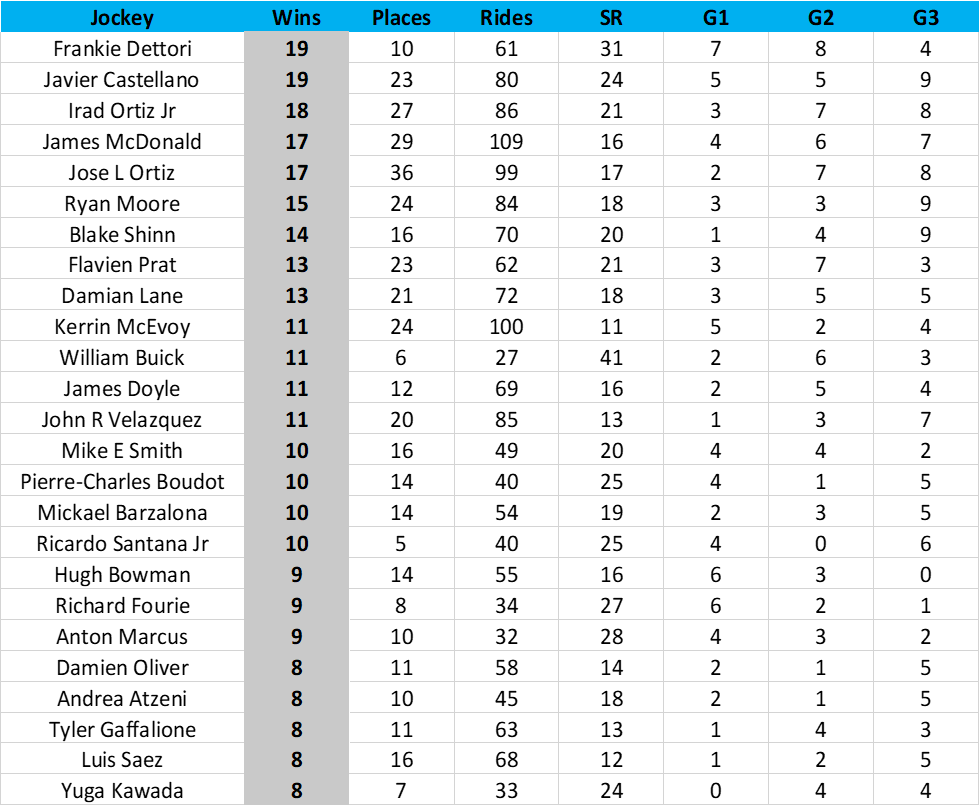 Once again, Dettori was terrific on Eclipse heroine Enable at Sandown Park in Britain on Saturday, and the following day in France he enjoyed an easy victory in the Prix Jean Prat at Deauville on the reinvigorated Too Darn Hot. Both these horses are trained by John Gosden, but Dettori is getting bookings from an increasing array of trainers as his hot streak continues.
We have decided to award TRC Jockey of the Week jointly to Dettori and another rider of remarkable exploits, the highly promising 21-year-old South African LYLE HEWITSON (+13pts, #75 from #102), who is also this week's top climber in any category.
Five of Hewitson's rides at Greyville counted towards the rankings this week. He was well beaten on Legal Eagle in the G1 Durban July, but won the G1 Garden Province and the G3 Betting World 2200, both for trainer Sean Tarry.
Hewitson, son of former jockey Carl, is potentially a global star in the making. He was champion jockey in his country in 2017-18 while still an apprentice, in which sphere he passed current world #142 Gavin Lerena's 2007 record of 284 wins.
Last month, it was announced that Hewitson has received a license to ride in the highly competitive colony of Hong Kong. This will be the acid test of his potential to take his tack to a higher stage.