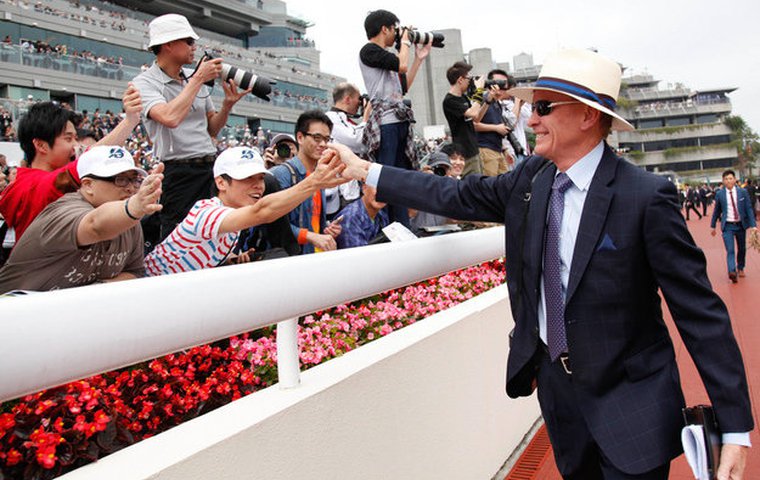 Michael Cox talks with Hong Kong trainer John Moore about local and international successes, recruiting the stable's next star, and the family network that makes it all possible.

It is a typical sweltering June day nearing the end of the season at Sha Tin Racecourse when a suitably dressed John Moore sits down in his lucky spot adjacent the winning post. The ex-pat Australian horse trainer is decked out in his trademark safari suit, navy blue version, topped off with snazzy brown Panama hat. He reflects on a remarkable 12-month stretch that has seen him smash the single-season record for prize money earned in a Hong Kong season, collect six G1s domestically, and go from having an overseas G1 hoodoo to being a three-time international G1 winner as a traveller and being feared on foreign soil.
Moore has a stable full of stars: last season's Hong Kong Horse of the Year Military Attack; the horse that will usurp him this season, Designs On Rome; plus Able Friend, Sterling City, and Dan Excel – all G1 winners and all with something left to offer next season.
Moore has been at Royal Ascot this week – but not with a horse, despite earlier musings that he might bring the "Beast from the East," Able Friend, for the Queen Anne Stakes. Instead, Moore arrived at the five-day carnival with a heavily bolstered cheque book. The Ascot visit may not even result in a purchase, it is about identifying untapped racing talent, and just the first part of a painstaking and often frustrating process of shortlisting, inspecting, and negotiating prices for young horses that will race on throughout the summer.
The second part of the process begins immediately after the season finale at Sha Tin on July 7. Just as most of Moore's rival Hong Kong trainers are rushing off for thrills in Las Vegas, Thailand, or some other exotic location hours after last race, he will be taking a long haul flight direct to England, to continue visiting the biggest yards in Europe, personally inspecting prospective purchases. It's this obsessive work ethic, combined with a shrewd business sense, that is central to the fine-tuned, well-oiled system that has delivered Moore one of the greatest seasons in Hong Kong racing history.
"It's been a phenomenal season, but it has also been a tremendously hard-working effort to get where we are today, it hasn't always been this way," Moore said. "There's a lot of work that goes into this behind the scenes, from acquiring the horses, to race programming and putting the spit and polish on our runners."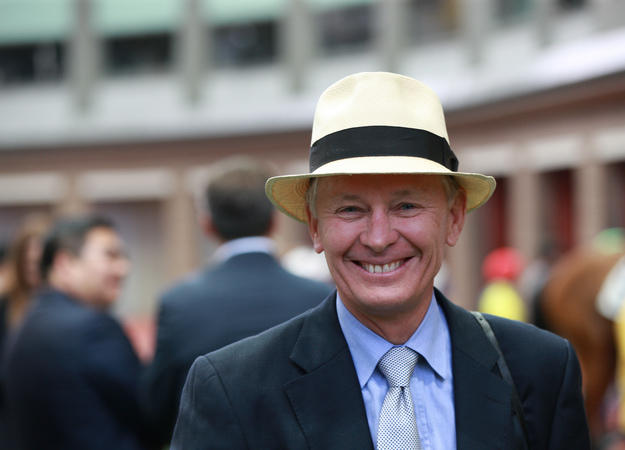 So what is Moore looking for in a European import? First, something within a budget - albeit a big budget. With a European market for tried horses being driven sky high by overwhelming Qatari and Australian interest, Moore says it is becoming increasingly difficult to buy a quality import – like his previous Hong Kong Derby winners Viva Pataca and Collection, or Hong Kong Vase winner Dominant - all purchased for more than $1 million. Even a lower-rated horse such as Military Attack, Dan Excel, or Designs On Rome – horses bought a season out from their major targets as projects – are becoming harder to find for a fair price. Designs On Rome reportedly cost connections €1 million, and although he had shown promise and finished runner-up to Dawn Approach in a G1, the then 2-year-old was still only a maiden winner.
"We haven't moved completely away from Europe but it is becoming far more competitive, I believe there are still Viva Patacas out there," Moore said. "We don't look for a particular type – maybe once we looked for a Derby horse, but now we just want quality – we have purchased some very good sprinters and milers there too. We have had to cast our net further than before and look to Italy and Germany more often. We have a tremendous network of contacts through bloodstock agent Alistair Donald.
"First you look at form, then a horse's conformation – we are looking for a horse that is correct, with excellent feet that can handle the hard tracks," he said. "We are very strict and have our Australian vet Ben Mason inspect X-rays. But for Hong Kong, the next thing you look at is temperament – there are some that we will not touch because the environment is just too demanding."
Rather than relying on the big-ticket items from the Northern Hemisphere, the Moores have also looked to buy high-quality Australian yearlings, following the same doctrine of correct conformation and stringent vet checks – and of course big price tags. This is where Able Friend was purchased, from the sales rings and buzzy auction houses down under, as were fellow G1 winners Admiration and Sterling City.
"We are buying high-quality yearlings, well-bred and incredibly correct," Moore said. "They win races in Australia and then we are able to bring them here to Hong Kong."
After Dan Excel clinched the Singapore Airlines International Cup last month, a reporter asked Moore how many G1 races he had won this season. "No idea," he replied. The follow up question, partly in jest, was: "How much money have your horses won this season?" The answer came fast and deadpan serious: "About [HK] $140 million so far – if you include these races overseas." Some who know him well were surprised Moore couldn't quote the figure to exact dollars and cents.
Moore is the winningest Hong Kong trainer of all time – his career tally stands at 1,300-plus wins and counting. He the only handler with more than 1,000 career wins, he has won six trainers' titles, and is still somehow in contention for this season's crown despite a top-heavy yard that lacks the lower-grade handicappers that typically clinch championships.
But Moore isn't about winning races, at least not primarily. He is all about winning money, and lots of it. Winning races is simply just a means to an end. So far, season 2013-14's haul has already seen Moore sail past Tony Cruz's previous record of HK$114 million, and as of this week, the tally sat around HK$130 million and counting (there were still nine meetings to go in the season). Throw in around US$2.8 million for G1 wins in Dubai with Sterling City in the Golden Shaheen, plus first and third in the Singapore Airlines International Cup with Dan Excel and Military Attack, respectively, and you are sitting in the vicinity of HK$150 million for stakes earned in a 10-month stretch.
"By the end of the season we could be looking at [HK] $160 million," Moore said. "It's pretty good going over 83 meetings at home, and at two offshore fixtures."
It is one of those end-of-season meetings at Sha Tin strictly for the diehard racegoer, high on betting turnover, but low on atmosphere and attendance, and as Moore speaks, one of the racetrack's many fanatics sidles up to him mid-conversation and asked for a photo, kindly granted.
"Your family are my idols, and have been for a long time," the fan said to Moore.
Family is how Moore ended up where he is, and it continues to be the cornerstone of what he does.
John is the son of George Moore, who passed away in 2008 and is perhaps Australia's greatest ever jockey. George moved to Hong Kong in the 1970s, with a 20-something John in tow, and won 11 trainers' championships. John took over the operation in 1985 and has steadily built the dynasty to what must be regarded, pound-for-pound, as one of the great racing stables in the world. Moore lost his beloved wife Cheryl to cancer earlier this year, but it seems to have served to bring his immediate family closer and the family involvement continues.
Today, John has his own 20-something son, also named George, following in his footsteps - he is the head of the family's Southern Hemisphere bloodstock operation George Moore Bloodstock. George is responsible for purchasing some of the future stable stars, and daughter Caroline is an integral part of the team that seems to have mastered the art of travelling horses, at least within Asia, for hit-and-run missions.
Hong Kong Jockey Club politics mean Moore's progeny can't easily follow him into the training ranks, or even work in his stable for that matter – but his children's involvement in the successful recent raids on Singapore and Dubai have made Moore immensely proud during a difficult time for the family.
"It's a pity the kids can't be more involved at home, but the trips away have allowed us to work together and it has been very special," Moore said.
John himself rode in races for a short while, but his talent in the saddle was always overshadowed by younger brother Gary, who emulated his famous father with success all over the world – they both won the Prix de l'Arc de Triomphe (George in 1959 on Saint Crespin, and Gary in 1981 aboard Gold River). Gary won seven Hong Kong jockeys' championships, before settling in Macau and winning multiple trainers' premierships there. Now, Gary is set to create another cog in the Moore racing machine when he relocates to Rosehill, New South Wales, Australia and begins preparing a team, starting on Aug. 1. He will qualify Moore's Southern Hemisphere yearling purchases for Hong Kong in lower-grade events, taking over from the father and sons team of John, Wayne, and Michael Hawkes.
Gary Moore's other role will be as caretaker trainer for his brother's horses being aimed at Australia's cashed-up carnivals – the first visitor being Singapore hero and dual-G1 winner Dan Excel, who will be aimed at the Cox Plate via some of the other rich lead-up events.
"Dan Excel is the test case of what we want to do and we can fine tune it from there," Moore explained. "This is a way we can head to the Australian carnival, get the mileage into the horses' legs and then get them back to Hong Kong for the International races in December. Dan Excel arrives in late July."
Dan Excel is owned by ex-pat Australian businessman David Boehm, who also plays a critical role in Moore's system. Boehm is the majority shareholder in Muskoka Farm, a magnificent spelling and breaking facility on the outskirts of Sydney that is used by Moore and features its own outbound quarantine centre.
If not for a rule change hastily implemented by the Hong Kong Jockey Club last season, next season would be the 64-year-old Moore's last. While age 65 used to mark compulsory retirement, what has become known as the "John Moore rule" means a trainer can extend his tenure up to five years, on a season-by-season basis, by finishing top five in prize money or wins. That shouldn't be a problem for the man the rule was named after based on this season's astronomical return.
"I'm grateful for that extra five years, assuming I can fulfill that criteria," he said.
But before Moore retires to a life of relative luxury in Sydney, he has a lot to look forward to - and not just the continuing careers of Designs On Rome, Able Friend and the like. A rising four-year-old sprinter owned by Moore named Not Listeninto'me is likely to take Hong Kong by storm this winter. Not Listenin'tome – given this name because it was what Moore's late wife said to him while he was on the phone finalising the horse's AU $270,000 purchase as a yearling – is already a G3 winner in Australia, and Moore can now name his own price for what looks a readymade G1 star.
"It looks like we are going to have plenty of fun with him, he will hopefully come here and race in the Hong Kong Sprint before he enters my stable," Moore said. "We are now reaping the benefits of a lot of years of hard work."
"There's a lot to look forward to, you can always improve and it seems like we are just getting going."
---
Michael Cox covers racing for the South China Morning Post.