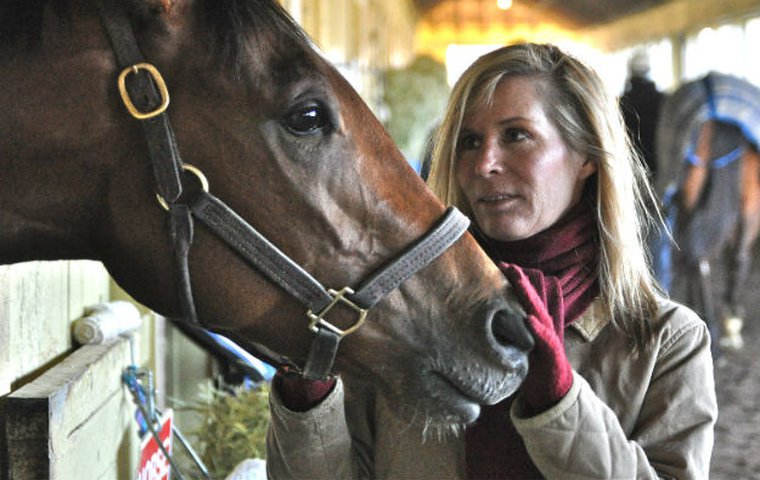 Is 'monumental force' Linda Rice about to scale even greater heights?

After a stellar body of work over the course of 29 years, Linda Rice has compiled a resume that would evoke envy among most trainers – regardless of their sex.
She's saddled the winners of 1,425 races through March 31, most of them in New York, while competing against a wide array of the industry's most famous trainers on the nation's premier year-round circuit.
Her horses have earned $54,291, 483, a figure that places her 50th on the all-time North American earnings list.
A third-generation trainer and daughter of former trainer/owner Clyde Rice, she campaigned her first Eclipse Award winner last year as the New York State-bred La Verdad won five of eight starts. The multiple graded stakes winner also finished second in the Breeders' Cup Filly and Mare Sprint, earning honors as the champion female sprinter of 2015.
The native of Racine, Wisconsin, is also the last person other than Todd Pletcher to win a training title at Saratoga.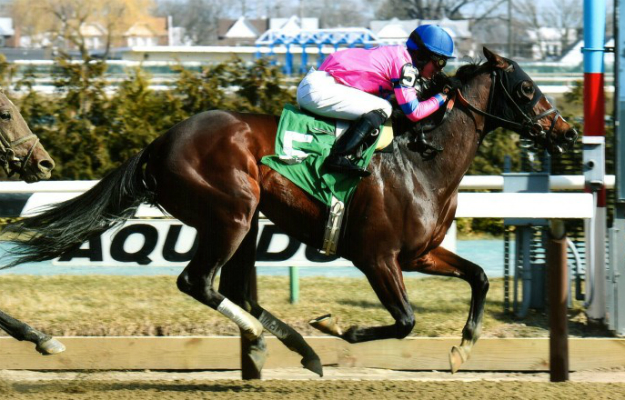 Since 2014, she's won 10 graded stakes, including Grade 1 victories with Princess Violet (2015 Madison at Keeneland) and Palace (2014 Forego and Alfred G. Vanderbilt at Saratoga), and has ranked among the top 25 nationally in earnings in 2013-15.
Once, in the 2008 Mechanicville Stakes at Saratoga, she trained not only the victorious Ahvee's Destiny, but turned the race into a personal superfecta by saddling the first four finishers.
"It has not been a quick path to success for Linda," said Sheila Rosenblum, who owned La Verdad under the banner of Lady Sheila Stable. "She has paid her dues. She's done it slowly, methodically, and has worked quite hard and diligently. Wonderful things have happened to me because I listened to her advice."
And yet, while her accomplishments are impressive by any standard, they take on even more glitter since she defied the odds stacked against her for being a female in a profession dominated by males.
"It's a hard industry for anyone, but it's especially hard for a female," Rosenblum said. "The challenges are even more rigid and tougher for a woman than they are for a man. We go to Saratoga and it's a little bit of an old men's club, but I see the respect they have for Linda, and she deserves it."
The trailblazer
In her career, she has blazed a path for women to follow, helping to open doors that were closed when she started training in 1987 at the age of 23.
"I think she is making an impact on horse racing," Rosenblum said. "When I come out in the morning to watch horses exercise, I don't see many female owners at the track, but I'm seeing more and more female trainers and assistants. It's coming around. Women are realizing they can do what the guys are doing. They can find excitement at the racetrack.
"Linda was ahead of her time, and now there are more females involved in racing because of her."
To put Rice's accomplishments in a better perspective, when she won the 2009 Saratoga title by one victory, she became the first woman to capture a training title at a major track.
She is also the only female among the top 50 on North America's all-time earnings list.
"She should be in the Hall of Fame because she truly belongs there," said Avram Freedberg, whose horses in the Everything's Cricket Racing's stable, including Avhee's Destiny, have been trained by Rice for nearly 10 years. "She's devoted her life to the game and she has achieved a lot of firsts. Her record stacks up well with anyone."
Rice is eligible for the Hall of Fame but has not advanced very far in the process. Part of the reasoning probably involves a lack of involvement in the sport's spring classics, though that could be ending soon.
The contender
The 52-year-old trainer has started only two horses in Triple Crown races: Kid Cruz, a $50,000 claim by Rice, who was eighth in the 2014 Preakness, and Supervisor, who was fifth in the 2003 Belmont Stakes.
She's yet to run a horse in the Kentucky Derby.
Yet, in a year that has already seen her capture her first Eclipse Award, she's taking long strides toward making it to Churchill Downs on the famed first Saturday in May.
This Saturday, Rice will send out Lady Sheila Stable's Matt King Coal in the $1 million Wood Memorial at Aqueduct, and a top-three finish there could punch a ticket to Louisville for an inexperienced colt who has started just four times and won his last two races.
"It's an exciting time," Rice said. "Anyone would be excited to be at the end of March and have a horse who has a chance to be in the Triple Crown races.
"I've done a lot of things in my career. I've won some training titles, broken some barriers, but the one thing I haven't participated in is the Kentucky Derby."
The mile-and-an-eighth Wood promises to be a litmus test for Matt King Coal, who will be making his stakes debut in a field headed by Shadwell Stables' undefeated Gotham winner Shagaf.
The daunting jump
With no points in the Road to the Kentucky Derby series, Matt King Coal will need to collect some of the 100-40-20-10 points allotted to the top four finishers in New York's definitive Derby prep to remain in contention for the Run for Roses. At the same time, he will also have to prove he can make a daunting jump from the allowance ranks to Grade 1 competition in order to prove that he belongs on the Triple Crown trail.
"A lot depends on the Wood. He has to run well or the Derby is not an option," Rice said. "The Preakness might be a terrific spot. It usually is a better spot than the Derby. But if you win the Wood, nobody passes up the Derby, unless they have to.
"His speed figures were exceptional at two and, if we can get him to improve on them at three, like people expect him to, that would make him Triple Crown material. But that's a lot of ifs."
Best known early in her career for her work with New York State-breds and sprinters, Rice arrived at last year's Ocala 2-year-old sale in search of a horse that would thrive at a two-turn distance. What she found, at a cost of $250,000, was a tall son of Cool Coal Man out of the Came Home mare Donna Marie that Rosenblum named Matt King Coal.
"When we purchased Matt King Coal, he had a modest pedigree but he was brilliant on the racetrack. His racetrack performance was phenomenal," Rice said. "He was a big and leggy and looked like a two-turn horse. I was hoping he could carry that speed two turns, which he has."
Rice's firm belief that the bay colt could handle route distances explains why he made his career debut at Saratoga in an Aug. 8 race on the turf.
The tricky winter
"I really didn't want to run him (around) one turn in his debut. I really felt he was a true route horse and I thought if I ran him around two turns first time out it would be kinder to his soundness and be easier on him," Rice said. "He was young and immature and I was trying to find the path of less resistance and felt two turns was the right way to go.
"Unfortunately at Saratoga the only way to go two turns was to start him out on the turf, so I took that avenue. When we purchased him, he had breezed very well on a synthetic surface at Ocala so I felt he would be all right on turf. He finished third and, at that point, moving forward, my intention was to get him on the dirt at Belmont for a mile race. That was the goal at the time. It wasn't to make him a turf horse."
Matt King Coal's chance to run long on dirt came in his second start, when he was entered in an Oct. 3 maiden race at Belmont that was washed off the turf course and moved to the sloppy main track at a mile and a sixteenth. Sent off at 7-2, Matt King Coal set the pace and engaged in a fierce stretch duel with Gift Box, only to lose by a nose while finishing 18 lengths ahead of the third.
Gift Box, in his next race, ran third behind the undefeated Mohaymen in the Grade 2 Remsen.
Meanwhile, Matt King Coal closed out his 2-year-old season with a front-running 5 ¾-length maiden victory at a flat mile under regular rider Jose Ortiz at Belmont on Oct. 29. But then problems set in.
"We pointed to the Aqueduct winter stakes, the Withers, the Jerome, the Gotham, then we had a little hiccup along the way. He spiked a fever and we had to send him to the farm for six weeks," Rice said. "At that point we were behind schedule. I got him back and put three workouts into him, but I didn't want run in the Gotham (on March 5) off just that out of fear of running a short horse."
The excitement
Instead, Rice opted for a March 6 allowance race at Aqueduct, where the colt scored by a length in his 3-year-old debut and lone prep for the Wood.
"It was a tougher race than I expected but he performed beautifully in the allowance race and that gave us the luxury of staying home and running in the Wood, which is the natural spot for him," Rice said. "I'd like to think he's improved since that race. He's a fitter horse. He's put in his best breezes ever since then and we're very excited."
For Rosenblum, even after accepting an Eclipse Award in January, simply talking about the Kentucky Derby has brought her involvement in racing to a new level.
"The concept of having a horse on the Derby trail and running in the Wood Memorial is as intense and exciting as it sounds," she said. "It doesn't get any better than the Kentucky Derby."
While Rosenblum was the sole owner of La Verdad, she has plenty of company for her ride with Matt King Coal. The colt is owned by a partnership Rosenblum formed under the banner of Lady Sheila Stable Two and built with the help of some powerful female investors, who, like their trainer, made a name for themselves by smashing the infamous "glass ceiling".
A former Wilhelmina and Ford model, Rosenblum teamed with Douglas Elliman CEO Dottie Herman, philanthropist Iris Smith, Real Housewives of New York star Jill Zarin, and equine artist Donna Bernstein, among others, to form her new venture.
The hard worker
"Prejudice against women might be why Linda hasn't had a classic winner yet," the 68-year-old Freedberg said. "She has only recently brought in the kind of owners who are willing to spend money on horses with the better pedigrees, and that's giving her a chance to get into the classic races."
Ironically, Rosenblum said when she first entered racing and searched for a trainer, she focused on finding the best man for the job.
"When I started in 2010, I didn't always like the idea of using Linda as a trainer," Rosenblum said. "I think I liked the concept of a male trainer, but in spite of that I decided on her and was totally impressed by her hard work. She's one of the hardest working females I know, and sometimes females have to work harder to prove themselves."
Aside from the skills acquired during a lifetime in the racing industry, Rice also brings to the table a business savvy few trainers posses. While the backstretch offices of some trainers have the kind of clutter and mess only an Oscar Madison clone could love, Rice constructed a highly modern and efficient office at Belmont Park.
"I've embraced modern technology. It's a huge part of our business and I wouldn't have it any other way," said Rice, who studied Computer Science at Penn State University. "I built an office and set it up so we can handle the business of training horses better. We have accounts receivable in one area, communications in another, daily operations in another. It helped with my business and communication, which is key. I found we could not keep up with everything until I expanded my office."
The Hall of Fame question
Expansion, of course, could not come without the kind of success that has made Rice both one of New York's top trainers and a role model as well.
"When I started out, it was an uphill climb for female trainers," Rice said, "but the way I see it at this point is that is becoming a non-issue, and that's the way I'd like it to be, a non-issue."
And now that climb could be reaching new heights, depending on what happens when Matt King Coal breaks from the starting gate in the Wood.
"Linda is one of the movers and shakers among females in the industry," Rosenblum said. "She's done so much for women to encourage them to branch out in this sport. She's been a monumental force for females without really realizing it.
"I am 100 percent convinced she belongs in the Hall of Fame and believe one day it will happen."
To date, there's only one female trainer in the National Museum of Racing's Hall of Fame. Janet Elliot, a superb steeplechase trainer, was enshrined in 2009. How long will it be before another woman joins her? Don't be surprised if this year's spring classics play a role in that answer.