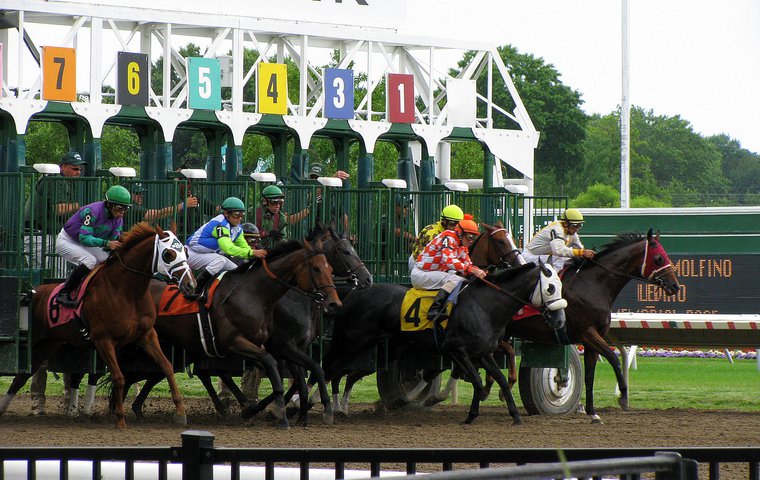 While the 71st season of racing at Monmouth Park opened last month amid what some might view as a cloudy future, there's one highly important point about New Jersey racing that's crystal clear to one of the track's top officials.

"I can assure everyone, despite what you read in various sources from time to time, Monmouth Park is here to stay," said Dennis Drazin, advisor to Darby Development, LLC, the horsemen's group that operates the Oceanport, New Jersey, facility through a lease with the state. "Racing will never die here in New Jersey."
It will, however, have a different look at the end of a year that promises to be the most eventful in the track's long and colorful history.
One year after American Pharoah finally brought the excitement and charisma of a Triple Crown winner to the Jersey Shore for the Haskell, Monmouth officials are anxiously looking forward to the November elections, when a state-wide referendum could pave the way to expanded gaming in New Jersey and a boost in desperately needed revenue to support horse racing.
Looking for a share in casino revenue
"This has been a long time coming," Drazin said. "The referendum, if it passes, calls for two casinos in North Jersey. Monmouth will not have a casino, but we will finally get a share of revenue distribution from casinos and that will help the bottom line."
Monmouth also finds itself at the epicenter of a wagering revolution that has the potential to dramatically alter the way Americans bet on horse racing.
What started four years ago when it was signed into law finally turned into a historical milestone on May 10, when New Jersey became the first state to conduct Exchange Wagering, Betfair's phenomenally successful European wagering format that takes win, place and show betting to levels far beyond the current constraints of the pari-mutuel format in the United States.
While state law limits access to Exchange Wagering to account holders who reside in New Jersey, what happens at Monmouth figures to be keenly watched and analyzed by other circuits across the country to see if what works so well in England can become part of the American wagering landscape.
Big learning curve
"I really think Exchange Wagering is going to have a future in our industry," said Darby Development and Monmouth President Bob Kulina. "There's a big learning curve and we knew that going in. But we've found that the people who have tried it have really liked it. It's not for everyone, but I think it's going to be a positive for the game. It's just going to take time. But, once people understand it, they're not going back to the pari-mutuel way because there's so many angles to play with Exchange Wagering.
"It will expand outside of New Jersey. It will be in California and New York. It's just a matter of when, not if. And, when it does, it's going to change the game."
As diverse as a November referendum and Exchange Wagering might seem, they are indeed woven together in the complex and unique world of New Jersey racing.
More than four years have passed since a sea of red ink prompted the State of New Jersey to hand over control of Monmouth to the New Jersey Thoroughbred Horsemen's Association, which in turn created Darby Development to operate the track and keep the sport afloat. Since then, Darby has reversed much of the losses, even though it lacks the revenue from alternative gaming that has bolstered tracks in surrounding states.
Gambling in a fast-paced digital era
Its model for success has relied heavily on innovation and a willingness to take gambles that dwarf a handicapper's pursuit of a winning Pick 6 ticket.
"We take a lot of pride and satisfaction in what we've done in the last few years," Drazin said. "If I had a crystal ball, things would have been different, but in December of 2011 [New Jersey] Governor [Chris] Christie seriously considered closing the racetracks. We stepped to the plate and took it over. Through renegotiating contracts, new innovations and more, we've not only been able to make a go of it, we've made it successful.
"But it's hard to compete when other states around you have revenue from alternative gaming and you don't. We have to do everything better. Everyone else says sit back and let someone else take the risks. Well, we're the risk takers because we don't have casino revenue."
This year's biggest "risk" has been Exchanging Wagering, which has the potential to be a game-changer in the years to come.
While success and popularity in Europe is no guarantee of acceptance in the United States – don't look for driving on the left side of the road to become the American way – Exchange Wagering seems ideally suited for gamblers from any locale in a fast-paced digital era.
Backing horses to win or lose
Monmouth has worked with European wagering giant Betfair since 2010, when it began sending its signal overseas. Operator of the world's largest online wagering exchange, Betfair also owns the TVG horse racing network, which airs Monmouth racing. Exchange wagers are placed through the Betfair website and are not reflected in Monmouth's pari-mutuel handle, though at the present time only New Jersey residents can wager through the exchange and all bets must be made from within the borders of the Garden State.
Fixed odds is a hallmark of Exchange Wagering, but it's just the tip of the iceberg. Aside from locking in odds to win, place or show, Exchange Wagering enables handicappers to bet against a horse by matching or trading wagers. Depending on how much the odds on a horse fluctuates, that ability to place bets on a horse to both win and lose gives a gambler a chance to achieve wagering nirvana by trading in their bets and establishing a profit even before the race begins.
Wagering can also take place 'in-running' - when bets are made as the race takes place, allowing horseplayers to assess how a horse is travelling and back their judgement accordingly. If you feel a horse that is at short odds doesn't look as though it's going well enough to win, for instance, you can back it to lose at any point through the race.
In many ways, Exchange Wagering mirrors life for Wall Street or arbitrage traders.
People who say 'this is cool'
"For trader types, who would have never bet on horse racing before, the emphasis is on the powerful features of the peer-to-peer platform," said Bart Barden, the Dublin-based U.S. Exchange Manager for Betfair. "There are many similarities to trading any kind of product that can be applied to horse racing markets - often more about predicting price movements ahead of picking the winning horse. Exchange Wagering is also viewed as a perfect vehicle for introducing a new generation of fans to horse racing.
"In-race betting is perfect to bring in the Millennials," Drazin said. "They're the new generation. You have to give them something that's a little quicker and exciting. Right now, whether I like it or not, we're competing with video games, X-Box, professional sports and all sorts of new things and, if we don't do something to try and capture them, then shame on us."
Kulina said fans have been slow to embrace Exchange Wagering through the first month of the meet, but that was not surprising.
"It's doing what I thought it would," Kulina said. "It's growing slowly, but people who try it are saying 'this it's cool'. It's only a month and a half and we're very optimistic and so is Betfair. This wasn't a magic bullet."
Kip Levin, the CEO of Betfair U.S. and TVG, also expressed optimism over the future of Exchange Wagering in New Jersey and other states. "While it is still early, we are encouraged by some of the positive indicators for the launch of exchange wagering in New Jersey," he said.
Delays in California
"The liquidity on the races offered to New Jersey players has been strong — that's a good sign of the level of interest and, as people get more comfortable on the exchange, we expect it to grow. A number of accounts opened and much of the initial trading volume, about two-thirds, is by people who were not 4NJBETS (New Jersey's account wagering platform) players. That's also a good indicator and an area where we continue to focus, bringing new users to racing. We also are in active discussions with other major U.S. tracks about adding their races to the New Jersey content roster."
The California legislature has also approved Exchange Wagering, yet that state has not finalized the regulatory process in order to introduce it.
While the great experiment with Exchange Wagering moves forward, the Nov. 8 referendum is not the only political development looming boldly on the horizon for Monmouth.
If New Jersey voters approve the referendum, it will allow the construction of two casinos, most likely at The Meadowlands sports complex and in Jersey City. Monmouth, though, would receive at least two percent of the revenue from those facilities to bolster its bottom line.
Legal battle over sports betting
"If you have money given to you in a referendum, nobody can veto it, no one can take it away from you. So it's important to Monmouth Park that the referendum passes," Drazin said. "We've been assured there would be at least two percent of the revenue earmarked for us, but that is the floor, the minimum. Most likely there will be a much a larger share for Thoroughbred and Standardbred racing in the state."
Aside from the referendum, New Jersey is also embroiled in a fierce legal battle to allow sports betting in the state, and a judge could hand down a ruling within the next month. Monmouth has already committed about $1 million for renovations so that its William Hill race and sports bar could house an area for sports wagering. Drazin added that, if sports betting is approved, Darby Development would begin working on a $5 million area for a Las Vegas-styled racebook.
And, while all of this is going on, Monmouth's 57-day meet has moved closer to its prime summer weeks. Heading into the meet, there was troubling news when about $1.17 million was sliced from the stakes schedule and overnight purses dropped by 8-10 percent.
Kulina said attendance and handle through mid-June are down from 2015 and are on par with 2014 figures, but he reasoned that much of that stems from the impact of a herpes outbreak at Parx Racing in Pennsylvania and poor weather.
Nyquist hope for the Haskell
Yet business has traditionally picked up in mid-June, and in a few weeks a new, high-end Italian steakhouse, the Blu Grotto, will open on the grounds, teaming with Darby's popular 36-hole mini-golf course to make Monmouth more of a destination for entertainment and dining.
The $1 million Haskell, which is now sponsored by Betfair, is a little more than a month away and Kulina is hopeful that Kentucky Derby winner Nyquist will head the field for the Grade 1 test on July 31.
Add in Exchange Wagering and an impending vote on the expansion of casino gaming, and it's a summer of great expectations at the Jersey Shore.
"We'll continue to survive and offer world-class racing, even if less has to mean more. Right now we have 57 days and [in 2009 we had 82]. I'd like to bring that back," Drazin said. "It would probably be more expedient to go crying to the legislature that we're going to close down tomorrow if you don't help us, but I'm never going to let Monmouth close, so why should I say something I'm not comfortable saying.
"Though sometimes things move slower than you'd like, we believe the prospects for the future are fantastic."