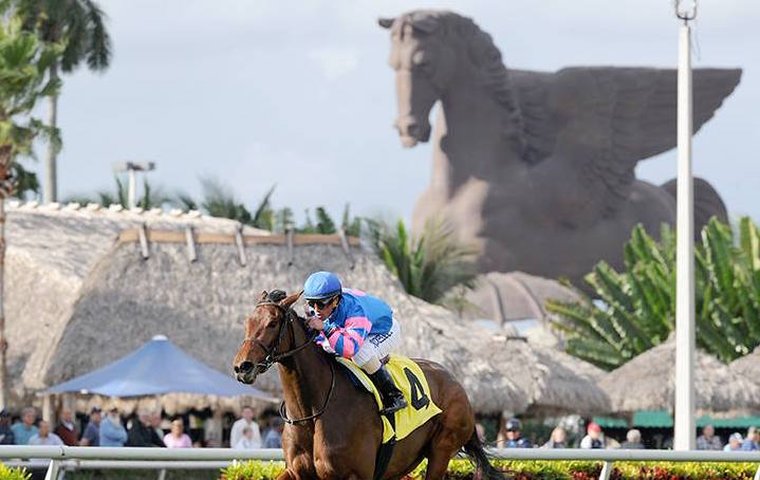 The penultimate moment in the racing career of California Chrome took place yesterday at the post position draw for the inaugural running of the $12 million Pegasus World Cup at Gulfstream Park. Let's just say it didn't work out as well for him as hoped.

Two posts and two horses remained. One was the house horse, Stronach Stables' Shaman Ghost. He's owned by Frank Stronach, who also owns Gulfstream Park and was the driving force behind the creation of the Pegasus a year ago and its entrance into reality yesterday. The other was the aforementioned California Chrome, who just two days earlier at Gulfstream had been crowned Horse of the Year for the second time in his illustrious career and will make his 27th and final start in Saturday's Pegasus.
Up for grabs was post seven, a fine starting spot near the middle of the field, and the outside spot in the large field, post 12, which has a less than stellar history in mile-and-an-eighth races at Gulfstream Park.
Maybe it was payback from the racing gods for the widely skewered, eyebrow-raising and rather misguided acceptance speech by California Chrome's majority owner, Perry Martin, at Saturday's Eclipse Awards, but Shaman Ghost landed post seven.
Lone exception
That left post 12 to North America's all-time earnings leader, which carries with it the burden of an ugly 1-for-18 record over a mile and an eighth at Gulfstream since 2006.
The lone exception to the rule about inevitable defeat from that post? Big Brown, who won the 2008 Florida Derby from that spot – by five lengths, no less - and, like California Chrome, proved good enough later in his career to win the Kentucky Derby and Preakness.
"We can't make any excuses. The only good thing I thought about this is that he doesn't have to be in the starting gate long," trainer Art Sherman said about the 6-5 favorite. "Chrome is Chrome. He's got tactical speed. He will overcome all this, believe me."
Meanwhile, California Chrome's arch-rival and conqueror in the Breeders' Cup Classic, Juddmonte Farms' Arrogate, drew the rail for their rematch. Prior to wearing down California Chrome in the final yards of the BC Classic and posting a half-length victory, the 7-5 second choice in the Pegasus broke from the rail under jockey Mike Smith in the G1 Travers at Saratoga and demolished his rivals by 13 ½ lengths in front-running fashion, while setting a track record in the process.
Mission accomplished
With the favorites in bookend spots in the field, an intriguing encore was put in place for the second and final round in the short-lived but nonetheless exciting rivalry between California Chrome and Arrogate.
It also signaled mission accomplished for Stronach and his team, that included at its highest levels his daughter, Belinda, the Chairman and President of the Stronach Group, Starlight Racing founder Jack Wolf, the CEO of the Pegasus World Cup, and Tim Ritvo, the President and General Manager of Gulfstream Park.
The idea of getting 12 stakeholders to each put up $1 million to run in the race seemed like a daydream when Frank Stronach first floated it, yet it all came together and beyond that wound up with racing's marquee match-up.
While the depth of the field might be suspect, there's no doubting the immense star power of the two favorites and how that plays into Frank Stronach's vision of what the race could mean for the sport.
A primary goal in the creation of the Pegasus was to give racing another blockbuster race to generate interest among fans and to extend racing careers. With California Chrome and Arrogate battling once more before a NBC viewing audience and California Chrome's career extended to January of his 6-year-old season, the Pegasus has taken flight in a highly auspicious manner.
Turf race a possibility
"It's great if I can make a contribution to horse racing and help bring it to a higher level so it can compete with any other sport," Frank Stronach said. "[California Chrome] would have been at stud if not for this race. This way, the timing is good for great horses if they want to run it.
"This is a yearly event and we hope to put in a grass race as well to attract Europeans."
And the first edition figures to be nothing short of spectacular as it will give California Chrome a chance to re-write history with a much better ending than what happened at Santa Anita on Nov. 5.
A year earlier, the California-bred's career would have ended on a down note with the loss to Arrogate in the Breeders' Cup. Now, after giving the fans at his home base of Los Alamitos a last opportunity to see him in winner's circle in the Winter Challenge Stakes on Dec. 17, he'll try to punctuate his career with an exclamation point and give his connections one last great memory before heading off to stud at Taylor Made Farm in Kentucky.
"It won't hit me until the plane ride home," Sherman said about the prospect of California Chrome's final start in a career that has generated a North American-record $14,502,650 in earnings. "Then I'll start to reminisce."
Coburn's take
For some that process has started already. Present at the draw was Stephen Coburn, who bred and owned California Chrome along with Martin. Coburn was widely criticized for calling the connections of the victorious Tonalist 'cheaters' after California Chrome's Triple Crown bid ended with a loss in the 2014 Belmont Stakes, and sold his share of the horse to Taylor Made in July 2015.
Now, while sitting in the background at the draw, he expressed relief that California Chrome's long career is ending in a satisfying manner.
"I am very happy this is the horse's final race," Coburn said. "The horse doesn't need to do anything more in my eyes. He's a great horse. The best in North America right now. I would like to see him go out on top but if he doesn't that's okay with me, too. He'll always be my champion."
"In my wife and I's hearts, he's still our horse. We're very, very proud of our horse, California Chrome. Period. End of story."
Of course, for most others there's a keen sense of anticipation over what awaits in five days. That's when California Chrome will tangle with Arrogate in what many bill as a two-horse race - for understandable reasons.
Jerkens' hope
In the BC Classic, more than 10 lengths separated the duo from Keen Ice, who was third. Keen Ice's morning-line odds as the 12-1 third choice might reflect little has changed since early November, but in horse racing there are no sure things. Especially when one favorite has post 12, the other has post one and could get shuffled back if he breaks slowly and both could be side-by-side on the first turn if they use their early speed to get a good position in the early going.
One trainer who can appreciate all that is Jimmy Jerkens, who will saddle Shaman Ghost (20-1). He knows a thing or two about upsets as the son of the late, great Allen Jerkens, who was known as 'The Giant Killer' for knocking off Secretariat and Kelso, just to name a few. Yet even he knows asking the 10 other horses to upend not just one, but two great horses, is a tall task indeed.
"Of course anything can happen in a horse race," Jerkens said yesterday. "But let's face it. They have to have a horrible day and we have to have the trip of the century and run the race of our life. That's not much to ask, is it?"
We'll find out Saturday, when Pegasus becomes much more than a 110-foot cement statue on Gulfstream's grounds. It will soon be the name that for years to come just might conjure memories of both an emotional end for California Chrome and the dawn of a new era in creating great races for great horses.
That's not a bad daily double.