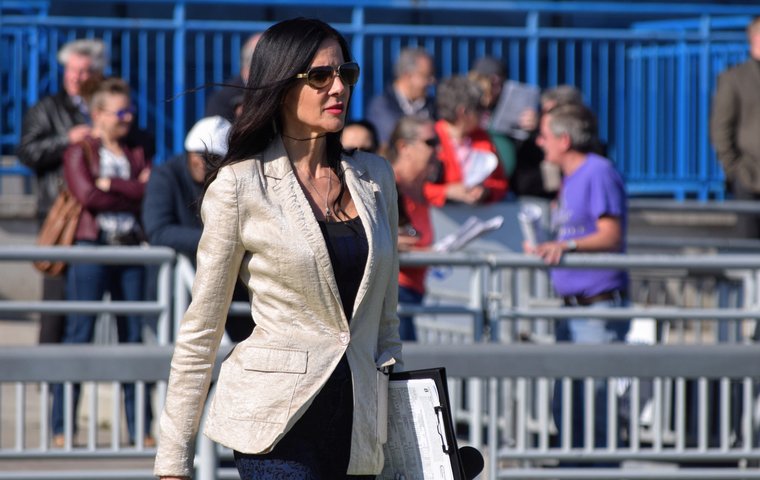 Diligent and clever, Dawn Lupul is more than just a regular face and shrewd voice on the daily Woodbine simulcast show.

The multi-talented racing analyst handicaps the daily card, gives astute observations from the paddock, and in her 'spare time' works as a back-up race caller and pursues her own health and fitness goals. She has formerly had her hand in many facets of the horse industry, from racing her own Standardbreds to creating her own speed figures. And while Woodbine wasn't racing this past winter, Lupul used that time to win the NTRA's National Horseplayers Championship Charity Challenge.
Edmonton native Lupul grew up with encouragement to read and write early. She remembered scrawling notes at age four that said, "I want a hose" [horse] or "I want a pone" [pony]. It was clear from the start that Lupul was horse-crazy, which she has carried through her life.
"When I was six, my dad wanted to get into Standardbreds," she recalled. "We bought acreage 15 minutes outside Edmonton, where my parents still live today. My dad got a racehorse, then a couple, then five, then ten, then got into the breeding business. I've been around horses my whole life."
Analytical viewpoint
Lupul was always involved, riding an Appaloosa and then retraining harness horses that didn't make it on the track to be riding horses. "Further on, I really liked the betting side of the Thoroughbreds," she said. "All the different distances and the complexities of it. I attacked Thoroughbred racing from the analytical viewpoint."
Edmonton's Northlands Park was the local place to go to use this knowledge. Lupul was invited to speak on the track's simulcast show in 1994, ultimately ending with her taking over the show's hosting duties a year later. She eventually left television to go into breeding, training, and racing Standardbreds full time, but notes she was, "always involved in the Thoroughbreds; the two have gone hand in hand." She even raced a Thoroughbred, who was later claimed away.
In 2008, Lupul and a trailer full of Standardbreds rolled into Toronto, some 33 hours away. She stayed involved with the Standardbreds until 2013, but in 2010, her career took an unexpected turn. A position as an analyst for Woodbine's daily simulcast show opened up, and Lupul was hired.
She started laboriously making her own speed figures to handicap for the show, and followed all the horses on the grounds through their entire careers. Depending on the day, Lupul is either on set in the studio, or out in the paddock, giving her analysis of the horseflesh.
"For me, it comes down to the whole package," she said. "People have asked if they can stand by and I can explain to them what I'm seeing, but I find it hard to come up with words. It's an overall look that starts with the eye. Having worked around them all my life, it's an intuitive sense. I look at coats, the way they are moving, and the general air they are giving off. Their presence to me is probably the most important thing, and I like confidence. I really like confidence."
Woodbine employees are encouraged to set annual goals for themselves; Lupul now does a quick daily show on Twitter (@WoodbineDawn) where she gives out both the weather and some selections.
"I want to continue to do that this year, and maybe freshen it up a little," she said. "It was popular last year, even just to get an idea of what the weather was. I post it at 11:30 our time. We go live on air at noon with post time at 1pm. It's a useful way for people to get scratches and other tidbits of information."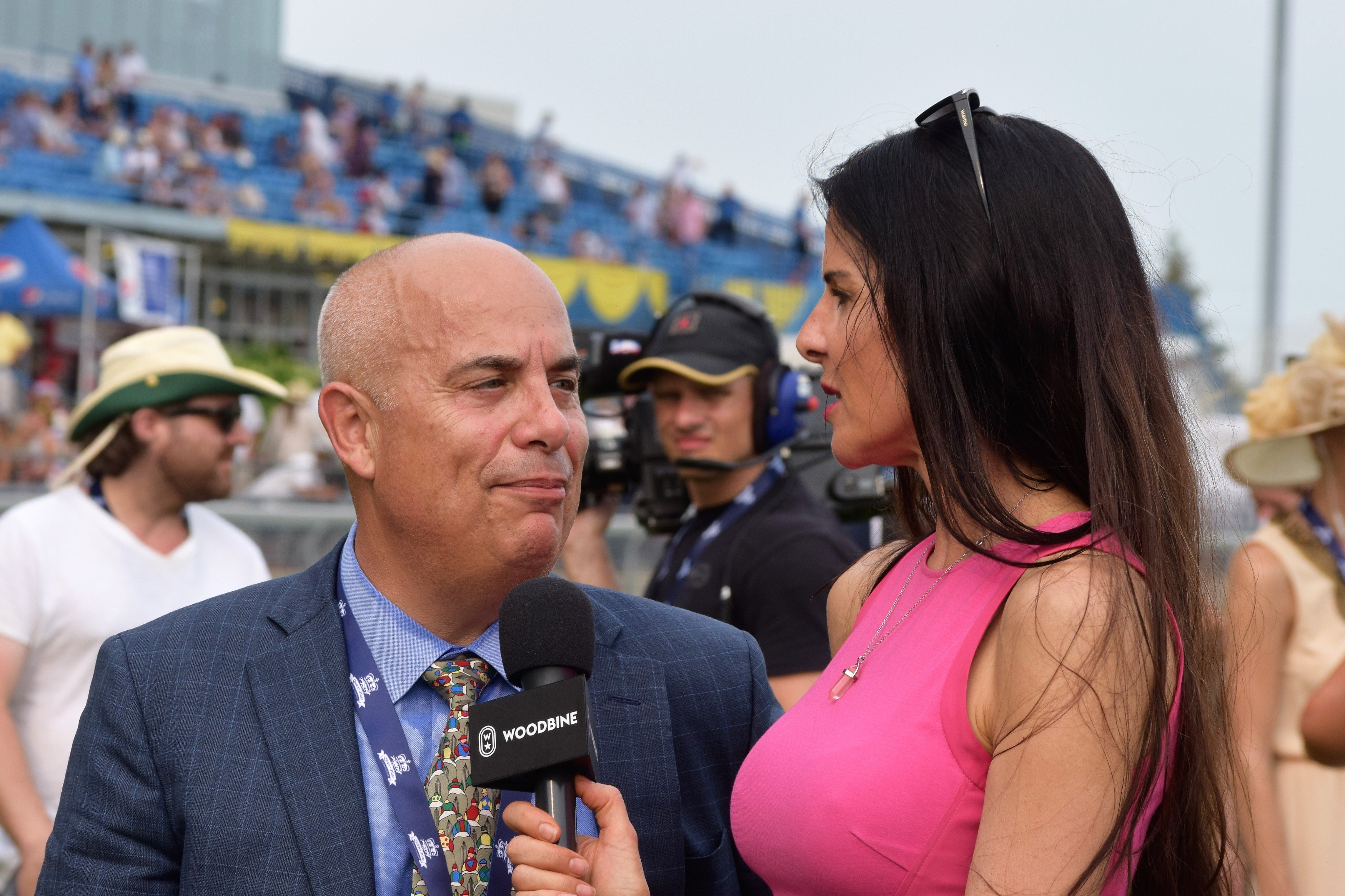 Woodbine's simulcast show, which was first broadcast in high definition in 2014, is regularly being updated, with new graphics just last year. "This year it will be a very different simulcast show from anything anyone else is doing," Lupul said. "It will definitely be heavy on handicapping content for sure, and we will try to hone in on finding value and focus on races where there might be good prices."
Woodbine, which opens on Saturday (April 20), is set for a banner meet with the addition of a second turf course this year. Lupul is excited, saying, "Who else has two turf courses?"
It's not just on television that Lupul has made an impact at Woodbine. In 2009, she became the first woman to announce a full card of Standardbred racing at Grand River Raceway, and later called some harness racing at Woodbine in 2011. She was also a guest caller at Fort Erie, but on December 3, 2014, she was asked – with only 90 minutes to post – to call an entire card of Thoroughbred racing at Woodbine. She was the first woman to do so.
"I always say yes without having a chance to think about things," Lupul joked. "I just jump in and do it."
When much beloved racecaller Dan Loiselle retired on May 31, 2015, he only called half the card, with Lupul stepping up for the other half. "Here came Dawn, who had called maybe eight Thoroughbred races period, and 20 cards of harness racing, totally green, following up Dan Loiselle," Lupul laughed. "But I don't have a lot of fear and I have no pride, so I did it."
Now, Woodbine knows they can call on Lupul to step up when the need arises, but she doesn't prefer it. "I find announcing is very secluded," she said. "You have a headset and a microphone but you're really just talking to yourself for an entire afternoon. It gets lonely."
Through the years, Lupul has loved local horses such as gritty fighter Melmich, and standouts from across the border such as Cigar, Rachel Alexandra and Zenyatta. "I remember that my brother bought a $2 win, place, and show ticket on Arcangues when he won the Breeders' Cup Classic (at 133/1 in 1993). We were laughing at him at the time. That always comes back to me!"
It is the determination in the best horses that keeps Lupul coming back. "I love the fight in the champions. They all have it as a common thing: fight."
Lupul herself has a determined spirit. Outside racing, she is completing studies to be a holistic health practitioner. "It's got nothing to do with racing, but it had a lot to do with my end of racing," she explained. "With my horses, I would look for things to help them recover and perform at their best; which herbs to use that helped, homeopathy, massage, energy healing. I saw the effect that had on my horses for years, so I wanted to deepen that part of my own practice, so I went to school and did just that."
Handicapping triumph
A fitness and yoga guru, Lupul is a proud vegan and activist for healthy choices.
One choice she made to much fanfare was first accepting an invitation to the NTRA's National Horseplayers Championship Charity Challenge in February, and then selecting a winning 16/1 shot in one of the races. Lupul ultimately won with a bankroll of $92.60, earning a $5,000 donation to the charity of her choice: the Permanently Disabled Jockeys Fund.
"It was an honor to be invited and get a chance to fly the Woodbine banner," she said. "I had a winner in the first race, but I had to go on the harness simulcast show that night, so I was just excited I didn't get skunked. My producer is who told me I won."
With the upcoming meet on the near horizon and another 133 racing days set to come, Lupul had some advice for other young women who want to pursue the industry. "Just showing up at the racetrack isn't the best thing," she admitted, "because the racetrack environment is tough to start with.
"There are better avenues to go around it. Go to a local riding stable and learn the business. Work around horses first. Contact the racetrack chaplaincy so that someone is championing your cause on the backstretch. Go through human resources or administration. And, if you're interested in broadcast, put together a tape and demo. The word 'no' just means 'yes' is one answer closer."