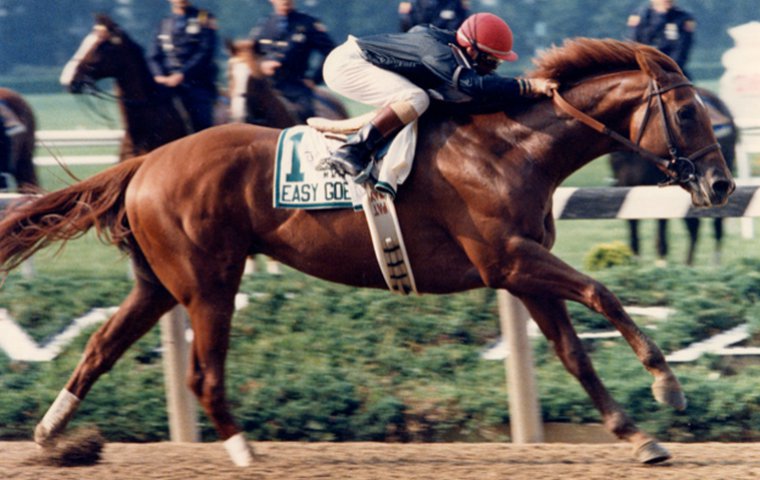 Since Affirmed became our last Triple Crown winner in 1978, 13 horses have won the G1 Kentucky Derby and G1 Preakness only to lose (or miss) the G1 Belmont Stakes and stifle the quest for another year. American Pharoah is the 14th to come to New York seeking success.

Owner Ahmed Zayat recently announced that the breeding rights in his colt have been acquired by Coolmore Stud, and speculation is that his value is at least $20,000,000 now, a number that can increase substantially if he becomes that 12th Triple Crown winner. Yet even for American Pharoah, victory on the track is no guarantee of success in the breeding shed.
The fortunes of America's 11 Triple Crown winners varied after their racing careers ended, and all but one found a second career as a breeding stallion. Assault lost that opportunity when he proved infertile with Thoroughbred mares (although he sired 2 fillies registered as Quarter Horses). On the other side of fortune, War Admiral, Count Fleet, and Seattle Slew went on to become truly great stallions of lasting influence.
Of the rest, Affirmed, Secretariat, Whirlaway, and Gallant Fox are not often described as great sires, but their records were well above average. Affirmed got 10 percent stakes winners to foals and an AEI of 2.42. His fault, it seems, was in passing on too much stamina. Secretariat sired 9 percent stakes winners, and had an AEI of 2.95, but he became better known as an important broodmare sire of Storm Cat, A.P. Indy, and Gone West.
Whirlaway, standing in both the U.S. and France, sired 10 percent stakes winners and had an AEI of 1.84, so he was no slouch, either. Gallant Fox sired 6 percent stakes winners including another Triple Crown winner in Omaha, as well as 1936 Horse of the Year Granville and Ascot Gold Cup winner Flares.
Only three Triple Crown winners were considered major disappointments at stud. Citation sired just 4 percent stakes winners, but they included champion Silver Spoon and Preakness winner Fabius. Sir Barton sired 4 percent stakes winners including champion filly Easter Stockings. Omaha had 3 percent stakes winners, none notable although a few daughters were decent broodmares.
So, of the 11 Triple Crown winners to date, seven became successful sires, three were poor sires, and one failed due to infertility. All in all, a Triple Crown winner looks like a pretty solid investment as a stallion prospect.
If we break it down race by race, the results are a little different. Since Affirmed in 1978, the record of Kentucky Derby winners as sires has been spotty. Excluding two fillies (Genuine Risk and Winning Colors), two geldings (Funny Cide and Mine That Bird), and two colts that died before making it to stud (Swale and Barbaro), only four winners that went to stud became high class sires: Affirmed, Pleasant Colony, Unbridled, and Sunday Silence.
It's worth noting that these four stallions were also noted sources of stamina. Since American breeding is prone to discriminate against stamina, it takes a very good sire indeed to overcome this prejudice. Sunday Silence, rejected by American breeders, earned his fame in Japan, a far-off land that actually appreciates stayers, and Japanese breeders have imported more American classic winners than any other country.
A few other Kentucky Derby winners have become classic sires themselves: Thunder Gulch, Grindstone, and Fusaichi Pegasus. The young Derby winners Street Sense and Super Saver look like they're for real. Most of the rest have been useful at best, or downright forgettable.
One factor that has undoubtedly affected the success or failure of recent Derby winners as sires is that many of them have been exported. These include Sunday Silence, Charismatic, War Emblem, and I'll Have Another, all of which retired to stud in Japan due to a combination of a lack of interest from American farms and big money offered from Japanese breeders. Another large group (Gato Del Sol, Spend A Buck, Ferdinand, Alysheba, Strike The Gold, Sea Hero, and Silver Charm) entered stud in Kentucky but were sent to various points on the compass when they did not live up to commercial demands.
Affirmed, Pleasant Colony, Unbridled, and Sunday Silence won both the Kentucky Derby and Preakness Stakes, so also add their prestige as top sires among Preakness winners. We could feasibly add Summer Squall (11 percent stakes winners; AEI of 2.11; and sire of Derby/Preakness winner Charismatic) to the list of high class sires coming from the Preakness roster, and also good stallions such as Pine Bluff, Tabasco Cat, Afleet Alex, Bernardini, Curlin, and the young Lookin At Lucky.
Now let's look at winners of the Belmont Stakes. Following Affirmed, there have been a solid string of good-but-not-great sires like Temperence Hill, Conquistador Cielo, Caveat, Tabasco Cat, Thunder Gulch, Touch Gold, Victory Gallop, and Afleet Alex. Interspersed between them have been several really high class sires such as Easy Goer, A.P. Indy, Lemon Drop Kid, and Empire Maker. We should also add Birdstone, since he sired classic winners Mine That Bird and Summer Bird.
Overall, these 14 Belmont winners-as-sires make a larger group of good sires than either the Derby (9) or Preakness (11) can claim. Why would this be the case? Over the years, the Belmont Stakes has come to be the only venue exclusively for 3-year-olds to compete at a mile and a half on dirt, and it faces constant pressure from those who think its distance is irrelevant in American racing. If this is the race that separates the wheat from the chaff genetically, then losing this test would be a serious mistake.
So, if American Pharoah wins the Belmont Stakes and so the Triple Crown, his potential as a stallion will be tremendous, considering the record of these victors as sires. If another colt manages to beat him at Belmont Park, don't forget his name, either.