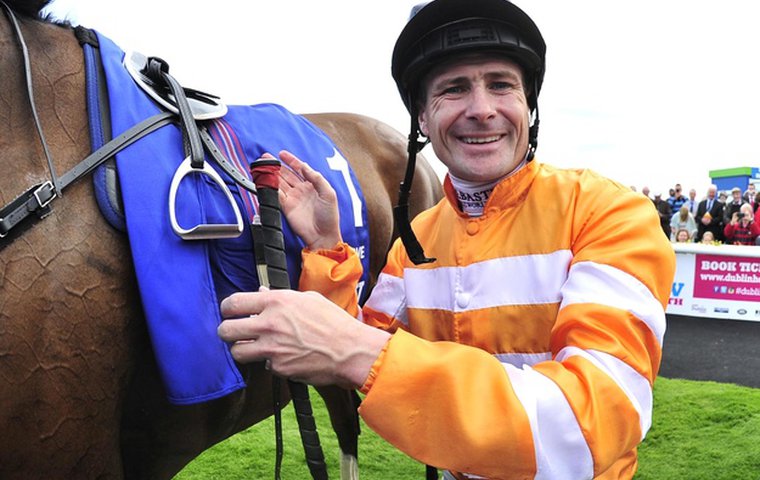 Royal Ascot 2015, Day 2, Prince of Wales's Stakes: big day for Free Eagle, big day for Pat Smullen.

Free Eagle hasn't run in eight months, since British Champions' Day last year, when he ran his heart out to finish a close-up third in the Champion Stakes over the Prince of Wales's course and distance. It was heavy ground on Champions' Day last year and Free Eagle's wheels spun. Eight months later and it's height-of-summer fast ground. Free Eagle is bouncing.
The bookmakers put the Dermot Weld-trained colt in as favourite, but it is still a big ask. His seasonal debut, just his fifth run ever, a G1 virgin, the white-hot heat of Royal Ascot. To compound matters, on official ratings he has 6lb to find with second favourite The Grey Gatsby.
The early pace in the Prince of Wales's is not strong, so Pat Smullen sits prominently on Free Eagle. Third on the run out of Swinley Bottom, there is no appreciable increase in pace, so Smullen allows his horse roll along, move up on the outside so that he can sit at leader Gailo Chop's side.
When you think about great riders, great rides, your first inclination is to think about great finishes, strength and timing, delivering a horse with a run from the rear that gets up on the line to win by a neck. But the best rides are often the simplest. Smullen is strong in a finish, but lots of riders are strong in a finish. It is Smullen's tactical nous, his awareness, his judgement of pace, his split-second decision-making that puts him among the elite.
His tactical astuteness on display at Royal Ascot once again
The winning of the Prince of Wales's Stakes is right there in that move, six furlongs from home. From his position in second place, up on the outside of the leader, off a slow pace, Smullen can control the race. He stays there as long as he can, keeps a hold of his horse's head, until the run to the two-furlong pole, when he says go, and Free Eagle picks up and hits the front.
He never has more than a one-length break on his field, but when you are racing into a quickening pace and trying to catch a top-class colt like Free Eagle, a length can be a mile. As it turns out, it is enough to see the Moyglare Stud's colt home by a short head from The (fast-finishing) Grey Gatsby.
Three days later, Royal Ascot Day 5, and Smullen's tactical astuteness is once again in evidence. As in the Prince of Wales's Stakes on Wednesday, there is not much pace on in the Hardwicke Stakes on Saturday. Just seven runners, and nobody is quite sure who is the cat and who is the mouse.
So Smullen allows Snow Sky stride on. He gets an easy lead and he makes it tell. He allows his horse swing along on the bridle at the head of the Hardwicke field. He could be out for a swinging canter on the gallops.
With all his rivals stacked up in behind him as they start the sweeping turn for home, Smullen crouches lower on his horse and Snow Sky picks up. Suddenly the two-furlong marker is flashing past and the leader has stolen three lengths. There's the race-winning move right there: another G2 win for Snow Sky, another Royal Ascot winner for Pat Smullen.
He can do hold-up too, as we saw with Short Squeeze in a high-profile one-mile handicap at York in August last year. Short Squeeze is a horse who has to be held up and delivered late, so that is what Smullen did. Resisting the temptation to go wide into the home straight in order to ensure clear passage, he charted a path through traffic – not so much the brave route as the necessary route on a horse who doesn't like daylight – and got up to win by a head.
"A lot of people were talking about that ride," Smullen told us shortly afterwards. "It probably looked good, but that is how the horse needs to be ridden. It just happened to work out well."
He doesn't complicate things when they don't need to be complicated
It was typical Smullen, downplaying his contribution. It was ironic, however, that that win gained more traction last season than other high-profile wins in Britain, than Mustajeeb in the Jersey Stakes, than Anthem Alexander in the Queen Mary. Big Royal Ascot winners.
Simplicity does not generate swathes of column inches, but Smullen majors in it. He doesn't complicate things when things don't need to be complicated, but you will rarely find him poorly-positioned in a race. Minimum effort for maximum efficiency.
It was Irish trainer Joanna Morgan who first spotted Smullen's talent, bottled up and squeezed into a pint-sized body. Pat's older brother Sean worked for Joanna at the time, and it was one Sunday evening, when Pat's dad was dropping Sean down, that the trainer spotted this little fellow in the back of the car and asked if he wouldn't mind sitting up on a horse.
And so the fuse was lit. Pat started first with ponies at Joanna's, but he quickly moved onto racehorses. Sink or swim. And so the fuse was lit. As he grew and he started to get heavier, Joanna suggested that a career as a farrier wouldn't be a bad career if he wasn't light enough to make it as a jockey, but young Pat's dream wasn't to be a professional farrier.
An apprenticeship with Tom Lacy followed, and his talents quickly gained recognition among some of the top trainers in Ireland. There were landmark days. His first winner, Vicosa, at Dundalk's old turf track for Tom Lacy in 1993; his first G1 win on Tarascon for Tommy Stack in the 1997 Moyglare Stud Stakes; the day that he beat Christy Roche and Michael Kinane by a head and a short head on the Dermot Weld-trained Token Gesture in the G3 CL Weld Park Stakes in 1996.
A gold-plated book of rides on Irish Champions Weekend
That victory, he thinks, was a big contributor to another big day, the day that Dermot Weld sat him down in his sitting room and, with Michael Kinane moving on to Ballydoyle, asked him if he would take over as number one rider at Weld's stable at Rosewell House. That was after racing at Naas at the end of the 1998 season. Pat Smullen was 21.
There have been other big days since. Lots of them. Refuse To Bend's 2,000 Guineas, Grey Swallow's Irish Derby, Benbaun's Prix de l'Abbaye, Nightime's Irish 1,000 Guineas, Bethrah's Irish 1,000 Guineas, Casual Conquest's Tattersalls Gold Cup, Emulous' Matron Stakes, Dress To Thrill's Matriarch Stakes. All those Royal Ascot wins, Princess Highway's Ribblesdale Stakes, Rite Of Passage's Ascot Gold Cup. Vinnie Roe's Irish St Legers: four big days there.
Last year, Smullen was crowned champion jockey in Ireland for the seventh time. This year, he is over 30 winners clear of his closest pursuer, on track for his eighth title, and he is in demand on both sides of the Irish Sea. Of course, his first commitment is to Dermot Weld, but Irish and British trainers are quick to snap him up when that commitment allows. He has had more rides in Britain so far this year than he has ever had before in a full season, and when Hugo Palmer needed a rider for Covert Love in the Darley Irish Oaks in July, there was only one man to whom he was ever going to turn.
The rest of the season starts for Smullen this week on Irish Champions' Weekend, his gold-plated book of rides featuring Free Eagle in the Qipco Irish Champion Stakes and Forgotten Rules in the Palmerstown House Estate Irish St Leger. However they fare, you know that the ride they will get will maximise their chances.