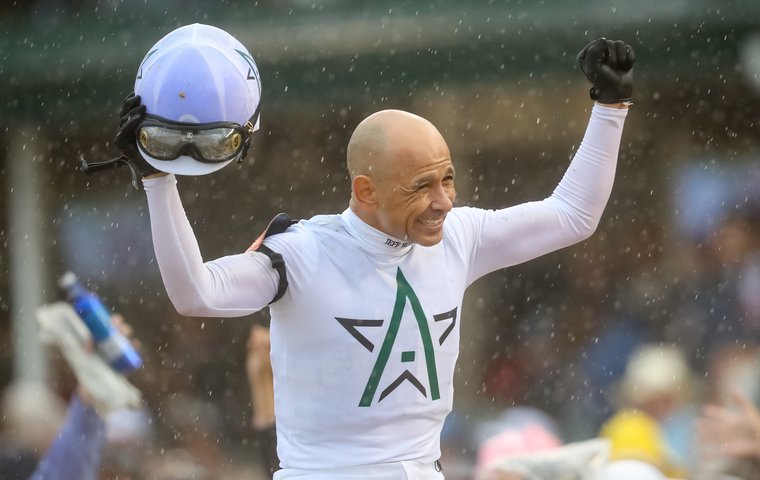 At 53 years of age, Mike Smith should be at the pipe-and-slippers stage of his riding career. Should be. This year alone, he's bagged a first Triple Crown, won another nine G1s, and has demonstrated time and time again to riders a whole generation below him that success in the saddle is far from a feature of youthful audacity only. Daniel Ross sat down with the jockey currently lying second in the TRC Global Rankings to put TRC's standard five questions to him.

Who do you believe is the most important figure in the history of racing around the world?
Can it be a horse? Without the horse, there's nothing. There are so many wonderful, wonderful individuals around the world who are contributing to this sport. Breeders, owners, trainers, the people who buy and sell, the grooms, hotwalkers, the gallop riders — there's so many, you couldn't name one person, but honestly, nothing could be done without a horse.
I've ridden so many great horses throughout my life at so many different stages of my career, that have taken me to another level, all the way to this year, with Justify. Every time I think there's nothing more I can do, along comes something else, another horse. I've been so blessed in this sport to have ridden so many champions that have dug me out of holes, pulled me out of places where I thought, 'this is probably it'. Man, it's amazing what a horse can do — for a whole outfit, let alone a single person. A horse can pay off mortgages, car payments, pull people out of debt.
Which is your favourite venue and race (anywhere in the world)?
You have your classic racetracks like Santa Anita and Belmont. Then you have your summer heavens, like Saratoga and Del Mar. Then you have your classic races. The Kentucky Derby will always be your number one classic race. That day on that moment, incredible. Just one race that I can win? Probably be the Kentucky Derby, just to win it one more time. I think any rider in America would say that one.
What is your fondest memory in racing?
Man, I've been blessed. Again, the greatest thing I do is get to get on a horse when I go to work. You can pick out your first Grade 1, your first Derby, your first race, your first win. But it's amazing just to ride a race. Honestly, my fondest memory is the last time I rode a horse. I really enjoy riding — I miss it. I'm thinking about it right now. Can't wait till Del Mar starts tomorrow, and I'm already looking forward to the first horse that I ride.
Saying that, you never forget winning your first race. Kinda numb. You've got a permanent smile on your face and it won't come off. If you'd have paid me a thousand dollars, I couldn't have frowned that day.
What do you see as the biggest challenge racing faces today?
Some states have figured out a way of keeping their purses at a really high level, whether that's casinos or whatever, people want to be there. We need something like that out here in California, too. This is one of the best race venues period, but some places are getting ahead of us in terms of purses on offer. People have to be running for money.
Same with Arlington Park, just kind of dwindling away. It's one of the most beautiful places to race, and, if they don't do something soon to support the purse structure, no one's going to go there. It's very important to keep purse structures up.
If you could change one thing in racing, what would it be?
You look at a place like Oaklawn Park in Arkansas right now, it's really going in the right direction — you're talking about a place that once couldn't compete with California, and now their purse structure's every bit as good as ours [in California], if not better.
Times have changed, and in terms of getting our purse structure back up, we've got to change with the times and figure things out. Pass legislation. I wish I knew how. But you've got to get the right minds together who do know. If I was king for a day, I'd get the right minds together. One man alone can't figure everything out — it takes a unit of people. Same in everything in life. Not one person can raise a child — takes a village.