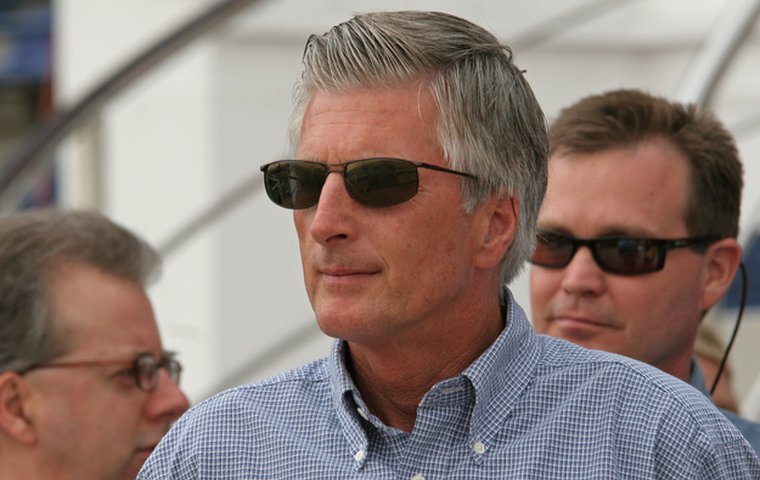 Legend is a sad word, virtually stripped of its original meaning and since rendered almost meaningless by repeated abuse. But, if it can still be usefully applied to anyone in racing, it has to be used to describe Michael Dickinson.

A champion amateur jump jockey, he became arguably the most successful British trainer in the history of jump racing, setting incredible records that are unlikely ever to be broken. Transferring to the flat, and then to the U.S.A., he established another extraordinary reputation before retiring from training in 2007 to concentrate on the production of an entirely new racing surface, Tapeta, named after Tapeta Farm, his property near the shores of Chesapeake Bay in Maryland.
This summer he startled the racing world yet again with the announcement that he will return to training at Tapeta at the age of 65 after a retirement that's lasted less than eight years.
In this Q&A, Dickinson talks to Paul Haigh about his reasons for retirement and why he has decided to return.
----------
Why did you decide in 2008 to retire from training in America? And what has made you decide to resume?
I retired from training seven years ago at the request of my wife, Joan Wakefield, to focus on the expansion of Tapeta Footings overseas (now in 10 countries). Six years ago, she actually sent me to Syria for three days to attend a conference. (Do you think she was trying to have me bumped off?).
At that time I had no intention of training again but, over the next four years, I found time to look at different training methods picked up from other industries. I then spent three years conducting trials on these new methods. I discovered that most of them do not work, but we did find some that were most effective.
We are not eliminating the many good methods used by trainers today. We are just adding a lot of new ideas. It will be an aggregate of marginal gains. All the facilities at Tapeta Farm give us a lot of levers to pull.
How big a part in your decision to retire was played by the perception that many other trainers were getting away with drug abuse?
It has been well chronicled by others that a few of the top trainers were getting away with drug abuse; that it's not a level playing field. Here are my thoughts on drugs and drug testing in the U.S.A. and my entry statement for WHOA (the Water, Hay and Oats Alliance):
1.I have trained in the U.K. on zero medication. I've also trained in the U.S.A. using the permitted medications. The job satisfaction of the former easily outweighs the latter. In the U.S.A. I raced all my horses on Lasix and used some of the other permitted medication. But I have had my "Road to Damascus" moment.
2. During the last seven years, I have travelled extensively around the world to 10 of the best Thoroughbred racing countries, where the question is always the same: "When is the U.S. going to ditch its permissive medication policies?" My reply is: "NEVER." The rest of the world can run excellent racing without medication and they can't understand why the U.S.A. can't do likewise.
They are disappointed that we can't do what the rest of the world can do and the ability of our horses and the skill of our trainers has become needlessly questioned. Some people are addicted to the culture of permissive medication and the leaders of the industry don't have the appetite to change. The outsiders feel that it is hurting our product. The public don't like drugs.
3. America doesn't mind being different from the rest of the world as long as we are not inferior to the rest of the world. Okay, supporters of U.S. medication policy believe that it is superior to that to which the rest of the world subscribes. The rest of the world believes the converse to be true.
4. Many of the younger trainers have not trained without some of the 26 permitted drugs now allowed and are scared to go cold turkey. (Actually the 26 controlled therapeutics do not require anyone to go 'cold turkey'. The intent is to provide guidance on their use, such that they can be used to address equine health disorders, but withdrawn prior to a race in such a way that they cannot impact the horse's performance). I don't think they have anything to worry about. We have many good, hardworking horseman who will have no problem adjusting. Maybe a small percentage will struggle. Then so be it.
5. We are isolating ourselves from the rest of the world, but American racing will survive in isolation. Even though it means we will have fewer runners at the big international festivals such as Royal Ascot, Longchamp, Dubai, Tokyo and Melbourne.
6. It is not true to say that no drugs is inhumane. The injury rate overseas is way less than the U.S.A. If we are saying we need a shed-load of drugs because our races and conditions are so severe, then maybe horseracing does not deserve to survive.
7. Surely it is better for the best horse with the best trainer to win the race rather than the best chemist. It is not morally defensible to medicate a physically compromised horse in order to get it to race.
8. Gene blood-doping has already been carried out in Australia for the last two years, and it has now arrived in the U.S.A.
9. The current lab accreditation is a misnomer and misleading because the bar is so low it is difficult to fail. One lab director knew their equipment was outdated and feared there was "open season" in the state, so they sent some samples to Hong Kong, where they found so many drugs it took seven days to clean the equipment.
10. The RMTC (Racing, Medication and Testing Consortium) does good work considering it has a minute budget and no real power.
11. We have good personnel running our racing labs, but they are hopelessly underfunded. The USADA should legislate and monitor the labs and the racing commissions should have to up the ante. This way nobody would lose their jobs and the labs would be held to a higher standard. We need more out of competition testing and freezing samples.
12. If there is a change in American racing, I believe it will be brought on by the breeders. There are fewer and fewer international buyers coming to the U.S.A. and the problem is only going to get worse. Since 2007, yearlings sold for $100,000 or more are up 12 percent in Britain and Ireland but down 22 percent in the U.S.A. France and Hong Kong are leading the way for all Graded stakes to be run medication free. If this does happen, it could devalue the American Thoroughbred.
13. It is disappointing that the debates always revolve around Lasix when it is the vast amount of painkillers given the week of the race that are far more dangerous. The stacking of anti-inflammatories for five days leading up to the race is only one paralyzed jockey away from a gigantic lawsuit.
You've had to put up with criticisms and even satirisation of your training methods. Have you ever felt truly accepted by the U.S. racing fraternity?
The Americans have been very good to us and very understanding. I'm quite flattered by their tag "The Mad Genius", and we are lucky to have a lot of friends in the industry.
How much have you missed training? To what extent has your decision to resume been influenced by the pleasure you get out of the job?
I made the decision to train again purely because I want to. I love horses, and it gives me great pleasure to have all these fantastic facilities at Tapeta Farm to make a better life for my horses. For example, we are planning to turn the horses out in a fresh grass field for four hours every day. This will help to increase performance while giving them a better quality of life.
You've made many mould-breaking leaps in your career. Which were the most difficult: the move from jumps rider to jumps trainer; the move from jumps trainer to flat trainer; the move from Britain to America; the creation of Tapeta (both the farm and the surface); the decision to retire from training; the decision to resume?
All were very easy transitions. I never woke up in the morning and said "I need a change". They all just evolved without me ever making an instant decision. They all just happened; it was no big deal and felt right at the time. I am starting training again because I want to.
When you took up owner-breeder Robert Sangster's offer in the 1980s to train on the flat, many expected you to transfer effortlessly and take up where you'd left off in jump racing. How frustrating was that first year at Manton [the lavish training centre in Wiltshire, south-west England]?
Robert Sangster should not have asked me to train because at that time I had no experience of training on the flat, and I should not have accepted the position to jump into a big, high-profile stable. We both made a mistake.
How hurtful was all the talk from people who seemed to relish the problems of transition?
Fair comment. I am not offended by it. Sir Peter O'Sullevan saw the injustice. I had support from Sir Peter, and that was all I needed.
What made you decide to move to America?
We had an American vet working for us at the time, Dr. David Lambert, who knew that the horses were big, backward, late-developers. He asked me to go to America and train 12 horses for him and his clients. I never lost faith in my own ability, so I wanted to continue on the flat instead of taking the easy route of going back to steeplechasing.
How satisfying were the triumphs - Da Hoss and Tapit in particular?
The first time Da Hoss won the Breeders' Cup Mile [in 1996], it was quite straightforward and uneventful, in complete contrast to his second win [1998].
He hurt himself training in South Carolina because, as a foal, he lost half his foot. As a 2-year-old, he developed two huge spurs in each hock. As he became older, they became more of a problem to him. Six weeks before the Breeders' Cup, two well respected vets stated, "He won't make the first race, let alone the second race."
In 99 percent of the time, they would have been right, but my team of Joan, Miguel and JonBoy nursed him through his problems with their horsemanship, love for the horse, and optimism.
Obviously Da Hoss will always be special in our hearts because he overcame so many infirmities. When we were given the diagnosis that he couldn't make the Breeders' Cup, Miguel came to me and said, "Don't worry, we'll get him there", and it was Miguel's skill that won the day. He did say, "He runs with his heart, not his legs."
Tapit [now America's leading sire] was one of the last horses bought by Verne Winchell, who was a great owner for us. He unfortunately passed away before the horse ran, so his success was poignant in many ways.
Dr. David Lambert found the horse, and it was an easy decision for me to approve once I saw Tapit for myself at the sale. Fortunately, Verne and his racing manager, David Fiske, also approved of the horse. Dr. Lambert said to me, "Make sure your man buys the grey horse." However, at the time, he was by an unproven sire, out of a dam who only won $50,000. I thought, based on this, we would get him for $300,000. Fortunately, Lambert and Fiske stuck at it and we got him for $650,000.
What prompted you to develop Tapeta (the racing surface)?
Vincent O'Brien [the legendary Irish trainer] ignited my passion for racing surfaces. It was he, in fact, who invented the modern all-weather gallop. I thought it would take me three months to develop, but it took me four years to perfect in order to handle all climates. I knew if Tapeta Farm was to be a success, I had to come up with a better surface than everyone else. Our goal was to increase the safety and performance of horse and rider over dirt tracks.
How satisfied are you by the development and acceptance of Tapeta? How much of a blow was its rejection by Meydan and some U.S. tracks. Do you think it was given a fair trial?
Meydan's decision was not a rejection of Tapeta but a desire to attract more Americans who run almost exclusively on dirt. One mile down the road from Meydan, Sheikh Mohammed still has a really good Tapeta track from where one of his trainers, Saeed bin Suroor, won the Dubai World Cup in 2015 on dirt.
There are several trainers in Dubai who all train on dirt and have more horses than Saeed, who trains exclusively on Tapeta. Despite this, Saeed won 19 races at this year's Dubai Carnival, and his closest pursuer only had six wins.
You are incorrect to state that Tapeta has been rejected by some U.S. tracks. Golden Gate Fields has been well received and is still going strong. Presque Isle Downs was the safest track in America three years running.
Development of Tapeta is continuing. Will the 'new surfaces' you mention be developed with a view to countering criticisms of Tapeta as it now exists? If so, what changes will be possible that might silence the critics?
There has been very little criticism of Tapeta. Critics generally do not take into consideration that the surface was developed to increase the safety of horse and rider. New development and improvements are aimed at achieving that end, not to silence the critics, of whom there are very few. There will always be critics and no surface will ever be able to satisfy everyone. But here are some figures which I hope will put their views into perspective:
Last November there were four horses on the short list for Horse of the Year in the U.S.A. Two of those four horses train exclusively on Tapeta. Considering there are approximately 500 dirt tracks in the U.S.A. and only three Tapeta tracks this is an impressive statistic.
This year the U.S.A. sent the Kentucky Derby winner and two other Grade I performers to contest the Dubai World Cup on dirt. These three horses finished in the exact order that most people predicted, but they were beaten by an 8-year-old who's only been on a dirt track twice in his life and trains exclusively on Tapeta.
I noticed that at a meeting at Wolverhampton [in England] a few weeks ago, all seven races on the Tapeta were won by the favourites. Fair … formful and safe.
I will be training on Tapeta10, aptly named for the 10 improvements we have made to the original surface.
What advantage do you hope you will get from your "performance centre", mentioned in your press release about returning to training?
Nearly all trainers in the U.S.A. train at the racetrack, where there is no room, no freedom and no privacy. They are severely restricted in what they can do. This is in complete contrast to Tapeta Farm, where we have 250 acres all to ourselves.
We are at the north end of Chesapeake Bay, halfway between Washington D.C. and New York, surrounded by 11 major racetracks. A friend of mine was only joking when he said the performance centre will have more technology than NASA. At least I hope he was only joking! Training racehorses has changed very little over the last 15 years, but I will be introducing technology which will give our horses a huge advantage.
You seem to be a great believer in space and freedom for horses. Do you feel that turning them out on grass for hours daily is a vital component in successful training?
There are four advantages:
For the brain, to help the horse relax.

Fresh air, to improve the integrity of the lung.

Fresh green grass, to aid digestion.

Extra exercise, to increase soundness, reduce injuries and promote collagen turnover.
Previously, we used to turn most of our horses out for two hours, which proved to be of great benefit. Now I am going to try to turn my horses out for four hours. I am not trying to pretend I know the optimum; it probably depends on the horse and the weather.
Almost certainly, no-one else will ever achieve this feat, so there will never be anyone else to ask. Can you describe the sensation of sending out the first five home in the 1983 Cheltenham Gold Cup?
I had rehearsed Sir Peter O'Sullevan's call of the race to Joan about 50 times during the 12 months before the actual race and got most of the events within the race spot on.
On Boxing Day, we had 12 winners and the horses were flying, but in January everything seemed to go wrong. A month before the Gold Cup, none of the horses were at their best. There were a lot of sleepless nights and pressure beforehand but a huge relief when it happened rather more than elation. I also realize now that the whole Harewood [training yard] team was so young, but none of us truly appreciated the magnitude of what was happening at the time and probably did not appreciate it enough.
Who will be your main owners now you resume training, and to put it bluntly, will they have the spending power to enable you compete?
Many of my old owners are sending me horses. Dr. John Chandler, President of Juddmonte U.S.A., Charles Fipke from British Columbia, Jan Naify from San Francisco, Dr. Gary Knapp of Monticule Farm, Kentucky, and Marlene Brody of Gallagher Farm in New York are just a few.
How will you measure success? By winners obviously, but have you set yourself targets for the first few years?
I do not measure success by the number of winners but rather by Graded stakes.