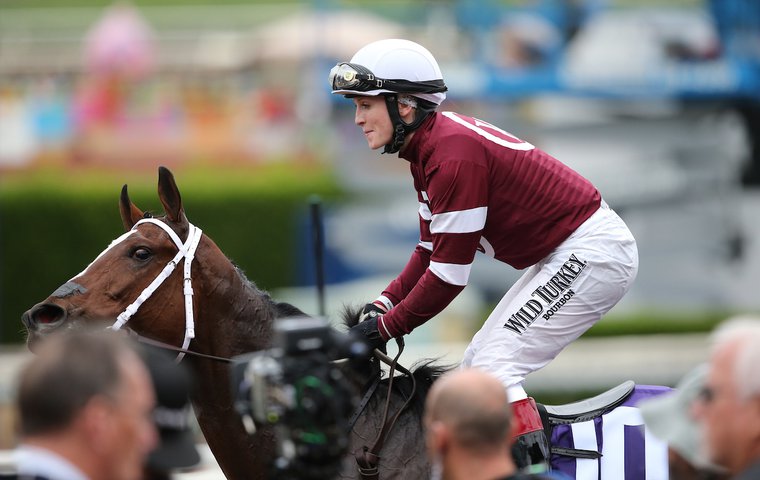 "Horses make good little girls" was something my dad always said. Nothing tops your first love. That passion for horses consumes you, fully and completely, sometimes burning until there is nothing left.

Steve Haskin has an incredible way with words and his Blood-Horse column earlier this year, Why Women Will Keep Racing Alive, perfectly captures the fire and drive so many horsewomen have. It also shows the scarcity of powerful women in racing. The day after I read Haskin's piece, I came across Carleigh Fedorka's blog Being a woman in a man's world, and one line resonated deeply: "…. many of them are being pulled away by a career with more money, fewer hours, and more respect." Bingo.
Respect is something few people think about until it's acutely and undeservingly missing. Most of us are taught that respect is earned through hard work. Yet, many of the hardest working people all have experienced such disrespect. It changes them. Ms. Fedorka's blog touches on overt and subtle sexism she's experienced in the horse industry.
Misogyny is ingrained in our culture, though you may never see it until you experience it. In the workplace, the most common form is lack of respect and lack of opportunity. Where the passion for horses meets such frustrating and interminable walls of resistance is where many of us burn out.
Complete burn-out
Before the recession, my career trajectory was precisely mapped. I was driven, I was doing things right, and I was confident that, if I worked for the right people, I would succeed in "the boy's club". I worked hard at my internship prepping yearlings and earned respect from my boss, managers, and employees. I felt respected every day.
I graduated college mid-recession without a job. I couldn't afford to move to Kentucky with student loans accumulating obscene interest daily. My parents thankfully understood and allowed me to live at home. I found work with a Quarter Horse halter breeder nearby. Though my stint lasted just under a year, I burned myself out so completely — mentally and physically — I have only ridden three times in the six years since. This would be unimaginable to the passionate girl I'd been before.
The job was to be part-time assisting, primarily with the show horses, which seemed perfect until I was able to find a job in Kentucky. After about seven months, it turned into 60+ hours of only me grooming, lunging, ponying, mucking, feeding, handling foals, battling new soundness issues every week, gardening, and deep cleaning the barn and office with no end in sight. My quality of work went out the window. And more tasks kept coming.
Time to recover
These may sound like musings of a victimizing Millennial, as we have a reputation for whining. However, many of us learn from experience and examine what we could have made better. Even my parents, who never quit anything in their lives, and the farrier all told me multiple times over my last few months, that I was doing too much and should walk away. As a perfectionist, I should've known I was burned out when I started caring less about quality of work than getting the growing daily checklist finished.
My lessons learned are as follows: better pay won't fix all, you can develop carpal tunnel mucking stalls, there is such a thing as too much work, asking for help isn't failing, Diet Coke is not a meal, regardless of time restraints, and quitting is sometimes your best option.
To those who offer someone the chance to prove themselves, thank you. You have gained loyalty and respect by cracking open the door. We will take it from there and not let you down.
To those who choose not to give someone a chance for trivial reasons, prepare to be humbled and/or lose brilliant talent. Rosie Napravnik said she worked even harder to beat those who wouldn't hire her because she was a woman. We will all do that. After all, Hell hath no fury …
Something fierce
To those who have been burned out or are fading, I was lucky and only needed time to recover. It also helped that there were social icon horses with fascinating backstories in the interim to keep my interest.
Some people never do bounce back from being overworked and underappreciated. Don't push yourself so far that you completely lose that flame. If you're fading, reanalyze what you want and all routes to get there, not only the most obvious.
I now feel that an essential part of me has been missing all this time. It's frustrating not having an outlet for my passion. But it's back, stronger than ever, and I'm glad.
After being semi-spoiled with luxuries like insurance, pension, PTO (Personal Time Off), and 40-hour weeks, I may not be lured away from my current path. I'm still in a male-dominated industry, so by no means an easy way out. I may settle for racing as only a hobby.
The long way around
If those horse-crazy dreams still find a way of coming true, I will be delighted to say I've come home the long way around and been forged by fire.
Regardless of my future career, I will tell passionate young women that nothing goes precisely to plan. If 'plan A' doesn't unfold as expected, you mature, become stronger, and a better person. You know yourself better, understand your limitations, and aren't as scared to push yourself because you've extended further before.
Most importantly, if the door isn't open to you, kick it down. Shatter those glass ceilings. Create a new path. Never take for granted the chances you've been offered or those who have come before to pave the way. Never regret making decisions that were right for you.
For those in a position of mentoring: offer a leg-up to the young and ambitious. No need to make it easy, we will work for it. Only encourage passion so we won't allow it to be stomped out. Otherwise, it's a long road back.