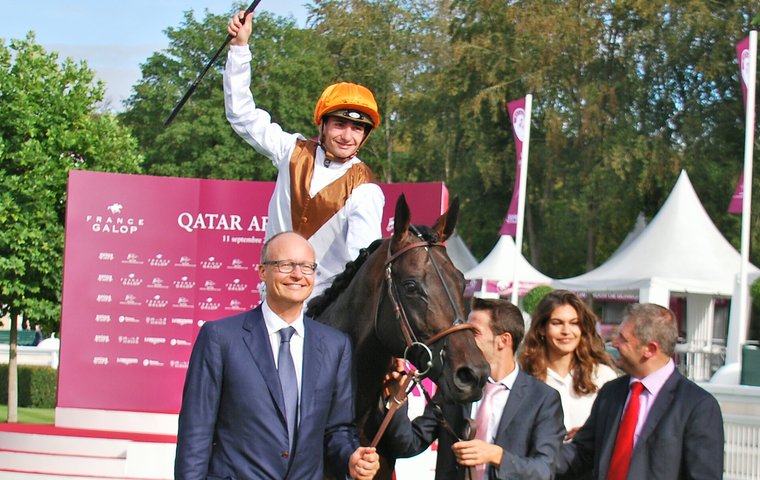 It's not necessarily what you might have expected to see Andreas Putsch doing by now - his family ran a car seat business, and the first jobs he tried were in journalism, fashion photography and advertising - but via an unconventional route he's having quite an impact in Thoroughbred breeding, with an important, thriving stud farm and an exciting project just beginning centred around a promising new stallion. He told John Gilmore his story.

Andreas Putsch couldn't hide his joy after Vadamos, a horse he both owned and bred, recorded his first G1 win, when enterprisingly ridden by Vincent Cheminaud in the G1 Qatar Prix Moulin at Chantilly in September. Earlier in the season he had won both the G2 Prix Du Muguet at Saint Cloud and G3 Prix Messidor at Maisons-Laffitte.
Trainer Andre Fabre had always held Vadamos in high regard, claiming he could beat anything else in his stable on the gallops. It was Putsch's first G1 success since the 3-year-old Efisio filly Pearly Shells, a 265,000 Irish punt purchase at Goffs in 2000, won five of six races in 2002, including the G1 Prix Vermeille.
Pearly Shells, now 17, is still part of Putsch's mare rosta at his Haras de Saint Pair stud in Normandy, having produced five winners to date, led by Pearly Banks, the product of a mating with Pivotal and the winner of five races, including a G3 at Dusseldorf in 2010.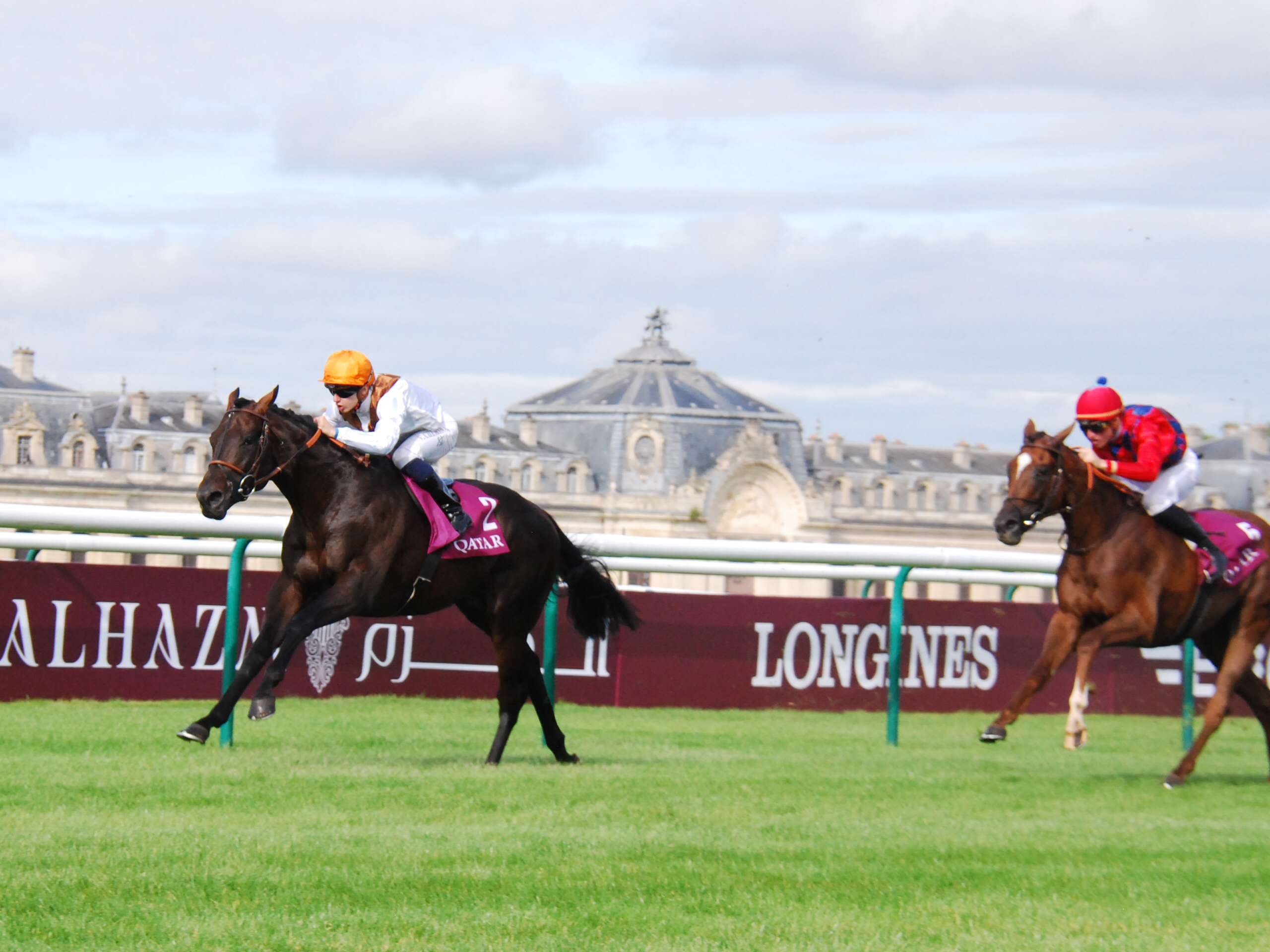 Before taking up stallion duties at Tally Ho Stud in County Westmeath, Ireland, for the 2017 breeding season, Vadamos travelled to Australia, finishing a credible fourth in both the Cox Plate (behind Winx) and in the Emirates Stakes at Flemington on Melbourne Cup weekend. He ended his racing career with eight wins and five seconds in 20 races.
The son of Monsun, now six, was born at Haras de Saint Pair in 2011. Australian John Camilleri, whose Fairway Thoroughbreds bred Winx, took a 50 percent piece of the action in the colt when he was a 3-year-old. The dam, Celebre Vadala, was purchased by Putsch from the Aga Khan Studs for €525,000 at the 2008 Arqana breeding stock sale when in foal to Selkirk. It proved a shrewd investment.
The Selkirk foal, named Vadanor, went on to win eight races and over €100,000 in prize money. As well as Vadamos, the mare also has a yearling colt and filly foal respectively with Pour Moi and New Approach and is being covered by Gleneagles this year.
Vadamos shuttle arrangements
Putsch is clear about why he didn't stand Vadamos at his stud despite any perceived loss to the French breeding industry. "I run the stud just for mares, their foals and yearlings," he said. "The stallion business is a very specialist field, and I don't have this experience, so it was never a question, or wise, to stand Vadamos at my stud.
"There were bids from French studs, but not enough, and the Tally Ho Northern Hemisphere offer was the best, with both John Camilleri and myself each holding a 12.5 percent stake in Vadamos under this deal.
"I have also bought mares specifically to be covered in 2017 that will suit the stallion and will be eventually sending ten."
The fee for Vadamos at Tally Ho for 2017 is €10,000.
A group of New Zealand breeders have also taken a share in Vadamos, including Greg Tomlinson of Nearco Stud and Sir Peter Vela of Pencarrow Stud.
The stallion will shuttle to Rich Hill Stud in New Zealand for the 2017 Southern Hemisphere breeding season. "I have a six percent stake in this arrangement, with John Camilleri [having] a bit more," said Putch. "If fertile and remaining sound, I would expect Vadamos could receive up to 150 mares in each hemisphere."
A horse breeder at age ten
It's all a world away from Putsch's childhood days on his father's small 20-acre farm near Kaiserslautern in Germany, where he kept a few Hanoverian horses and owned a thriving car seat company.
As an adult, Andreas Putsch would have been expected to join the family business. "I had no family involvement in horse racing, apart from my grandmother, who used to take me to Baden Baden and the sales," said Putsch. "But it nurtured an interest, and I have continued to follow the sport keenly all my life."
Putsch helped out with the horses on the farm as a child and looked after and bred his first foal from one of the three Hanoverian mares.
"Before going to school, I used to feed the horses, and I started breeding at ten years old when one of the mares was on heat. I took her to the next village to be mated with a stallion there," he said. "The foal born later became a good level-competition show jumper."
The lure of pinhooking
Sent to a Swiss boarding school at 14, Putsch was never interested in joining the family business. "I spent two years at the equestrian magazine St. Georg in Hamburg and covered all the main equestrian events and sales." He then moved on to become an assistant photographer for a fashion agency in the city, and later worked at an advertising agency.
He never forgot his interest for horses during this time and spent four or five years in the early 1990s in northern Germany trying to pinhook foals. "I started buying foals to re-sell, but it didn't work out very well and I made mistakes. You learn by experience."
In 1995, Putch moved to Miami, where he married. "Thanks to my wife's insistence to find a proper job, I ended up in the racehorse business on a full-time basis," he said. "I went to the Keeneland September 1995 Book 1 sale and couldn't believe the number of six-figure prices that went through the ring. It was mind-boggling, having been used to seeing Hanoverian horses in Germany selling for around €10,000."
Seeking an edge
Putch realised that, if he was going to get into this game in a big way, he needed to carry out some research and get advice. "I analysed what had taken place after the sale and noticed Book 1 yearlings that had been pinhooked as foals were more expensive second time round. So I thought there was money to be made in this line of business."
He took advice from Kentucky bloodstock consultant Cecil Seaman, who has a method of measuring horse's bodies, balance and leverage. "I saw Seaman's ad in a newspaper and knew how athletes were measured and thought there was something in it," said Putsch. "He measures all the horses in a sale which takes two minutes for each and gives his assessment, with breeding not so important to him."
On Seaman's recommendation, Putsch bought three foals and a mare at the Keeneland November 1995 sale for $30,000, $75,000 and $110,000 and a filly out of training, Light Of My Life, by Green Dancer, for $60,000. "With the foals I lost money, but I got lucky with the filly, who had a Sharp Cat half sister that became a Grade 1 winner, and I re-sold her in foal to Diesis for $210,000."
Getting started in Europe
Putsch started to get more involved in buying and selling racehorses on a full-time basis. Coming from a wealthy family, he initially persuaded his father to lend him some money to get started in the States for buying and selling horses. "In 1997, I sold my share of the company's car seat business, which gave me sufficient capital," he said. "In December 1997, I moved back to Europe with my wife, and after a brief spell in England settled in Monaco."
Putsch had built up a number of connections in racing and was able to get started in Europe. "I had boarded horses at Brereton Jones's Airdrie Stud in Kentucky and, through his advice, was put in touch with Jean Louis Branere, who was a bloodstock agent, and began buying, selling and breeding horses and using French studs Haras D'Etreham and Haras De Fresnay-Le-Buffard, and Loughbrown Stud in Ireland."
Putsch soon began to realise he would eventually need to have all his mares and offspring under one roof. "It was after the success of Pearly Shells in 2002 that I began to give this subject more serious consideration, and I looked to buy a stud in France for the both the breeding and owners' premium advantage and as a country place for holiday weekends."
Running an idyllic stud farm
It may have taken him five years to find his idyllic place, but according to Putsch when the historic 150-acre Normandy stud Haras de Saint Pair came on the market, the wait was worth it.
"I just fell in love with the place the first time I visited the stud, which was only on the market as the Swedish owner Bo Garansson had a health problem," he said. "As others were interested, I acted quickly putting in a bid straight away for the whole lot - chateau, stables and land, which thankfully was accepted.
First started in 1883, the stud has had a number of owners and bred several big-race winners over the years, including four Prix de l'Arc de Triomphe successes.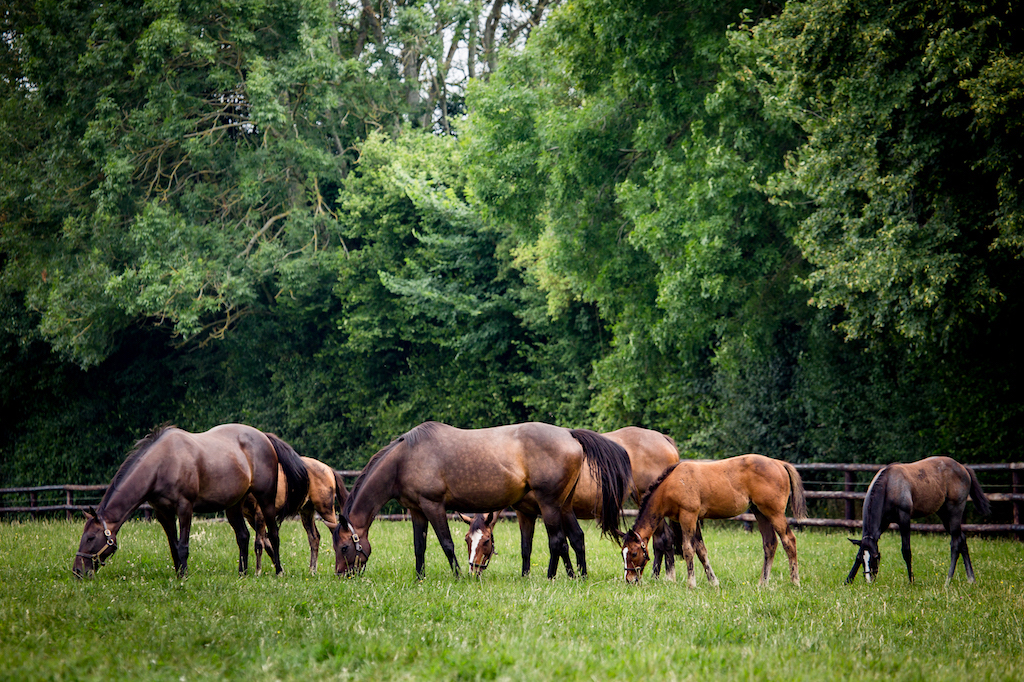 "I run the stud as a business, but on quality not quantity," said Putsch. "I have paddock space for around 100 mares, but too many would destroy the paddock grass and attract parasites, so there is never more than 50, which includes mares, foals and yearlings, at the stud at any one time, and sometimes up to a maximum 60.
"Everything born goes through the ring except the top fillies and, if they don't reach the reserve, I buy them back to race. Breeding is a selective process. When you retire a filly from racing better than the least good [one you have at home], then the least good one has to go."
Big purchases
Putch has never been afraid to put the money down when he wants something. He went to $2.1 million to buy the mare Amorama, in foal to Ghostzapper, at the Keeneland November 2007 sale, from previous owner Frank Stronach, who had previously paid $1.05 million for her at Fasig Tipton in 2005.
Amorama, a dual Del Mar G1 winner, died in 2015 on the same day that Ampere, her most promising offspring to date, was winning the G2 Prix Hocquart at Longchamp. The Andre Fabre-trained son of Galileo was subsequently a good second to Erupt in the G1 Grand Prix de Paris that July.
Ampere, who sustained a career-ending injury in the Prix Hocquart last season, is the third winner from Amorama's first four foals. Her 4-year-old filly Amorine won twice in 2014 and is now at the stud and in foal to Sea The Stars.
Buying mares for Vadamos
At the Tattersalls December sale last year, Putsch splashed out again to buy four mares, three of them to be mated with Vadamos.
He went to 935,000 gns for the 4-year-old Irish Rookie, a daughter of Azamour, who had finished second in the G1 Poule d'Essai des Pouliches. She will be mated with Dubawi. He also paid 60,000 gns for Next Life (by Oasis Dream), 100,000 gns for Arabian Beauty (Shamardal) and 200,000 gns for Nymeria (Soldier Hollow), all three of whom will visit Vadamos.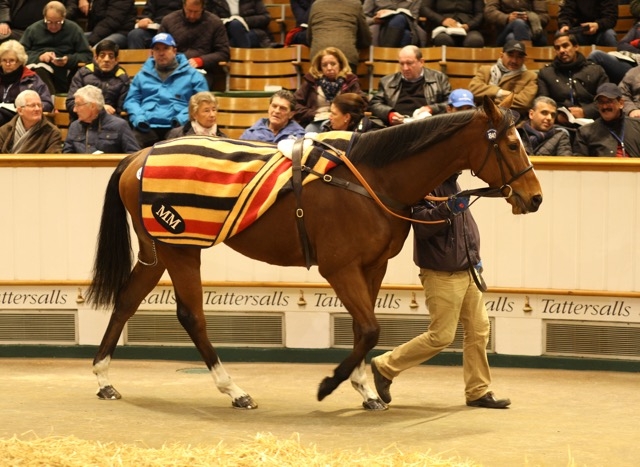 "I will be looking to purchase a further seven mares privately in the next month and bring the tally to ten to be covered by Vadamos," he said. "This is a new experience, having an interest in standing a stallion as part of a commercial set-up and needing to find mares to suit the stallion, as opposed to my core stud-based mare business, where I am trying to create something by matching a stallion to suit my mares.
"Vadamos is proving to be a very popular stallion, and the signs are promising that he will have a full book of 150 mares at Tallyho for his first breeding season. The difficulty with a top mile to middle-distance winning stallion like Vadamos is knowing whether to breed from a mare having speed or stamina. When you look at Sadler's Wells, he was best suited to mating with staying mares. For Galileo, it's shorter distances."
Lose on racing, profit on breeding
Balancing the books through selling mares, horses-in-training and yearlings is a necessity for Haras de Saint Pair, and over the past few years some high prices have been achieved.
Rehn's Nest (Authorised - Solar Nageire), a 6-year-old mare and G3 winner, originally bought by the stud at Goffs November 2013 sale for €340,000 subsequently sold in foal to Dubawi for 750,000gns to Rabbah Bloodstock at Tattersalls in December 2014.
Home-bred Pearls Of Passion (Monsun - Pearly Shells) was sold as a 4-year-old out-of-training filly for 600,000 gns to Robert Knight at the December 2013 Tattersalls sales. The yearling Maximian (Shamardal - Via Milano) was sold at Tattersalls in October 2014 for 370,000 gns. And the 9-year-old mare Via Medicia (Medicean - Via Milano), a G3 winner, was sold for €480,000 to Narvick International at the Arqana sale in December 2014.
"This is a business that takes time, a little luck and patience to develop, but I have built up a good quality of mares to breed from," said Putsch. "Overall, the 15 or so horses in training lose on the racing side, but the breeding makes the money. I am also part of a syndicate that pinhooks, and I like to buy horses out of training to breed from or re-sell.
"Overall, I make a profit, but you have good and bad years, and the business is extremely sensitive to the economic situation."
Sparring partners
Putsch is full of praise for his staff at the stud, which he has put together over the years. "I have been living in Switzerland for the past four years in Pontresina, a mountain village close to where I went to boarding school, and just stay one week each month at the stud, but this is not a problem as I have a top team of 14 people and [an assistant] working for me.
"I listen to my farm manager and other members of my team and use them as sparring partners, but in the end I make the final decision on mating, buying and selling."
But Putsch is none too happy about the high French social charges, which are double UK levels, to pay for employees and rigid employment laws.
Issues with employment laws
"The 70 percent French social charges, on top of salaries and inflexible employment laws, makes it very difficult to breed race horses in France," he said. "You should never keep people you don't want, and, even if it is expensive, I would always get rid of them. Fortunately, I have had only one case to sack somebody."
Putsch is also highly critical of the VAT rate for buying horses in France, which now stands at 20 percent, compared to 9 percent in Ireland and 17.5 percent in Britain.
"When you go to a French sale, you have 80 percent foreign buyers," he pointed out. "The French people need to set up a company to recuperate the VAT, which requires a business address and someone to manage it, an added expense which does not make sense for an owner with just one or two horses. It has created a situation [where you have] the top [of the] market and then the rest. It's a knock-on problem for the small trainers, who rely on the less wealthy owners for horses."
One for the coming season?
Home-bred Trais Fluors, who failed to meet his yearling reserve price, was bought back by Haras de Saint Pair for 120,000 gns at Tatteralls in October 2015, but that may prove to be a blessing in disguise. Trained by Andre Fabre, the Dansili colt, out of the stud's G3-winning mare Trois Lunes, easily won his debut race for unraced 2-year-olds over 1,500 metres at Maisons Laffitte on October 6 and looks a good future prospect.
"For me, the sport is pure passion, and I love every aspect of it and don't understand people who are just involved in racing or breeding and not both," he said. "My market is international, and I breed for the quality, not the premiums, with mares of at least listed class from proven stallions, trying to balance speed and stamina."