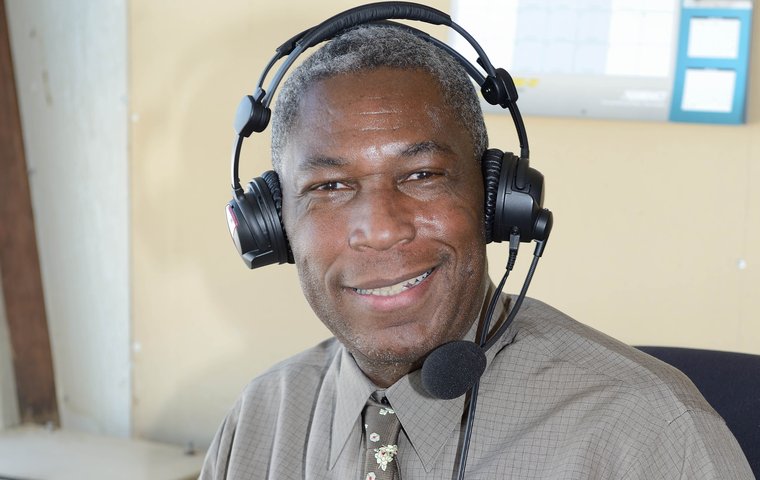 As post time drew near for the 147th Travers Stakes, a tall, slim man raised his binoculars to his eyes. Standing in a glass booth at the end of the press box, he looked down the stretch and began to speak into a microphone attached to a head set as the field was loaded into the starting gate.

Though pushing 60, his voice became louder and more animated as the horses broke from the gate in the Mid-Summer Derby. Soon he was pumping his fist and moving from side to side, looking like any of the excited fans crowded into historic Saratoga Race Course for its showcase event.
Yet his impassioned words were far different from anyone else's at the racetrack.
In fact, they were quite unique. For the 11th time that August afternoon, he did something no one else in this country does.
Take a listen:
"Arrogate mantiene el commando. Impuso su propio paso de carrera. Mike Smith y esta votando con dos, tres, cuatro, cinco, seiscuerpos. Se fue. Mike Smith en el Travers con el pensionista de Bob Baffert. Esta galopando. Arrogate con dividend de once a uno. Mike Smith se gana de Travers con Bob Baffert. Segundo arriba American Freedom. Tercero esta finalizando Gun Runner."
For a loose translation, just in case your Spanish is rusty, here's what he said as the Travers field turned into the stretch and Arrogate surged to an utterly lopsided victory:
"Arrogate maintains control. No one is pressuring him in the race. Mike Smith pulls away by two, three, four, five, six lengths. He's gone. It's Mike Smith in the Travers with a horse trained by Bob Baffert. He's running easily. Arrogate, at odds of 11-1, wins the Travers for Mike Smith and Bob Baffert. Second is American Freedom. In third place is Gun Runner."
Dream come true
Welcome to the world of the effervescent Luis Grandison, a true pioneer in the U.S. racing industry. Two years ago, the New York Racing Association (NYRA) hired him as the country's first Spanish-language race caller and, to this day, he remains as the only person filling that role at an American racetrack.
His job may have been a novelty when he debuted in April 2014, but the way Grandison's work has been enthusiastically embraced speaks volumes for its place in American racing and raises the question of why NYRA – or another track for that matter – did not add the feature sooner. It seems to make all the sense in an ever-changing world.
"It's long overdue to have a Spanish announcer because so many people who use Spanish as their first language love racing, so I think it's great he came on board and I can't think of anyone better than Luis to fill that role," former jockey and NYRA analyst Richard Migliore says. "From what I've seen, It's been received very well and you can see how he loves what he's doing."
For Grandison, that love was born back in 1978, when he embarked on a 25-year career as a race caller in his native Panama. Yet now, for him to return to a profession that has given him so much joy and satisfaction, working for NYRA has been a dream come true.
"For me, to do something I had been doing for so much of my life and to be able to do in the United States, it has been such a great feeling," says the 58-year-old Grandison. "To get the chance to call all of the great classic races in New York has been an incredible thrill, and to be the first person to do this job as a Spanish announcer is very special for me."
Magnetic personality
In many ways, bringing Grandison into its fold was one of the best moves NYRA has made in recent years. He has given NYRA more than just words to go along with its races. Blessed with a magnetic personality, Grandison has become a bridge to those in the Hispanic and Latino communities who are fans of the sport or work at the track or are members of the New York jockey colony.
"Thoroughbred racing has a large and dedicated Spanish-speaking fan base and we thought this was an important initiative to really enhance and personalize the guest experience for them," says Dan Silver, NYRA's Senior Director of Television, who played a key role in bringing Grandison to NYRA. "It was actually a no-brainer with the following horse racing has in that community."
A no-brainer, for sure, especially since there was no downside to the move.
"When you consider the significance the Latino community plays on a daily basis in all aspects of horse racing, to tap into that is nothing but a good thing for the sport," says Travis Stone, the race caller at Churchill Downs, who also works in a part-time capacity for NYRA. "The initiative by NYRA to do that is very commendable and they certainly picked the right guy to do it in Luis. Everyone should be proud of what he's done."
Industry leaders are also taking note of Grandison's work.
Indicators of success
"With 55 million Hispanics now calling the United States home, it's vital that horse racing markets itself to this growing audience," says Stephen Panus, Vice President of The Jockey Club's America's Best Racing, which offers some of its content in both English and Spanish. "The addition of Luis by NYRA as a Spanish-speaking announcer was a positive and welcomed step in this direction."
And, while he might be a singular sensation these days, it seems inevitable that racetracks with large Spanish-speaking fan bases will one day follow NYRA's lead.
"I'm not surprised that no one has followed suit yet, but it won't surprise me when they do," Migliore says. "It's going to happen. There are a lot of other tracks with large [followings of] Spanish-speaking fans."
Silver said there was no way to quantify the impact Grandison's calls have had on wagering, but there are some indicators of success that extend beyond dollars and cents. NYRA can now offer their races to tracks and simulcast outlets in areas such the Caribbean, Central America and South America in a form that patrons can readily understand and which encourages them to wager. Grandison also has a Twitter account (@GrandisonLuis) that he uses to interact in Spanish with NYRA fans, improving relations with a segment of customers who could feel disenfranchised because of the language barrier.
"It's hard to track exact number of listeners, but we made Luis' calls available on nyra.com and on our NYRA HD app. So anyone watching our racing has the opportunity to watch in English or Spanish," Silver says. "If people at the track request it, we can play Luis' calls in certain areas. On the NYRA Live TV show, every day we feature one of Luis' calls to showcase what we're doing. We're happy with the results, and the most important part on our end is simply to make them available to our customers."
Devoted following
A bright, neon-like sign of Grandison's popularity is often found in a visit to the jockey's room at any of NYRA's three tracks, where Hispanic riders can be seen listening to and discussing Grandison's calls.
"A lot of our jockeys here speak Spanish and I'm sure they listen to Luis' calls more than mine," says NYRA track announcer Larry Collmus. "Luis does a great job, even though he doesn't have as good a view of the races as I do, and his work does nothing but create more fans."
For sure, Grandison has built a devoted following among a portion of New York's riders.
"I appreciate what he's doing," says three-time Eclipse Award-winning jockey Javier Castellano, who was born in Venezuela. "It's great for the sport. New York Yankees fans can hear games in Spanish and it's good that the Latino community can hear the races in Spanish. I know a lot of people in my country listen to his calls and it's a good way to get them involved in New York racing."
He's also built an army of loyal supporters among his co-workers at NYRA for the quality of his work and a cheery disposition that has become his trademark. To find him without a smile on his face would be biggest longshot on any NYRA card, and colleagues gush about the way he always remains upbeat and how he will show consideration for them by bringing them presents when he returns from a vacation or even serenading Migliore with a birthday song in Spanish after a production meeting.
Energetic and emotional tone
"He's the nicest guy," Migliore says. "He's truly one of the good guys in the industry."
How Grandison came to become NYRA's Spanish-language race caller involved being in the right place at the right time, specifically a dark-day NYRA broadcast.
Long before that, though, he was taught the art of race calling from an experienced announcer named Chielo Gonzalez, and in 1978 he went to work as the race caller at El Hipodromo Presidente Remon in Panama City. For the next 25 years, he served in that position, while adding radio work along the way, refining the energetic and emotional tone that has now made his calls so popular on the New York circuit.
"Most of the Latin race callers put a lot of emotions into their calls," says Grandison, whose first language was English - he learned Spanish while growing up in Panama. "I enjoy getting to feel the race, to live it and feel it."
In 2003, Grandison yearned for a new challenge and a chance to reunite with family members who had moved to the United States. He joined Royal Caribbean cruise lines and worked as a security advisor for a number of years before moving to America in 2009.
Yet the racing bug never left Grandison, and in 2011 he met NYRA's Mitch Levites and then Silver, who put things in motion for him to do some interviews with jockeys and trainers in Spanish that were posted on NYRA's website (nyra.com).
Never a stumble
A few years later, Levites arranged for Grandison to join Migliore and Ernie Munick during one of NYRA's off-day simulcast shows. During the program, Grandison mentioned his past as a race caller and an intrigued Migliore asked him to call a race that was upcoming at Parx.
With little preparation, Grandison then described the race in a manner that astonished Migliore and Munick. Not long afterwards, Silver and NYRA Vice President and Chief Revenue Officer David O'Rourke began formulating plans to expand Grandison's duties.
"To me one of the best things about Luis is his enthusiasm," Migliore says. "Even if you can't understand his call, the enthusiasm in the way he delivers, it gets you caught up in it."
Grandison made his debut in the announcer's booth in April 2014 and quickly developed a burgeoning corps of fans.
"I get pumped up listening to his calls," Silver says. "He's energetic. He's a very professional and exciting race caller. I've never heard him stumble during a call."
A few months later, he called California Chrome's failed bid to sweep the Triple Crown. Then, in the following year, as his comfort level grew through some tutoring from famed NYRA track announcer Tom Durkin and then Collmus, he gave Spanish-speaking fans the polished yet enthusiastic words that will stand out to them when they re-live the day American Pharoah became the first Triple Crown champion in 37 years.
Special moment
"To call American Pharoah's Belmont Stakes and become a part of history means a great deal to me," Grandison says. "You dream about doing it, but then to actually have it happen. It was something I'll never forget."
There was no Triple Crown bid this year, yet there was a moment that was among the most gratifying for Grandison during his tenure at NYRA.
When jockey Rafael Bejarano flew in from California to ride American Freedom in the Travers, Grandison went to the jockey's room at Saratoga to meet him.
"I wanted to take a picture with him," Grandison says.
What happened, though, when he approached Bejarano left Grandison at a loss for words – in any language.
"When Bejarano saw me, he said, 'I know you. You're Grandison. We listen to your calls in California all the time. We love them.' That made me feel so good to hear him say that," he says. "It's so great and special to feel appreciated like that."
As surprised as Grandison might have been at Bejarano's reaction, he probably should have expected it. He is, after all, someone who is truly one of a kind in horse racing.