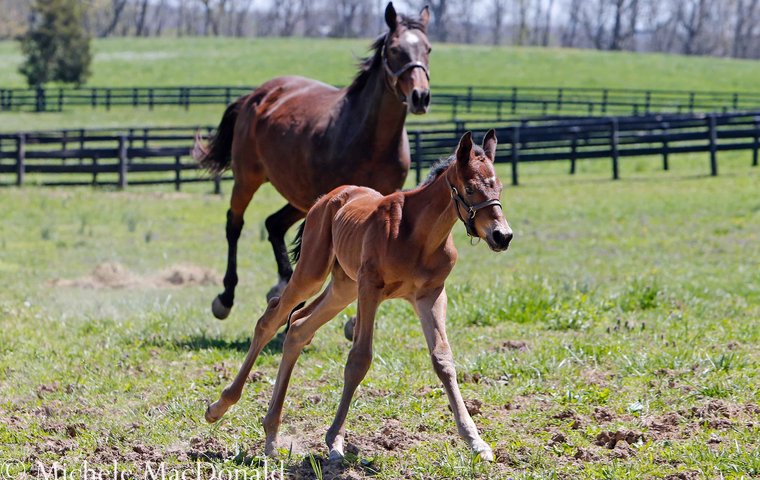 She stands like a sentinel in the filtered light that streams through the overhanging tree limbs, her eyes bright even from a distance, her ears alert to every sound. At her feet lies a small shape that is almost unnoticeable until the tips of ears protruding out of the grass begin to twitch. Suddenly rising on legs that seem impossibly long, earning a nod from the mare standing guard, this miniature replica of a racehorse blinks, yawns and kicks out exuberantly.

This is what dreams — very special dreams — look like at only a few days old.
Sheltered amid the gentle swells of Clarkland Farm, where members of co-owner Nancy Mitchell's family have shared their lives with the blissful beauty of this corner of Kentucky since the 1770s, the bay mare and her foal represent both a remarkable past and a shining hope for the future.
At age 22, the mare Leslie's Lady already has produced Grade 1 winner and outstanding sire Into Mischief, extraordinary four-time champion Beholder and impressively talented Kentucky Derby contender Mendelssohn, who has won both the $2 million UAE Derby on dirt and the Breeders' Cup Juvenile Turf.
Leslie's Lady was honored in April 2017 as America's Broodmare of the Year.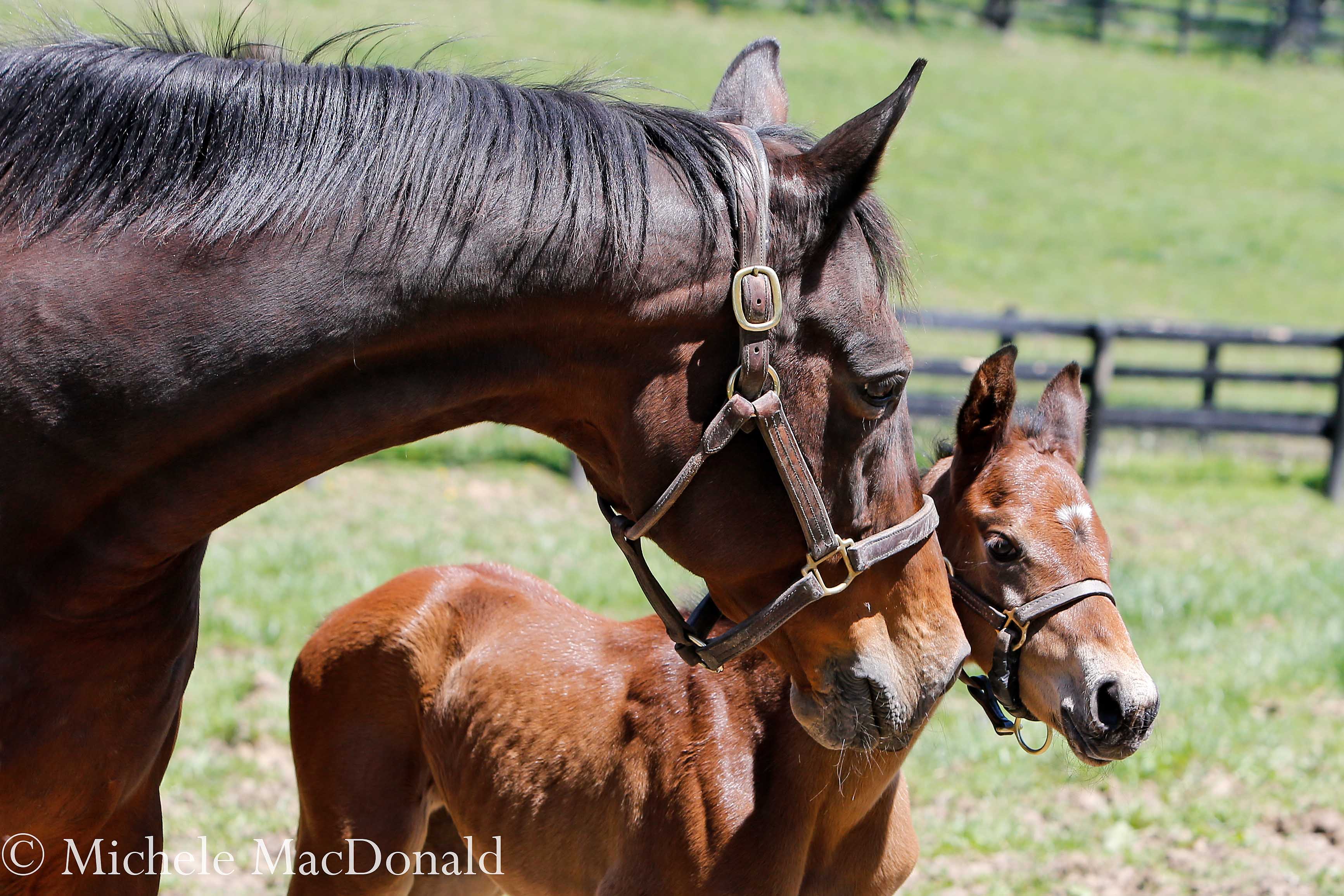 Delivered without incident in the waning hours of April 25, the leggy bay filly who has been sleeping in the grass is the 13th foal to live out of Leslie's Lady and was sired by Triple Crown winner American Pharoah during a rendezvous at Ashford Stud nearly a year ago. With such phenomenal parents, this filly's potential as she gambols and gleams in the soft sunshine of a mild spring day is virtually unbounded.
"As young as she is, she already gets over the ground really well," observed Nancy Mitchell's husband, Fred Mitchell, who isn't prone to effusive praise but whose voice echoes with optimism. "And she has a huge overreach."
How Leslie's Lady transformed the farm's fortunes
Yet the Mitchells, who operate Clarkland with Nancy's daughter, Marty Buckner, and her husband, Matt 'Ernie' Ernst, concede that no one could never have imagined all of the accomplishments stemming from Leslie's Lady, or what may still be ahead.
This somewhat plain bay mare with a bright star emblazoned on her forehead, who does not stand out much in an equine crowd except for her keen expression, has in no small measure transformed the fortunes of Clarkland.
While the Mitchell family possesses a long record of notable success extending over more than 40 years as having bred, raised and/or sold horses like champion Housebuster and multiple G1 winner Farma Way, their decision to buy Leslie's Lady nearly 12 years ago from the dispersal of the late James T. Hines Jr. became a pivotal turning point.
Fred Mitchell gives Nancy credit for the most successful bloodstock choice of their lives, and he also acknowledges the first of many twists of fate in the still unfolding saga of Leslie's Lady.
"We were in the market for a couple of mares, and Nancy liked Leslie's Lady because she was a 2-year-old stakes winner," Mitchell recalled. Sired by Tricky Creek, Leslie's Lady set the pace in the 1998 Hoosier Debutante Stakes at Hoosier Park and drew off to win the six-furlong event by six lengths for Hines, who achieved posthumous distinction as the breeder of 2007 champion and sire Lawyer Ron.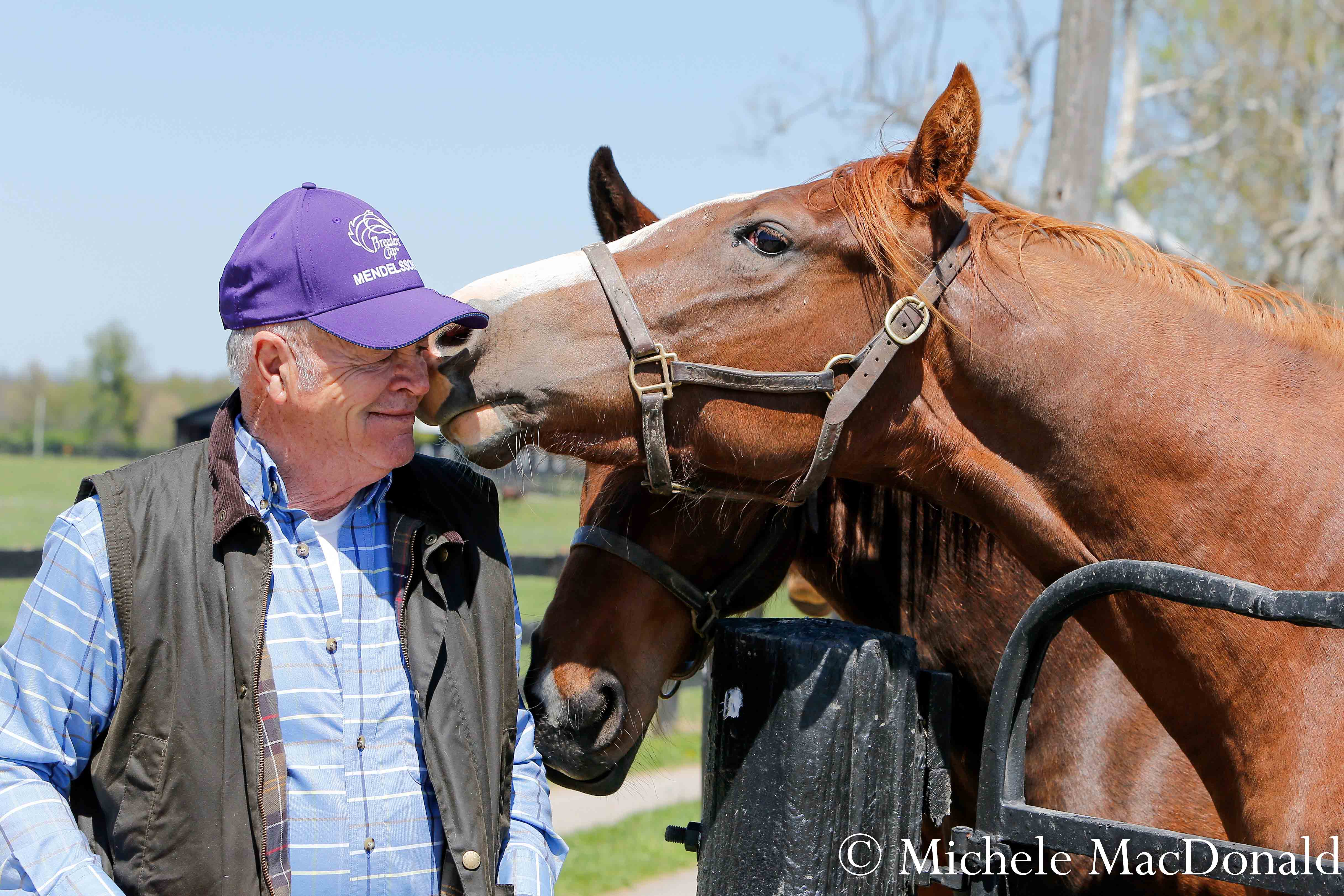 Leslie's Lady was offered during the 2006 Keeneland November breeding stock sale as part of the dispersal of horses owned by the estate of Hines.
"We thought she could be affordable because she was coming out of the dispersal," Mitchell said. He added wryly, "The horses in the dispersal were in good flesh, but they hadn't been to the beauty shop."
The lack of spiffy sale prepping likely contributed to the Mitchells being able to buy Leslie's Lady for a relatively modest $100,000, and fate kept going their way.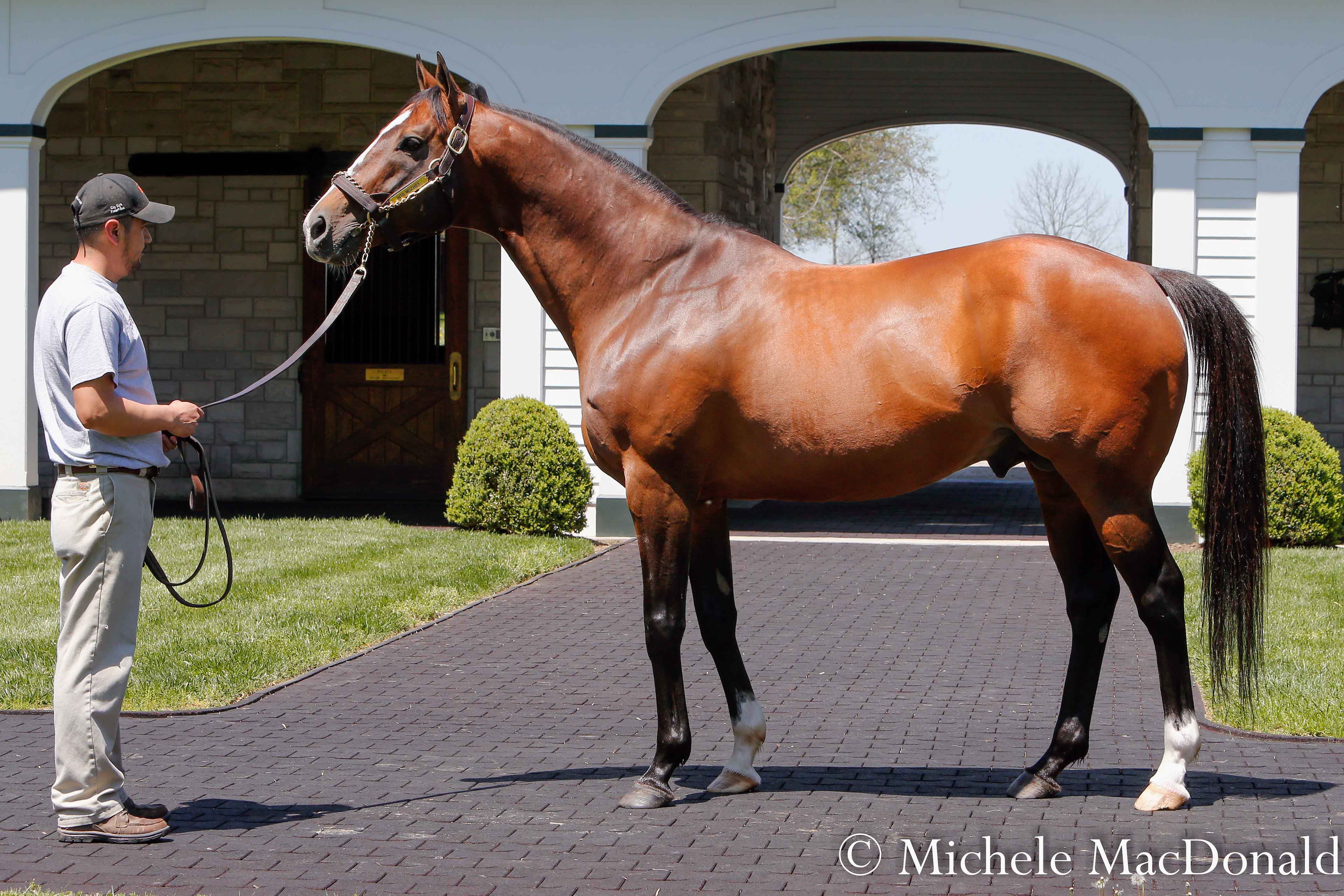 Most fortuitously, the colt Leslie's Lady produced in 2005 turned out to be Into Mischief. The son of Harlan's Holiday displayed a higher quality version of his dam's precocity when winning the G1 Hollywood Futurity in 2007, and he followed up by capturing the Damascus Stakes and placing in the G1 Malibu Stakes.
B. Wayne Hughes's Spendthrift Farm, which paid $180,000 for Into Mischief at the Ocala Breeders' Sales Co.'s March auction of 2-year-olds in training after he had sold for $80,000 as a yearling, eventually retired the colt to stud duty and he became an immediate sensation. His first crop of 42 foals born in 2010 yielded two-time Breeders' Cup Dirt Mile winner Goldencents, who went on to join his sire at Spendthrift.
Into Mischief is currently world #39 in the TRC Global Rankings.
Beholder: a powerhouse in 'a plain brown wrapper'
About two months after Goldencents was born, Leslie's Lady lay down in the deep straw bedding harvested from some of the acres at Clarkland and delivered a bay filly by Henny Hughes. With many buyers and breeders skeptical about Henny Hughes at the time, the filly did not initially seem especially notable and was "just a plain brown wrapper" in the early stages of her life, Mitchell said.
But, in the month preceding the 2011 Keeneland yearling sale, where she was offered as Hip 962, the filly blossomed into a powerful, eye-catching individual, and Hughes once again stepped up to pay $180,000 for an offspring of Leslie's Lady.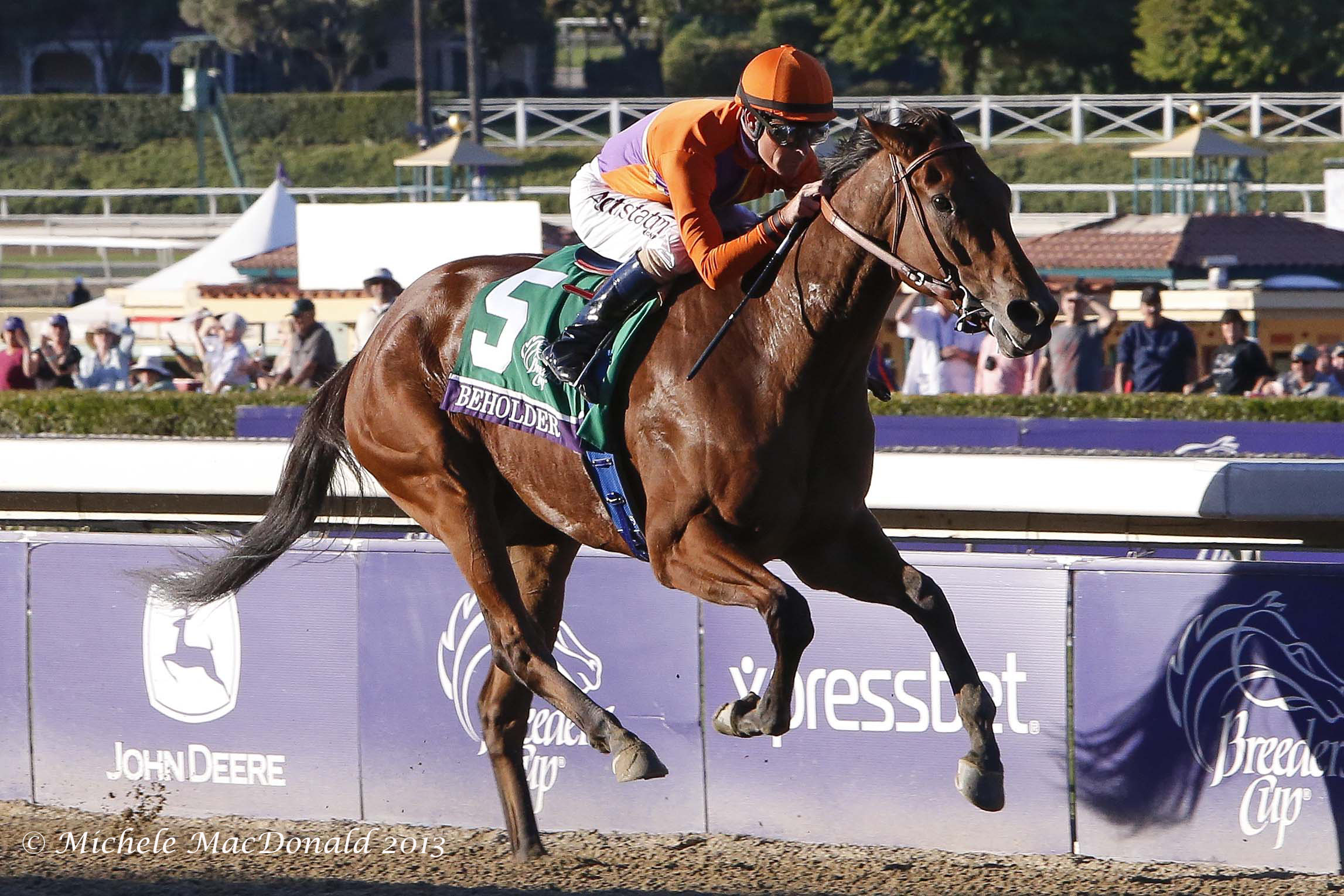 Under the meticulous care of Hall of Fame trainer Richard Mandella, who also had developed Into Mischief, the filly evolved into the powerhouse juggernaut Beholder, who won 18 of 26 starts and over $6.1 million while reigning over her generation as champion juvenile filly, champion 3-year-old filly and champion older female twice.
In one amazing stretch from September 2014 through June 2016, Beholder won eight consecutive races with five of them G1s, including her absolute trouncing of males such as 2014 Breeders' Cup Classic winner Bayern and redoubtable campaigner Hoppertunity in the 2015 Pacific Classic Stakes. She prevailed by 8¼ lengths in time of 1:59.77 for the 1¼ miles at Del Mar.
The 'life-changing' sale of Mendelssohn
Five years and eight days after Beholder was born, Leslie's Lady defied all odds and produced the colt that would later be named Mendelssohn.
Extra measures of fate were involved with the bay son of Scat Daddy as the mare had absorbed an earlier pregnancy that year to the highly successful sire. About seven months after the colt's birth on May 17, 2015, Scat Daddy collapsed and died of a heart attack while being led from his paddock at Coolmore's Ashford Stud, leaving the world with only his weanlings and those individuals conceived in his last year of life.
Fred Mitchell retains a snapshot of the newborn Mendelssohn on his cell phone. The image shows a somewhat awkward, spindly-legged individual.
"He wasn't the prettiest foal," Mitchell observed with a chuckle.
But Buckner gently disagreed. "He was a really nice foal," she said, a note of protective pride in her voice.
Following the pattern with Leslie's Lady's foals, the Scat Daddy colt did not begin to come into his own until fully engaged in preparation for the Keeneland September yearling auction.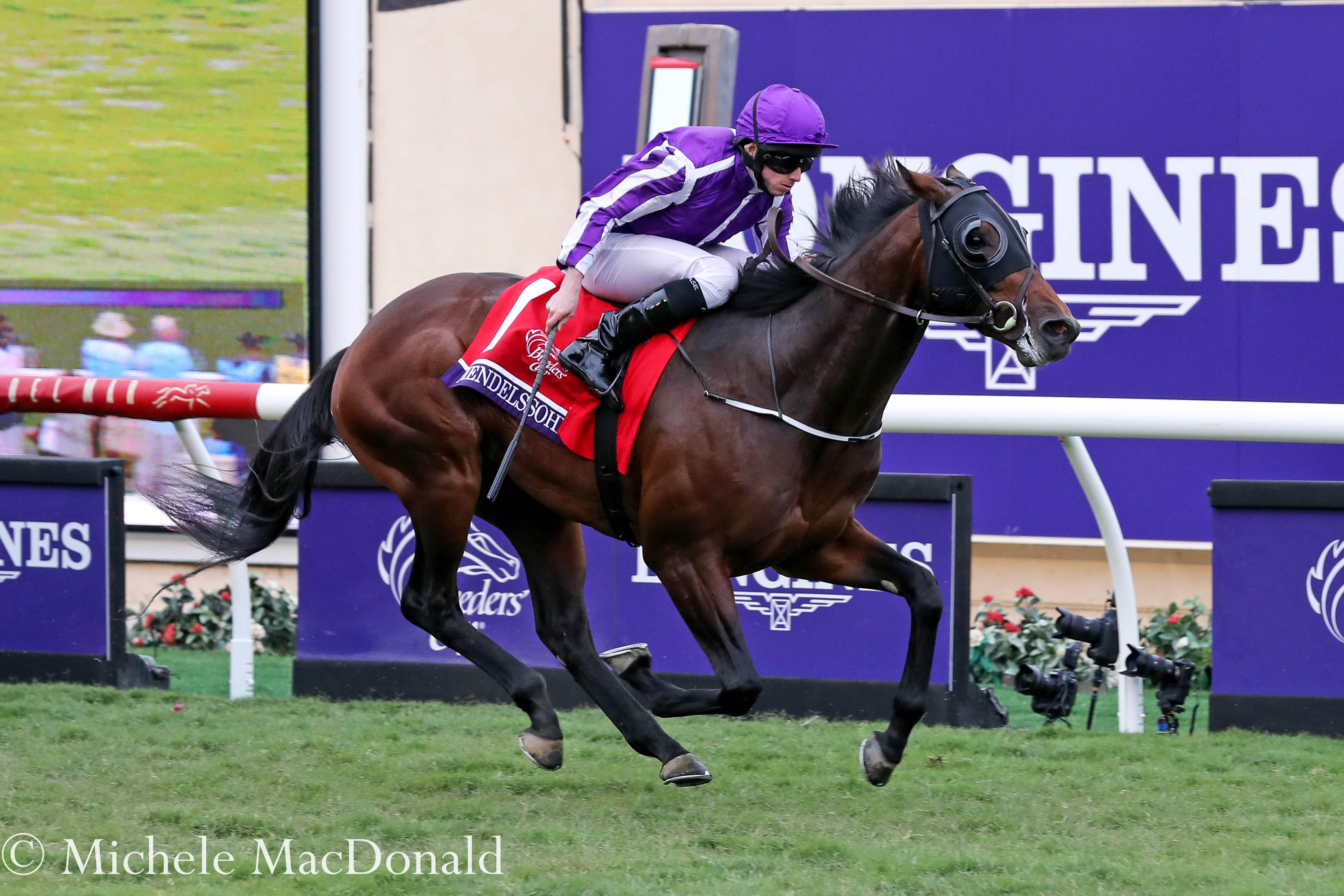 "They don't really come around until we start to prep them for the sale, and then they just blossom," Mitchell said. "Beholder and Mendelssohn both were very professional at the sale. Both of them never took their eyes off whoever was looking at them, and they squared themselves up and just stood there, gorgeous."
Mendelssohn was so calm and generally good natured that he was shown and led into the Keeneland ring in a chifney bit, Buckner pointed out, with the Clarkland operators eschewing the lip chains favored by so many other American consignors.
The eventual $3 million sale of the colt to Coolmore's M. V. Magnier — who went further than he might have in a quest to secure a successor for Scat Daddy while perhaps finding the strong half brother to Beholder and Into Mischief irresistible as the colt stood regally in the ring — was life-changing for Clarkland.
"It's put Nancy and I where we can relax late in life, and we've been able to put a pretty good broodmare band together," Mitchell said. "That was our dream. And Leslie's Lady has made all that happen."
In November of the year Mendelssohn was sold, Clarkland reinvested part of the sale proceeds by acquiring a quartet of stakes mares for total of $1.35 million. Today, those mares' first foals for the farm are promising yearlings, including a stunning American Pharoah filly out of G1-placed stakes winner Maybellene, by Lookin At Lucky, and a robust Pioneerof the Nile colt out of G2 winner Ciao Bella Luna, by Tribal Rule.
Yearling colt looks a 'racing machine'
While there are many nice foals and yearlings rambling around Clarkland's bucolic 400 acres, featuring a barn that served as an Army barracks during the Spanish-American War and a foaling barn that Mitchell said is one of the oldest barns in Kentucky, none overshadow the produce of Leslie's Lady.
A yearling colt by Medaglia d'Oro out of the top mare is tentatively set for this year's Keeneland September sale and all options are open for the American Pharoah filly. If Mendelssohn should win the Kentucky Derby, their value could soar ever higher.
"He is a long-legged racing machine," Buckner said of the Medgalia d'Oro colt.
"He is so quick," Mitchell added. "He can turn on a dime and is so light on his feet."
American Pharoah filly moves like silk
Improbable as it may seem, the American Pharoah filly may stand near the top of the foals out of Leslie's Lady, at least at this stage of her life. She is well made, moves like silk and seems to possess the serene nature of her sire.
Like all great mothers, Leslie's Lady is taking the duty of raising her new baby with the same earnest commitment she displayed at Clarkland with Beholder and Mendelssohn.
"She makes those babies behave," Mitchell said. "If the foals get to aggravating her, she takes her body and physically pushes on them."
Leslie's Lady also is known for giving her foals a sense of confidence, Buckner said. Beholder and Mendelssohn displayed this attribute while under the pressure of the sale environment, and the American Pharoah filly already is revealing a plucky character as she romps past her dam and approaches visitors while only days old.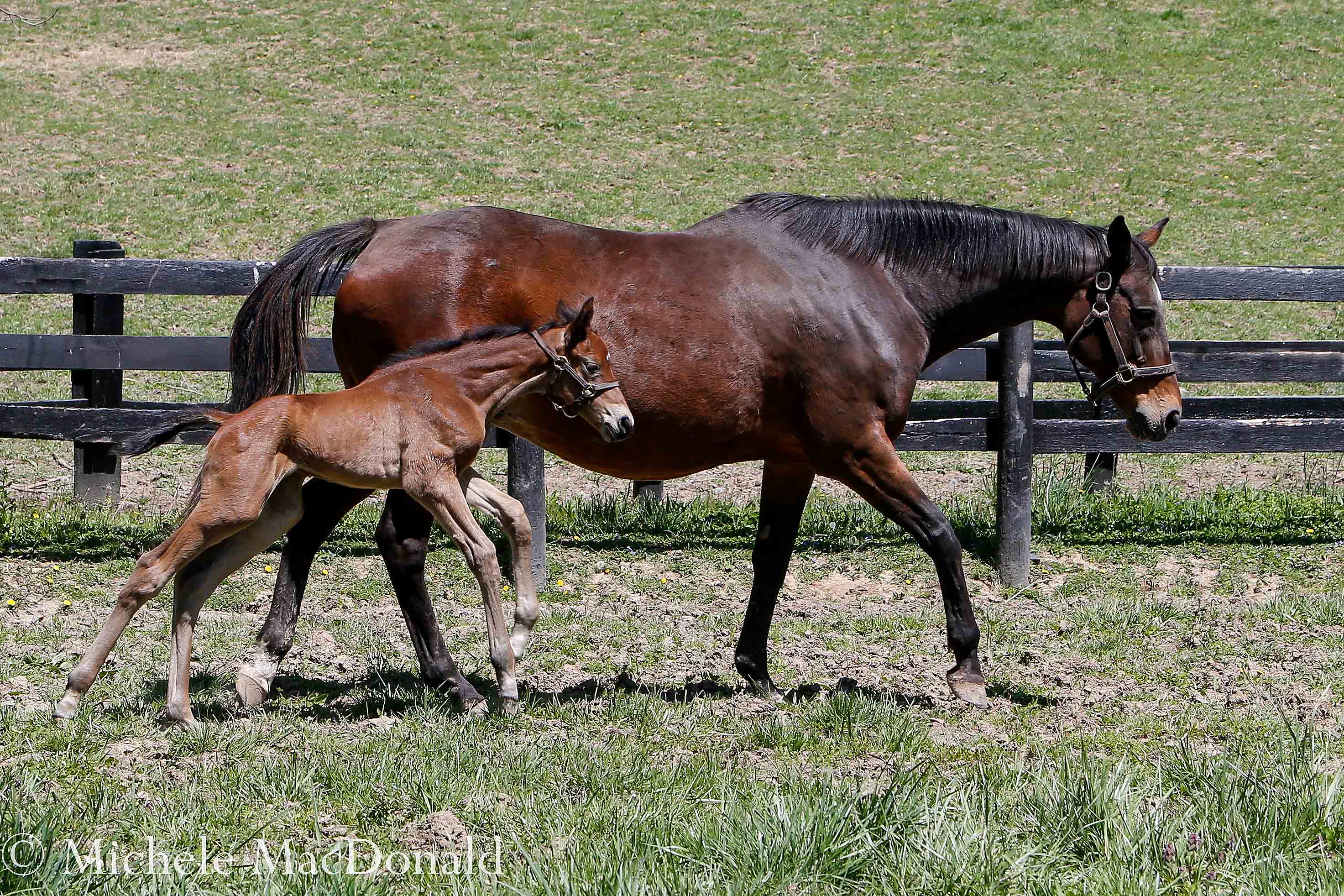 "They all have a great personality," Mitchell said.
"They all have loved being touched and handled," added Ernst. "They have great minds, which has to be a big factor in their success."
While no one can know the future before it dawns, Mitchell said his family holds on to a gratitude for all the twists of fate that have brought them to this special time. They reflect on nearly a dozen years with Leslie's Lady, who has left a huge mark on the sport that will multiply further if Mendelssohn makes history by winning the Kentucky Derby by way of Dubai and Ireland.
Just living on the Clarkland land is a blessing, he noted.
The farm was supposed to be sold when Nancy Mitchell's father died, but she and her two sisters found a way to persevere and preserve the life they cherished. The recent high points with Beholder and Mendelssohn, as well as hope for Leslie's Lady's younger offspring, give them reason to be thankful every day.
"[Nancy Mitchell] sometimes looks up [to heaven] and says, 'Dad, did you see this?'" Mitchell said.