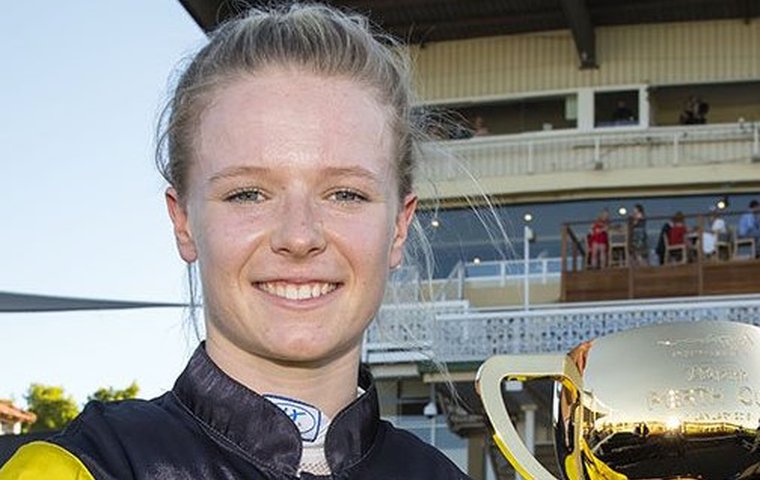 The world has a new leading female jockey. Two events in the past 11 days have put 20-year-old Lucy Warwick at the top of the list of active women riders in the TRC Global Rankings - the retirement of longtime #1 Katelyn Mallyon, and the victory in a Group 3 on Saturday of the 6-year-old gelding Material Man.

Warwick's victory at the Australian Belmont Park, in her hometown of Perth, aboard the son of Vital Equine meant a five-point gain week on week in the jockeys' standings, lifting her to world #194 (from #231). That puts her ahead of all the other females riding anywhere in the world today, although Mallyon (still at #158) is in front of her in the rankings for the time being.
Material Man, with three Group-race wins this year already, has been the mainstay of Warwick's rise in the standings. She has had six Group wins in the current three-year rankings window, five of them for her father, Justin Warwick (world-ranked #221 in the trainers' category). She has had 327 wins in her career, riding mainly in Western Australia, according to Racing.com. Only Group and Graded results count towards the TRC rankings.
TRC GLOBAL RANKINGS: ACTIVE FEMALE JOCKEYS
In this latest table, taken from this week's top 500 in the jockeys' standings, only three countries are represented - Australia (9 riders plus Mallyon), New Zealand (6) and Britain (2). No U.S.-based women have had sufficient rides in Graded or Group races to qualify, which also applies, somewhat surprisingly, to the prolific Samantha Collett, runaway leader of the New Zealand Premiership this season.
Mallyon, just 24, announced her retirement on June 9 in Brisbane, where she was working with the Channel 7 TV racing team. She hopes to develop her media career. She is currently at Royal Ascot with her partner, James McDonald, who notched his first win there when the Sir Michael Stoute-trained Expert Eye won the G3 Jersey Stakes yesterday. McDonald has rides every day at the Royal meeting.
Mallyon won't see many women jockeys in action this week. Of the 402 runners on the first four days, just eight will have had women jockeys (six for Josephine Gordon and two for Hollie Doyle).
WOMEN JOCKEYS AT ROYAL ASCOT THIS WEEK
TUESDAY
Number of runners - 97; ridden by female jockeys - 0
WEDNESDAY
Number of runners - 103; ridden by females - 3

THURSDAY
Number of runners - 94; ridden by females - 2

FRIDAY
Number of runners - 108; ridden by female jockeys - 3

Female trainers are far better represented. Of the 97 runners on Tuesday, as many as three were trained by women. One of them, Accidental Agent, won the G1 Queen Anne Stakes. Check back here this time next week to see if that is enough to put the currently unranked Eve Johnson Houghton into the top 500 in the world trainers' category.
Indeed, after two days of the Royal meeting, women trainers are performing with particular distinction. Another of Tuesday's trio, Dubawi Fifty, trained by Karen McLintock, was runner up in the Ascot Stakes, a handicap that doesn't count towards the TRC rankings, and yesterday (Wednesday) Jane Chapple-Hyam produced 100/1 chance Circus Couture to finish third in the Royal Hunt Cup handicap.
Ireland's Jessica Harrington (world-ranked 137) sent out the third female-trained runner on Tuesday and two of the six on Wednesday. The others, apart from Chapple-Hyam: Gaye Kelleway, Amanda Perrett and Eve Johnson Houghton, all with one runner each (remember, there were 103 runners in total).
Harrington will be represented by two horses today (Thursday), including Gold Cup fourth favourite Torcedor. Johnson Houghton is the only other woman with a runner in any of the six races (there are 94 runners in total).
Of the four female-trained runners declared for Friday, Harrington has two, and Johnson Houghton and France-based American Gina Rarick have one each (108 have been declared in total).