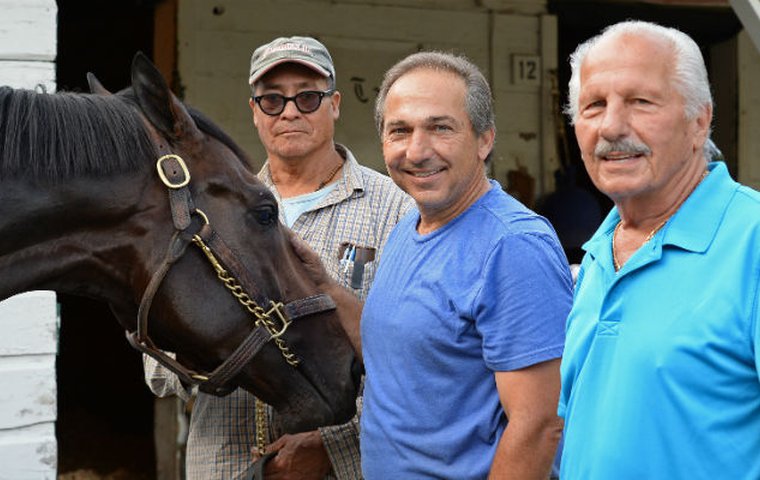 There is a common denominator tying together the 3,800-plus career winners saddled to date by trainer Todd Pletcher. Blacksmiths Ray Amato Sr. and his son, Ray Jr., have shod all Pletcher's horses since his first full year of training in 1996, when the conditioner had just a half-dozen runners in his care.

Now, with a stable of horses numbering in the hundreds, the work is so plentiful the Amatos work exclusively for Pletcher, North America's all-time leading trainer in earnings and a seven-time Eclipse Award winner.
On a recent morning on the Saratoga backstretch, the Amatos were tending to the hooves of 2-year-old Graded Stakes winner Uncle Vinny, a son of Uncle Mo, the Pletcher-trained winner of the 2010 Grey Goose Breeders' Cup Juvenile.
While Amato Jr., 57, was placing the shoes on Uncle Vinny's feet, his 82-year-old father flicked a towel back and forth to shoo away any flies that could irritate the colt. While Amato Jr. held aloft one of his back feet, Uncle Vinny became antsy, despite the best efforts of a Pletcher staffer positioned at his head. As if in a dance with Uncle Vinny, Amato Jr. moved in concert with the animal, and was able to get his work finished.
"He's the best," the proud father said of his son's handiwork. "He does feet so it looks like they came out of a machine . . . just look at that."
This weekend at Saratoga Race Course, the Amatos' artistry as blacksmiths will propel several Pletcher stakes runners on a path that could lead them to the Breeders' Cup at Keeneland in October. Among the Pletcher-trained horses targeting Saturday's "Win and You're In" Breeders' Cup Challenge races are Stopchargingmara [Personal Ensign Handicap]; Red Rifle [Sword Dancer Invitational]; Dame Dorothy [Ballerina Stakes]; and Race Day [Priority One Jets Forego Handicap]. NBC will provide coverage from Saratoga Springs, New York, in a two-hour telecast, headlined by the Travers Stakes, starting at 4 p.m. ET.
Pletcher said retaining skilled blacksmiths is an important component to his operation. After all, the hooves of these athletes bear the brunt of the concussion associated with running at tremendous speeds. The work of a blacksmith is not simply about finding the right shoe size, it also involves keeping feet in healthy condition and diagnosing potential problems.
"[Hoof care] is absolutely a critical part of the whole equation," said Pletcher. "As the old saying goes, 'No hoof, no horse.' It all starts right there."
During the winter, when Pletcher brings the bulk of his stable to Florida, the Amatos follow, and Chris Amato, Ray Sr.'s nephew, takes over as the blacksmith for the trainer's horses who remain in New York.
"Ray Sr. is a phenomenal person and blacksmith, so it's only natural that his family helps us out as well," Pletcher said. "They work very well together, and are all talented."
When Amato Sr. first met Pletcher 19 years ago, he had no intention of going to work for the young trainer because his blacksmith business was booming, and he wasn't looking to take on new clients.
"I was shoeing a horse at Hialeah for Scotty Schulhofer, and someone came up and said Todd needed someone to shoe his horses," Amato Sr. recalled. "I said I couldn't because I had such a large [client base]. Someone else asked on Todd's behalf, so I went to his barn with no attention of taking the job, and Todd introduced himself and said he had six horses and really wanted me to do his work."
"As I'm talking to Todd, I'm thinking this guy is really nice," he continued. "I asked him if he was going to make the [racing] circuit in Florida and New York. Todd said, 'Absolutely, I am.' I agreed to work for him, and I've been here ever since. That is the best 'Yes' I've ever said because Todd is unbelievable at what he does. He's the best trainer in the world."
Amato Sr. is the son of an Italian immigrant who came to the United States in the mid-1920s from Naples to work as a blacksmith with carriage horses in New York City. Ray Sr. served a three-year apprenticeship under his father before striking out on his own in the 1950s. The Hall of Fame trainers he has shod horses for include Laz Barrera, Bobby Frankel, Hirsch Jacobs, Philip G. Johnson, LeRoy Jolley, Moody Jolley, Frank "Pancho" Martin, and Scotty Schulhofer.
Amato Sr. isn't making too many concessions for his age these days. He still shoes horses; sometimes he will do the front feet, while his son does the back. Asked how long he will continue with this physically demanding job, the elder Amato's face broadened into a wide grin, and he replied: "Until I get old."
Amato Jr.'s interest in shoeing gained traction in the backyard of his home in Long Island, New York, where he shod his first horse when he was 12 years old. But the truly pivotal moment in Amato Jr.'s life came five years later.
"I considered being a veterinarian," he said. "One day, when I was 17, my father said, 'What do you want to do? Go to vet school or be a blacksmith? Lemme know tomorrow.' So, I had 24 hours to figure out my destiny. I thought to myself, seven or eight years more of school, or get started right away on my career. I guess you figured out what I told Dad."
Working closely with elite equines — including Pletcher's seven Breeders' Cup champions; his Kentucky Derby winner, Super Saver, and his two Belmont Stakes winners, Rags to Riches and Palace Malice — isn't something the Amatos take lightly. But neither do they play favorites.
"My dad told me this and his father told him this: Shoe the stable pony just like you would a racehorse. Every horse I shoe, I shoe like he is the best horse in the country," Amato Jr. said. "That is probably the best advice my father has ever given me about shoeing horses"