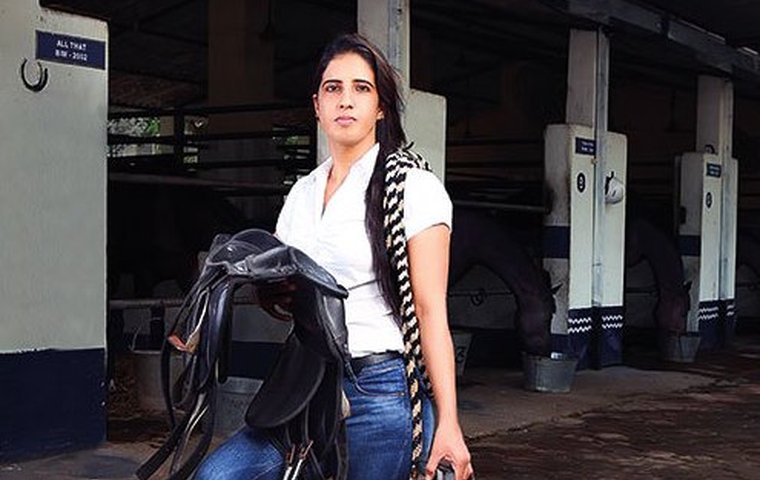 Rupa Singh is a remarkable woman. She has ridden over 700 winners at a strike rate that bears comparison with the likes of Julie Krone, Rosie Napravnik, Emma-Jayne Wilson and Hayley Turner, and has been champion jockey at Chennai in India four times and in Ooty in the same state of Tamil Nadu on another three occasions.

Yet, at the age of 34, she remains the only female jockey in all India, the world's second most populous county - the only one in a country of more than 600 million females.
And, despite encouraging signs in the rest of Asia, there is little indication that Rupa's success will inspire a sudden glut of girls joining her in the weighing rooms of Indian racecourses.
"I don't know of a single aspiring female jockey around India - I would be more than happy to give them advice if there were any," Singh admits. "It's all down to our culture and tradition.
Prejudice 'runs deep'
"Many people are very conservative, and prejudice against women runs deep. There is no evidence of anything changing at the moment. It will take a long time, probably one or two generations."
Anil Mukhi, a world authority on Indian racing who now runs his Galaxy Bloodstock Agency out of British Columbia in Canada, elaborates: "Young girls in India tend to be cossetted and are scarcely ever allowed to be exposed to the rough and tumble of competitive equestrian sports."
Hong Kong and Japan, the two powerhouses of Asian racing, have witnessed big advances towards female emancipation in recent months.
In Hong Kong, at the beginning of the 2015-16 season, Kei Chong became the first woman to be granted a riding licence for 15 years. She proceeded to take the racing world by storm, notching 37 winners in her debut campaign and even deposing the reigning champion jockey, Joao Moreira, to land Hong Kong's 'Most Popular Jockey Award' following a public vote.
Similarly, last year the Japan Racing Association issued one of its much sought-after riding permits to Nanako Fujita, breaking an absence of more than a decade and a half for female pilots within its jurisdiction.
Father's dream
Yet in India, female participation in the racing industry as a whole is virtually non-existent. "Here in Chennai we don't even have any female grooms or exercise riders," Rupa Singh reveals. "And, in the whole of India, I think there are only three women trainers.
"There are jockey schools at all the big racing centres in India, but none of them have any female students."
Against this background, how can we account for Singh's emergence as India's second high-class female jockey, following in the riding boots of the pioneering Silva Storai, an Italian-born woman who took on the men there in the early 2000s, winning Derbies in both Hyderabad and Mysore?
Without questioning her talent, there is no hiding behind the fact that she has had all the advantages in terms of training and ancestry. For Singh is the granddaughter of trainer Ugam Singh and her father, Narpat, and brother, Ravinder, have been both trainers and jockeys.
"I have been riding since I was three, and it was my father's dream to see me become a successful jockey," she says. "He taught me how to control racehorses, especially the ill-tempered ones. He was a very, very strict instructor – I was more scared of him than any horse!"
Absurd statistics
This disciplined lifestyle meant that Singh managed to continue her academic education throughout her riding apprenticeship. Indeed, uniquely for a jockey, she is the proud owner of no less than three Masters degrees – in philosophy, business and economics.
Her statistics are somewhat skewed by the fact that many of her victories were achieved at Guindy Racecourse in Chennai (a city which was known as 'Madras' until 1996) at a time, 2008 to 2015, when racing there was eyebrow-raisingly uncompetitive.
Once she gained the support of M.A.M. Ramaswamy, the pre-eminent owner in the history of racing in India, the winners inexorably started to flow.
Some of the data from Madras Race Club (MRC) during that period beggars belief. For instance Robert Foley, Ramaswamy's trainer, won around half of the 14,000 races staged by the MRC during a 17-year period.
Even more absurdly, Prakash Bhosle, Foley's jockey, won on 347 consecutive rides at Guindy between late 2006 and early 2010.
Reputation on the up
After Ramaswamy, the patriarch and long-serving Chairman of Guindy, died in December 2015, 'normality' was swift to return, with racing staples such as photo finishes and objections taking place there for the first time in 20 years. The MRC's reputation is now firmly on the up, its most recent sign of progress being the successful staging, in mid-January, of a Thoroughbred auction for the first time in over 25 years.
Nevertheless, Rupa Singh's achievements in a totally male-dominated environment should not be underestimated. And she has already proved herself on the international stage, albeit not yet in its most prestigious theatres.
In 2014 she won on her first ride outside India, a leg of the Lady Riders World Championship for purebred Arabians at Sluzewiec Racecourse in Warsaw, Poland. Since then she has become the first female to race-ride in Sri Lanka, while also having a solitary ride in both Germany (where she finished second on a 33-1 shot at Hamburg) and Holland.
"Being the first Indian woman jockey to win an international event will stay with me as a fond memory for the rest of my life," Singh enthuses. "I would love to ride abroad more, especially in Britain, America and France."
James Crispe is associate director of editorial at the International Racing Bureau