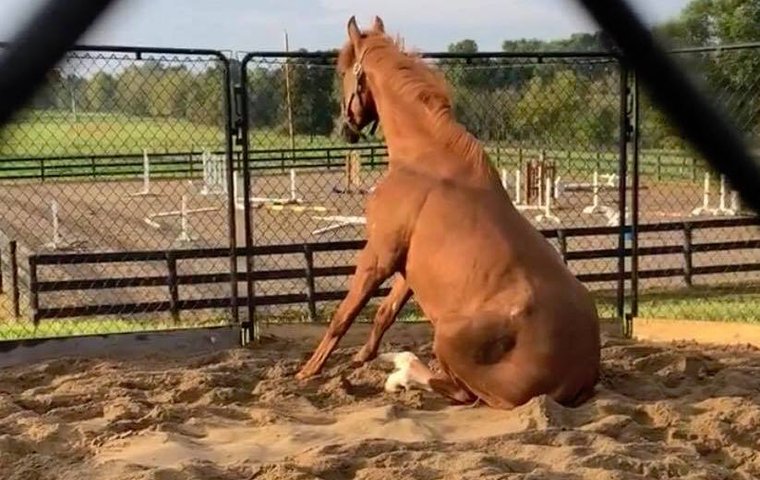 William 'Buff' Bradley knew it wasn't good as he ran down the Fair Grounds stretch. Moments earlier, he had watched in hope as his fan favourite, The Player, had left the gate under regular pilot Calvin Borel as the 4/5 choice in the G2 New Orleans Handicap. Now he was running towards his horse, left stricken at the top of stretch by a pair of fractured sesamoids.

"I knew it was bad as soon as Calvin pulled him up," Bradley remembers. "I threw off my sports coat and ran towards him. It was devastating - it didn't look good at all. Right then, my immediate thoughts were, 'I'm going to quit training, I'm not going to do this without The Player.'
"The state veterinarian was there, and I took hold of the horse and loaded him into the horse ambulance. I was riding in the back with him and I said to him, 'buddy, I will do everything I can to help you.' You know things like this can happen in racing, but it doesn't make it any easier."
The Player had just surrendered the lead rounding the final turn in the New Orleans Handicap when he lost his action and had to be pulled up abruptly. It is a sight dreaded at any racetrack; in The Player's case it was compounded further by the circumstances surrounding the horse, one whose quirkiness had prompted a huge fan base across social media and who was seemingly on the verge of a big 2018 campaign for his popular connections.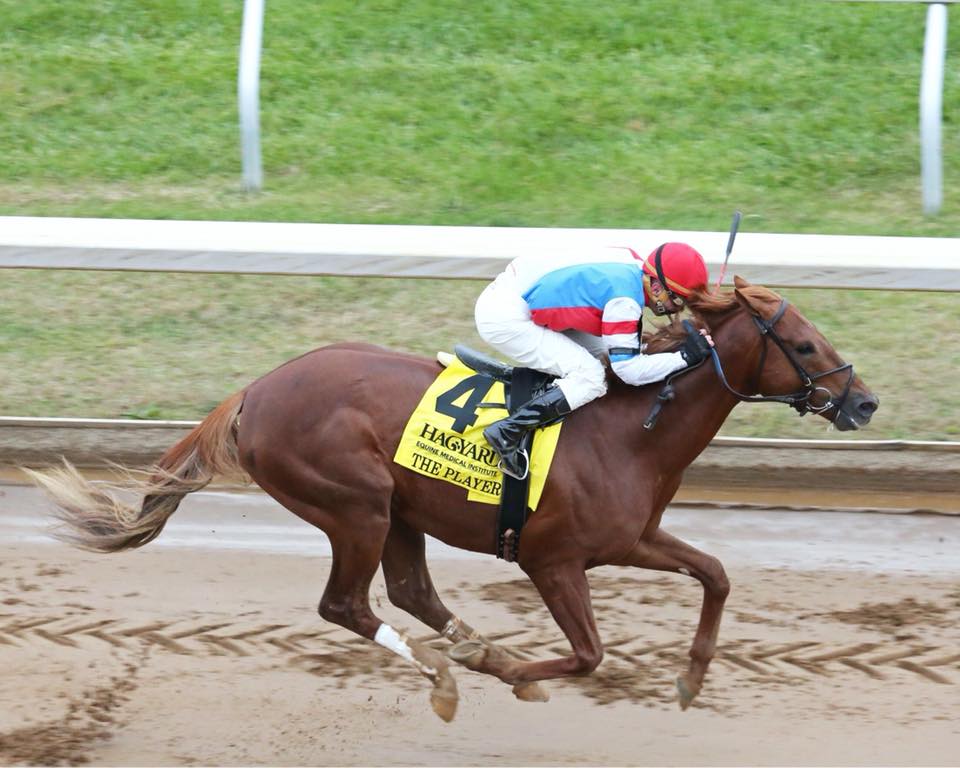 Remarkably, The Player did survive and now, almost a year on from that dark day in Louisiana, the son of Street Hero is embarking on a stud career at Crestwood Farm in Kentucky.
That he is even alive is testament to the horse's own personality, in addition to his connections' hope and persistence.
The Player is particularly special to Bradley in that he co-bred the horse with his father, Fred - fondly remembered as the owner-breeder of Brass Hat and Groupie Doll - and longtime partner Carl Hurst. Indeed, he was one of the last horses bred by Fred Bradley before his death in 2016. Thus, The Player had a great deal of sentiment attached to him even before he had even run.
The Player's original popularity, however, stemmed from his antics around the barn, much of which came to be portrayed on his popular Facebook page. While the majority of horses spend most of their time upright and mobile, The Player would often lie flat out in his stall with his head under the gate, sometimes eating hay without even a raise of his head. And, when he wasn't flat out, he would most likely be sat up on his haunches, in other words sitting like a dog.
"He was a character from day one," says Bradley of the horse known around the barn as 'Angus'. "My kids are very involved in the farm and what he would do as a foal was lie in the stall while Kim, my ex-wife, had the mare outside ready to go to the field. And the kids would be in there trying to get him up and he'd be like, 'I'll get up when I'm ready.'
"Even from an early age, he would sit on his haunches, sometimes doing a 360 just looking at everything around him. Kim kept saying 'we've got to send him to the clinic', thinking something was wrong. When he got there, Dr Bob Hunt just looked at him and said 'you don't need to send him here, that's just him'."
While acclaimed equine photographer Tony Leonard once snapped Secretariat in a similar pose at Claiborne Farm, it's by and large unusual equine behaviour. Yet, in The Player's case, it was something of a routine.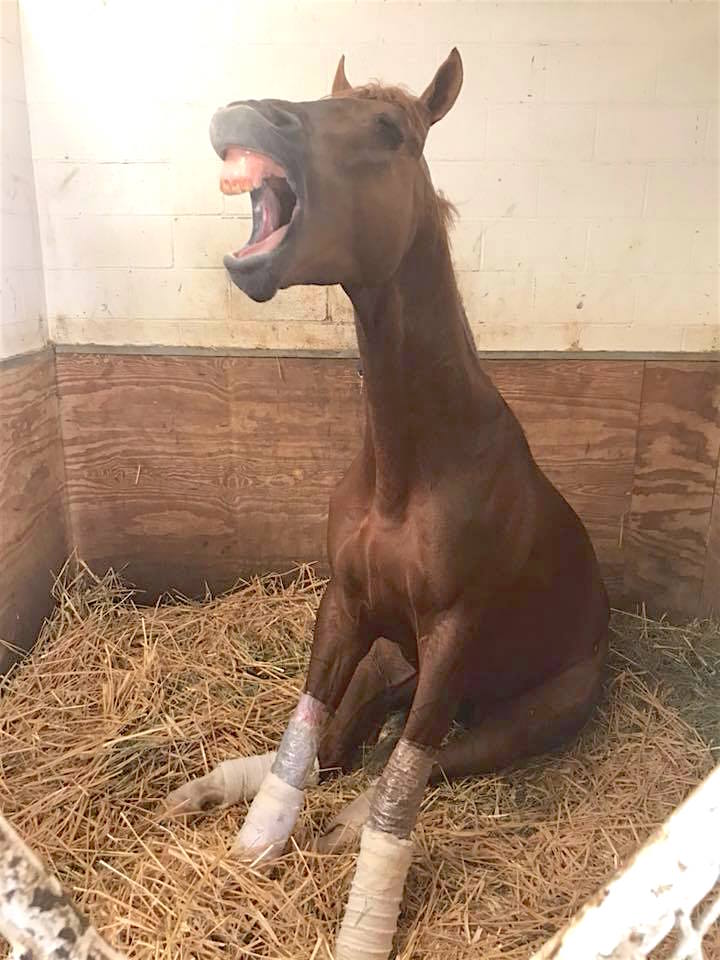 "He likes to observe everything," says Bradley. "Every day, he would lie flat out in his stall and put his head down outside of the gate and eat his hay. There were times when you thought someone would trip over him - I remember there was a big crowd at my barn on Kentucky Derby day and there he was, his head out under the stall with people all around him. He never once spooked, never once banged his head. It was a daily routine for him."
All the while, he was developing into a formidable performer on the track.
The Player's pedigree is one of tough, honest runners cultivated by the Bradleys and Hurst in the years following the private purchase of his great-granddam, Regal Export, in 1994. The daughter of Regal Classic foaled nine winners, led by Town Queen, who carried the colours of Hurst and Fred and Buff Bradley in the 2002 My Charmer Stakes at Turfway Park. In turn, her first foal was the triple-winning Gilded Time filly Hour Queen, herself dam of The Player.
"We started with his great-granddam, Royal Export. We bought her primarily as a broodmare, but she won for us shortly after we bought her. We were trying to upgrade our stock at the time and we just liked her pedigree," says Bradley.
"Town Queen was the first living foal that we had out of her, and she was actually the first stakes winner that we bred too. And then her first foal was Hour Queen. There are a lot of runners in the family - they're all racehorses, tough."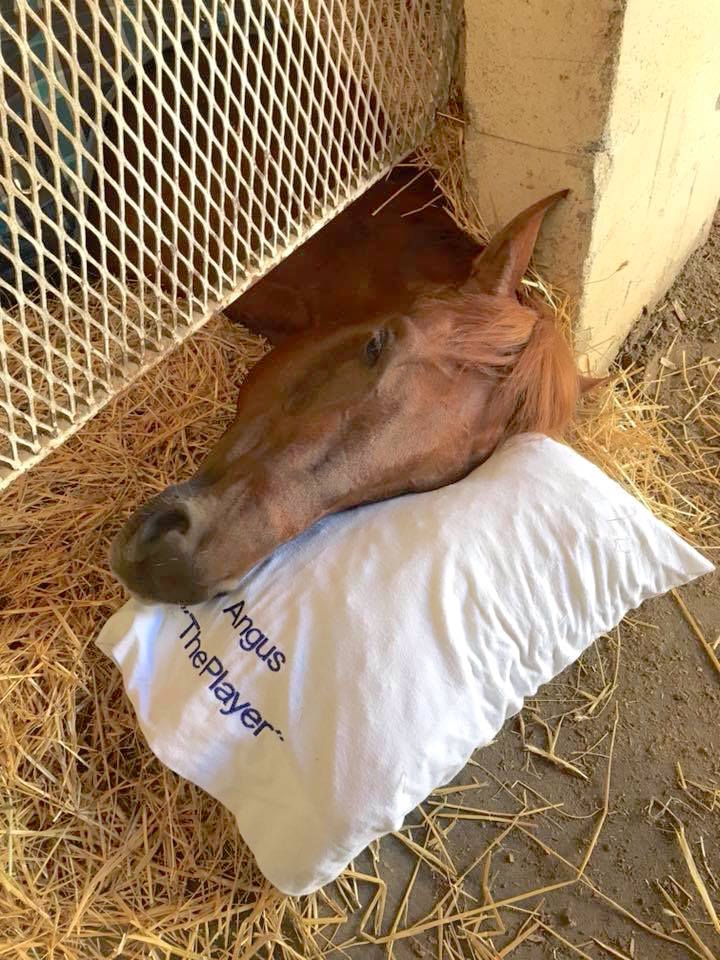 The Player took it to greater heights, however. Fourth on his only start at two, he broke his maiden at Churchill Downs the following May before falling less than a length short of G1 winner Cupid in the G2 Indiana Derby at Indiana Grand. He continued to progress thereafter, running second in the G3 Ack Ack Stakes en route to putting it all together when landing the 2017 G2 Fayette Stakes at Keeneland at the expense of Neolithic and McCracken.
The Player was impressive that day but he was arguably even more so the following February when the wide-margin winner of the G3 Mineshaft Handicap at Fair Grounds in a time not far short of the track record. That win earned him a 100 Beyer figure and thus, it was as the 4/5 favourite that The Player lined up for that fateful run in the New Orleans Handicap.
Bradley still has difficulty in talking of the moments immediately following the injury. With both sesamoids at the back of the fetlock fractured and the surrounding suspensory system in a state of collapse, the prognosis was bleak.
"The x-rays came through and it was then that Dr Bradford Bentz told us that the horse was a good candidate for euthanasia," says Bradley. "We asked if he could be saved and he said, yes, let's talk to Dr Charles McCauley [clinical assistant professor of surgery at Louisiana State University's School of Veterinary Medicine]. Well only a month before, I had met Dr McCauley when he had come to my barn to do a dynamic scope on another horse - I had been really impressed with him.
"Dr McCauley saw the x-rays, called me and said, 'Buff, I can do this, but it's all going to depend on the horse,' and then he listed all the possible complications - laminitis, infection etc.
"We weren't thinking of a stallion career at all at the time and we made it very clear that we did not want him to suffer. We just felt we had to give it a go."
The following Monday at the LSU Equine Hospital, The Player had 16 screws and a locking metal plate inserted by McCauley to stabilise the fetlock. Subsequent complications, which included the replacement of a screw, hindered his recovery but, after six long months, the colt was able to return to Bradley's farm in Kentucky.
"I drove to LSU every day," says Bradley. "I can't say enough good things about LSU and their staff. Initially, we hoped he would be there 30-60 days, but it ended up being about six months.
"We could all see that he had a will to survive, despite the ups and downs. His temperament was certainly a big factor in his survival, especially the fact that he was always lying down, taking weight off that leg."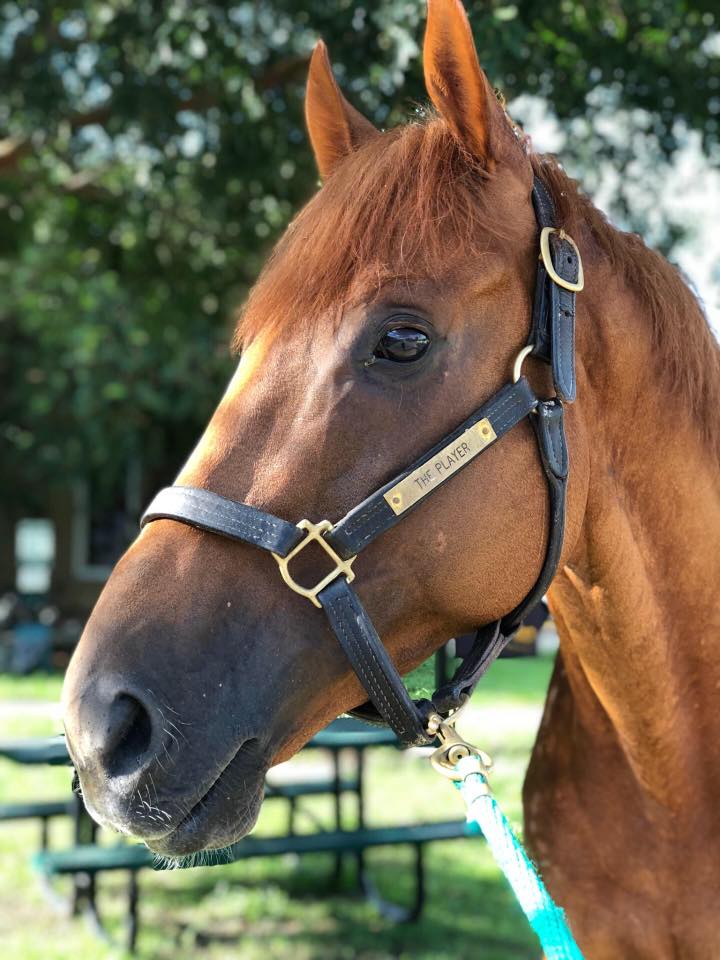 He adds: "When I went to collect him, I put something on Facebook and we had lots of requests from people offering to help, some of them offering a place to let him rest on the route back home.
"It was a long ride back home, and I rode in the back with him. We did stop at one place, with a lady and her husband who we had never met before, and they were kind enough to put us up too."
With his ankle fused, The Player's gait has obviously altered, although a recent Facebook video of the horse trotting in his field at Crestwood shows how he has adapted remarkably well. He remains shod on his good foot for support but that simple act also comes with its issues - or at least it would for a horse without such a penchant for lying down.
"At LSU, they got round it by shoeing him on the operating table when they had to open him up, but obviously, in a normal situation he would have to bear full weight on the bad leg to shoe him," says Bradley. "Well, one day the blacksmith turned up and The Player was lying down and he said 'let's just see if we can do it here'. So he was shod while lying down."
The Player flourished back in Kentucky in the company of Bradley's G1 winner Brass Hat, progressing from turnout in a mobile pen to an arena.
"As he was recovering last autumn, McCauley said to us 'you know, you can stand this horse'," says Bradley. "We weren't really thinking about it. But then we thought about it and really, the only people we wanted to take him on were the McLeans over at Crestwood Farm. They've always been good to us and we done good business with their stallions Get Stormy and Texas Red. They're well thought of."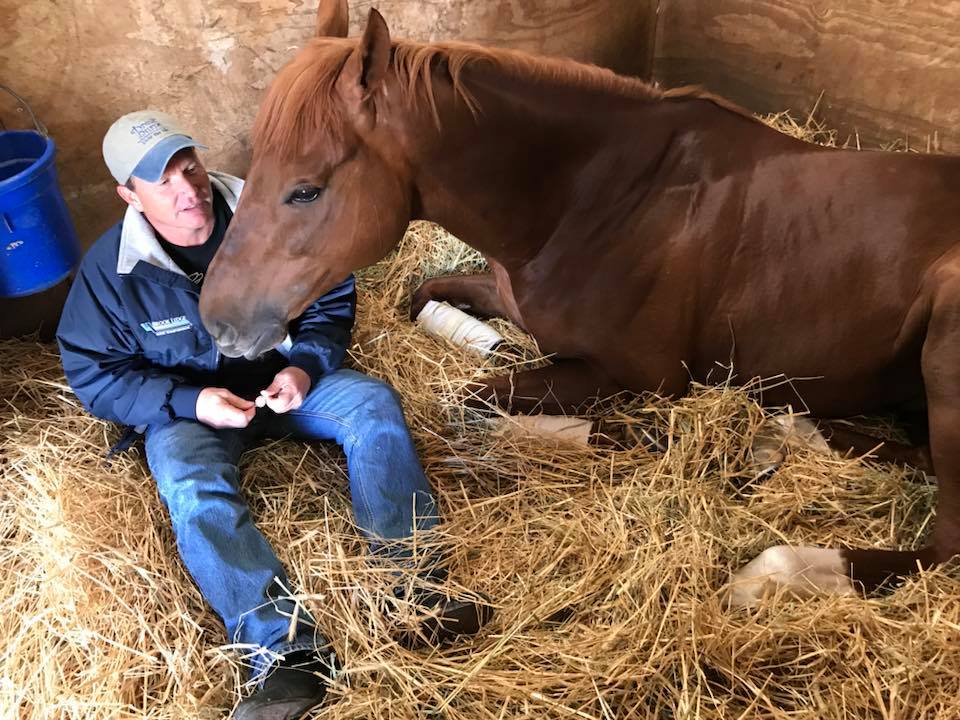 The McLean family have been at the helm of Crestwood since 1970. Over that time, countless Graded stakes winners have come off the land, notably those outstanding fillies Serena's Song and Xtra Heat. All the while, the family has maintained a fine stallion roster, one that came to include successful sires Petionville and Storm Boot; today, it comprises a team of eight, including Breeders' Cup Juvenile hero Texas Red, Kentucky Derby runner-up Firing Line, emerging sire Get Stormy and G3 winner Tu Brutus, the first son of Scat Daddy to retire to stud in Kentucky.
"We try to keep the roster fresh," says farm manager Marc McLean. "I know Buff well and he had mentioned The Player a couple of times to me. Like any stallion, you have got to like them and their race record."
The Player arrived at Crestwood just before the New Year in time for the farm's annual open house during the Keeneland January Sale.
Within no time at all, the farm staff were treated to the horse's peculiar barn antics.
"I haven't really seen anything like it before," says McLean. "I had seen pictures of him doing it and then one night shortly after he had arrived, I went into his stable to give him his medication and there he was, just sitting on his haunches.
"The first day he was turned out here, he acted like it had been his paddock for ten years. He gets around great, surprisingly well in fact."
The McLeans have already been well exposed to the horse's powerful fan following. His Facebook page is closing in on 5,000 likes and its posts regularly prompt huge interaction; for instance, a video of him playing in his paddock recently attracted close to 4,000 views and 80 shares.
"I decided to do the page as if it were actually him, just because he's funny and people like him," says Bradley.
Feelgood story
He adds: "I fully understand people saying 'I'm not going to put my horse through this' with such an injury. And I agree. But, of all my horses, I thought he'd be the one able to cope with it, what with his demeanour and quirkiness.
"It's a feelgood story - he did make it, horses can survive this."
The Player is priced at $2,500 for his first season. Neither Bradley nor the team at Crestwood are under any illusion as to today's difficulties in making a stallion, particularly at the lower end of the market. But what they do know is that they are in possession of an extraordinarily tough horse who was on the cusp of breaking out at a higher level.
"I think he was just coming into his own," says Bradley. "Calvin eased up on him when he won the Mineshaft, otherwise I think he would have broken the track record. And that was his first time in blinkers. Before, he had been winning so we had no reason to change it. But then, in the Louisiana Stakes, when he was fourth, he was just playing around - he should have won and that's when the blinkers went on."
He adds: "We're trying to breed a racehorse, that's what I want people to know about The Player - he's from a family of tough, honest runners and he was just getting going himself."
The Player was bred at a time when the Bradleys owned around 12 mares. While that number has since dropped to four, plans remain in full throttle to support the horse.
"We have a couple going The Player's way," he says. "A few are coming from my owners and then Carl and I have leased a mare to go to him. There is a full sister to Brass Hat going to him."
Important year
Overall, it promises to be an important year for Crestwood as the first crop of Jack Milton, a G1-winning son of War Front, take to the track and those by Firing Line and Texas Red come under scrutiny at the yearling sales. Then there is the emergence of multiple G1 winner Get Stormy as a stallion of real note thanks to four early Graded stakes winners, among them the Bradley-bred G3 winner Storm The Hill.
Firing Line, in particular, holds a special place at Crestwood as the product of their Sister Girl family, also responsible for G1 winners Sharp Azteca and Bowies Hero. Bred by Clearsky Farms, the son of Line Of David set a new track record when the wide-margin winner of the G3 Sunland Derby and later fell only a length short of American Pharoah in the Kentucky Derby. His first weanlings sold for up to $60,000 at the winter breeding stock sales.
"Firing Line's granddam lives about 100 yards from where he is," says McLean. "We have high hopes for him - he was well supported at the sales.
"What is exciting about him is that he was a $240,000 2-year-old himself and from Line Of David's first crop, who wasn't standing for very much at the time, so he must have been pretty good."
And what of The Player? For now, there is a sense of cautious optimisim ahead of how he might fare in his second career.
"He was stepping up in class all the time and I think his last win was his best. I think he would have had a good summer," says McLean. "He's a little bit under the radar. But you know, this horse has proved a lot of people wrong already, many would have stopped with him after the injury, and he could do it again."