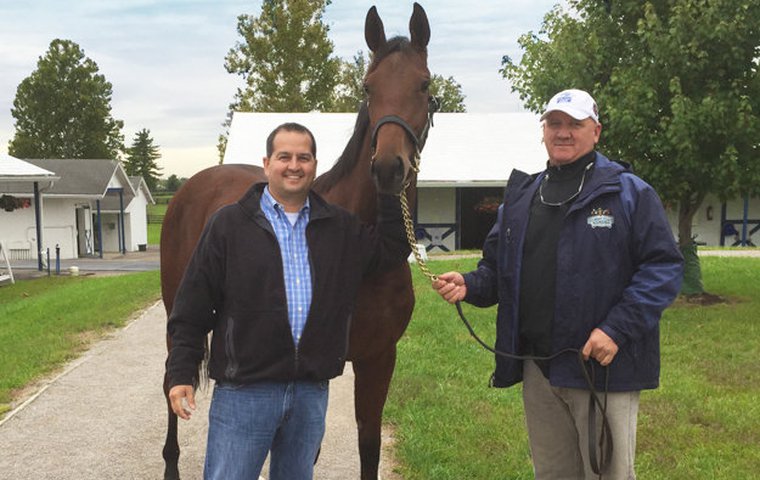 Trainer Ken McPeek is trying to help horse racing grow and, eventually, help a horse you've never heard of have a better life. His goal is to do it through a smartphone application.

McPeek and his former wife, Sue, started the process of building the app named Horse Races NOW, then brought in now-President and Chief Operating Officer Chris Carper, a former Microsoft executive, to largely run the business. It all started about four years ago when Ken McPeek got inspired after watching a show on MSNBC called, "Planet of the Apps."
"It talked about the business of phone applications, and how they were going to change the way not only Americans lived, but the world. And I was kind of intrigued by it," McPeek said.
McPeek Googled all sorts of terms involving horse racing and apps, and found nothing. Like any good trainer trying to spot his horse in the right race, he saw an opportunity.
"So at the time, they were saying only seven percent of cell phone users were using smartphones, but that the next year that would jump to 17 percent, and they believed by 2015-2016, that smartphones would dominate the market," McPeek said. "So I did some research, and I called the larger entities of the sport and asked them, 'Is anybody making an app?' And they all said, 'why?'"
That answer struck a nerve with McPeek. At 52, he's been around horses since he was a kid, and has dealt with many of the contemporaries that questioned him. He's played by the unwritten rules, but with the sport facing an unquestionable drop in popularity, he can no longer do so.
"I don't want to insult anybody," McPeek said, "but one major horse racing executive said, 'Who needs an app?'"
McPeek tried to convince the executive, but learned he was barking up the wrong tree.
"We do not connect to the fans easily," McPeek said. "We force them to open a wagering account with a credit card. We force them to buy a satellite dish and get the Dish Network package. If they want to watch replays, they have to pay for replays. Fans don't want that; they're not going to take it anymore. This sport's not dying because of breakdowns and medication. It's dying because of the way we fail to distribute our video. It's a media rights issue... In this day and age, fans want quick, simple, and they want free."
So, the McPeeks set out to build an app that would be free. Of course, that meant they'd have to sell ads on it. The process of starting an app is a daunting one, and Sue McPeek – now in charge of customer support – remembers it wasn't easy.
"There were some difficulties with the first group we used," she said. "Looking back, I'm sure we'd have done just as well flushing some of our money down the toilet. But we learned some valuable things."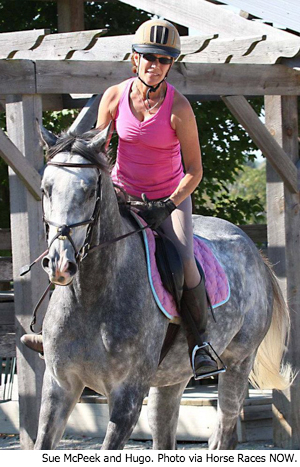 The app debuted in April 2012. When Carper, a horse owner himself, came on board a year later, there were approximately 50,000 downloads of the app. They've since updated the technology on the app a couple of times, and also added additional features. McPeek said he stepped back and has let Carper run the software and business side of things.
It seemed wise, as Carper was a former director of business development for Microsoft. He was responsible for managing Microsoft's Windows Media infrastructure and device deployment. In his own words, he helped to enable digital streaming, "before digital streaming was cool and hip."
Carper has a mind for business, and McPeek quickly nicknamed him, "Mr. Analytics."
"[Carper] wants to know every time someone opens it and where they go first," McPeek said, "He's the one who brought in the daily news segment. He brought in all the advertising. We've made the Xbox version. He's done that."
The app offers just about everything a horse racing fan could want: entries, results, streaming live video and audio from participating North American tracks, today's changes, alerts, a wagering option, immediate race replays going back two years, news, and a how-to-use demonstration. Replays are available from 52 tracks, with the notable exceptions being those owned by Churchill Downs, the Stronach Group, and Oaklawn Park. Also, New York Racing Association's tracks' replays are available, but they and the aforementioned do not participate in live video. Carper and McPeek hope those tracks will come on board eventually.
McPeek is quick to emphasize that the wagering option for Horse Races NOW users is just that, an option.
"How are we going to get 10- and 12-year-olds interested in the sport if the only way they can access it is if they open a wagering account?" McPeek asked. "That doesn't mean they couldn't gamble at 25."
McPeek said app users have also suggested improvements that have led to new developments.
"If a fan sends us a good idea, it's in there as fast as we can get the team together to write the code and put it in," McPeek said.
To acquire signals, the team works with Roberts Communication Network (RCN), which it pays for RCN's control of storing and disseminating racing broadcasts. However, McPeek and Carper both stress their desire to see a defined, industry group take ownership of the digital licensing rights to the signals, which they maintain would better allow the sport to capitalize on events like the Triple Crown and create a standard licensing model for content that would benefit tracks and horsemen. Horse Races NOW monetizes the app today through advertising and in-app purchases. Eventually, if Horse Races NOW starts to make money, which it isn't currently doing, McPeek and Carper want to give a percentage back to horsemen.
"This is more important than any race I've ever won," McPeek said. "This isn't for me. It's for the horse in stall 3 that runs in the claiming race. Because if you create a new foundation of fans, the horse that nobody knows its name runs for more money, but he [also] gets better taken care of. He becomes more valuable to his owner, to his trainer, to the whole economics of the sport, and its growing fan base."
The other omnipresent hurdle is monetization. Horse Races NOW currently sells ads that flash on the bottom of the screen. In September 2014, Horse Races Now received 1.2 million app opens. While advertisers have increased, they haven't reached their limit, so the team is working to increase that number because McPeek won't budge on the "free" part.
"I keep trying to float, 'Maybe if we just charge for live videos' to Kenny, but he's not having any of it," Carper said, chuckling.
"We get 300 to 400 new downloads every day with a little advertising," McPeek said. "We're up to hundreds of thousands of people. It's like a tree that keeps getting bigger."
The tree has taken a lot of money to grow. Carper said they've spent "in the millions" to get to where they are now. But they like where they are, and they feel they're making an impact.
"A year and a half ago, I had three kids walk up to me in the paddock at Keeneland and ask, 'Are you Mr. McPeek?' And I said, 'yeah.' And they said, 'We've just got to tell you, we love the app!' It still gives me goose bumps," McPeek said. "Those are the kids that are going to be the difference."
---
Horse Races NOW screenshots: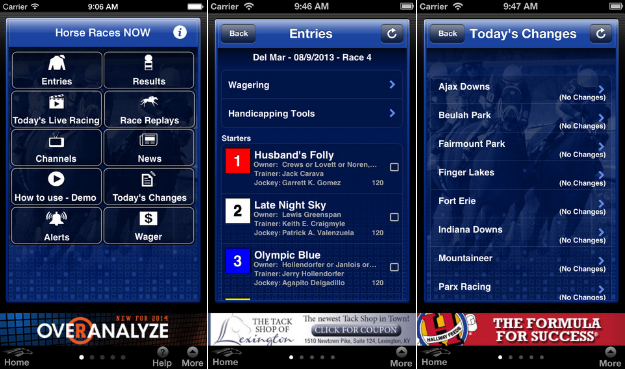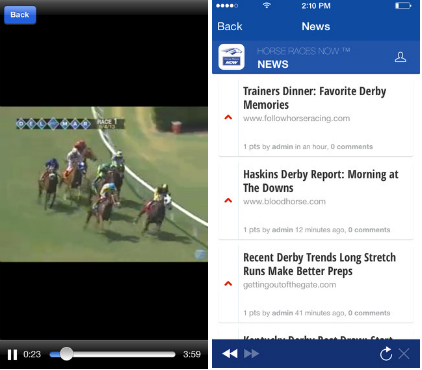 Download Horse Races NOW for free from the App Store or Google Play