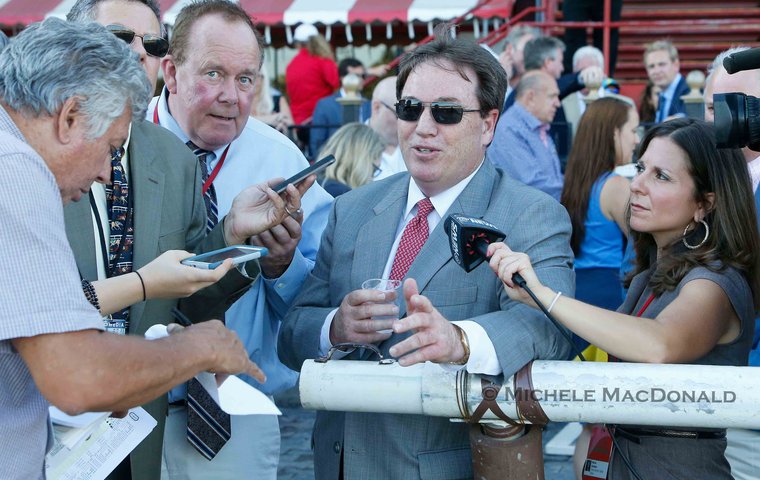 It seems like a lifetime ago, trainer Kiaran McLaughlin mused. When the Dubai World Cup program is run on Saturday (March 30) at Meydan, it will be almost 25 years and one month exactly since McLaughlin pulled the girth around the initial winner of a race that has evolved into the $1.5 million Godolphin Mile, a key early feature on the world's richest sporting day.

With that victory, and so many more that followed, McLaughlin and Dubai will be forever connected, no matter how many years pass.
The Lexington, Kentucky, native and former assistant to Racing Hall of Fame icon D Wayne Lukas pioneered working in the United Arab Emirates from 1993 to 2003, reigning as champion trainer at Nad Al Sheba Racecourse three times while forging one of racing's longest and most prosperous owner-trainer relationships with Dubai's ruling Maktoum family.
He will come full circle when seeking what would be his third trophy in what is now the Godolphin Mile, a race that rose over time from an allowance into a listed stake prior to its current Group 2 status, albeit his charge this time will be Calumet Farm's True Timber rather than a Maktoum runner.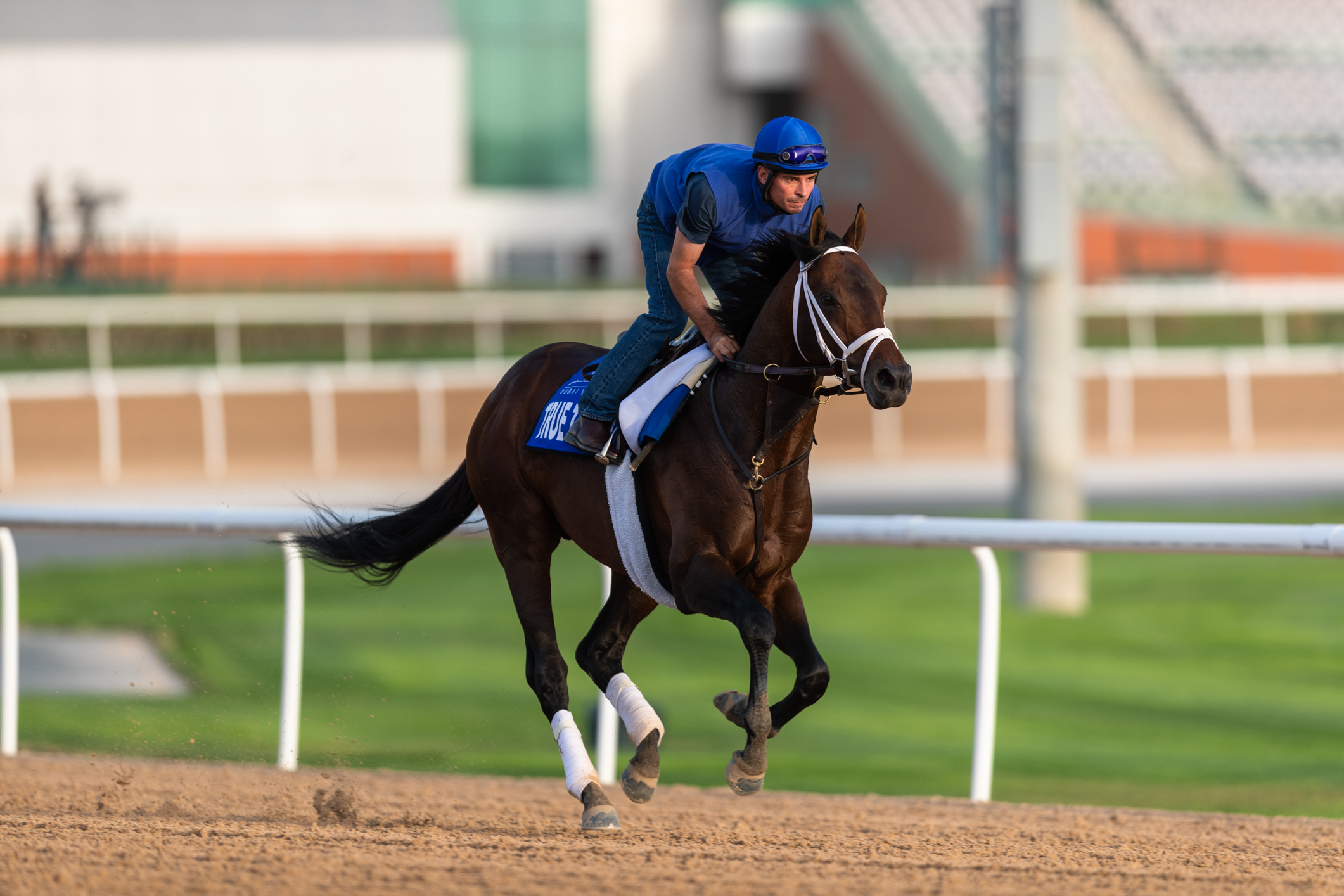 Yet McLaughlin won't be at Meydan, where his brother and assistant, Neal, will handle saddling duties. Instead, he is in the fortunate position of also training a possible Kentucky Derby contender, so he will be preparing Sheikh Hamdan's Shadwell Stable homebred Haikal for the Wood Memorial Stakes.
"We're on the Derby trail again, so I'm going to stay here," McLaughlin said. "But we're very excited about racing in Dubai again. It's always great to go to Dubai — it's like a second home to me even now."
Some of McLaughlin's fondest memories go back to the days when Sheikh Hamdan and his brother, Dubai ruler and Godolphin founder Sheikh Mohammed, would stroll into his stable yard, tucked amid palm trees and rolling desert sands, to check on the horses he was training for them.
"When I first got there, I thought there must be two or three Range Rovers with license plate No. 1 because you would see it everywhere — it didn't seem like Sheikh Mohammed ever slept. I saw him come into the barn early in the morning, and I would see him again at noon and then again in the afternoon. Sheikh Hamdan was more scheduled. He would come at nine in the morning until ten and from three until four in the afternoon. But I saw both of them almost daily when I was there.
"It was just great to be around them. They're just great people," said McLaughlin, employing a term his colleagues in racing often use to describe him. The fact that McLaughlin has Haikal and True Timber in his care now is at least partially due to his upbeat personality and people skills, as well as to his dedication to his horses.
McLaughlin trained Haikal's half brother, Shadwell's Takaful, to win the G1 Vosburgh Stakes in 2017 and soon afterwards found out that Sheikh Hamdan had the then-yearling Haikal in quarantine for a trip to Europe and a racing career far away.
"I had seen Haikal, but mainly I knew the sire very well and the brother, so I thought, 'Shoot! He's all dirt. Let's hope that he can stay here,'" recalled McLaughlin, who trained Haikal's sire, Daaher, to win the 2007 G1 Cigar Mile Handicap over champion Midnight Lute.
"I called [Shadwell's American General Manager] Rick Nichols and said, 'Rick, do you think you could ask Sheikh Hamdan to take him out of quarantine since his brother just won a Grade 1 on the dirt? Maybe he would be better suited to the dirt.' And Rick Nichols said, 'You know what? That's a great idea and I will do that.'"
Sheikh Hamdan agreed, and the rest could one day be part of Kentucky Derby history.
"I give Rick Nichols a lot of credit. So far, it's all worked out great," McLaughlin said.
True Timber arrived in McLaughlin's barn in a twist of good fortune, along with a salute to the trainer's achievements.
"Mr Kelley thought we'd give Kiaran a shot and we sent him a couple of horses and True Timber just happened to be one of them. We've got [McLaughlin] penciled in for a few more nice horses this year," said Calumet General Manager Eddie Kane, referring to farm owner Brad Kelley.
Unique role model
Calumet has big designs on participating in more major international races, Kane said, and in McLaughlin, Kelley has recruited a trainer who not only conditioned an American Horse of the Year and Dubai World Cup winner in Shadwell's Invasor, he also has tutored the likes of Godolphin's champion filly Questing and Travers Stakes winner Alpha.
All those accomplishments came after McLaughlin was diagnosed with multiple sclerosis in 1998. His strength of character and spirit through the years that have followed make him a unique role model, Lukas said in 2016 as McLaughlin readied Shadwell's Mohaymen for what would be strong run for fourth in Nyquist's Kentucky Derby.
"I couldn't be prouder of him," Lukas said.
"He's a pretty neat human being," Kane observed. "He's a gentleman, salt of the earth, and a very nice guy."
McLaughlin's engaging style undoubtedly was a factor in initially landing the job with the Maktoums and launching his own career following seven years with Lukas.
While he was working as agent for jockey Chris Antley in 1993, McLaughlin recalled that he had a meeting in Saratoga with prominent breeder Helen Alexander, who had business dealings with the sheikhs and asked if he might be able to assist in sourcing a horse who could win the Kentucky Derby for them.
"I said, 'What about a training job?'" McLaughlin recalled. "I didn't know where Dubai was, but I was willing to go to the North Pole to train for the Maktoum family. I had to go to the library to look up where Dubai was."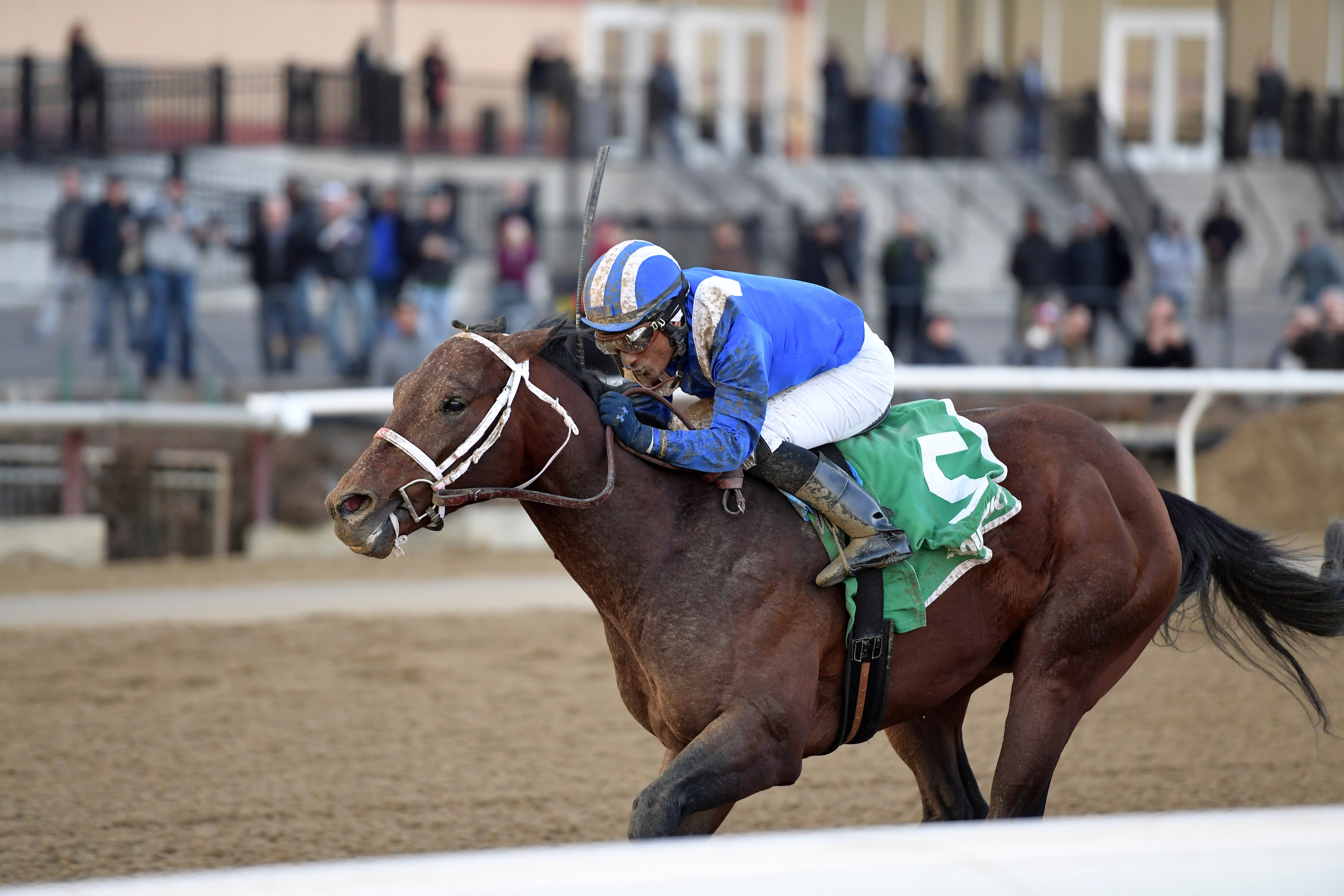 After a visit with the Maktoums was arranged by Anthony Stroud, Sheikh Mohammed's racing manager at the time and now one of Godolphin's bloodstock advisors, McLaughlin earned the job and departed for a new life on a day he clearly remembers well as he recites the date, November 15, 1993.
Committed to his brother's success, Neal McLaughlin quit a position with IBM to work alongside him in this bold new venture in an exotic land. Eventually, Kiaran McLaughlin's wife, Letty, who was pregnant with their son Ryan at the time, and their daughter Erin joined him in Dubai while he trained there in the desert racing season, with the family returning to New York for the summers.
It was only about three months after Kiaran McLaughlin's arrival in the UAE that he sent Lost Soldier, a son of Danzig and half brother to G1 winners Al Mamoon and La Gueriere, out to win the race that now is called the Godolphin Mile.
In 1995, McLaughlin and Lost Soldier won that event again, with Sheikh Mohammed Obaid Al Maktoum listed as the owner.
Lost Soldier would go on to win more races in America for Godolphin and McLaughlin, and he later became a G3 winner for other connections. Retired to stud, he sired American champion sprinter Lost In The Fog.
McLaughlin made more early Dubai racing history as the trainer of Key Of Luck, who won the inaugural Dubai Duty Free — now the $6 million G1 Dubai Turf — with Key Of Luck in March 1996.
Not only did jockey Gary Stevens steer Key Of Luck home by a huge 20 lengths in Sheikh Saeed bin Maktoum Al Maktoum's colors, the Chief's Crown horse ran the 2000m in time faster than Cigar completed the first running of the Dubai World Cup, which was the next race on that day's program. The success was stunning to everyone in the Maktoum camp.
"He ran one of the most impressive races we ever had," McLaughlin said of Key Of Luck. "The next day, Sheikh Mohammed and Sheikh Maktoum, his older brother [who died in 2006], and Sheikh Hamdan asked me why we didn't run in the World Cup. I said we weren't eligible to run because the nominations closed when I didn't have the horse in my barn. He only came to me in like January. Since then, they've changed the rules and you can nominate horses for the World Cup races at various times."
The very next year McLaughlin saddled Atraf and gave Jerry Bailey a leg up to win the second running of the Nad Al Sheba Sprint, the race that would become the $2 million Dubai Golden Shaheen, now the marquee dirt sprint on the Dubai World Cup program.
Perspective on medication
Particularly notable is that McLaughlin achieved all his Dubai success while competing under rules that forbid the use of medications, including Lasix, in competition, rules that are virtually the same worldwide with the exception of America. As the use of medications remains a hot-button topic in the United States, McLaughlin has a sharp perspective.
"At first, going over to Dubai as an American after working here and having medications, I was nervous and a little bit scared about what was going to happen. But it all went great. We had very few bleeders," he said. "It was very educational to not have any medications, and if it happened in America, I know we can do it."
"We just don't like to be the only one in the gate without Lasix," he added, stressing the need for equal terms of competition for all horses.
McLaughlin particularly appreciates the opportunities in working with the superbly-bred, high-quality horses owned by the Maktoum family, and he was clearly on a rapidly rising trajectory when multiple sclerosis struck him one night two decades ago with a searing pain in his shoulder. Encouraging support from Sheikh Hamdan and his own fortitude helped him conquer initial depression and worry.
"I told Sheikh Hamdan [about the diagnosis] and he said, 'You're not having to get on the horses, so don't worry — you're doing a great job,'" related McLaughlin, who has served as an ambassador for the National Multiple Sclerosis Society, in a special video about his life.
'Five good years'
McLaughlin said he appealed to "the Man upstairs" for at least "five good years" of work so he could provide for his family, but he has been blessed with over four times that and is looking forward to more of what he has called the most special kind of "five-year contracts".
He continued to work in Dubai until his daughter was ready for middle school, and, declaring that his first job was to be a good parent, he and his family decided to move permanently back to America in 2003 and open a public stable. The Maktoums have been strongly with him since that second new beginning.
"We did real well over there in Dubai — we loved it. It was just great to train there — first-class everything. The feed, the tracks, the hospital, everything was first class, and it was great to work with such great horsemen. Sheikh Mohammed and Sheikh Hamdan are both great horsemen. They could appreciate how well their horses looked and how we were running our operation. So, it was just a great experience," McLaughlin said.
"It was a tough decision to leave. But luckily for all of my team, [former assistant] Doug Watson took over in Dubai and has done great. And the Maktoums supported us in America, so my brother Neal and [Neal's wife] Trish [who also is an assistant], everybody here has done well also. It's been a win-win for everybody," he added.
Through mid-March, McLaughlin had amassed impressive career statistics with 1,536 winners and the earners of over $115.88 million. With True Timber and Haikal among his current 55-horse stable and with a new squad of 2-year-olds from the Maktoums and other owners soon to arrive, there will be more wins to come.
Meydan chance
With a potential Kentucky Derby runner and another horse trying to add to McLaughlin's Dubai history, spring blooms with promise.
First comes the Godolphin Mile, and True Timber should be competitive in the likely field of 13.
"We're taking a Calumet horse, which is interesting because I grew up in Lexington and I'm so happy that Brad Kelley has brought Calumet back on the worldwide scene. I'm thankful he has revived Calumet and is doing so well in Lexington and the horse industry," McLaughlin said.
"The horse is doing great and we have Joel Rosario to ride," he added, noting that the 5-year-old son of Mineshaft had some excuses for his seventh-place finish in the rain-sodden, 1⅛-mile Pegasus World Cup Invitational Stakes, his only start since a fine runner-up effort to Patternrecognition in the Cigar Mile in December.
"You always want to do better than what you did, but he ran 60 feet further than the Pegasus winner [City of Light]. He was way out wide on a muddy track," McLaughlin said. "But he came out of it in great shape, and we feel like a mile suits him better than a mile and an eighth. A mile is right up his alley."
Longtime friends will be rivals in the Godolphin Mile as Watson has Sheikh Hamdan's impressive multiple group winner Muntazah, who won the key Meydan prep in track record time by ten lengths, and another Lukas protégé, Todd Pletcher, will send out multiple Graded winner Coal Front.
As for Haikal, McLaughlin said the colt should not be discounted for the Kentucky Derby at this stage just because, as critics have contended, his half brother was a sprinter. Haikal is a different type of individual.
Haikal: 'nine furlongs shouldn't be a problem'
"Haikal has already proved that he can settle toward the rear of the field and he made a big run to win the Gotham Stakes. His mind is so much better. Takaful was really worked up and tough to train and very speedy and just wanted to go," McLaughlin said. "Each horse is different, and Haikal has got a great mind. He also stands over a little more ground. He has more scope.
"We never felt that distance was going to be a big problem for him. How far he will go, we'll find out. But we feel like nine furlongs shouldn't be a problem on April 6 in the Wood Memorial. We might have a problem with the quality of runners more than the distance, but we'll learn. We'll see how we do.
"He's done everything right so far," McLaughlin noted of the bay colt, who has won three consecutive starts, two of them stakes, after finishing second by a neck in his November debut.
McLaughlin has come agonizingly close to snaring the gold Kentucky Derby trophy; he watched his charge Closing Argument finish second by a half-length to Giacomo in 2005. Ten years later, one of his all-time favorite runners, Godolphin's Frosted, finished fourth behind the history-making American Pharoah, and Frosted went on to be a laudable second in the Belmont Stakes.
"His personality was unbelievable and his Met Mile was unbelievable," McLaughlin recalled fondly of Frosted, the striking dappled gray son of Tapit who won the Metropolitan Handicap by 14¼ lengths in 1:32.73.
"He liked the girls — he was always screaming at the girls, so you had to be careful there. But he just was so talented. What a great racehorse! And he pretty much was a gentleman to be around. Tapits can be difficult, but he had a great mind and is just a beautiful horse. Great conformation, correct, and just so talented. I hope he goes on to be a great sire."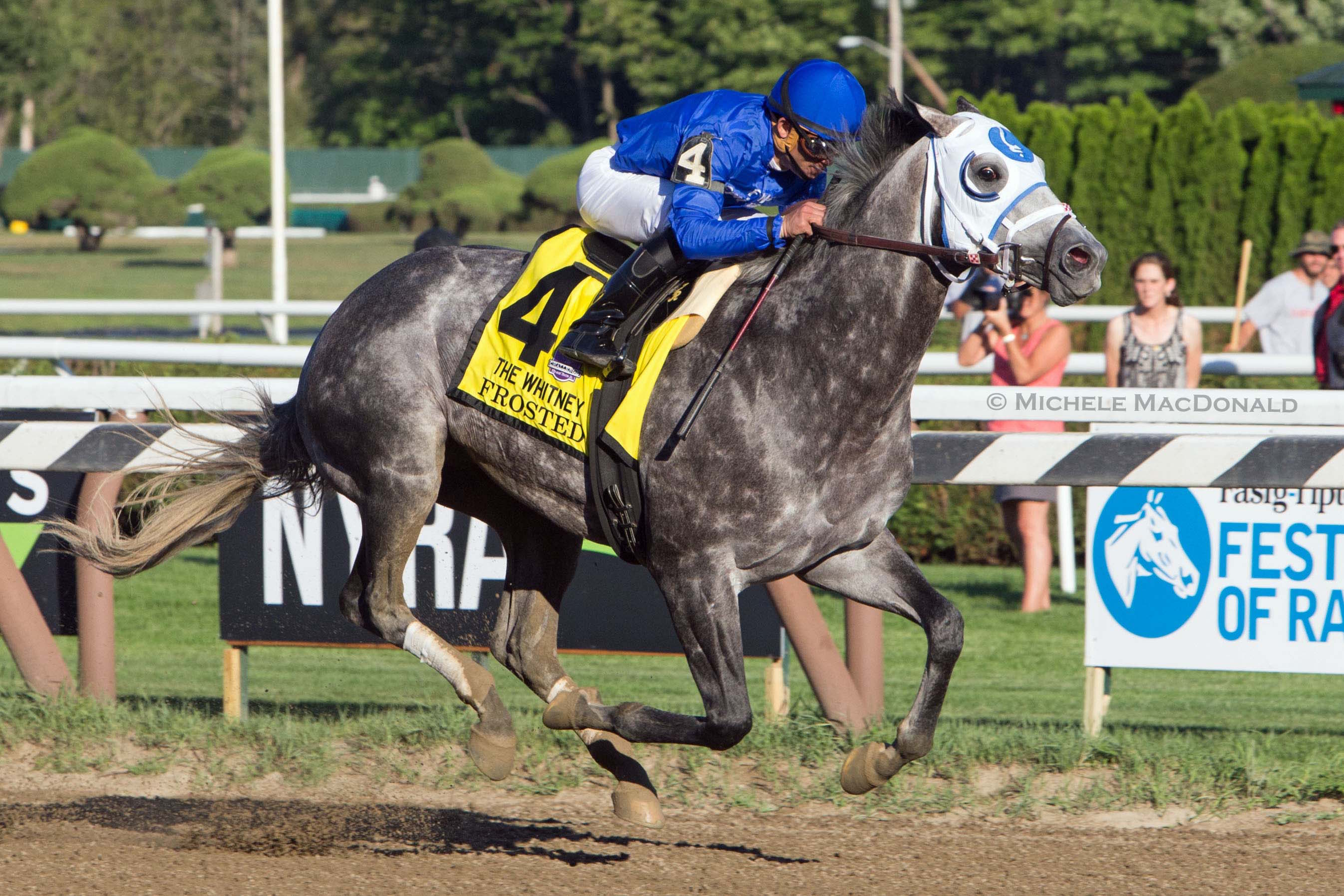 Shadwell's Jazil was another high achiever for McLaughlin. After a furious rally from last in the field of 20, Jazil finished fourth in the 2006 Kentucky Derby with Sheikh Hamdan and a delegation from his Lexington farm present at Churchill Downs. Five weeks later, Jazil triumphed in the Belmont.
Surpassing all the other wins, McLaughlin said that capturing the Dubai World Cup with Invasor in 2007 crowned his career because it allowed him to give back to Sheikh Hamdan some of the racing joy he has received from the Maktoum family.
"It is No. 1 in my career," he declared. "To go back to Dubai and be there with Sheikh Hamdan, to take a horse back to his country and be able to win that race for him, it doesn't get any better than that. Even winning the Kentucky Derby would not be better. It might be equal, but it would not be better."
The coming days perhaps will give McLaughlin a chance to try again for the Derby prize as well as to gain more Dubai laurels. His only regret at this juncture is that he will not be back in Dubai when the gates open for the 24th running of the Dubai World Cup.
"I feel privileged to be able to work with the Makoums and I will miss them. I wish I was going over to Dubai, but hopefully next year I'll be back — and with one of their horses," he said.