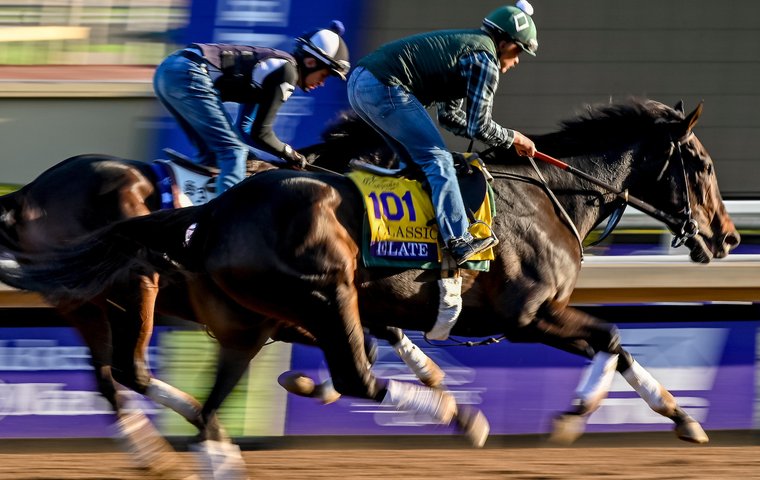 The $6m G1 Longines Breeders' Cup Classic is one of the world's great races. A testament to this is that each renewal sticks in the mind – even the ones that lack quality compared to the whole. In the years when analysts think the race lacks depth, it has a habit of producing a stirring finish or a point of controversy.

This year there is no standout horse. McKinzie, Code of Honour and Vino Rosso head the market, but nobody is mistaking any of them for the kind of generational talent we have seen showcasing the race before.
As a result, the race has a wide-open feel, and the Top Choice selection is given with nothing like the confidence we imparted for Magical in the G1 British Champions Stakes or Lys Gracieux in the G1 Cox Plate in the first two weeks of this new series.
TOP CHOICE McKinzie
There is no doubt that McKINZIE is the most accomplished horse in this line-up. He has won six Graded stakes from 12 tries, including four at the highest level. His most recent G1 success came just two starts ago, when beating today's rivals Yoshida and Vino Rosso decisively in the Whitney Stakes at Saratoga in August.
McKinzie can easily be forgiven his latest defeat. Starting at long odds on, he could not get to 25/1 shot Mongolian Groom after that one made all under a great ride from the front from jockey #144 Abel Cedillo on a speed-favouring Santa Anita surface.
Still, that race reminded us that McKinzie is only a very good horse – not a great one. He did not run well when favourite for this race 12 months ago, whatever the excuses put up for him. According to Racing Post Ratings, he tops out with a figure of 123, which leaves him vulnerable to any horse having a career day, just like Mongolian Groom did last time.
On the plus side, McKinzie is tough, consistent and has lots of tactical speed. The jockey switch to super consistent #8 Joel Rosario is a bonus for any horse, also.
A win here would be well deserved by McKinzie. On balance, he is the best horse going into the race and that is often enough when others fail to deliver on greater promise.
VALUE PICK Elate
The case for the mare ELATE is rather easy to substantiate: three times she has tackled the full ten furlongs, three times she has bolted up. The daughter of world #7 dirt sire Medaglia d'Oro has a chance to add to the trend of female racehorses defeating males in the world's best races.
Elate has been defeated on both her last two starts; she has no shot whatsoever here on what she achieved in either. Last time, she went under by half a length to repeat winner Blue Prize in the G1 Spinster at Keeneland, while on her previous try she was beaten a nose by Midnight Bisou in the G1 Personal Ensign at Saratoga. No disgrace that: the latter deserves to be a strong favourite for the G1 Longines Distaff earlier on the card.
But Elate is a big, strong mare with a slightly lazy outlook who runs along on a loose rein and needs a sterner test of stamina than afforded by small-field races over shorter.
It is the presence of Midnight Bisou – a horse we rate very highly here – in that Distaff that has persuaded trainer #24 Bill Mott that this race is a better option for Elate, especially considering her record over this longer trip. Mott has won the Distaff five times and the Classic twice, so he knows well how to gauge the relative strengths of both races. He would not be sending Elate on a fools' errand.
Elate is now five. As a 3-year-old, she actually was a better horse than she has seemed of late. She won the G1 Beldame in August 2017 in the style of a superstar filly, for example, only to disappoint in that season's Distaff when stuck with a wide trip.
There are signs that Elate is circling back to that kind of form. She won her second G2 Delaware Handicap in great style, and, although the opposition did not compare with this lot, it looked as if fire was back in her belly. The defeat by Midnight Bisou should do nothing to deter enthusiasm.
Of the remainder, a solid case can be made for both Code Of Honour and Vino Rosso, who were entangled in a controversial finish to the G1 Jockey Club, subsequently awarded to the former. Both should be on the premises, but, again, their career profiles are hardly of the superstar racehorse and they are trading at prices barely longer than the favourite McKinzie. For that reason only, they cannot rate the pick in this section, though nobody should be put off thinking they can win.
It's a bit harder to see Yoshida in the winner's enclosure, while the likes of Owendale, War Of Will and Math Wizard seem held down by form lines that don't exactly flatter them in this company. G1 Preakness winner War Of Will has long been a seriously talented horse, but he does not seem to be progressing at the rate needed.