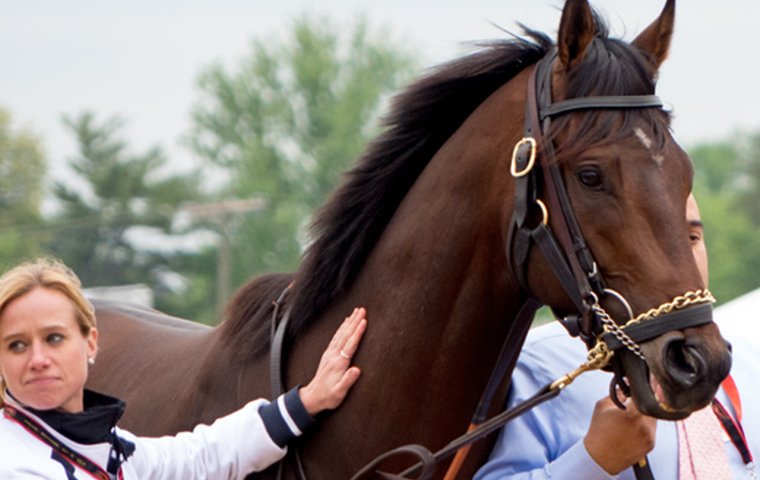 After making a name for herself as a key assistant to Hall of Fame trainer Shug McGaughey, Jenn Patterson has begun training Thoroughbreds in her own name.

"After being an assistant for so long and learning so much over the years, I thought I would give training on my own a try instead of doing nothing with all the information and knowledge I have gained," Patterson said.
Patterson worked in relative anonymity before gaining recognition as exercise rider of 2013 Kentucky Derby winner Orb during her nine-year tenure with McGaughey. After the colt raced in all three Triple Crown races, Patterson, Orb and about another dozen horses summered at Fair Hill training center in Maryland while McGaughey stayed at Belmont Park with the main string.
She treasures those memories, especially the days surrounding the Run for the Roses.
"From the beginning of Orb's career, everyone felt like he would be special and we were all having fun with it," she said. "There was pressure at the Derby but, at the same time, Shug kept things light so we were all having fun. [Orb] was doing so well coming up to the Derby that we all kept good heads on our shoulders.
"Everyone talks about 'the walkover' before the race and that is great with the crowd and all the horses. But the walk back with the winner was an unreal feeling."
Patterson grew up surrounded by racing and horses in Wilmington, Delaware. She notes that she had a mount even before she was born because her older sister had a pony that was destined to become hers. By age three, Patterson was riding and, by age five, she was going across open fields during fox hunts. Her father, Duncan, is a real estate specialist with a long history in steeplechase and flat racing that includes time as a trainer, rider and executive.
With that background, it was no surprise that Patterson would gravitate to her career. During summers and after graduating from Pennsylvania's Gettysburg College with a degree in business management, Patterson earned money exercising steeplechasers. She eventually shifted to a winter job with flat runners in Florida that evolved into her position with McGaughey in New York. That job brought her to Keeneland during the racing seasons.
After resigning from the McGaughey barn, Patterson remained at Keeneland and rode for trainers such as Charlie LoPresti, who entrusted her with two-time Horse of the Year Wise Dan.
Patterson is in the saddle each morning at Keeneland aboard the four Thoroughbreds in her barn. She expects to have her first entrant later this meeting or at Churchill Downs next month.
"I am very grateful to my owners, Michael Dubb and Harry Rosenblum, who sent me horses to give me a start," she said.