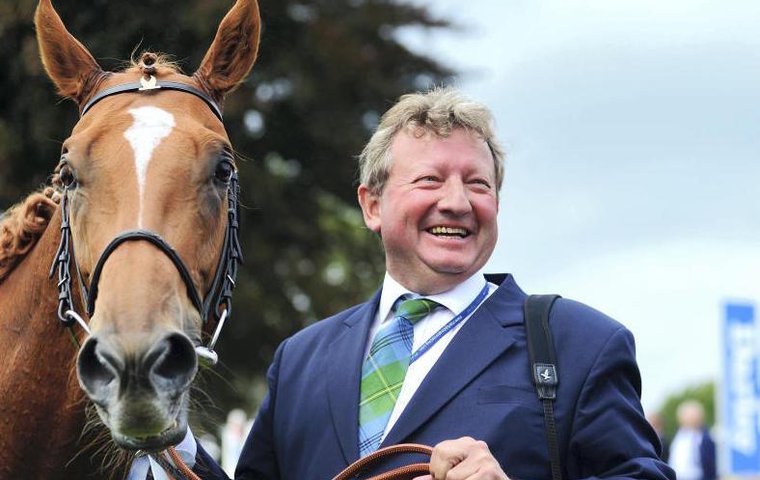 On August 23, 2018, Mark Johnston became the most successful British flat trainer of all time when Poet's Society won at York to provide him with the 4,194th winner of his career. Only two others, Richard Hannon Sr and Martin Pipe, have reached the 4,000-mark.

The 59-year-old was already the first British flat trainer to send out more than 200 winners in a single season (2009), a feat he has now achieved eight times.

With Classics and Group 1s among them, he has trained more than 100 winners for 26 consecutive seasons since 1994.

A former director of the British Horseracing Authority, proud Scotsman Johnston is renowned for clear thinking and an outspoken demeanour that can ruffle feathers. He is also famed for his single-minded determination, as evinced by his stable motto: "Always trying."

1. Who do you believe is the most important figure in the history of racing around the world?
I had to think long and hard about this because you couldn't say there's one person in modern racing history, so I think it has to be Thomas Darley, the Yorkshireman who imported the Darley Arabian. Obviously there were others like him around the same time that brought Arabian blood into British breeding but, whether by luck or design, his one was the most successful. Without him, we probably wouldn't have the Thoroughbred as we know it.
In the post-war era, two other people sprung to mind: Federico Tesio, who we all know had a great influence on breeding the modern Thoroughbred, and Sheikh Mohammed, who stands out as the most influential person in current racing circles, and that applies worldwide.
2. Which is your favourite venue and race (anywhere in the world)?
Goodwood is the venue - and not just because we've been very successful there. I always say if you want to show someone from abroad all that's best and unique about British racing, I'd always take them to Goodwood.
As for the race, it's got to be the Japan Cup, which has much the greatest atmosphere of any race that I've been at.
I was so wonderfully taken with the attitude of Japanese racegoers. They're fanatical about the sport, fanatical about the horses. Every horse has its own fan club in the parade ring, and one of the years we were there was just after El Condor Pasa had been retired and people were going mad just watching him canter a lap of the track. We've got nothing remotely like that.
3. What is your fondest memory in racing?
Probably Double Trigger's last Goodwood Cup, when he won for the third time in 1998 (see video below). It's the only time I've been involved with a horse and, when they passed the line, people were running from the stands to get to the winner's enclosure to see him coming in. To see the enthusiasm of people for the horse was wonderful.
4. What do you see as the biggest challenge racing faces today?
The great challenge is the one all sporting and business activities involving domestic animals face and that's pressure from an ignorant public and politicians. The very idea that Government should get involved in racing welfare is completely ridiculous to me. Too many MPs are completely ignorant of the subject and driven by the quest for votes; the majority of the voting public are also totally ignorant.
We've got to this situation where we've got pressure from so-called animal-rights groups who simply cannot accept the simple facts of life and death.
For as long as we've been involved in racing, including when I was on the BHA board, they will say quite openly that the public perception of horse welfare is more important than horse welfare itself. I will never accept that we should approach it that way. We should be the experts in horse welfare and maintain the highest standards.
I see that as the biggest threat, and it's my biggest criticism of the racing authorities because I don't feel that the way we're dealing with it is right.
5. If you could change one thing in racing, what would it be?
If I could do one thing, I would replace the handicap system in British racing. It makes the whole sport more random and difficult to predict, increasing margins for the betting industry. Otherwise I cannot see any benefit at all: it is nonsense to say punters benefit from a handicap system and even more ridiculous to suggest owners and trainers benefit. They don't.
It is surely not beyond the wit of man for horses to be graded on what they've won and earned rather than a handicapper's opinion of how they might run next time. As it stands, a horse rated 50 might have won more than a horse rated 70. It has nothing to do with ability.
I think it's quite sad we've seemingly got no one in racing admin who is willing to think radically enough; in this day and age, no one is brave enough and bold enough to think with a blank sheet of paper.