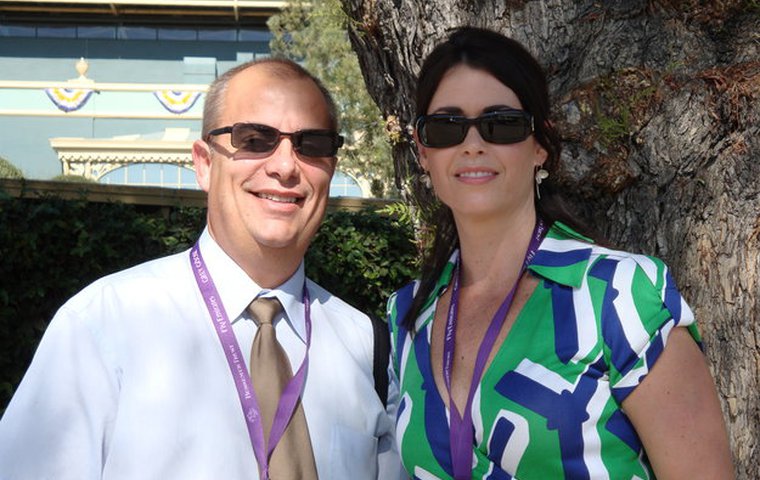 In the midst of a personal-best season and fast approaching his 2,000th career winner, trainer Mark Casse made a huge statement at this year's Breeders' Cup by winning the Mile with Tepin and the Juvenile Fillies Turf with Catch a Glimpse. Those fillies accounted for Casse's first victories at the World Championships.

As 2015 nears a close, Casse runners have amassed nearly $13 million in purses this year, which marks the third time since 2012 that his stable has surpassed $10 million in a single season.
A trainer since he was 17, Casse followed in the footsteps of his father, Norman, whose first foray into racing was buying and selling Thoroughbreds while operating a small farm in Indiana. Later the elder Casse opened Cardinal Hill Stable in Ocala, Florida, and his son became his father's right-hand man.
Casse, 54, has been an ubiquitous presence in Canadian racing since the late 1990s. There he has won seven Sovereign Awards as outstanding trainer of the year; captured the 2014 Queen's Plate with the filly Lexie Lou, who was subsequently named Canada's Horse of the Year; and has won nine training titles at Woodbine.
In the United States, the native of Indiana, has also proven to be a formidable force. He can count among his major victories, multiple runnings of the G1 Stephen Foster Handicap and G1 Alcibiades Stakes, as well as the G1 Metropolitan Mile Handicap. He has won training titles at Churchill Downs, Keeneland, and Turfway Park.
Once the private trainer and general manager for farm operations for the late Harry T. Mangurian, a prolific owner and breeder whose equine holdings at one point numbered 900, Casse currently operates a public stable with around 100 horses in training. He conditions horses for a multitude of owners, and has divisions populating tracks in Canada, Florida, Kentucky, and New York.
Casse and his wife, Tina, who manages the business side of her husband's operation, own Moonshadow Farm in Ocala, where many of the horses he trains receive their early education.
Casse is a father of seven, and his oldest son, Norman, is his main assistant in the United States.
Karen M. Johnson interviewed Casse on Nov. 11, covering myriad topics, including his future racing plans for his Breeders' Cup winners; what he looks for when scouting 2-year-olds to purchase; the importance of family and longtime employees to his operation; and his views on Lasix.
The interview will be published in two parts - the first today, the second next Tuesday (Nov. 24).
----------
Where do the wins at this year's Breeders' Cup rank in importance in your career?
"I would say they probably rank number one. We've been very fortunate, and have won training titles, we have won the Queen's Plate, which was important, and we've won a lot of big races, but [the Breeders' Cup] was world competition. Catch a Glimpse and Tepin weren't just running against the best in North America, they were running against some of the best in the world. That was important to us. I think it showed [our stable] can compete at the highest level."
What are the racing plans for Tepin and Catch a Glimpse?
"I'm not really sure with Catch a Glimpse. She will probably run sometime in January or February in South Florida. I don't have a major goal for her at this point in time; it could be the Florida Oaks at Tampa or one of the bigger races at Gulfstream. I haven't really thought that much about that yet; we're just giving her a little break. I did end up sending her to Palm Meadows simply because we just didn't think she would handle the farm life very well. She is not training right now. She's spending the afternoons out in the round pen, getting some sun at Palm Meadows.
"As far as Tepin goes, I don't know where we will bring her back, but the first [major] goal is for her to try to defend her crown at Churchill on Derby day [in the Churchill Distaff Turf Mile]. She would probably run one time before that, and then she will go a little bit on the same path she went on this year."
Tepin's Mile win puts her in the running for an Eclipse Award, but the filly Found also beat males in the Turf. If you were making a case to the voters for Tepin, what would it be?
"I don't even think it is close. If you're looking at Tepin, she's won five races this year. She has run triple-digit Beyer numbers; she's six to eight inches away from being undefeated this year. When you look at Found, yes, she did beat males, but I think John Gosden [the trainer of Golden Horn] would be the first to tell you that [Golden Horn] probably didn't perform up to par. Found beat him, but she beat him on a turf that he may or may not have liked.
"Found is [2 for 8] this year. If Found deserved an Eclipse, let her come over here four or five times and run with the consistency that Tepin ran with. Tepin has done it everywhere, too. She did it at Gulfstream; she did it at Churchill Downs; she did it at Belmont; and she did it at Saratoga and Keeneland. Can you give a championship to a horse who ran one time in the U.S.? If it had been just a mediocre year for our fillies, and there was no standout in the U.S., then maybe you could consider one race.
"Tepin didn't just beat colts; she annihilated them. Of course, I'm sure I have a biased opinion."
What has it meant to you, both as a father and a trainer, to have your son Norman working as your assistant?
"I think it brings it to an entirely different level. It's not just Norman. My wife, Tina, and I started this journey about 15 years ago, and you can see how important to me it is to have Norman and Tina, who does a lot of work behind the scenes, by my side. It's just very special.
"If you watched [the NBC telecast] after Tepin won, it was very emotional for me. There is nothing like winning and having part of your team be your family, and you look to your left and to your right, and they are there. We are each other's biggest fans."
You and Tina own Moonshadow Farm in Ocala, Florida. What impact has it had on your operation?
"We can actually take a mare in foal, or a barren mare and breed her, and that foal would never leave our control. One of the things that makes us so strong, in my opinion, is we do all our own rehab. Cindy Black has been working with me for almost 25 years. She oversees all our rehab and all our surgeries. She's like Mother Teresa.
"Most trainers if they have a horse who is injured or needs time off they have to send them somewhere, and you will definitely lose some connection [with the horse] in that situation. We don't ever lose that connection.
"I think some trainers tend to maybe hold onto horses longer than they should, simply because they don't want to lose control of them. When you send that horse [to the farm], there is always the chance you won't get him back. We don't have those worries. It's all in-house. I know what every horse does every day.
"We lost our longest employee, who passed away last November right before the Breeders' Cup. His name was Mike Anderson, and he was with me almost 35 years. I have [assistant trainer] David Adams at Woodbine who has been with me for almost 20 years. I've got [farm manager] Mitch Downs who has been with me over 30 years, and Cindy Black, who I mentioned. These people know how I think and how I want things done. Then, of course, we have Norman, my son, who has been around horse racing his entire life. We have a great organization.
"We're not afraid to give horses time off — Tepin is a prime example of how our system works. Another horse is Noble Bird, who has just started back in training. He has had two or three stints where he has spent time in rehab in Ocala. He came back and won the Stephen Foster [after time on the farm]. Tepin, after her poor performance last year in California [eighth in the Del Mar Oaks], she came to the farm and rehabbed and started training in Ocala [for her 2015 campaign].
"Normally, when a horse goes from a training center to a trainer, there is a learning process that takes time. Me and my staff have such great communication and the competence [to be able to win] races with horses three weeks after they have been on the farm. I'm proud of that — that we can get horses ready off the farm.
"I grew up with being very cost-conscious. I don't know how many times I heard my father say, 'We don't work for the electrical company, turn off the lights.' Then I worked for [Harry] Mangurian for 10 years and he was a wealthy man, but he watched every penny. It doesn't matter how much money an owner has — I try to do the job for them in the most economical way I can. There is no doubt we can train them cheaper in Ocala.
"Our place in Ocala is almost like the minor leagues. It is while the horses are there that we decide where they will compete. We get to work on synthetic, turf, and dirt tracks. Because of that, when we send a horse somewhere to run, we have a pretty good idea of what they like."
You're a trainer who consistently does well with 2-year-olds. When scouting 2-year-olds at the sales for your clients, what are looking for in a horse?
"I don't care whether they are tall, small, fat, or long. I like a horse who is an athlete. I have a really strong knowledge of pedigrees. With the number of horses I see, I think I have a good feel for what — for instance — a good Scat Daddy looks like, and what it should look like, and what a good Tapit should look like. If I'm in the paddock for a big race, I'm looking at the competition. I'm looking to see what they look like, who they are [sired by], and I'm putting that in my memory bank. Then, when I'm looking at 2-year-olds at sales, I can look for those [characteristics] in those horses.
"I'm not so much drawn to a horse who has the pedigree to be fast. I'm drawn to a pedigree that shouldn't be fast, but the horse is fast. That really [attracts me]."
What current 2-year-olds in stable are you most excited about?
"We have a lot of young prospects, and many who haven't even run yet, so that's a tough question.
"I would say Airoforce, of course. We're going to find out if he likes the dirt soon. I love Conquest Big E; I just think he needs to become a little better educated. He is a bit of a slow learner, but I think when he gets himself together he's a good horse. Siding Spring had a tough deal in the Breeders' Cup [Juvenile], but we knew it was going to be tough. When he drew in [from the also-eligibles], he [had an outside post]. I think you're going to see a horse like him go forward.
"We have one named Street Gray that we like a lot. We have Conquest Windycity, who is a really nice horse who I think is going to get better as he gets older. We have a horse right now that could be any kind; his name is Conquest Enforcer. We ran him first time out in the Summer Stakes and he was fourth to Conquest Daddyo. Patrick Husbands, who has ridden over 1,000 winners for me, said [Conquest Enforcer] is the best horse he has ever sat on. We ran him back in the Cup and Saucer Stakes on the grass, and he won by [6 3/4 lengths]. A horse he beat, [Shakhimat], just came back and won the Coronation Futurity by [9 3/4 lengths].
"We have a couple of fillies who just won recently. One is Conquest Babayaga; she won really impressively."
How much time daily is required of you in managing your operation?
"I would say 14 hours, and none of that concerns handling the business part, because my wife covers all of that.
"We have a system, and it's all done by computer. What happens is I will start on tomorrow's training schedule today. Our assistants will send in what happened today and I will also talk to them. Then, given the information I receive, not just from the assistants but if there is any vet work done I will talk to the vets, I begin to work on tomorrow's schedule. We also video a lot of our horses, so I will watch those. Also, a lot of times, I will decide what riders work what horses. We'll also determine what horses will work against each other.
"At about 4 to 5 p.m., I will send out tomorrow's training schedules, and each individual assistant we'll take it and make out the set list. Around 7 p.m., I'll start to get a jump on the schedule for the day after tomorrow.
"I'll be in bed at 10 o'clock at night, working on the training schedule. I always decide what races we are going into. I may have five condition books opened on my laptop [at any given time]."
Looking 10 years into the future, do you foresee your stable size remaining the same, or would you like to scale back?
"Probably in 10 years, I would say it would be scaled back because I don't want to continue what I'm doing. It takes too much of my time. The problem is I've worked 35 years to get where I'm at, so I'm not really ready to scale back. I still have some goals I plan to achieve.
"I could see Norman going out on his own. I would expect my youngest son, Colby, who is just 12, being a trainer as well. I see myself being a little more like J.J. Pletcher is to [his son] Todd. Where maybe I wouldn't be as focused on the racetrack; I would be [more involved] with developing the young horses and sending them to my sons [to train].
"I'm looking forward to a time when my wife and I can do some other things. Friends of ours asked me the other day to go somewhere on a Sunday. I said, 'We have 12 horses running that day, and I will be at command central in my office with all these televisions.' I have to be available if there are emergencies and decisions to be made — a race is taken off the turf; things of that nature.
"My wife and I went to Hawaii last year for a week. That was fun. Instead of having a 100 phone calls and emails, we only had 20. There will be a time in my life when I will want to do [more] traveling."
What are the goals you mentioned?
"There are not a lot left out there, honestly. I want to win the Kentucky Derby. I don't know that I would stop [training] without achieving that. If you asked me this two weeks ago, I would have said I wanted to win the Breeders' Cup.
"What really is going to be important to Mark Casse in the future is to see Norman succeed."