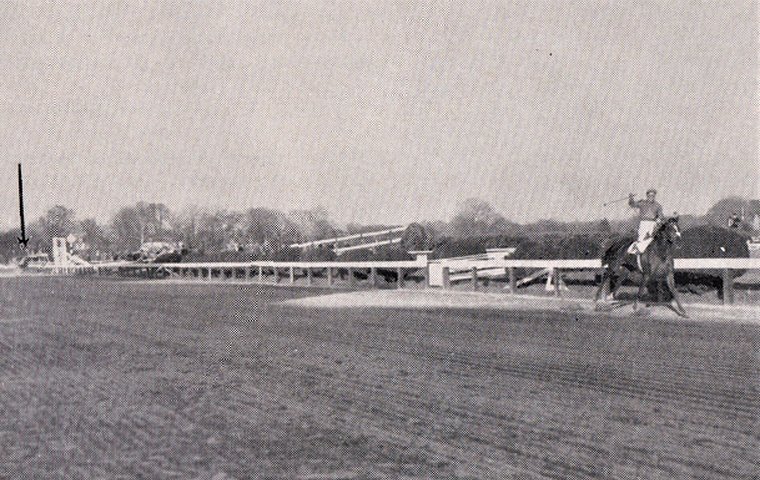 Wide-margin winners are always eyecatchers. Secretariat's 31-length decimation of the 1973 Belmont Stakes field immediately springs to mind. Other notables include Rachel Alexandra's 20¼-length victory in the 2009 Kentucky Oaks and Count Fleet's 25-length tally in the 1943 Belmont.

In terms of bare numbers, Miss Grillo - who has a race named in her honor at Belmont this coming weekend - beats them all. Considered one of the best staying mares of her generation, she may not have had the consistency or sheer brilliance of those mentioned above, but her career is worth a closer look, as she was one of the first draft of South American imports to make a mark on North American racing.
She was bred in Argentina by Haras San Ignacio and purchased at the sales at Palermo for 6,000 pesos (around $1,500 at the time) by Stud El Grillo, which had raced her sire, the black stallion Rolando. Her dam, Cedulilla, had herself won and produced winners. Her immediate breeding was Argentinian, but further back in her pedigree was predominantly British.
She ran seven times as a 2-year-old without being unplaced, including three wins. At three, she ran in the Polla de Potrances (the Argentinian 1000 Guineas) at Hippodromo Argentino but was injured in the race and finished fourth. She subsequently won the Premio Polla de Potrancas at La Plata and the Premio Seleccion (Argentina's Oaks).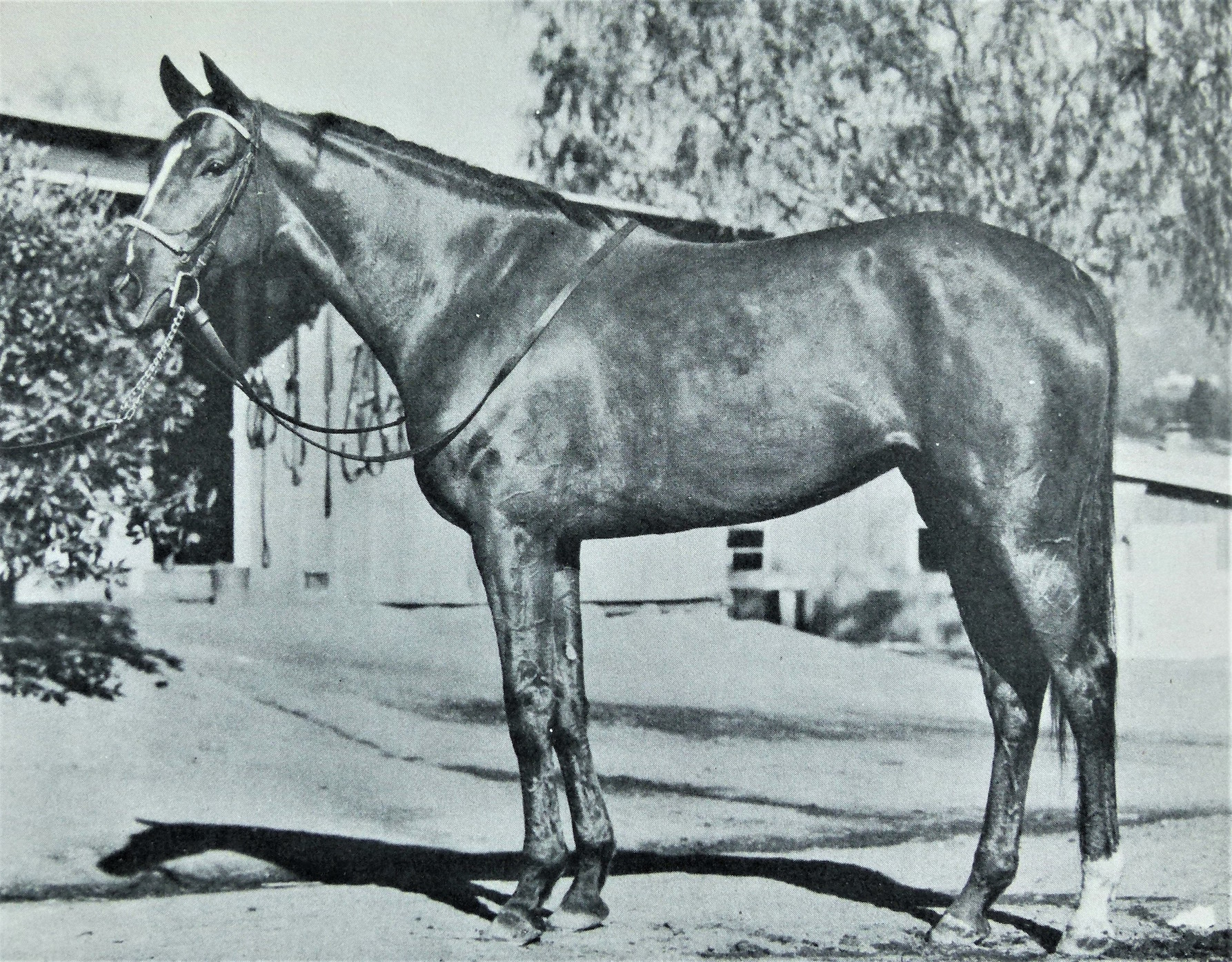 She won the Gran Premio Nacional, the Argentine Derby, over 2,500 meters (about a mile and five eighths) by a neck from Rico Monte. The two would later meet again north of the Equator.
Around this time, Horatio Luro was in his native Argentina looking for horses to buy for his American clients. He purchased Miss Grillo for $20,000 in the spring of 1946 for Mrs Josephine Hartford Douglas' Mill River Stable and became the chestnut filly's trainer.
Inducted into the American Racing Hall of Fame in 1980, Luro trained 43 stakes winners, including three champions. He won his first Kentucky Derby in 1962 with Decidedly and followed up two years later with Derby and Preakness winner Northern Dancer, who would go on to become a profoundly influential sire.
Miss Grillo made her first North American start on August 5, 1946, in a six-furlong filly-and-mare allowance at Saratoga. She finished last of five. In spite of that, renowned handicapper John B. Campbell still gave her top weight of 124 pounds for the August 28 Diana (at the time run on dirt). With Hall of Fame jockey Conn McCreary up, she won by a length, covering the mile and an eighth in 1:50⅕.
On October 21, she ran in a mile and a sixteenth prep for the Gallant Fox Handicap at Jamaica. Toting 126 pounds, she stumbled out of the gate and was slow to recover, finishing fourth.
Five days later, she ran fourth in the Gallant Fox, but she had some good ones in front of her. The winner was the prolific top-level stakes winner Stymie, second was her old nemesis Rico Monte, now also trained by Luro, and third was that year's Triple Crown winner Assault.
In her next start, the two-mile and seventy yard Exterminator Handicap at Pimlico on November 9, after being dropped back for the first mile by jockey Ira Hanford, she picked up late and won by a length and a quarter.
Her last start of the year was the Pimlico Cup, over two and a half miles, won easily by Rico Monte, with Miss Grillo second, eight lengths behind and giving the winner three pounds.
Two wins in 1946
She raced six times in her new country in 1946, winning two and finishing second once.
Her 1947 debut was in the Columbiana Handicap at Hialeah on February 8. She was an unpromising sixth of nine, then was fifth of six in a filly-and-mare allowance, both of these at seven furlongs, a trip well short of her optimum.
She lugged 130 pounds in her next outing, the nine-furlong Black Helen Handicap on March 4 at Hialeah. Miss Grillo sat behind the speed for the first half-mile before Conn McCreary started edging her closer. She came with a sustained run to win by a neck.
She faced the boys in the March 22 Gulfstream Handicap over a mile and a quarter. Uncharacteristically close up in the early part of the race, she flattened out and in the end ran eighth. The winner under 129 pounds was 6-year-old Armed, who would be named that year's Horse of the Year, in a new track record time of 2:01⅖.
She had some time off until running third as the 124-pound highweight in an overnight handicap at Belmont on May 16, then 12 days later went from last to second in the final five furlongs of the mile-and-sixteenth Top Flight Handicap but couldn't catch Rytina, to whom she was giving 19 pounds.
Misjudged pace
Following a third-place finish at Delaware in early July, she repeated in the Diana on August 27. All three runners, 126-pound highweight Miss Grillo, Humaya (carrying 106), and Rosa Blanca (114), were bred in Argentina. They finished in that order, with Miss Grillo scoring by three lengths.
She just missed in the second division of the September 20 Beldame, beaten a nose by 3-year-old But Why Not, who would earn champion 3-year-old filly honors that year, giving the winner six pounds. After that she finished a never threatening sixth in the Ladies Handicap under 126.
She was third to Stymie and another Luro import, Talon, in the Gallant Fox Handicap on October 25, with But Why Not behind her. On November 3 she tackled the mile and five eighths Governor Bowie Handicap at Pimlico, which she won in a canter by five in the sloppy going as the 124-pound top weight.
Just five days later she was back in the Exterminator Handicap, also at Pimlico. Eddie Arcaro rode as Conn McCreary was busy riding at Jamaica. Another Argentine-bred, Halconero, a 20-1 shot, won by eight lengths. Miss Grillo was second, 25 lengths ahead of third placed Mason Dixon. Arcaro admitted later that he may have misjudged the pace.
Pièce de résistance
The two-and-a-half-mile Pimlico Cup was the feature on November 13, the final day of Pimlico's meet, and it proved to be Miss Grillo's pièce de résistance.
Under top weight of 124, she broke last in the field of four and stayed there for the first mile. However, in the latter part of the race, in the words of Joe Palmer writing in the volume Race Horses of 1947, she 'gained 20 lengths going to the top of the stretch and 20 more in it'.
The official margin was 40 lengths. Second-placed Calvados was just reaching the sixteenth pole as Miss Grillo and Conn McCreary crossed under the wire. The final time was 4:2 ⅘.
In the wake of Secretariat's Belmont romp, Smith would recall the race in his New York Times column on July 17, 1974:
"Not satisfied merely to win by 40 lengths, he came down the stretch standing straight up in his stirrups, cap lifted, acknowledging his public with courtly bows."
Smith quotes McCreary in his column, describing the race: "That race started on the back side, and we were fourth or fifth going past the stands when I saw the time on the tote board, 55 or 56 seconds for a half. 'No way', I said and I dropped Miss Grillo's head and let her run by 'em. She must have opened 40 lengths right there. The last mile and a half I'd look back and couldn't find the field. If I was on the back side, the field would still be in the stretch. I think we had about 70 lengths at one point.
"Turning into the stretch, I looked back and couldn't find the field because they were just going to the far turn. To make sure there wasn't a horse tucked in behind me I stood up and turned completely around. That's an old trick. I pulled it many times. Hide behind the leader and when he relaxes, you whip out and beat him on the money.
"So there I was, riding Roman style, and I started getting a little quiet applause. So I thought, what the hell, I took off my hat and waved it and took a few bows."
She was unable to repeat the same level of success in 1948, going winless in her first six starts. She then picked up the mile-and-a-sixteenth New Castle Handicap (now known as the Delaware Handicap) at Delaware and the New York Handicap, over two and a quarter miles at Aqueduct, along with seconds in the Saratoga Cup and Diana. Later in the year she was unplaced in the mile and five-eighths Empire City Gold Cup and the two-mile Jockey Club Gold Cup, both at Belmont and both won by that year's Triple Crown winner Citation.
Though she didn't repeat her stunning victory of the previous year, she came back to triumph again in the Pimlico Cup, this time only by a length and a half, but in a new world record of 4:14⅗ for the two and a half miles.
She was a creditable third to Vulcan's Forge in the 1949 Santa Anita Handicap, then a week later she won the San Juan Capistrano, run that year at a mile and a half on the dirt, by a length and a quarter, becoming the first filly to win the race. She was promptly retired.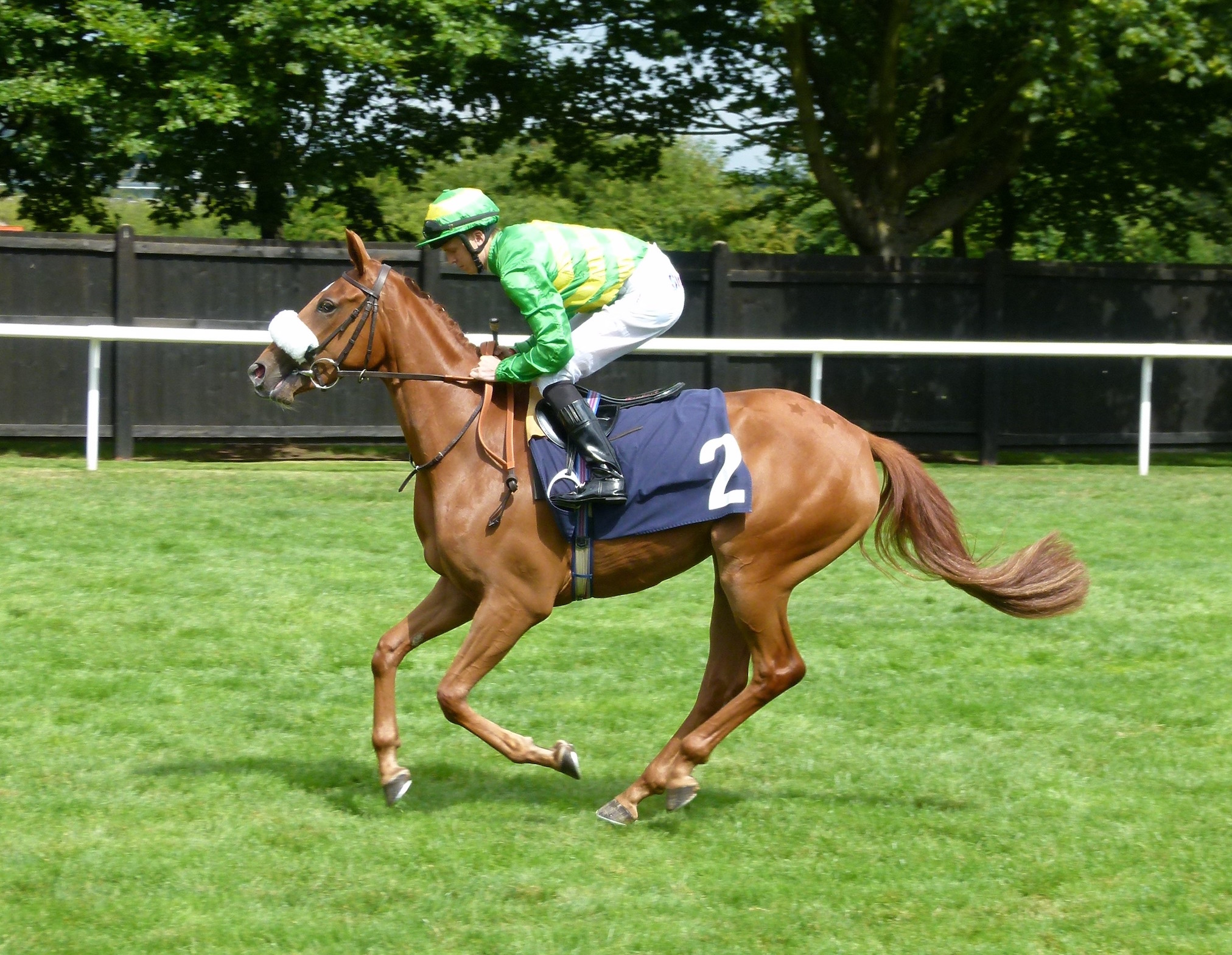 She closed out her career with ten wins, seven seconds and six third place finishes in 43 starts, with earnings of $250,930.
She had 11 foals, being bred to some of the best stallions of the era. None matched her exploits on the track, but her 1956 filly by Tom Fool, Meadow Music, was sent to Ireland and became the dam of 1965 Irish Derby winner Meadow Court, part-owned by Bing Crosby.
Meadow Music is also the second dam of stakes winner Charleston Rag, by Secretariat's Travers-winning son General Assembly, and is the fourth dam of 2003 Epsom Oaks winner Casual Look, who is the dam of Casual Smile, winner of the G3 Matchmaker at Monmouth in 2015.
Miss Grillo herself is the fourth dam of multiple G1 winner Marquetry through her 1963 Spy Song daughter Honey Lake. Marquetry is the sire of two Breeders' Cup Sprint winners: Artax (1999) and Squirtle Squirt (2001).
The race named in her honor, the $200,000 G3 Miss Grillo Stakes for 2-year-old fillies over a mile and a sixteenth on turf, will be run at Belmont next Sunday (October 1).
Recent winners include the multiple G1 winners Riskaverse in 2001, Winter Memories (2010) and Lady Eli in 2014.
Sources
American Race Horses 1947 & 1948, Joe H. Palmer, The Sagamore Press
American Racing Hall of Fame website
American Racing Manuals 1947 & 1961
A Second Quarter-Century of American Racing and Breeding, The Blood-Horse, 1967
Chicago Tribune online archives
Daily Racing Form online archives
New York Times, Red Smith column, July 17, 1974