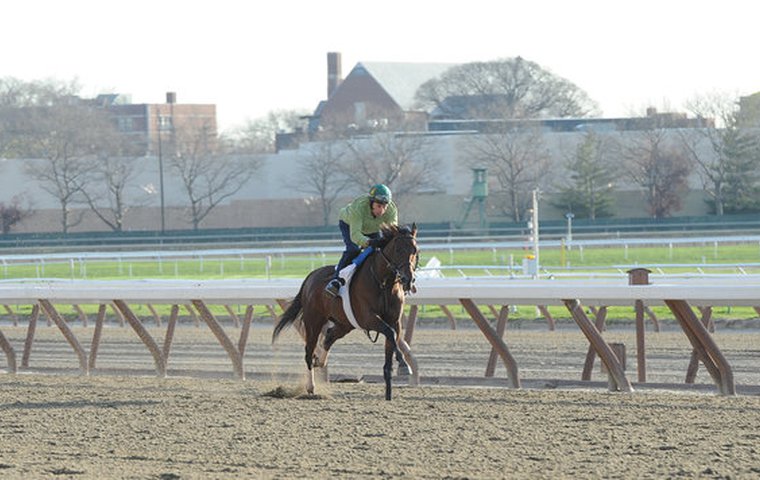 Every horse has a team, and Kentucky Derby contender Samraat is no exception. The New York-bred son of Noble Causeway shipped to Kentucky this week with trainer Rick Violette and crucial members of his staff. On that team is exercise rider Rodney Paine, an Australian native with extensive racing experience - both equine and human - as Teresa Genaro explains.

Listening to Rodney Paine talk about why he emigrated from Australia to the United States, you might be forgiven for at first regarding him as just a touch naïve.
"The Kentucky Derby always intrigued me," he said, sitting in the jockeys' room at Aqueduct last weekend. "I thought it would be neat to take a horse there."
Neat, indeed, and the hope of owners, trainers, exercise riders, grooms, and jockeys across the country, not all of whom uproot their lives to chase an improbable dream, as Paine did.
"It's one of the reasons I came to America," he said, in all seriousness. "To take a horse to the Kentucky Derby."
And this week, that is exactly what he's doing.
The regular exercise rider of Samraat, Paine, 46, began race riding in Australia as a teenager. Growing up four hours west of Sydney, he'd head to the track on school holidays, following in the footsteps of his father and brother, both of whom are jockeys, as are a nephew and a brother-in-law.
He rode professionally for eight years before becoming too heavy to continue. But before giving it up, he discovered, through his exercise regime, a routine that would evolve into a passion.
Like jockeys in the U.S., Paine would hit the sauna to sweat off water weight in order to ride, but he found that the moisture and the pressure would aggravate a childhood tendency for bloody noses. Even when cauterization failed to yield long-term results, he abandoned the sweatbox, donned extra layers, and headed to run in the mid-day Australian sun.
"It was the only way I could lose weight," he said.
When his riding career ended, his running career began. He started with a 10K, and then moved on to longer distances. After coming to the U.S., he ran a half-marathon in Staten Island, New York, in 1 hour 19 minutes and 29 seconds, then graduated to the New York City Marathon, which he's run five times. Paine has a pair of sub-three-hour finishes in the New York City Marathon, with his best times in the race (2:50:14 in 2006 and 2:50:32 in 2004) separated by only seconds. He's also run marathons in Boston; Rio de Janeiro; Lake Placid, New York; West Palm Beach Florida; and Miami.
Paine's racing career didn't take him straight from Sydney to New York. Turning to training when he could no longer ride, he went first to Japan, where he worked at one of the training yards in Hokkaido, preparing horses for the races.
"No foreigners can work on the racetrack there," he explained, "and at the track in Tokyo, each trainer has only 20 stalls, so the farms are important."
Paine planned to spend six months in Japan and ended up staying nine years, leaving after making the acquaintance of pinhooker Nick de Meric. He got a job with de Meric working horses during Florida's breeze-up shows; after two years down south, he shipped his tack north to the barn of Rick Violette, whom he met through de Meric 11 years ago.
He's been working for Violette ever since, riding horses in the morning and working as a jockeys' valet in the afternoon. He got to the barn too late for Violette's last Derby starter, Read the Footnotes in 2004, and he, along with the rest of Violette's staff, was devastated at the fatal injury to their promising 2-year-old Spurious Precision in 2012.
"He was one of the best horses I'd been on," Paine reflected. "He broke his maiden at Saratoga and then won the Saratoga Special, and I thought he could be anything."
The horse broke down, Paine said, in a mile breeze, similar to Samraat's last breeze on Friday before shipping to Kentucky.
"That was emotional," he said of Samraat's workout. "As I was pulling up, I thought of [Spurious Precision], and I said to [Violette's assistant] Melissa [Cohen], 'To get a second chance, to have another horse come along like this…it's so rare. It's special.'"
Aside from the time that Samraat spent in Florida this winter, Paine has ridden Samraat regularly since last summer at Saratoga.
"We knew he was good before his first start," Paine recalled. "We thought he was a real good thing first time out, though we were all worried about his drawing the one-hole. He was a little bit tentative out of the gate, but that's been his transformation, and that's going to be a great thing in the Derby: He's a quick gate horse now."
Like Samraat, Paine shipped to Kentucky on Monday; they went to the track for the first time Tuesday morning, mostly, Paine anticipated, to introduce Samraat to Churchill.
"I just want him to have a look at the track," he said. "The surface will be quite different; it's a lot harder from what I've heard. We all think Aqueduct is one of the best surfaces for training on the East Coast, but he experienced Palm Meadows, and he went to Fair Hill for a bit of R&R; I think he's one horse that won't be fazed."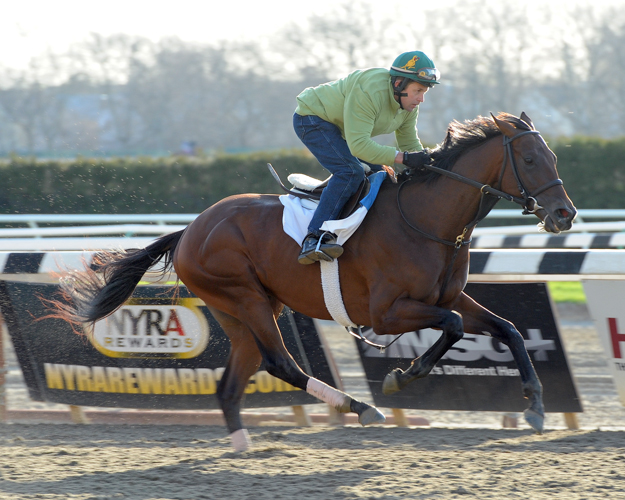 Nor is Paine likely to be nonplussed by this week's commotion, attention, and significance. As a traveling foreman, he took Natski to the 1988 Melbourne Cup, where he was barely beaten by Empire Rose. In 1994, he worked for the farm that won that year's Japan Cup with Marvelous Crown.
"I've got a job to do," he acknowledged, "But I'll still take it all it in and soak it all up. This is once in a lifetime."
Then he added with a laugh, "Well, hopefully it happens again next year."
In the afternoons in New York, Paine valets for jockey Luis Saez, who'll be aboard Wildcat Red on Saturday afternoon. If his horse can't win, he hopes that another New York representative, such as Saez or Uncle Sigh or Wicked Strong, can bring the roses back to Belmont.
"It would be great for Saez's career," he said.
With two jobs and a Derby horse, Paine is already busy enough, you might think, but the man who runs five days a week also has a half-marathon to train for…or maybe he doesn't.
"I'm due to run the Brooklyn half on May 17," he said, smiling. "But hopefully I'm at Pimlico that day.
"I can always run that one next year."