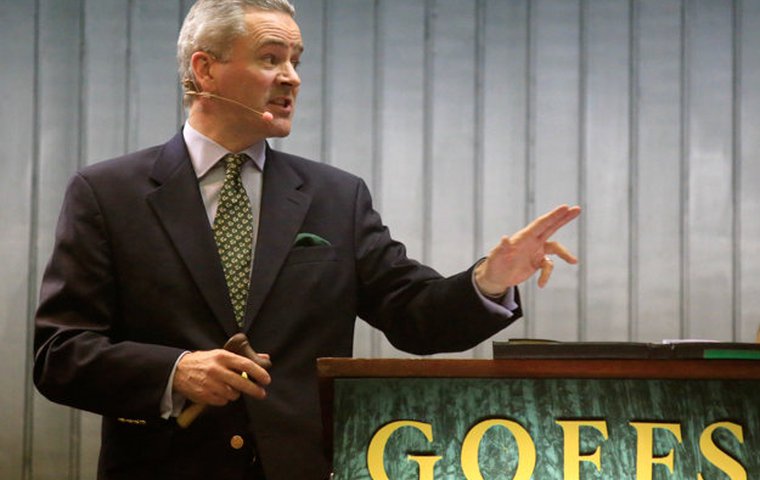 Henry Beeby, the brains behind Monday's ground-breaking Goffs London Sale at Kensington Palace in the heart of London and a man with an impeccable bloodstock auctioneering CV, talks to Julian Muscat about his career so far, his achievements, and his ambitions for the future.

It says much about Henry Beeby's devotion to the cause that he has spent 36 of his 48 living years in the bloodstock auctioneering business. A great deal has changed in that time, although there have been few new initiatives to compare with the Goffs London Sale, which debuts on Monday, June 16.
The auction, to be staged within the grounds of Kensington Palace, is the second significant feather in Goffs' cap of late. Back in November, the Irish-based auctioneers won the right to disperse the significant bloodstock holdings of Australian Paul Makin's Paulyn Ltd.
Beeby, managing director of Goffs, was instrumental in both developments.
"We were given the opportunity to pitch for the Paulyn dispersal and I Ied the charge," he reflected. "It later emerged that one of the reasons Paul (Makin) chose us was because he had received personal invitations from me to come to our sales in the past. He never actually turned up, but it seemed to make a difference."
It was the sort of touch that comes naturally to Beeby, who has an untutored flair for marketing. But that comes allied to the comprehensive grounding he received in his formative years, most of which he spent at the Doncaster Bloodstock Sales company [DBS] in Britain.
Indeed, his father Harry's links with DBS – he became chairman of the company in 1988 – inspired Beeby to join the company ranks at age 16. By then, he had already spent four years spotting bids from the auctioneer's rostrum in his school holidays.
As much was only to be expected from the grandson of a trainer, and the great grandson of one of Britain's biggest horse-dealers in the 1920s.
"I was 14 when I was sounded out about joining DBS," Beeby recalled. "My father was running the business day-to-day. and they wanted someone younger to come in."
Beeby was soon dispatched far and wide to advance his education. He did two stints on stud farms, one of them at Coolmore, in between completing the world-renowned course at the Irish National Stud. From there he ventured across the pond to Fasig-Tipton, working out of the company's offices in Florida, Kentucky, and New York. He was just 19 when he auctioned his first horse.
"In addition to working hands-on with horses, those experiences gave me a sense of credibility," he said. "I mucked out boxes next to the likes of (Coolmore's) Paul Shanahan, (Juddmonte's) Pat O'Rourke, and (Gilltown's) Pat Downes. In particular, my time at Fasig-Tipton was a great education. I learnt so much from Walt Robertson and Terence Collier, John Finney, and Larry Ensor."
Beeby graduated seamlessly to managing director of DBS in 1998. Then, six years later, he did a guest auctioneering stint at Goffs that preceded a more permanent role within the company. Goffs and DBS merged in 2007, with Beeby tasked as group chief executive of a venture with designs on challenging the status of Tattersalls, Europe's market leader, in selling top-end bloodstock.
It was something of a baptism of fire. Beeby took office in the final year of buoyant trading before the spectacular crash that endured until 2010, when Goffs' annual turnover hit a low of €45 million ($61 million).
"It was a rough time in Ireland," Beeby said. "Through no fault of their own, property developers went from being very asset-rich to very cash-poor, and we got badly hit. We wrote off bad debts of €5.7 million ($7.7 million), but our two main shareholders [the Aga Khan and the Haefner family] were incredibly supportive."
Those years are now but a distant memory. With bloodstock values again on the rise, Goffs posted cumulative turnover gains of 21 percent, 24 percent, and 45 percent in the last three years. Even without the Paulyn dispersal, turnover swelled by 27 percent last year.
That Paulyn dispersal may come to represent a seminal moment for Goffs. It drew a bid of €6 million ($8 million) from the Coolmore syndicate for Chicquita, winner of last year's G1 Irish Oaks. The now 4-year-old filly is in training with Aidan O'Brien at Ballydoyle.
"I think the price we got for Chicquita exceeded most people's pre-sale estimates," Beeby said. "We have got to make the case that we can provide a top-class service to Irish breeders. We achieved some fabulous prices last year and we are in the process of demonstrating that we can perform as well – if not better – than anybody else."
Beeby's long-term aspiration for Goffs will be realised when consignors don't habitually consign their best horses at Tattersalls.
"If you want to sell a beautiful Picasso, you have the choice of Christie's or Sotheby's," he said. "My mission is to give bloodstock consignors a tangible alternative. I believe we are heading in that direction."
So much about selling horses is about generating momentum, and Beeby, ever the optimist, can generate plenty of his own. Should he manage to infuse it into the Goffs London Sale, the new gig in town is sure to get off to a flying start.