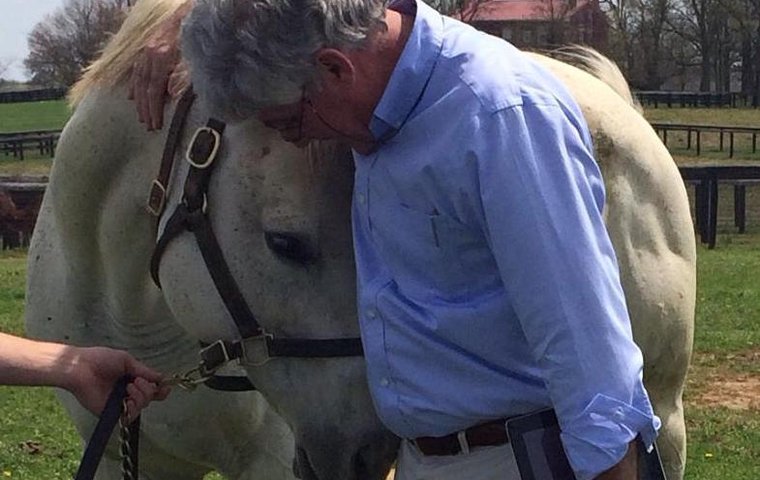 Millionaire Lady Eli is respected for many things, including her talent on the track and her toughness when it came to overcoming laminitis. One thing she is not known for, however, is being the cuddly sort. That said, even the tough-as-they-come racemare was gentle when the man who raised her paid a visit. At least for a little while.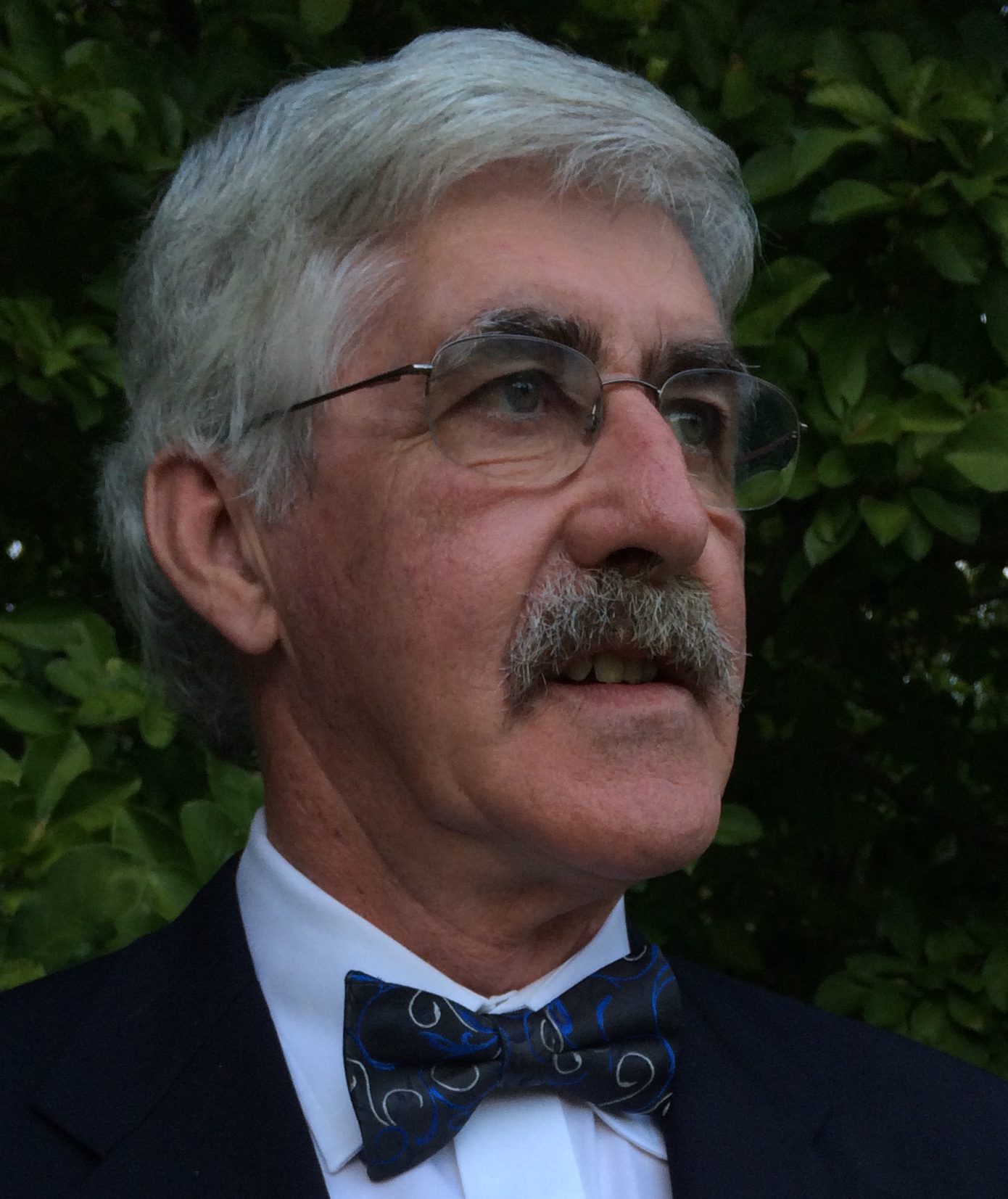 Martin O'Dowd was the manager of Runnymede Farm in Paris, Kentucky, for 27 years, and he helped plan the mating that resulted in Lady Eli, welcomed her into the world, and prepared her to be sold. After Lady Eli made a name for herself as a racehorse, he asked trainer Chad Brown if he could have a moment with his former charge.
"She was in her stall, and she had her head down nibbling on hay, but when I spoke to her, she instantly stopped and turned around," said O'Dowd. "Chad had said to me, 'Be careful now, she's a bit on the tough side,' but she looked right at me, and it was amazing. She came over, with no aggression, and stood there and let me pet her.
"Now, after a while, she got mouthy, but the initial thing was she knew who I was the minute she heard my voice. She reacted without even seeing me. I've had that happen over the years with horses I have taken care of. They remember you. The experiences I have had like that are just wonderful, and it does you good."
For the Irish-born O'Dowd, who is now working in bloodstock consulting, moments like that help justify a decision he made decades ago.
From curtains to Coolmore
O'Dowd may have been born horse crazy, but he was not born into a horse family. The first toy he remembers as a child was a wooden horse on wheels that he pulled along everywhere. After that, all the toys he received were also horses, but that was as close as it came to the real thing.
When it was time to get a job, he got one in the curtain industry.
"I worked for a German company that manufactured curtains in Ennis, my hometown," said O'Dowd. "I worked for them for nine years, and honestly, what I was doing, you could train a good monkey to do. They were top-of-the-line curtains, and it was actually a very good job, and you were well paid, but I was just miserable.
"Then, I went to work for De Beers, the diamond company. At that time, there was no career in horses in Ireland. If you went into it, you were a groom mucking stalls, and that's where you stayed."
O'Dowd still loved horses, though, and was taking riding lessons. On weekends, he began helping a friend who was a master of hounds and then eventually moved to another stable and began spending time around Thoroughbreds.
This weekend taste of the Thoroughbred life continued on for several years. Around the same time, viewpoints were starting to change when it came to having a career in the Thoroughbred industry.
Thanks to Vincent O'Brien
"Things started to happen, and the man to thank for that was Vincent O'Brien," said O'Dowd. "He was making it happen at Ballydoyle, and then, of course, Coolmore came into play. That would have been the mid-1970s, and all of a sudden there was an opportunity in the stud business in Ireland. It was becoming a place where you could have a respectable career.
"I used to get the Irish Field, and I saw an ad that said they were looking for somebody at Shanbally House Stud, which belonged to Jim Powell and his wife, Betty. I answered the ad without even telling my parents. I went down for the interview, got the job, and gave up all the rest."
O'Dowd still remembers that, when he received his wages after that first week, he couldn't quite believe someone was paying him to spend all his time with horses. He never looked back.
"Jim was a tough, tough man, but we got along great," he said. "It wasn't a place you could stay forever, but it was really good to me and I learned a lot. When I left there, I had a job secured at Coolmore. It was only a fraction of the size it is now, but it was still a big operation. I never worked harder in my life, but it was wonderful. Bob Lanigan was the manager. I remember his son, David, when he was 2 or 3 years old. I never thought one day I would be sending him horses to train."
After three years at Coolmore, O'Dowd decided he wanted to learn about how things were done in America. He was supposed to stay for one breeding season, but that's not how things played out.
Coming to America
"I had a job lined up with Airdrie Stud in Lexington, and on Jan. 10, 1982, I got on a plane and came over," said O'Dowd. "They had me with the stallions, and I enjoyed it. One of the best things about it is I met some really lovely people that first year. Some were in the business, some were not, but those people are still friends today."
After the breeding season, Airdrie's owner, Brereton Jones — who would go on to become the governor of Kentucky — asked O'Dowd if he would stay on through the sales. He said yes. After that, O'Dowd was offered the job of assistant stallion manager and had to make a decision.
"I found it hard to say no," said O'Dowd. "I was having a good time, so I said I would do one more year. He came to me at the end of that year, and said, 'If I gave the you job of stallion manager, would you stay on?' Of course, I said yes. We had 25 stallions at the time, and I stayed until the Runnymede job came open."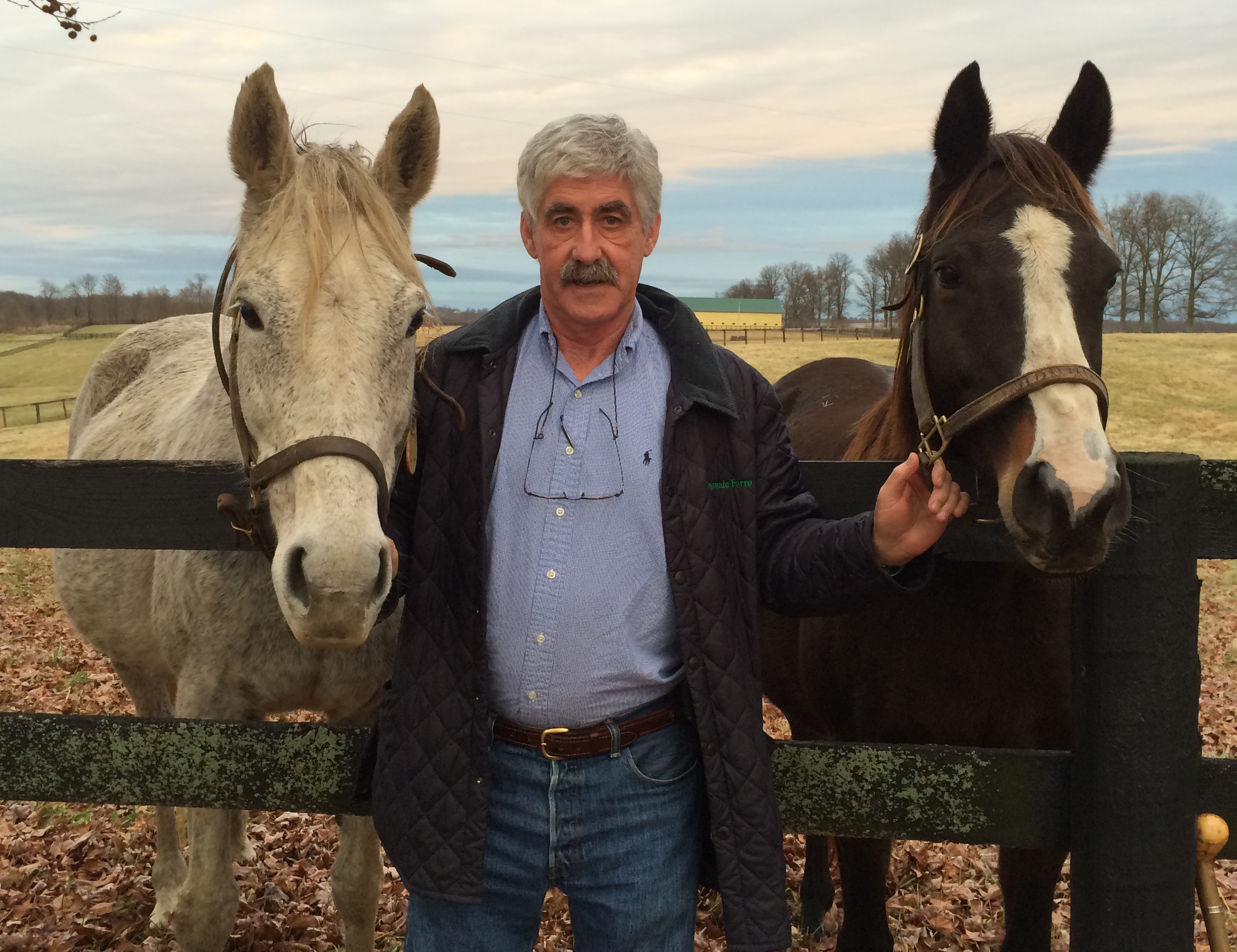 O'Dowd became the manager of Runnymede in 1986 and remained there until 2013. Although he had enjoyed working with stallions, broodmares are his passion. Additionally, he has a keen interest in international pedigrees, and at one point, the operation also had mares in Europe and Japan, which led to global success.
In addition to Lady Eli, G1 winners who were bred at Runnymede during O'Dowd's tenure include: Japanese champion Agnes Digital, Awesome Gem, Divine Park (the sire of Lady Eli), Jaycito, Marylebone, Palace Episode and Undrafted. Although he wasn't a G1 winner, another horse that brought immense pride was millionaire Tejano Run, who ran third in the Breeders' Cup Juvenile and second in the Kentucky Derby.
"The thing that makes it all worthwhile for me is the fact we bred so many good horses from such a small operation," said O'Dowd. "What we were doing, we were doing right. Runnymede was small enough that you had a relationship with all the mares. Most of the time we only had 18 to 20.
"The one requirement I had for hiring people was that they had to love horses. If I ever saw someone not being nice to a horse, they were gone because those girls were providing us with our livelihoods. The least we could do is be nice to them and make sure they were happy and well cared for."
O'Dowd also enjoyed working with others. He had many successful ventures with the likes of Peter Callaghan, both a regular partner with Runnymede and a successful breeder in his own right with horses like G1 winner Palace. O'Dowd also worked with Cam Allard to select horses, including G1 winner Catinca and Canadian champion A Fleets Dancer.
"One thing I've found gratifying is that I really got Peter Callaghan into the business," said O'Dowd. "And, while I've had very limited opportunities to buy pinhooks and racehorses, those that I did buy for the most part fortunately did quite well."
O'Dowd, who still calls Kentucky home, has come a long way from his days working for a curtain company in Ireland.
"I have never spent one day regretting not going home," said O'Dowd. "I remember I had been at Runnymede a year or two, and one day I was driving home from Fasig-Tipton. It was in the fall, and instead of going the normal way, I went the long way. All the trees were lovely colors and everything was perfect, and I had a moment where I thought, 'This is home now.' I have been blessed, there is no doubt."