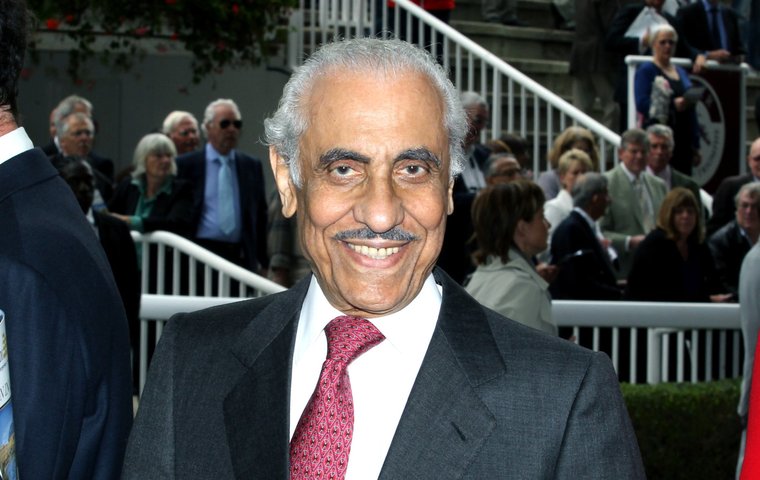 Every owner dreams of possessing a Thoroughbred of such total dominance that he or she can be deemed the Horse of a Lifetime. The entire industry is geared towards uncovering such an animal - and, inevitably, towards celebrating a horse who can declared a champion among champions.

The search continues with every crop of foals worldwide, yet even when one makes it to the top of the pile, there is comparison with other champions, contemporary and past, and thus a pecking order is established.
A horse of a lifetime must not only be dominant in his or her year(s) but must also possess a star quality. Best in a year is not a Horse of a Lifetime. That accolade is special, very special - so rare that even some of the world's most successful owners have never savoured the experience.
Khalid Abdulla certainly has. The Saudi prince who has owned and bred racehorses in Europe and the United States, largely through his flagship Juddmonte Farms, for over 40 years, has not had just one Horse of a Lifetime either. He's had FOUR.
Dancing Brave (foaled 1983), Frankel (2008), Arrogate (2013) and Enable (2014) all carried his famous green, pink and white silks, and all produced performances of such excellence that they are generally regarded as all-time greats.
Who can forget Dancing Brave's barnstorming finish in the 1986 Prix de l'Arc de Triomphe at Longchamp, sailing down the outside to overwhelm a glittering collection of G1 winners? Or Frankel in the 2011 2000Guineas at Newmarket, setting a 'suicidal' early pace to lead the Classic field by 15 lengths at half-way, and then winning by six?
WATCH DANCING BRAVE'S ARC
It was Arrogate, who stunned the crowd at Meydan in 2017 when coming from last after a tardy start to pass the entire field for an unforgettable triumph in the Dubai World Cup … and then there is Enable, the wonder filly, who is 12 from 13, winning her last 11 races on the trot, including two Arcs and two King George VI and Queen Elizabeth Stakes, an Epsom Oaks, an Irish Oaks, an Eclipse Stakes and Breeders' Cup Turf.
MARVEL AT FRANKEL'S 2000 GUINEAS
This week at York's famous Welcome to Yorkshire Ebor Festival, Enable has the chance to further enhance her record by adding a second G1 Yorkshire Oaks in Thursday's renewal on the Knavesmire. According to Lord Teddy Grimthorpe, racing manager to Prince Khalid, the filly is ready. "She came out of the King George very well. She breezed well last week, and she is in good form."
ARROGATE'S BARELY BELIEVABLE DUBAI WORLD CUP
Prince Khalid has owned horses for four decades, yet little is known about him by the racing public. He rarely speaks to the press, though he made an exception when he greeted the mare Banks Hill in the winner's enclosure after she landed Deauville's 2002 Prix Jacques Le Marois, less than 24 hours after his Beat Hollow had taken the Arlington Million in Chicago.
ENABLE'S STUNNING FIRST ARC
The owner beamed as he stood for the winning enclosure photos. "That must be the best 24 hours I have had since I started owning horses," the Prince told me. "For me, it is unique."
A rare insight into the joy his great horses and great winners can deliver. His statement came some time after the Dancing Brave era, also post-Rainbow Quest, Zafonic, Danehill, and well after his first two Epsom Derby winners, Quest For Fame and Commander In Chief.
However, there was even better to come, which must make rival owners very envious. To have FOUR horses of a lifetime is almost unbelievable. Grimthorpe explained: "Prince Khalid is aware of the enormity of it all. It is pretty extraordinary. And those four horses are all slightly different.
"They are from different eras, they have had different trainers, and have come from different places. It is pretty remarkable."
Dancing Brave and Arrogate were both bought in the sales ring in America, while Frankel and Enable are both Juddmonte homebreds. Frankel, a son of Galileo, came about through a mare share deal with Coolmore.
But which of the quartet is the Prince's personal favourite? Which great win has given him the most enjoyment? Due to lack of documentary evidence, it is left to Grimthorpe to attempt to come up with some answers.
"He has enjoyed them all. I can say that with confidence. As for a favourite, I think Andre Fabre's quote that you don't rate your friends, or your children for that matter, is relevant.
"The big wins were remarkable … Frankel's 2000 Guineas was hair-raising. I know it gave Prince Khalid a great deal of joy. Then, there was Dancing Brave's Arc, Arrogate in Dubai, and as for Enable … simply majestic, and she is still not finished."
Racing worldwide keeps discovering new generations of optimists willing to invest in the dream of owning the horse of a lifetime. Prince Khalid Abdulla will always have a special entry in history as the owner who achieved it FOUR times.