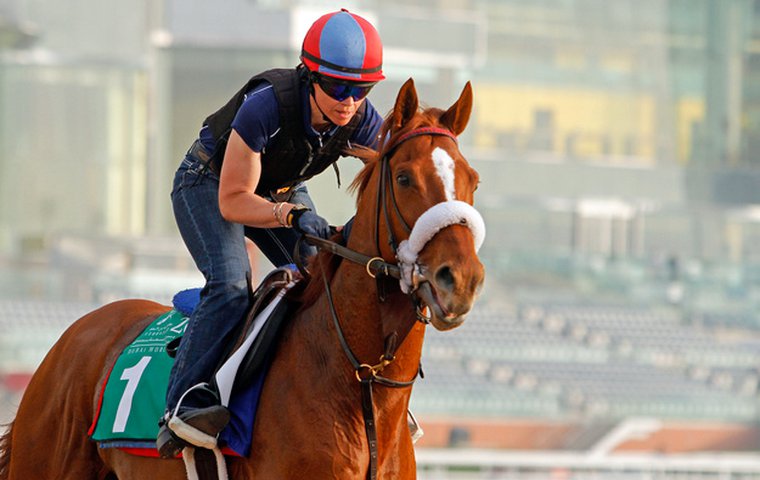 Main Sequence's 'antsy' behaviour keeps Motion on his toes as Dubai spectacular looms
An air of mild resignation settles over Graham Motion when he is asked to consider whether Main Sequence's prodigious talent is fully appreciated.
Resignation but not surprise, since the trainer's appraisal of his stable star sees him fall halfway between two stools.
"He probably doesn't get the recognition he deserves on either side of the Pond," Motion said. "I'm sure sceptics everywhere say it's the medication [that has revived him]. In Europe, they question what he is running against in America, and in America it's all about dirt racing. Grass horses never get the attention."
From the American perspective, that is unlikely to change any time soon – even if Main Sequence lands the $5 million G1 Dubai Sheema Classic sponsored by Longines on Saturday. That's because California Chrome contests the $10 million Dubai World Cup sponsored by Emirates on the same evening. Win or lose, the 2014 Horse of the Year will almost certainly fashion the headlines.
While we should spare a thought for Motion and his equine accomplice, who was overlooked for top honours at the Eclipse Awards, we shouldn't shed a tear. Members of the Niarchos Family, which owns Main Sequence, must be laughing all the way to the bank.
Since he transferred from England to Motion's Florida base towards the end of 2013, Main Sequence has stretched out to five successive victories. All were gained on turf, with the horse plundering more than $1 million in the process. A Sheema Classic triumph would represent by some way the gelding's biggest payday. Motion maintains the horse must post a personal best to achieve it but feels he could well be up to the task.
"It's definitely a hot race," he said. "He is going to have to step it up, but I feel that every time he's run for me he's gotten a little better."
Interestingly, Motion's forlorn assessment of Main Sequence's place in the racing psyche is mirrored by oddsmakers. They rate his prospects beneath those of Flintshire even though Main Sequence decisively ran that horse down in the G1 Breeders' Cup Turf In October.
"I find that interesting but I'm okay with it," Motion said. "I'd hope my horse is capable of repeating that effort." However, whether Main Sequence can resist favoured Harp Star, the winner of two classics in Japan, is a different question.
"I'm familiar with the European horses but the Asian horses are the unknown to me," he said. "They are obviously very good. Without a doubt he'll have to run a career best to win, but that's not at all impossible. My concern is the travelling. It's a long trip to Dubai but he handled going to the Breeders' Cup, which was a bit of a dress rehearsal for this. Everything has gone very smoothly so far."
Although intercontinental travel makes demands of every horse, Motion is particularly concerned about how it might play on Main Sequence's mind. The son of Aldebaran is prone to getting wound up – as he did when he schooled at the Meydan starting gate Wednesday morning. "He was a little antsy there," Motion said.
So much so that Motion was planning to take him back to the gate on Thursday, although when showed the paddock for the first time on Tuesday, Main Sequence barely turned a hair. And, of course, he will be running under floodlights on Saturday. That, too, makes Motion wince slightly, although he admits to being one of life's natural pessimists.
"I have been here before and seen what it's like on [Dubai World Cup] night," he said. "It's pretty unsettling for the horses once they come through that tunnel and into the paddock."
Motion will be hoping to replicate the outcome of his last visit to Meydan, when he saddled Animal Kingdom to win the Dubai World Cup two years ago. That horse remains understandably close to Motion's heart, but Main Sequence is rapidly gaining his affection.
"Animal Kingdom was the best horse I have trained but this horse has done what Animal Kingdom wasn't able to do by putting together a string of big-race wins [at home]," he said. "I'm amazed he has been able to do that because it is very hard to do in graded stakes races."
Previously trained in England by David Lanigan – who saddled him to finish runner-up to Camelot in the 2012 Epsom Derby, after which the horse lost his way – Main Sequence has won five on the bounce since he joined Motion. His latest triumph saw him defy a near four-month absence to outrun Twilight Eclipse in the G2 Mac Diarmida Stakes over Gulfstream Park's turf on Feb. 21.
It was Motion's idea to go the Florida route. "After the Breeders' Cup we thought about the Japan Cup, but I wasn't comfortable with that," he said. "I thought it was tough to run there just a month later.
"Doing it this way allowed us to give him a little break, similar to what we did with Animal Kingdom before he came to Dubai, and it doesn't affect his schedule. He can still run in the same races as last year when he gets back to the States."
Main Sequence suffered from back problems in his time with Lanigan, but Motion says he has had a clean run in that respect. "The horse has been relatively uncomplicated," he said. "The biggest issue we've had has been at the starting gate. He walked out of the gate the first three times I ran him. The best he's been at the gate was at the Breeders' Cup, when he broke with the field for the first time."
Every facet of Main Sequence's demeanour plays on Motion's mind to varying degrees at different times. When it comes to running style, however, the trainer affords a smile. "The biggest thing about this horse is the way he can adapt to any scenario," he said. "He just settles. There's not a worry about him getting too wound up; you can put him where you like in a race."
The odd moment aside, Motion is encouraged by how Main Sequence has comported himself in Dubai. Part of that may be down to his travelling companion, Quadrivium, who has been his permanent shadow. Quadrivium will take his turn on Saturday in the G2 Godolphin Mile sponsored by Meydan Sobha.
"Quadrivium was always going to travel with Main Sequence," Motion said. "It's hard to go out here and walk the two miles [from the quarantine barn] to the track on your own every day. I wanted him to have a training companion because he is not a horse that wants to go out on his own. He benefits from having company."
Company is not what Motion wants to see when Main Sequence stretches out for the winning post on Saturday. He would rather see his horse in perfect isolation.