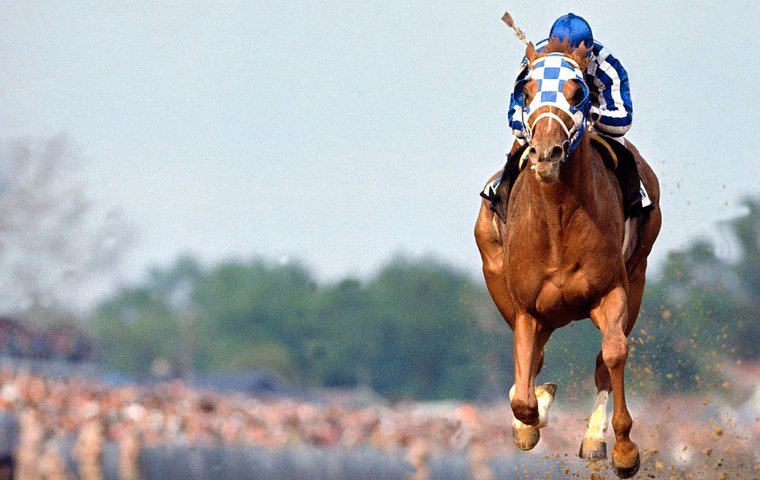 Was there something in the air? The water? Was it written in the stars, or was it sly old Mother Nature at work, putting her thumb on the wheel of genetic roulette, just because she could?

Whatever the answer, the fact remains: the North American foal crop of 1970 produced a uniquely intoxicating vintage of Thoroughbred racehorse, arguably the greatest in the history of the game, and its 50th anniversary should be celebrated with gratitude for the everlasting legacy of its impact.
There will be arguments, of course. Measured strictly by the number of foals who went on to Hall of Fame careers, the 1966 North American crop of 20,228 was a mother lode that spawned Ack Ack, Majestic Prince, Arts And Letters, Shuvee, Gallant Bloom, and Ta Wee. The 1954 crop of 9,064 led by the powerhouse Hall of Fame trio of Bold Ruler, Round Table, and Gallant Man always receives proper reverence, as does the 1964 crop of 17,434 that included Damascus, Dr Fager, and Fort Marcy, all important far beyond their campaigns as Horses of the Year.
But for sheer breadth and depth of accomplishment, spanning both the years and the globe, there never has been a North American foal crop to match the cream of the 24,361 that arrived in the spring of 1970. From coast to coast, little ones were hitting the ground with destiny attached and limits unbound. If we'd known then what we knew in just a few short years, there would have been fireworks over the palace accompanying certain births as if they were proclamations of royal succession.
The first to arrive, on January 28, 1970, was Mr Prospector, two-time track record-setter and top-rated sprinter who went on to sire 182 stakes winners. After him came a procession:
March 13, 1970 – Linda's Chief, a fearless racehorse, major stakes winner at 2 and 3 in New York, California, and Illinois.
March 23, 1970 – Stop the Music, the pride of Greentree Stable, who carried his heritage at the top of the game for three seasons.
March 25, 1970 – Dahlia, international superstar, a winner of major stakes in England, Ireland, France, and America.
March 30, 1970 – Secretariat, Horse of the Year at age 2, first Triple Crown winner in 25 years, magazine cover boy.
The calendar page turned, and the band played on:
April 9, 1970 – Sham, winner of the Santa Anita Derby, fated to become Secretariat's noble foil.
April 11, 1970 – Café Prince, who found his calling over fences to be a two-time Eclipse Award champion.
April 19, 1970 – Desert Vixen, Florida born and bred, freakishly fast, two-time national champion.
April 19, 1970 – Ancient Title, California's own, who raced for seven seasons, winning major events from 7 to 10 furlongs.
April 22, 1970 – La Prevoyante, Canada's gift, winner of all 12 starts at age 2 to be in the running for Horse of the Year.
April 30, 1970 – Forego, the gentle giant, a three-time Horse of the Year and winner of a record eight Eclipse Awards.
And finally, on May 24, 1970, there was Allez France, last but never least, especially in her adopted France, where she was a national hero.
Of that rare dozen, seven were elected to the Hall of Fame in Saratoga: Secretariat, Forego, Dahlia, Desert Vixen, La Prevoyante, Ancient Title, and Café Prince. A more fascinating through-line, however, is their timeless connection to one of Thoroughbred racing's most venerated institutions.
Forego, Sham, and Dahlia all were foaled at Kentucky's Claiborne Farm, located in the Lexington suburb of Paris, while both Secretariat and Mr Prospector became long-standing Claiborne stallions. This should come as no surprise since the farm had been a force in the Thoroughbred breeding world since its founder, Arthur B Hancock Sr, bred 1923 Preakness winner Virgil and imported the European stallions Sir Gallahad and Blenheim. Management of the farm passed to Arthur B Hancock Jr, and then to Seth Hancock, son of Arthur Jr, upon the death of his father in 1972.
During the magical spring of 1970, Seth Hancock was otherwise occupied in his junior year of college when Dahlia, Sham, and Forego were newborn Claiborne foals. Before too long, however, he was back at the farm continuing a more practical education.
Dahlia was owned by Claiborne client Nelson Bunker Hunt. As such, she was not among the farm population with which Hancock was intimately familiar. The others, however, summon lasting memories.
"Forego was a big monster of a horse as a yearling," Hancock said. "He was kind of a clumsy fellow, which you would figure he'd be, 'cause he was so damn big."
Forego turned his size and scope into performance art
Forego was owned by Martha Gerry, a longtime Claiborne client.
"Mrs Gerry told me that my father said to her one time, 'Martha, he'll either be a very good horse, or he won't be worth a dime,'" Hancock said. "If it all comes together, he had a chance."
Forego turned his size and scope into performance art. After Secretariat departed the stage at the end of 1973 and retired to Claiborne, Forego picked up the torch and carried it to Horse of the Year honors for the next three years.
"I remember Sham real well, because we all really liked him," Hancock continued. "He was out of Sequoia, one of our mares, so obviously we paid particular attention to him. He wasn't flashy in any form or fashion, in kind of a plain brown wrapper, though he was plenty big enough, and a very athletic yearling."
As a racehorse for Sigmund Sommer, Sham was a shooting star. He gave chase to Secretariat in the Kentucky Derby – running the second fastest time in the history of the race – and again in the Preakness. But the Belmont was a bridge too far. As Secretariat was cementing his claim as the best of the 1970 crop, winning off by 31 lengths, Sham was finished barely a mile into the race and emerged with a career-ending injury.
'A lot of peoplle thought the game was fine the way it was'
In 2015, Hancock turned over the reins of Claiborne Farm to his son, Walker, but he keeps his hands on the horses and his counsel available. After a lifetime immersed in the challenge of breeding good Thoroughbreds, Hancock has a right to wonder what kind of racing world the Claiborne foals of 2020 – sons and daughters of Runhappy, Blame, and War Front – will be born into.
Hancock is hopeful that legislation before Congress to set up a national drug testing and enforcement body for horse racing will pass, and the sooner the better. As far as he is concerned, the recent FBI investigations and drug-related indictments of such marquee trainers as Jason Servis and Jorge Navarro is a dark cloud over the game that can have a silver lining.
"What the FBI has done is given the bill a lot of impetus," Hancock noted, "because a lot of people were in total denial, who thought the game was fine the way it was."
Hancock also sees the recent decision of the Jockey Club to limit stallions born after 2020 to books of no more than 140 mares as a step in the right direction. As far as he is concerned, there is a reason the crop of 1970 has not been surpassed.
'We've done everything we can to kill racing, but it ain't dead yet'
"Does the fact that some of our best stallions are breeding 200 mares contribute to that at all? It's got to," Hancock said. "A scientist might say it only takes one sperm to fertilize the egg. But it stands to reason if an ejaculate has a thousand sperm, there's a helluva a lot better chance of one of those being the one that gets Dahlia or Secretariat than if an ejaculate only has a hundred sperm.
"That sounds like stupid country boy logic, and I know that," Hancock said. "But I believe it. You don't have foal crops with horses like that 1970 crop anymore. Horses are not the same as they were. But maybe if we limit these books to 140, maybe we'll get back to that.
"There's one thing I will say about racing," Hancock added. "We've done everything we can to kill it, and it ain't dead yet. So it must have a lot of goodness to it. If we ever get it right and get it cleaned up once and for all to get the public's trust back, I think it's got a chance to regain a lot of its lost lustre."