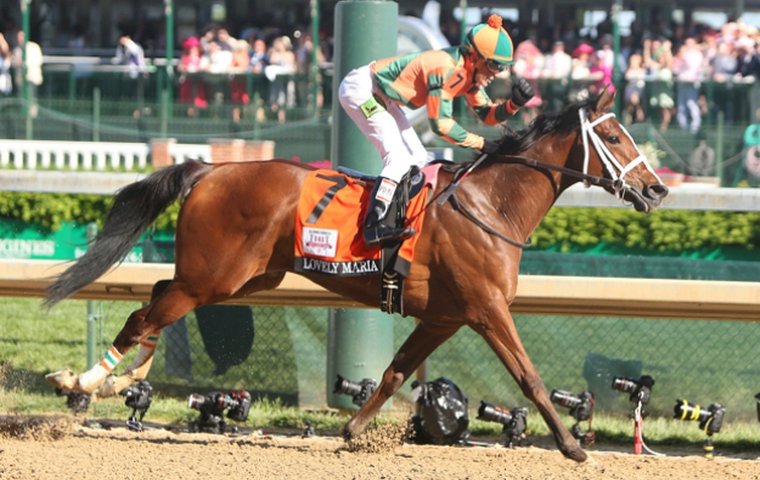 As Brereton Jones stood at Churchill Downs in June 2012 celebrating the victory of his homebred Believe You Can in the Kentucky Oaks, he was asked what was next on his list of goals as owner of Airdrie Stud. Having campaigned two Kentucky Oaks winners, the answer was simple: to win a third.

It took just three years for Jones to realise that ambition. Earlier this month, the former Kentucky governor and his trainer, Larry Jones, celebrated their third Kentucky Oaks winner in just seven years when Lovely Maria ran out the easy winner of this year's renewal.
Although not a homebred like Jones' previous Oaks winners Proud Spell and Believe You Can, she is a daughter of Airdrie stallion Majesticperfection, himself a son of former Airdrie resident Harlan's Holiday. Making her victory all the sweeter is the fact she hails from the first crop of her sire, who started stud life at Airdrie for a reasonably inexpensive $10,000.
Nor have Airdrie's classic celebrations this year been restricted to just the Kentucky Oaks as Jones also bred Littleprincessemma, dam of Kentucky Derby and Preakness Stakes hero American Pharoah.
Founded by Brereton and Libby Jones in 1972 in Midway, Kentucky, Airdrie Stud has grown into one of the nation's most prominent stud farms. Backed up by a long-serving team of staff, including general manager Tim Thornton and Jones' son Bret, more than 20 G1-winning graduates have been raised on the farm, which comprises land that used to be Woodburn Stud, once home of the great stallion Lexington.
The stallion division has long been a key element of the operation, having housed such influential names as Silver Hawk, Harlan's Holiday, and Indian Charlie. Today, Majesticperfection is one of eight stallions that grace the roster alongside the likes of Proud Citizen, sire of the aforementioned Oaks winners Believe You Can and Proud Spell, and fellow G1 sires Divine Park and Include.
However, for all its ongoing prominence within the higher echelons of the industry, it is a filly who was bought back for just $5,000 as a foal who is doing most to keep the farm in the spotlight.
Bred by Olin Gentry and Thomas Gaines out of the Thunder Gulch mare Thundercup, Lovely Maria was acquired by Jones after failing to sell at the 2012 Keeneland November Sale.
"I had seen her and liked her quite a bit, and was quite surprised when there weren't many other bidders on her," Jones remembered. "When she didn't sell, I went back to the barn and they said she had a few X-ray issues. So I looked at them and they were minor. People want to buy the perfect horse but, having been in this industry for a long time, I know that waiting for that perfect horse can take a long time. The rest, as they say, is history."
With four wins, including the Kentucky Oaks, under her belt, Lovely Maria heads into the summer with $973,000 in earnings. She broke her maiden at the first time of asking at Delaware Park last September and, after running second in a pair of allowance races and then fourth in the Trapeze Stakes at Remington Park, returned to the winners' circle in January when successful in an allowance optional claimer at Fair Grounds. She found only stablemate I'm a Chatterbox too good in the G3 Rachel Alexandra Stakes in February and hasn't looked back since, landing the G1 Ashland Stakes at Keeneland en route to the Kentucky Oaks.
"You dream about the horses you have and Lovely Maria just seems to be getting better and better," Jones said. "After she ran second in the Rachel Alexandra, we knew then that she was improving and that's when we began to think she might be Grade 1 material. Then she won the Ashland easily."
Lovely Maria landed the Ashland by three-and-a-quarter lengths and the Kentucky Oaks proved to be similarly bloodless, with the filly drawing away from Shook Up to score by two and three-quarters of a length under 56-year-old journeyman Kerwin Clark.
"If you look at the photos of her in the Oaks, she is moving away with her ears pricked - she's not really being pressed," Jones said. "So hopefully there is more in the tank, and it helps that she seems to enjoy it."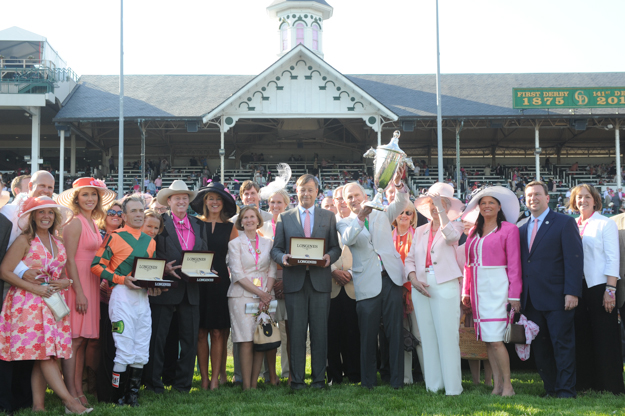 For Jones the stallion master, Lovely Maria's emergence as the leading filly of her generation is also a dream result. Majesticperfection currently heads the American second-crop sires' list thanks primarily to her exploits, although he also has two other valuable flag-bearers in Majestic Affair and Perfect Style, both stakes winners this year. So far, eight of his 81-strong first-crop have gained black type, results that mark him down as another successful sire son of Harlan's Holiday, alongside Into Mischief.
"I see a lot of Harlan's Holiday in Majesticperfection and that was one of the reasons I was attracted to him," Jones said. "We developed Harlan's Holiday, we were proud of him and selling him [to WinStar Farm in 2009] was an economic decision."
Majesticperfection was unraced at 2 and 3 but made up for lost time as a 4-year-old by winning five of his six starts for Padua Stables and trainer Steve Asmussen, including the G1 Alfred G. Vanderbilt Handicap at Saratoga.
"Majesticperfection isn't over-big but that has never bothered me," Jones said. "For me, a stallion prospect has to look and act like an athlete. Majesticperfection's female pedigree isn't as strong as some of our other stallions, but he has the conformation and the speed -- he went six furlongs in 1:07 and change. He was a speed machine, and he has a wonderful way of carrying himself.
"People were critical of his size in the beginning but we ended up with a full book of mares in his first year, including 25 of our own. If I like a horse well enough to stand them, then I feel I should put my money where my mouth is and support them."
Among the Majesticperfection foals of 2015 is a half-sibling to Littleprincessemma, the dam of American Pharoah. The pair are out of Exclusive Rosette, a stakes-winning daughter of Ecliptical for whom Jones paid just $12,000 at the 1997 Fasig-Tipton Kentucky Fall Mixed Sale. Now 22-years-old, Exclusive Rosette also has a yearling colt from the first crop of Airdrie's Creative Cause.
"I bought Exclusive Rosette for very little money and bred her to one of my stallions at the time, Stormin Fever," Jones recalled. "The outcome of those matings were [G2 winner] Storm Wolf and [G3 winner] Misty Rosette."
Exclusive Rosette also repaid that outlay many times over in the sale ring; for instance, Littleprincessemma sold for $135,000 as a weanling before becoming the most expensive yearling filly to sell by her sire, former Airdrie stallion Yankee Gentleman, when bought for $250,000 by Ahmed Zayat at the 2007 Keeneland September Sale. Littleprincessemma was unplaced on both starts for Zayat but American Pharoah is only her second foal and the mare consequently sold for $2.1 million to Summer Wind Farm at Fasig-Tipton last November.
One of the early turning points in the history of Airdrie came with the arrival of Silver Hawk in 1983.
The son of Roberto had been a classic performer in England for Egyptian-born trainer Michael Albina, winning the 1982 Craven Stakes before running third to Golden Fleece in the Epsom Derby and second to Assert in the Irish equivalent.
Sent to stand at Airdrie initially under the ownership of Jones and Mahmoud Fustok's Buckram Oak Farm before becoming the property of a syndicate, he sired a host of top-class performers on both sides of the Atlantic, including Epsom Derby winner Benny The Dip, Doncaster St Leger winner Mutafaweq, and top American turf fillies Memories Of Silver and Nashoba's Key.
"I was attracted to Silver Hawk by his pedigree and the fact he had so much speed and could carry it over a distance," said Jones of the horse who died aged 29 in 2008. "He was tough, although that's a trait I like in a stallion, and also a bit offset in both knees. But he became a very important horse for us."
Breeders continue to use Airdrie stallions in the knowledge that they will be supported by the stud's own band of mares, and on many occasions with good results. Not only did Jones breed and race both of Proud Citizen's Kentucky Oaks winners, Proud Spell and Believe You Can, but he has also bred various stand-out performers belonging to his other stallions Istan (G3 winners Albano and Mr. Bowling) and Include (G1 winner Include Me Out).
Various other Airdrie stallions of the past have also benefitted from Jones' patronage, among them Brother Derek (Jones bred the stallion's sole G1 winner Sam's Sister), Canadian Frontier (through G1 winner No Such Word), Stormin Fever (through G1 winners Check The Label and Sweet Talker), and Yankee Gentleman (through G2 winners Ive Struck a Nerve and Washington Bridge).
While Include, Majesticperfection, and Proud Citizen are the proven G1 producers on the current roster, momentum is also gaining behind the Gone West stallion Istan, whose 37 runners in 2014 contained three graded stakes winners. They include G2 winner Istanford and the G1-placed Albano.
"I liked the horse so much but couldn't convince the public that he needed to be given a great chance," said Jones of the G3 winner whose first four crops number just 76 foals. "Last year, he had 8.1 percent graded stakes winners to runners. His book this year is double the size of 2014 and the public are beginning to appreciate him."
Among the younger brigade is Haynesfield, who defeated Blame in the 2010 G1 Jockey Club Gold Cup and has 2-year-olds this year, G1 Norfolk Stakes winner Creative Cause, whose first crop are yearlings, and Cairo Prince, last year's G2 Holy Bull Stakes winner who is new for 2015 at $10,000.
"The market has become very tough, especially for those young horses in the $10,000 range," said Jones of Cairo Prince, who shares his sire, Pioneerof The Nile, with American Pharoah. "But people queued up to use Cairo Prince and he's got a full book.
"We're very happy with the first crop of Creative Cause -- what I liked about him on the racetrack was his tenacity -- and excited about Haynesfield, who was the only horse to beat Blame during his championship season in 2010."
It doesn't take too much imagination to envisage another G1 winner coming the way of the Brereton Jones-Larry Jones partnership in the near future. But, for now, they have the promise of Lovely Maria confirming her status as America's best 3-year-old filly.
"We have wonderful land and I think that gives us a bit of an advantage," Jones said. "It's a very fun business, unbelievably so, and we've been very lucky."