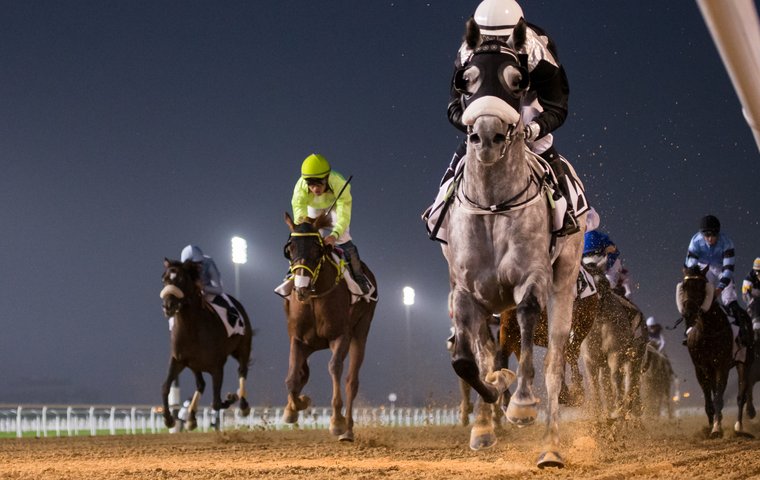 He's about to become the most successful jockey in UAE history, but you won't see much of him when Meydan races for $35million on Dubai World Cup night on March 30. To Tadhg O'Shea, however, it's the numbers that matter most.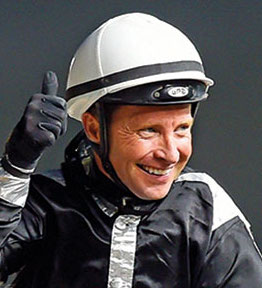 The man from Dromahane, County Cork, is on the verge of passing Richard Hills' record of 503 in the UAE, which has stood since 2012. Right now, O'Shea (pictured left) is on 502, but trying hard not to think about it.
"I like to just carry on in the routine I'm in, because if you just think too much about it then you might start to change things. I'd rather just celebrate it when it happens," he says, relaxing over coffee after a busy morning riding work for Ernst Oertel, one of his two employers.
As six-time UAE champion jockey, effervescent O'Shea, 37, is also on the cusp of another record, as a seventh title would see him go one better than Ted Durcan. This season has been a ding-dong battle with his good friend Richie Mullen, who was as many as seven winners ahead at one stage. Right now, O'Shea is three in front with 12 meetings remaining. It's far from over.
Close to the record
"To win seven would be fantastic, phenomenal. To be only two away from levelling Richard Hills, I'd never have believed that, or that I'd ride 500 winners.
"People always say to me at the start of the season that I play it [the championship] down, but it's so true – my main goal is to ride as many winners as possible and to stay in one piece. To get this far and not win it, yes you'd be disappointed, but at the same time I realise how lucky I've been.
"That said, I wouldn't be human if it wasn't playing on my mind. I'm in front, and I'd rather be in front than behind, but Richie isn't going to make it easy for me."
O'Shea has been based in Dubai for 17 winters, having first arrived in 2001, after winning the first of two champion apprentice titles in Ireland.
"Sheikh Hamdan sponsored a scholarship here for the leading apprentice, so I'm very thankful as that opened the door for me. Otherwise I might have just stayed in Ireland."
Since then, he's held down most of the major jobs in racing in the UAE, having been first jockey to Erwan Charpy and Ali Rashid Al Rayhi as well as for Purebred Arabian powerhouse stable Al Asayl. This year, though, it was all change and he moved to champion owner-elect Khalid Al Nabooda, whose powerful string of Arabians are mainly trained by Oertel. On top of that, he is second jockey, behind Mullen, for Satish Seemar. There's no such thing as a day off.
"Monday is my busiest day of the week," he says. "I go to Ernst for gallops, and an easy morning there is 15 or 16 horses. I think the most he put me on was 23, and then he asked me how the third one went! I hadn't a clue, I'd ridden so many I was dizzy!
"Then, I'm my own agent, so when entries come out I have to ring up for rides and sort out what is running where and try and pick up any spares."
O'Shea's appetite for work is matched by Oertel's. The ambitious South African is on course to be crowned champion trainer for a third time and the pair are a good fit.
"Ernst called me out of the blue, in 2013, to ride for him at Al Asayl. I had three good seasons there and then Ernst and Al Asayl parted company, so I stayed on with Eric Lemartinel and had two more good seasons. Then Khalid [Al Nabooda] called me and asked if I would be interested in being his jockey. It was a difficult decision, but I knew Khalid was passionate and I get on so well with Ernst."
'A bit of stick'
When not required by Oertel or Seemar, O'Shea will go anywhere to ride anything, something he admits his colleagues "give me a bit of stick" for.
"I think if you take your foot off the gas then you lose that edge and hunger. There's races that I've won that, if you look at the form, I'm not saying I made a difference, but the horse doesn't know what price he is. I ride for a big volume of people, which is great, because, when times are quiet, it might be the smaller stables who get you back on the winners' board again. It's all about winners; winners breed winners.
"I won't be doing it forever, so I don't want to look back and think, 'I should've ridden there, at the smaller tracks.' I want to go out and think that I gave it my best shot."
For most of Dubai's jockeys, spending the winters here rules them out of opportunities elsewhere. Parents to sons Daragh, eight, and Aaron, six, O'Shea and wife of ten years Debbie make it work.
"I wouldn't go anywhere else in the winter, as Dubai has been so good to me," he says. "I did try Singapore one summer, but I went at the wrong time; I was naïve and didn't do any groundwork.
"I wouldn't mind riding in the UK again in the summer, but I don't finish here now until the end of April and I have to be back at the beginning of October, so I'm under no illusion that I'll just be able to get off a plane and expect to get rides. There's guys working extremely hard over there, and it's tough for them to get rides.
"So I'll just keep giving Dubai my all, and during the summer I ride a bit for [Thistle Bloodstock's] Jimmy Long and the Arabians keep me busy at weekends, so it keeps me ticking over. I used to call Dubai my second home, but now it's my first home."
"We built a house in Ireland; I do enjoy going back. I have a couple of broodmares and some foals and yearlings coming along at Debbie's father's stud, Blackhall Stud in County Wexford."
Unorthodox but determined
O'Shea's cheerful persona is also in place during lean spells, and he is phlegmatic about a likely lack of rides on World Cup day. He may have a choice of mounts for Oertel in the $1 million G1 Kahayla Classic for Arabians, however, a race he won on Mizzna back in 2008.
"It does frustrate you, but I'm under no divine right to get these rides," he says. "Unless your own yard has runners, then it's extremely difficult. Even Ryan Moore, the best in the world, would only have three or four rides. You have the best jockeys coming here, and rightly so, but I'm available if anything comes up!"
Visiting trainers could find plenty worse. His distinctive, rounded style is somewhat unorthodox but determined, and several times this season he's won on a horse who seemed to have no chance when turning for home; the quirky Cachao being a notable example.
"I try to give 100 percent on every horse and I do a lot of work on form, looking at replays, seeing what could've won, what should've won. I think every jockey has to do that to be competitive.
"I'll never be accused of being the most stylish, but you can pick me out alright! I've never been one to worry about a hairbrush, or pictures. I have tried to improve over the years, but at this stage you either love me or hate me, what you see is what you get. I just keep positive and keep moving on."
He's moving on just fine; right into the history books.