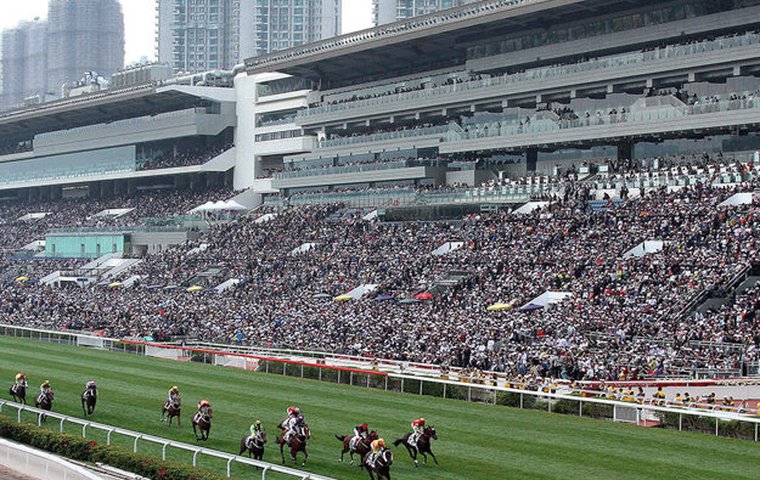 In a whole variety of ways, the 2013 Longines Hong Kong International Races provided spectacular success for the hosts.

Not perhaps in terms of turnover and attendance -- turnover was up only marginally on last year's at HKD $1.356 billion (USD $170 million) -- and attendance down slightly at 68,611. Although it should be remembered that the international races have always been something of a loss-leader in the hugely wealthy, hugely healthy environment that is Hong Kong racing.
Hong Kong punters are dedicated form analysts, and the arrival of unknown star horses always throws them a little and makes them cautious with their investments. So turnover on the international races never quite matches the level of other betting days at Sha Tin, which push closer to HKD $1.5 billion (USD $193 million) and now top HKD $1 billion (USD $130 million) as a matter of course.
The Hong Kong International Meeting was originated two decades ago not in the expectation that it would generate extra revenue for the Hong Kong Jockey Club (HKJC), but as an advertisement for Hong Kong in general and for Hong Kong racing in particular. Its progression from something of an international curiosity in 1993 to what now has to be accepted as one of the world's great race meetings has been linear and practically faultless.
British General Guy Watkins, the driving force behind the project in the days when the HKJC still had the adjective "Royal" as its prefix, must be well pleased with what his successors have achieved.
The first triumph for Hong Kong in 2013 came in the first of the international G1s, the Hong Kong Vase. No locally trained horse had been successful in this 2,400 meter event since Indigenous in 1998, and he had proved that he was world class at the trip by running a place in the King George at Ascot.
On December 8, 2013 the Irish-bred, John Moore-trained Dominant broke the 15-year drought. He owed victory more than partly to a superb ride from leading Hong Kong jockey, Australian Zac Purton, who gave visitors William Buick on The Fugue and Jamie Spencer on Dunaden who followed him home something of a lesson in how to avoid trouble at the deceptively tricky Sha Tin track. In fourth, after a run that saw him travel four or five wide, came what it is now impossible to avoid describing as the extraordinary Red Cadeaux. Competing for the first time since runner-up (and best horse at the weights) in the Melbourne Cup, his effort in the Hong Kong Vase was almost equally remarkable.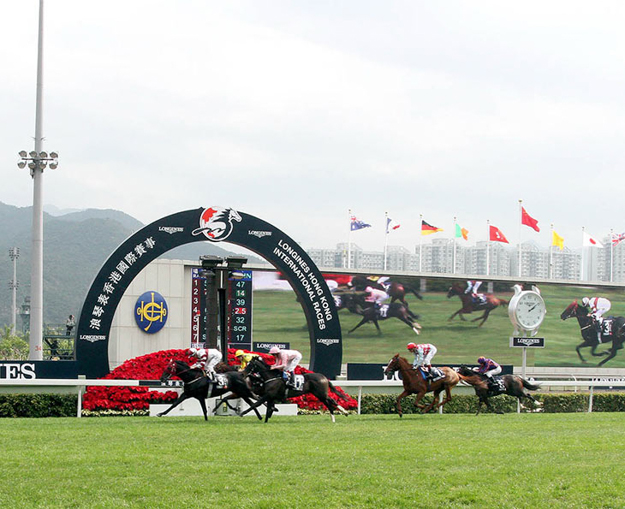 But, this was Dominant's race. What made his victory an even greater cause for celebration among locals was the fact that Hong Kong hardly caters for 2,400 meter horses, having only two good class races a year at the trip.
Local triumph came again in the Mile, with prize money of HKD $20 million (USD $2.6 million) the world's richest mile on turf, although this was more expected as Hong Kong trained horses have been overwhelming the opposition in the event since Hat Trick won in 2006. What wasn't expected was that Hong Kong would win again with a horse, Glorious Days, who hadn't even raced for six months, a lay-off between races unparalleled in the history of the meeting and a training achievement by multiple champion John Size correctly acclaimed as phenomenal.
The same might be said of the ride given the winner by Douglas Whyte who had Glorious Days perfectly balanced throughout and brought him with an uninterrupted run down the middle of the track. This was a significant victory for Whyte, champion jockey in Hong Kong for the last 13 seasons and now in pursuit of Purton as he tries to retain his title, as his performance in the international races has hardly matched his record in lesser events over the years.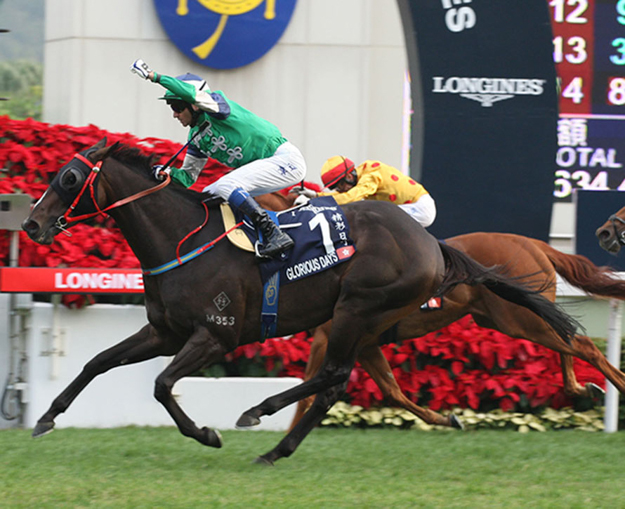 Gold Fun and Packing Whiz completed a Hong Kong trifecta in the Mile, but again, honourable mention has to be made of the fourth, Gordon Lord Byron, from the small Irish stable of Tom Hogan. He was racing on ground much faster than he prefers and over a trip that's probably a shade beyond his optimum.
His game effort was in stark contrast to that of the favourite Moonlight Cloud, who had swept past him effortlessly last time either of them had raced in the Prix de la Foret at the Arc meeting. This time she never threatened and finished six lengths further back in sixth. Leading British hope Sky Lantern, three times a G1 winner at home including the 1000 Guineas, ran as though this was a question too many for her after a long season that began in May. She came home last of the 14 runners.
The climax of the meeting is normally and naturally the most valuable of the four G1s, the Longines Hong Kong Cup over 2,000 meters with prize money of HKD $22 million (USD $2.8 million), the richest race run in what's now known as the Special Administrative Region of China. In 2013, it provided more glory for local horses as the formerly Irish-trained Akeed Mofeed showed how much he improved with trainer Richard Gibson, and perhaps by the move to a country in which fast ground is the norm, to get the better of Japan's Tokei Halo and Cirrus Des Aigles.
Again, the winner was ridden by Douglas Whyte, who tracked the front-running Japanese, had to wait for a gap, and then pounced late. Footballers scoring winning goals in Cup Finals have sometimes looked less ecstatic that the South African after the Hong Kong Derby winner came home a length in front.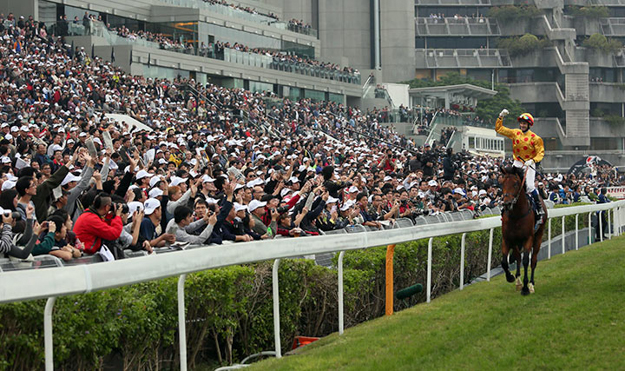 In a normal year that should have been the high point of the meeting. But this was not a normal year, its normality was destroyed by a performance of such outstanding brilliance in the Sprint that all else shrivelled in comparison. Quite a few people had been saying – since he won this race last year – that the Japanese stallion Lord Kanaloa was probably the best sprinter anywhere in the world. This year, the son of King Kamahameha (out of a Storm Cat mare) just exploded from the pack early in the straight as though completely insulted by the mere proximity of his rivals.
He won what was always going to be his last race before going to stud by five lengths, but it was a distance that hardly gave any indication of his superiority in what is by common consent the hardest sprint in the world to win. As HKJC CEO Winfried Engelbrecht-Bresges commented in his closing remarks before the traditional post-racing firework display, "It's a pity Black Caviar wasn't here today. He would have given her a proper race."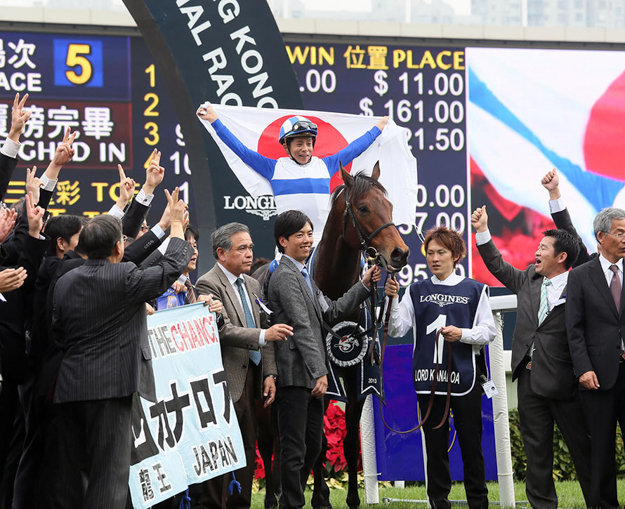 It's always sad when a horse says goodbye to the racecourse while he's obviously still improving, but one man won't be sorry to see Lord Kanaloa go.
"Thank God he's retiring," said Caspar Fownes, trainer of the 2011 winner Lucky Nine, the only one half-expected to trouble his lordship at all. "What an amazing horse!"
The race was marred by the fatal fall of the English filly Jwala who clipped heels when far behind the winner and came down on top of her jockey Steve Drowne, who was lucky to survive life-threatening injuries. To many, it was a terrible faux pas that the presentation ceremony for the Sprint went ahead while the two were still on the track -- with the rider fighting for his life. But for most onlookers, the accident had hardly been noticed as they marvelled at the horse they'd just seen.
So with three victories out of the four main events, this was Hong Kong's year and a year in which the international contingent was probably the strongest ever assembled. But with due respect to Dominant, and to Glorious Days, and to Akeed Mofeed, and even to poor Jwala, the 2013 Longines Hong Kong International Races is most likely to be remembered with the words, "Oh, yes. That was Lord Kanaloa," followed with a moment or two of respectful silence just to let minds feast yet again on the memory.