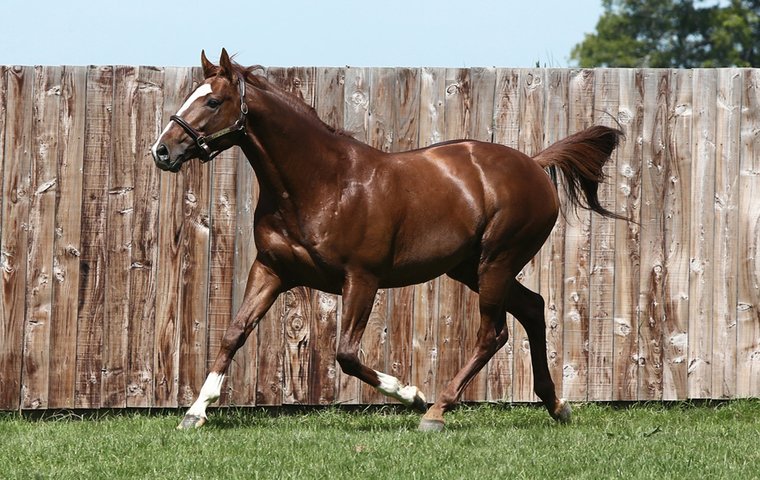 In a quiet corner of Ballylinch Stud, there lies a succinct reminder of the powerful heritage that supports the stud as it moves forward into its 105th year. It comes in the simple form of an array of horse shoes, each representing those major names associated with the McCalmont era and displayed within the stallion box built specifically for the arrival of The Tetrarch in 1915.

Indeed on a bright spring day, it doesn't take too much imagination to envisage that phenomenon, who was to have such a profound influence on the breed, entertaining visitors back in that elaborately decorated stable. But then that is the ethos of Ballylinch, a place where aspiration has long run in tandem with tradition.
After all, the stud is under the stewardship of only its third owner, American John Malone, who purchased the property from the Mahony family in 2014, and, in managing director John O'Connor, it has someone who has held an integral position since joining in 1988.
The Tetrarch is buried just yards from today's stallion yard, which now houses its own important influence in Newspaperofrecord's sire Lope De Vega. Young classic winners Make Believe and New Bay also hold court alongside champion Fascinating Rock, while a dual-purpose influence continues to be maintained by Beat Hollow.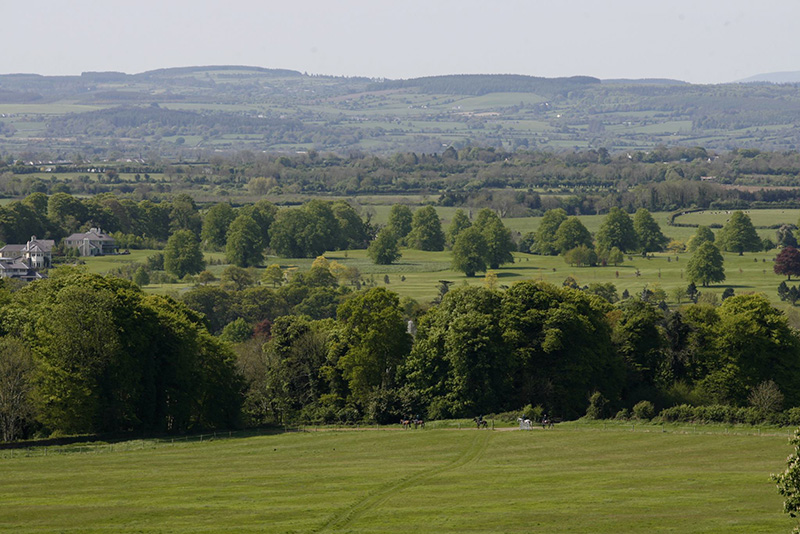 In addition, the broodmare band continues to strengthen as the result of ongoing investment, while burgeoning partnerships with others, in particular the China Horse Club, offer the promise of a fruitful season on the track.
Not that the stud has ever assumed a backseat. While its association with The Tetrarch will long be celebrated, the latter years of that McCalmont era also ushered in stallions such as Fortino, sire of Caro, Arc hero Sassafras, the first horse to beat Nijinsky, and Appiani, sire of another Arc hero in Star Appeal. More recently while under the ownership of entrepreneur Tim Mahony, it was home to Soviet Star and the revered dual-purpose stallion King's Theatre, and bred G1 winners such as Red Rocks, Belardo, Chriselliam and Al Wukair.
"It is a place with a very interesting and long history, and we're conscious of that," says O'Connor.
"It's only had three owners in a century, quite incredible.
"It was built from scratch by Dermot McCalmont to form a base for retiring The Tetrarch. The Tetrarch's box, the stud housing and the original boxes in the main yard and foaling unit are the original buildings. They were the nucleus of the stud in 1915, and we attempt to keep the character of the place as far as we can while modernising it.
"The McCalmonts ran the farm very well - the lands were very well maintained. They could afford to do it well, that's why the buildings have lasted. And we do try to keep them in their original condition."
Ballylinch Stud lies near Thomastown, County Kilkenny, within the Mount Juliet estate. The house is today a hotel, but, for much of the 20th century, it was the private McCalmont residence; thus, when the time came in 1915 for Major Dermot McCalmont to retire his unbeaten colt The Tetrarch to stud, the estate with its ample lands split by the River Nore was the obvious option.
The Tetrarch, known as 'The Spotted Wonder' on account of the strange markings splattered on his grey coat in his younger years, had swept through his 2yo season unbeaten for Atty Perse, his seven victories including the Champagne and Coventry Stakes.
Injury prevented him from returning to the track at three, and so the son of Roi Herode was retired to Ballylinch, where he would become a leading sire despite only siring 130 foals. Among them was McCalmont's 2000 Guineas winner Tetratema, also buried at Ballylinch, and the Aga Khan's flying filly Mumtaz Mahal, who left an indelible on the stud book via her grandson Nasrullah.
Watch this short Ballylinch Stud video
At the time of The Tetrarch's death in 1935, he had been sterile for a decade, instead passing some of the time as a hack to bring the mail in and out of Thomastown.
"A big book at that time was 40 mares and he would be covering in the 30s," says O'Connor. "But the combination of fertility problems and a lack of enthusiasm restricted those numbers even further.
"Mares would quite often come from abroad by boat from Holyhead and they would catch the train to Thomastown, and they would walk from Thomastown to here."
It was that sense of history that was key in attracting the attention of Tim Mahony when the estate came up for sale in late 1987.
"Tim had bought Mount Juliet and Ballylinch, and was intrigued by the stud farm and wanted to bring it back," says O'Connor. "Sean Collins, his first advisor, had told him all about the history."
Mahony's purchase of Ballylinch from Victor McCalmont, who switched his energies to the neighbouring Norelands Stud, passed without the inclusion of a single Thoroughbred. O'Connor was at that time managing Baroda Stud on behalf of the executors of the late Sean Doyle and was hired to make the switch to Ballylinch.
An influence for soundness
"Originally I had planned to manage my own farm, but then the challenge of Ballylinch came up," he says. "Dermot Weld had just started to train for Tim Mahony, and I remember him saying to me that he was going to be big in the business.
"Through Sean Collins, Tim had bought some mares and, when I came here, there were four of them on the place. Tim agreed that we would need to restock and allowed me to buy some mares that turned out to be very influential.
"One of the most significant was [G3 winner] Ingabelle, who we bought privately in Tom Lacey's kitchen. She was tough herself and became an influence for soundness.
"Another mare, [G1 Heinz 57 Phoenix Stakes winner] Pharoah's Delight, was bought also privately. Her daughter Pharmacist was influential for us as the dam of Red Rocks."
Ingabelle, by Taufan, left behind eight winners including the stud's 1995 Moyglare Stud Stakes winner Priory Belle and fellow G1 winner Eva's Request. Her Danehill daughter Danielli is now maintaining that tradition having bred the ill-fated Breeders' Cup Juvenile Fillies Turf winner Chriselliam and G2 winner Very Special.
Another foundation mare, Caerlina, is the granddam of G1-winning miler Al Wukair while Majinskaya, became the granddam of another top miler in Belardo, himself a real Ballylinch success story as a first-crop son of Lope De Vega.
Meanwhile, the acquisition of G2 winner Uncharted Haven, fittingly a descendant of Victor McCalmont's champion Mesopotamia, brought access to a family subsequently responsible for classic heroine Just The Judge.
Thus, when John and Leslie Malone stepped in to buy Ballylinch in 2014, they came into possession of a healthy going concern with much to offer.
One of the largest landowners in the U.S., the Malones also paid €28 million for the Kildare-based Castlemartin Stud from Sir Anthony and Lady O'Reilly around the same time to complement a growing bloodstock portfolio that had gained momentum several years earlier with the acquisition of Bridlewood Farm in Florida.
"Ballylinch wasn't actively for sale at the time," says O'Connor. "The Malones had bought Bridlewood Farm and retained George Isaacs, who was managing it, and that was the start of their serious bloodstock enterprise.
"They expressed an interest in having a farm in Ireland and, through John McCormack, made an approach on Ballylinch.
"It was seamless because everything on the farm - the stock all the way down to the yard brush - was sold. George came over and helped appraise the stock with John. All the staff stayed and all the horses were transferred as well, so there never any anxiety."
Great appreciation
He adds: "At the time when the Malones were doing their due diligence on Ballylinch, and it was unclear whether a deal would be done - as there was no hurry on selling it, Castlemartin came up for sale. That was always going to be a quicker sale and, because of that, a move was made to buy it. I think it's fair to say that it's one of the most beautiful farms in Ireland, one of the jewels of the country. It has had a lot invested in it and that will continue.
"The Malones have great appreciation for lands and the countryside, and for honouring the heritage of properties. John Malone is obviously a very big landowner in America, and he has an appreciation of what land can do for the environment."
The broodmare band currently numbers around 60 and includes several recent high-profile purchases, notably listed winners Modernstone and Chartreuse, purchased for 1,000,000gns and 825,000gns respectively, Screen Star, the dam of G1 winner Lumiere who was purchased for 675,000gns, and Wonderfully, a G3-winning sister to Gustav Klimt bought for $1.8 million.
The classy Normandel, meanwhile, was bought late last year and turned over to Jim Bolger, who recently sent her out to win the G3 Park Express Stakes.
Another recent acquisition, the promising Galileo filly Solage, came into the fold when purchased through Meridian International in December for €1 million.
"Castlemartin was bought without any stock," says O'Connor, "and numbers were increased to reflect that now we had two large farms to populate.
"We were trying to buy at a particular level to enhance an already strong band and we have formed some very good partnerships with similar minded outfits."
Joint venture
One such partnership is with Lucien Urano's Ecurie des Charmes, with whom the stud campaigns recent listed winner and classic hopeful Tifosa.
"We've always had a presence on the track, largely to boost the broodmare band, and we've managed to race some very nice fillies," says O'Connor. "This is the first year that we have a slightly increased number in training, which reflects us keeping some well-bred fillies from some of the best mares.
"Now we also have a joint venture with China Horse Club in some colts. We have seven of those, scattered between France, Ireland and the UK. And if any of them are good enough, the plan is to stand them here."
The group includes the first foal out of Irish 1000 Guineas heroine Just The Judge, a Dubawi colt who topped last year's Arqana August Sale when bought for €1.4 million.
"He is with John Gosden," says O'Connor. "He's a big stamp of a colt, scopey with great movement. We pre-trained him here and we were very happy with how he progressed.
"We've very lucky that the contours of the property favour a good pre-training facility. They can get quite fit without going very fast because it's a gentle climb, so we very seldom have an issue with soundness.
"Pat Shanahan joined us last year and he's brought an extra dimension. We like to get an understanding of the horses before they leave - we like them to leave as confident, young racehorses."
Incredibly popular
The septet within the China Horse Club venture also includes 'a couple of' colts by Lope De Vega. The son of Shamardal retired to stud in 2011 as the winner of the Poule d'Essai des Poulains and Prix du Jockey Club for Gestut Ammerland and is now one of Europe's leading lights thanks to a roll call that contains 25 Group winners, among them Belardo, winner of the Dewhurst and Lockinge Stakes, and Chad Brown's brilliant filly Newspaperofrecord.
The latter was one of six juvenile stakes winners sired by Lope De Vega in 2018 bred the year his fee rose from €12,500 to €40,000. He is again incredibly popular this season at his new fee of €80,000, a figure that could very well soon be within six-figure territory should Newspaperofrecord and Phoenix Of Spain among others make the anticipated progress.
It will also be fascinating to see how the Ralph Beckett-trained quartet of Antonia De Vega (G3 winner), Feliciana De Vega (listed winner), Manuela De Vega (listed winner) and Dancing Vega (the impressive winner of her sole start) fare as 3yos this season for Waverley Racing, an outfit that has aggressively pursued Lope De Vega fillies at auction.
Fittingly, Prestige Stakes winner Antonia De Vega was bred by Tim Mahony's daughter, Jenny Howes, out of Witches Brew, one of the mares she retained and nows boards at Ballylinch.
"I wasn't surprised with the success of Lope De Vega's first crop but I was delighted as he can throw a big horse," says O'Connor. "He has plenty of scope himself but is certainly an influence for speed. I would say it's been a long time since a French Derby winner sired a Cornwallis winner [Royal Razalma] in his first crop.
"He was a horse with great enthusiasm and a great stride. He had the ability to gallop relentlessly but he also had a serious turn of foot. I suspect he was a miler who had the class to win the French Derby based on what we see from the stock, which are I think predominantly milers."
Watch Lope De Vega's win in the Prix du Jockey Club
Lope De Vega owns an interesting background being inbred 3x3 to Machiavellian. Instead of shying away from that influence, however, O'Connor sent him Lady Livius, by the Machiavellian stallion Titus Livius, in his first season and was rewarded by breeding his first Group winner, Burnt Sugar.
"Yes, adding more Machiavellian was a calculated risk," says O'Connor. "I'd bought Lady Livius specifically to bring precocity to the young stallions as she was very quick herself, and she has done exactly what I hoped she would do.
"You don't really see Machiavellian in Lope De Vega physically though - I think he's all Giant's Causeway.
"He is easy to use. He's almost an outcross, and I think in the context of where the Thoroughbred is going, that's important. For us, we're lucky in that it means we can buy ones from the Danehill or Galileo line, especially as he's done well with them. Danehill obviously works very well with him - I think that's inbreeding back to Almahmoud at work.
"Last year's crop of 2yos were the first conceived after he was champion first-crop sire, and he did what we hoped he would do. I think we're entitled to be extremely optimistic this year when he has a serious crop of 3yos and 2yos to run for him.
"Pretty much all the big operations now want to use him, including American breeders."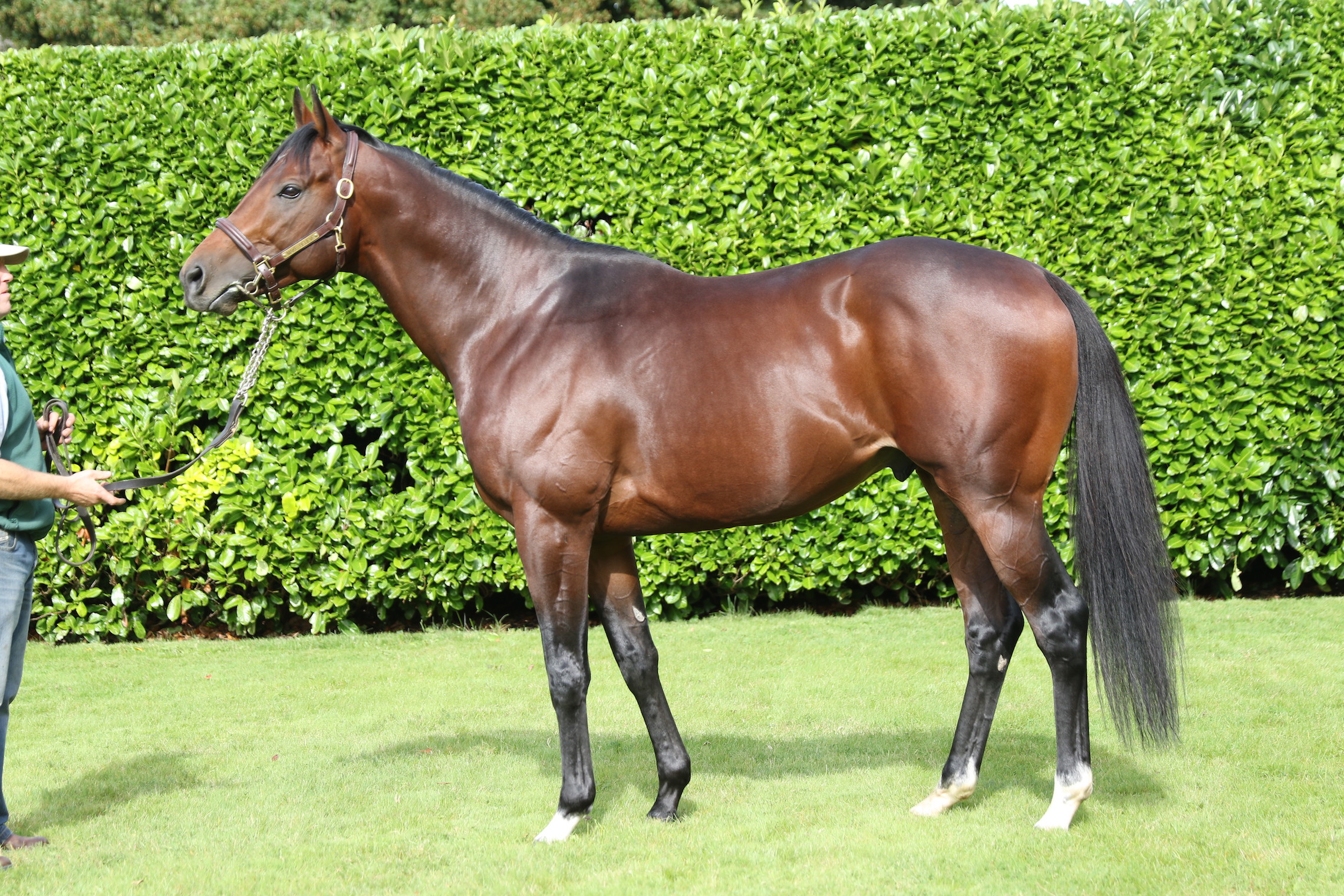 Meanwhile, it's crunch time for fellow Poule d'Essai des Poulains winner Make Believe. Also successful in the Prix de la Foret for Prince Faisal, his first yearlings made up to 210,000gns.
"Make Believe had a lot of speed," says O'Connor. "Andre Fabre said he felt that he could have won a July Cup, and he was vindicated in that when the horse that he beat in the Foret, Limato, went on to win the July Cup. But Prince Faisal was keen to retire him and obviously that suited us.
"We've supported these young stallions with decent mares and then we follow up and try to put them with good trainers. Make Believe's progeny could be more precocious than people think. He puts a fair bit of muscle on them and I'd be surprised if he doesn't achieve a fair bit with his 2yos this season."
With proven older residents Lawman and Dream Ahead now based at Haras de Grandcamp in Normandy, there is undeniably a youthful flavour to the current roster. Next in line after Make Believe are New Bay, the 2015 Prix du Jockey Club hero, and Fascinating Rock, the Qipco British Champion Stakes and Tattersalls Gold Cup winner. The latter's first crop includes a half-sister to Burnt Sugar bought for €185,000 at Goffs last November by Camas Park Stud.
"We've invested plenty in the last number of years in stallions," says O'Connor. "I suppose we have a model that works for us in that we're happy to syndicate stallions and for the original owner to stay involved. I think people can have confidence with how we deal with them, but that's been made easy for me with the people that we work for. That allows us to have a spread of stallions.
Well placed to thrive
"New Bay had that change of gear that I like. It's something accentuated by the style of racing in France - they all quicken and the horse that can quicken better than the rest of the field has a real turn of foot.
"He's by Dubawi and is backed up by a serious Juddmonte female line that can genuinely produce stallions - it's the family of Oasis Dream and Kingman. There's every reason to think that this guy, a high-class racehorse with a high-class family, will make a good stallion.
"Fascinating Rock was a high-class racehorse. He is a great mover and is passing it on. His owner, Maurice Regan, loves this horse and is very enthusiastic about making his stallion career."
Ballylinch is well placed to thrive in its second century of operation. Investment remains strong while it continues to be utilised as a boarding stud by a number of major breeders, including Vimal and Gillian Khosla, for whom Ballylinch raised and sold last year's Epsom Oaks heroine Forever Together; her Galileo sister went on to be sold by stud for €3.2 million to Phoenix Thoroughbreds at the Goffs Orby Sale last October.
And of course in Lope De Vega, Ballylinch is also in possession of a relatively young horse with the profile to play a major role in the future of the Thoroughbred
Breeders 'not taking a long-term view'
"I think times are challenging for the industry," says O'Connor, "and I think we should as an industry look very carefully at where it is going at the moment. Breeders are not taking a long-term view - if you're building families on a farm, you must take a long-term view.
He adds: "We ourselves are lucky in that the Malones bought Ballylinch at a time when the broodmare band had established itself and Lope De Vega had burst on to the scene as a leading young sire. So I think the fact that we've been able to further invest in the stock and young stallions gives us a very good platform for the future."
And yet such is the reassuringly conscious appreciation of its heritage, that Ballylinch surely remains a property that Dermot McCalmont would recognise even today.
"Dermot McCalmont's youngest son, Michael, was the last McCalmont to be brought up at Mount Juliet," says O'Connor, "and when he visited the stud not that long ago, he told us that his father would be 'very proud' of what we have done here.
"I was delighted to hear that, and I hope that we can continue to make him proud."