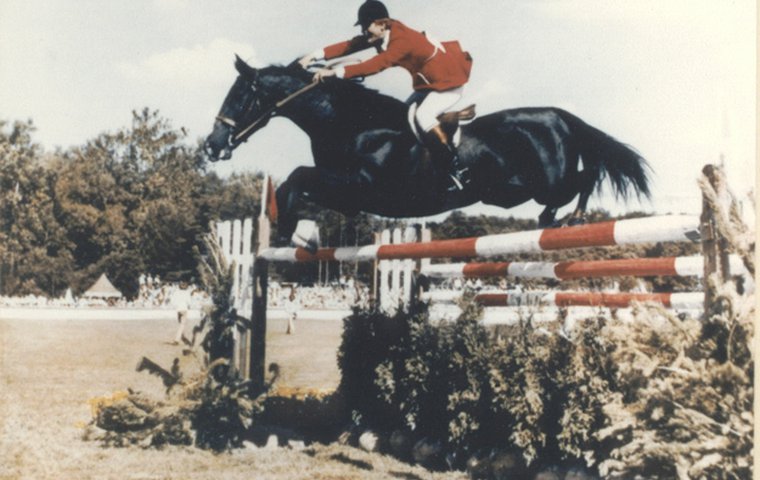 After Touch of Class sailed over the final jump in the 1984 Olympics in Los Angeles, guaranteeing a first-ever gold medal for United States in both team and individual show jumping, the petite, bay mare sensed she had accomplished a great feat. With ears pricked, she virtually floated around the ring with her signature, fluid stride as the crowd erupted in enthusiastic applause.

"They don't cheer much louder for the Santa Anita Derby here," said sports commentator Terry Leibel during the Olympic telecast. "Look at that little mare. She's not only short in stature; she's a very delicate little animal. Look at those legs and head and neck….she's very curious about her surroundings; she's eager to go."
That last phrase, "eager to go," has no doubt been spoken many times throughout the years about the Thoroughbred. Bred for the racetrack, the eagerness to "go" is in their blood. But sometimes the desire and talent to succeed in that setting simply isn't there. The lucky ones are given a second chance -- to see what they can accomplish after the racetrack. And for a few, those new vocations have resulted in victories beyond their connections' wildest dreams.
American Thoroughbreds are making a comeback on the show circuit in recent years with the likes of prominent three-day eventers and former racers Courageous Comet, Donner, and several others competing at top levels. And with support of the off-track Thoroughbred back on the rise, it may not be long before that breed is once again synonymous with the show world.
With that being said, let's examine a few of these Thoroughbreds of yesteryear that have set the bar incredibly high.
Touch of Class
We've already been introduced to the inimitable Touch of Class, whose best-known triumph was winning a jump-off against her former rider Conrad Homfeld and fellow American horse Abdullah, a large, gray German-bred stallion that towered over her at the 1984 Olympics.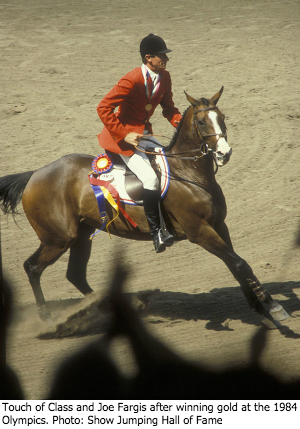 As noted in a 1984 New York Times article, spectators at jumping events often got hooked on watching Touch of Class and her rider Joe Fargis because they made a physically striking pair. At 16 hands, Touch of Class was one of the smallest horses, as well as one of the few mares competing at that level, while Fargis, with a slim build of 6 feet 2 inches and 155 pounds, made her seem even more petite. When encountering the steepest jumps, which are up to five feet high and seven feet wide, the horse and rider pair looked severely overmatched.
"She has a lot of heart," Fargis told the Times, "and a lot of talent. Someone compared her to [Olympic long distance runner] Zola Budd - that girl is quite small, isn't she? But she runs very fast for her size."
Farris said most of the horses he has ridden have come from the racetrack, so Touch of Class was familiar territory. "They may have been too slow for [the racetrack], but they're still good movers, light on their feet, and intelligent."
Bred in Maryland in 1973, Touch of Class was first registered under the name Stillaspill with The Jockey Club. The daughter of Yankee Lad's racing career quickly fizzled after she failed to finish in the money in six starts. Retrained as a show jumper, it was clear she had found her niche when in 1981, her first year at the Grand Prix level, the mare won classes at several shows, and in 1982 she qualified with Fargis for the United States Equestrian Team (USET) and the World Championships in Dublin.
Touch of Class switched riders to Homfeld when Fargis was injured in 1982, and with the USET she won the Grand Prix at Southampton and came in fourth in the 1983 World Cup.
When Fargis returned and was reunited with the mare, the pair participated in Nation's Cup teams that won in Rome and Calgary in 1983. Later in Touch of Class' career she was also on Nation's Cup teams that won in Aachen, Washington, and New York.
In 1984, Touch of Class and Fargis captured the Grand Prix of Tampa before going on to the Olympics. In all, Touch of Class won six Grand Prixs, was second and third in another 14 Grand Prixs and competed in multiple winning international Nation cup teams. In 1984 and 1985, she carried Fargis to first place in the World Cup U.S. East Coast League standings. She also embarked upon a successful breeding career. She was inducted into the Show Jumping Hall of Fame in 2000.
Touch of Class lived out her retirement years at River Circle Farm in Franklin, Tennessee, where she passed away in 2001.
Jet Run
Before there was Touch of Class, there was the ultra consistent show jumper Jet Run. Foaled five years prior in 1968, Jet Run experienced the bulk of his success under show jumper-turned-Thoroughbred trainer Michael Matz.
Bred and owned by Winter Place Farm in Maryland and managed by Ronnie Beard, the son of Jet Traffic burst onto the scene with a Grand Prix victory in New York at age 6 under renowned equestrian trainer Bernie Traurig. After being sold to Mexico, he won an individual gold and team silver medal under Fernando Senderos in the 1975 Pan American Games. When Senderos retired, the horse was sold to F. Eugene Dixon and Matz took over the reins.
Matz, who decades would later train Barbaro to a victory in the 2006 Kentucky Derby, said he knew he had a special horse on his hands when he first rode Jet Run in the late 1970s.
"You didn't have to know too much about jumping horses to come to that conclusion," Matz told the New York Times in 1981. "Jet Run had a great record before I ever saw him. It was just a matter of keeping him going."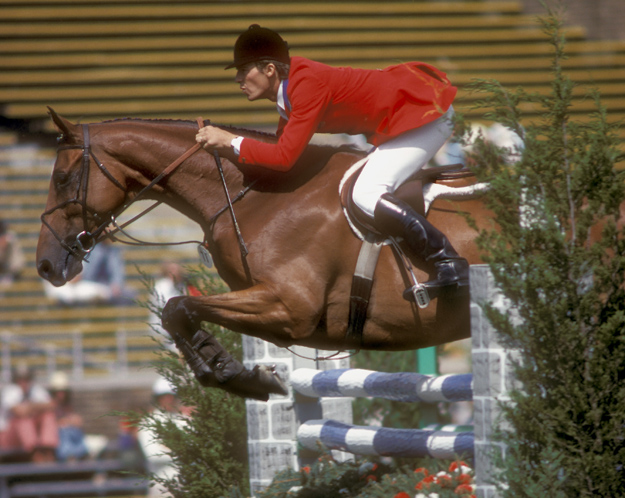 The then-30-year-old Matz brought Jet Run to his peak of his talent that year when he guided the gelding to multiple Grand Prix victories, two American Gold Cups, an individual and team gold at the Pan Am Games in 1979, and a triumph in the World Cup in Birmingham, England, against the leading jumpers of Europe, Canada, and the U.S.
For his success in that event and the many others throughout his career, Jet Run was inducted into the Show Jumping Hall of Fame in 1996. He was retired to the Dixon's Pennsylvania farm in 1985.
Keen
Hilda Gurney, a 26-year old schoolteacher from Los Angeles, was immediately captivated by the charismatic presence of Keen, a then-3-year-old Thoroughbred who had been deemed too large for the racetrack, but would later become a pioneer for dressage in the U.S.
A heavy boned, 17.2-hand horse with a distinctive, white blaze on his forehead, Keen was foaled on a Riverside, California Thoroughbred farm in 1966. While racing was in his blood, the son of Money Broker's towering height put him at a significant disadvantage against his sleeker competitors, and he never made it to the starting gate -- mainly because he couldn't fit in the box.
But the gelding's gargantuan frame and striking features were exactly what Gurney had been looking for in a dressage horse, so she acquired him for a modest $1,000.
Keen was a natural at the discipline, which at the time was one of the least popular in the U.S. After successfully competing up through the levels, the gelding's first big success came at age 8 in 1974 when he was named the U.S. Dressage Federation's Horse of the Year for the first of five times.
A year later he participated in the 1975 Pan American Games in Mexico, where he helped the U.S. earn team gold and individual silver medals. Keen's subsequent performance in the 1976 Olympic Games in Montreal helped the U.S. earn an unexpected team bronze over the Soviet Union, whose team was considered one of the best in the world at the time.
With many eyes now on the brilliant Keen as he continued to prove his competitiveness at the highest levels, enthusiasm for dressage in the U.S. gained momentum. Mostly undefeated in the U.S., Keen went into his second Pan American Games in 1979 and fulfilled expectations by winning both team and individual gold medals.
Gurney, who eventually quit teaching and purchased a farm in California to concentrate on riding, formed a strong bond with Keen.
She described Keen as a "sweet horse and easy to handle," in a 2009 Eurodressage.com article by Silke Rottermann. "He was very people orientated, and the special thing about him was he never let an eye off of me."
Keen recovered from a serious neck injury to compete in the 1984 Olympics on his home turf in Los Angeles, and in 1985, he was still ranked among the 20 best dressage horses worldwide.
When Keen suffered a stroke and was euthanized at age 23 in 1989, Gurney savored the fact the gelding's profound influence on the development of U.S. dressage would live on.
"Keen made people pay attention to dressage and encourage young riders to take up the discipline," Rotterman wrote. "The number of competitors at dressage shows increased as well as the membership with the USDF, which honored Keen by inducting him in their Hall of Fame in 1997."
Idle Dice
When show jumping champion Idle Dice was 24 years old, the large, bay gelding by Hay Hook appeared as dapper and energetic as during the pique of his competitive years.
His official retirement ceremony in September 1986 marked the end of a 20-year career in which Idle Dice earned $400,000 (approximately triple that amount today) and won more than 200 events. Thirty-one of those were Grand Prix competitions, three of which he won at age 21 in the last year he showed.
"He won everything that was possible to win," Leonard King, president of the American Grand Prix Association, told the Philadelphia Inquirer prior to his retirement. "The combination of Rodney Jenkins and Idle Dice was unbeatable. It's going to be a very emotional moment when they walk into that ring."
King credited Idle Dice with helping Grand Prix jumping, a European style of competition that was imported to the U.S. in 1969, rise to prominence in the U.S.
Sired by Hayhook and foaled in Oklahoma in 1962, Idle Dice was initially tried as a racehorse, but failed to find the winner's circle in low-level claiming races on the Pennsylvania circuit. He was then campaigned as a hunter by Bernie Traurig before being purchased by notable owner and future Show Jumping Hall of Famer Harry R. Gill for $12,500 in the mid 1960s.
Idle Dice was ridden by many throughout his illustrious career, but his greatest accomplishments were with Rodney Jenkins.
"Dice was a wonderful horse, but I was like 20 years old when I rode him, he was much smarter than I was, and I was a little in awe of him," Jenkins said in a ShowJumpingHallofFame.net video. "I didn't appreciate how good he was. The horse was so sensitive to everything; he was very smart."
Among Idle Dice's 31 Grand Prix victories were three American Gold Cup titles and the American Invitational. He was also the only horse to win the President's Cup at the Washington International Horse Show twice, was named the 1977 Grand Prix Horse of the Year and represented the USET for five years, including competing at the World Championships in Europe in 1974. He became one of the first inductees into the Show Jumping Hall of Fame in 1987.
Idle Dice spent his retirement days at Gill's Pennsylvania farm, where he was visited by fans from all over the country.
----
Sources:
The Roemer Foundation/United States Dressage Federation Hall of Fame
Boccella, Kathy. "Ceremony to officially mark end of champ's show jumping career." The Philadelphia Inquirer. September 11, 1986
Mifflin, Lawrie. "Equestrian Team is Jumping for Joy." The New York Times. August 10, 1984
Rottermann, Silke. "Keen, a pioneer of American dressage." EuroDressage.com. November 17, 2009