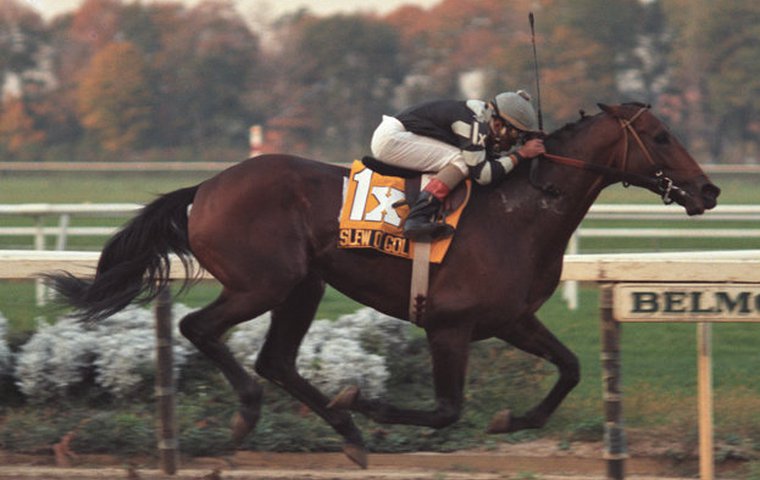 Celebrating the 30th anniversary of Slew o' Gold's New York tour-de-force in the fall of 1984.

Slew o' Gold took Belmont Park by storm in the fall of 1984 when he reeled off consecutive G1 victories in the Woodward, Marlboro Cup Invitational, and Jockey Club Gold Cup.
It was a remarkable feat never before achieved, not even by Slew o' Gold's sire, 1977 Triple Crown winner Seattle Slew, who came up a nose shy of completing the sweep when he finished second in the Gold Cup six years earlier.
But perhaps what is most amazing about Slew o' Gold's tour-de-force is he achieved it while competing with a tender foot, a patched quarter crack, and a bar shoe.
Slew o' Gold also won the Woodward and Gold Cup in 1983, during his championship 3-year-old season. But his neck defeat to Highland Blade in the now-defunct Marlboro Cup denied Slew o' Gold's connections the $1 million bonus offered by The New York Racing Association that tied together the three races. The Marlboro Cup loss also cost Slew o' Gold the Horse of the Year title that ultimately went to All Along.
The bonus, however, came to Slew o' Gold the following year when he annihilated four rivals to win the Gold Cup, the final leg of NYRA's fall championship series, by 9 ¾ lengths. His facile score in the 1984 Gold Cup stamped him as the heavy favorite to win the inaugural Breeders' Cup Classic, which was to be run three weeks later in California at Hollywood Park. The win also labeled him the front-runner for Horse of the Year honors.
Equusequity Stable, the syndicate that campaigned Seattle Slew, owned Slew o' Gold who was bred by Claiborne Farm. Mickey and Karen Taylor and Jim and Sally Hill were the principals of Equusequity and acquired Slew o' Gold as part of a foal-sharing agreement they had with Claiborne, who owned his dam, Alluvial, a daughter of 1966 Horse of the Year, Buckpasser
Slew o' Gold, who by all accounts was obstreperous in nature, was trained by Hall of Famer Sidney Watters, Jr. during his first two seasons of competition, which included runner-up finishes in the Belmont Stakes and Travers.
One morning in June 1984, while being prepared for his 4-year-old debut, Slew o' Gold got away from his hotwalker while grazing at Belmont. The colt ran loose through the barn area, skidding on the pavement and sustaining lacerations over much of his body before being corralled. While his injuries were not serious, the incident was enough to lead the Taylors and Hills to remove Slew o' Gold from Watters' care and into the barn of 33-year-old John Hertler, who at that time had yet to condition a G1 winner.
Hertler, who already had several horses for Equusequity in his barn, said the phone call that Slew o' Gold was headed his way was both exciting and a bit nerve-wracking.
"Slew o' Gold was the champion 3-year-old, so here I am I'm thinking, 'What if he doesn't run for me?'" Hertler recalled on a recent morning at his Belmont barn. "Those are the questions that run through your mind in a situation like that."
Hertler need not have worried.
With his new trainer saddling him for the first time, Slew o' Gold dusted his competition in an allowance race at Belmont on July 2. The mile event was the colt's prep for the G1 Whitney Handicap four weeks later at Saratoga Race Course.
Scratched down to a three-horse field from the five who were entered, the Whitney was a showdown between Slew o' Gold and the promising 3-year-old Track Barron, a winner of six of seven career starts. The third entrant, Thumbsucker, was a longshot.
Angel Cordero, Jr., Slew o' Gold's regular partner, had the riding assignment.
Cordero said he had the measure of Track Barron, the eventual runner-up, and his rider, Jean Cruguet, throughout the nine-furlong Whitney. Cordero had a snug hold on his mount because he was so confident he was on the best horse. The margin of victory, 1 ¾ lengths, was not reflective of the horsepower he had under him, Cordero recently recalled.
"I never rode a horse that won as easy as he did that day," Cordero said. "That particular day, that horse could have beaten any horse in the world."
At a celebratory dinner the night of the Whitney with Slew o' Gold's owners, Hertler recalls Cordero regaling the table with how he taunted Cruguet before and during the race.
"Angel told Cruguet in the paddock, 'I am going to have my rearview mirror, watching you,'" Hertler said. "During the race, Angel said to Cruguet, 'Come on, run a little faster, I can't hold him anymore.' Then Angel clucked to Slew o' Gold, and said to Cruguet, 'Sorry, I can't wait for you anymore.'"
The laughter that night soon turned to concern when, not long after the Whitney, Slew o' Gold shed the frog -- an area on the bottom of a horse's hoof that acts as a shock absorber -- in his right front. And the problems escalated from there, according to Equusequity partner, Jim Hill, who was a practicing veterinarian before he became an owner.
"The shed frog was the first thing we noticed," Hill recalled. "He was tender on that. Then came the quarter crack."
At Hill's suggestion, a bar plate was placed on Slew o' Gold's hoof to protect the exposed area of the hoof from the loss of the frog. He then developed a quarter crack in the same hoof. The quarter crack was patched, but in a more invasive manner than is employed today.
"Patching quarter cracks was in its innovative stages then, and the patch was awkward and bulky, and wasn't as effective as what they do now," Hertler explained. "At that time, screws were put in the hoof to hold the patch. Today, wires are used."
All of this played out during Slew o' Gold's fall campaign, but didn't stop him from winning the Woodward, Marlboro Cup, and Jockey Club Gold Cup in a 36-day span.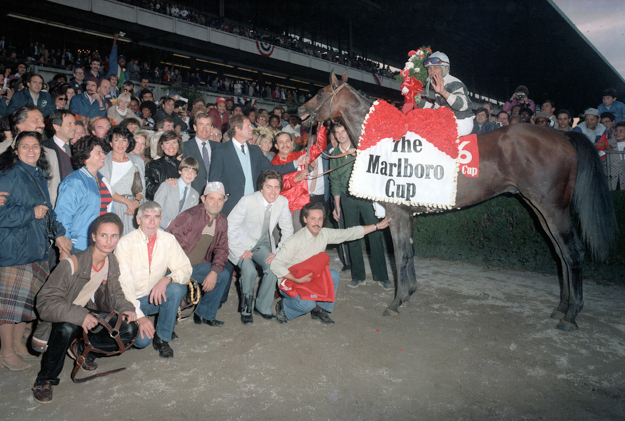 Hertler said Slew o' Gold was the best he had been since the foot issue arose when he won the 12-furlong Gold Cup on Oct. 20, 1984. The victory elevated the horse's career earnings to $2,858,534, which at the time, ranked him second on North America's all-time earnings' list behind John Henry.
"The foot was not giving him any trouble at that point and he came into the Gold Cup in such good shape, and just aired," Hertler said. "I was pretty sure he was going to win. He loved to run long, too."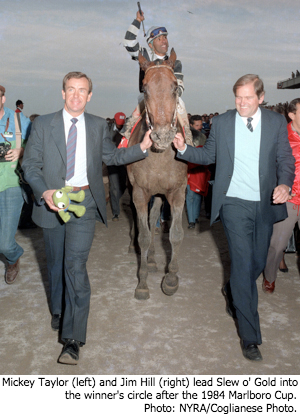 Slew o' Gold would race one more time in his career, in the first running of the $3 million Breeders' Cup Classic at Hollywood Park on Nov. 10. It was his race to lose.
The first thing to go wrong that day was the bad vibe Hertler got from the odds-on Classic favorite on the walkover from the barn to the paddock.
"When we walked him over from the barn to the paddock, he usually would be a monster," Hertler said. "He would pull, pull, and bow his neck. That day, you could have led him over there with a shoe string. I didn't have a good feeling. He was not the same. He didn't go over with that kick-ass attitude. I was alongside of him and he was walking just like an ordinary horse. He wasn't psyched up."
Slew o' Gold crossed the finish line in third, beaten just a half-length by 31-to-1 winner, Wild Again. However, Slew o' Gold was placed second following the disqualification of runner-up Gate Dancer, who soundly bumped him in the stretch. At one point, Slew o' Gold was sandwiched between Wild Again and Gate Dancer, and Cordero said he believed the winner played the larger role in impeding his mount.
Hertler believes Slew o' Gold would not have found himself in that trouble had he been 100 percent.
"That quarter crack had to be bothering him," Hertler said. "He had a quarter of a mile to get out of trouble. He was not feeling right. He ran great, despite it."
The loss denied Slew o' Gold the Horse of the Year title, which went to John Henry, but he did earn the Eclipse Award as top older male.
Relative to his success on the track, Slew o' Gold was only moderately successful as a stallion. He produced French Champion and G1 winner, Golden Opinion, and several G1 winners in North America, including Dramatic Gold, Gorgeous, and Thirty Six Red.
He was euthanized in 2007 at the age of 27, the result of infirmities from old age. The very first stallion to stand at Three Chimneys, he remained at the Midway, Kentucky farm for his entire career.
Today, when Hill talks about Slew o' Gold, who was inducted into the National Museum of Racing and Hall of Fame in 1992, he still marvels over the colt's sweep of Belmont's fall championship series 30 years ago.
"That fall triple was just an exhilarating experience for all of us," Hill said. "It was simply a brilliant achievement from Slew o' Gold."