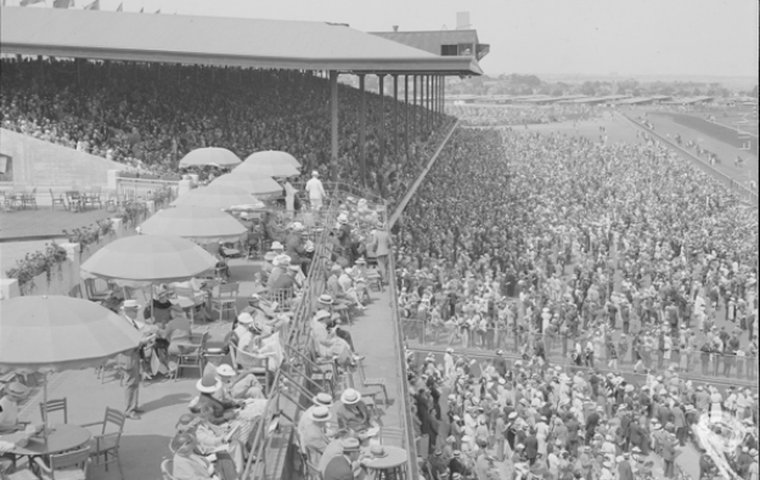 The closure of Suffolk Downs on Oct. 4 marked the final chapter in New England racing. From the mid-1930s, when three of its states legalised pari-mutuel wagering, to the 1970s, Thoroughbred racing was the most popular sport in this corner of the U.S. The finest horses raced there – Seabiscuit, War Admiral, and Discovery included – ridden by Hall of Fame jockeys – such as Eddie Arcaro and George Woolf – and watched by the likes of Cornelius Vanderbilt Whitney, Louis B. Mayer, even the Crown Prince of Liechtenstein. Thoroughbred racing's gradual decline in popularity since the 1970s in North America, though, has seen New England's count of tracks plummet from a peak of 16 to zero. This article takes a brief look back at some of the most celebrated of these bygone racecourses.

Rockingham Park, New Hampshire
In 1906, in the small New Hampshire village of Salem Depot, a group of investors including John Warne "Bet-a-Million" Gates, August Belmont II, William C. Whitney, and Andrew Mellon, opened a new racecourse – Rockingham Park. More than 10,000 people from Boston, Rhode Island, and New York flocked to its maiden 21-day meet. It had taken less than a year to build and cost $1 million. Upon its inauguration, it was popularly panegyrised as "the finest racecourse in the world."
Yet, notwithstanding its aesthetic charms, Rockingham faced one fatal hurdle: gambling was illegal in New Hampshire. Without on-track wagering, Rockingham was not economically viable and no meeting was scheduled for the next year, nor the next, nor the next. The Great Depression, though, proved to be Rockingham's unlikely saviour.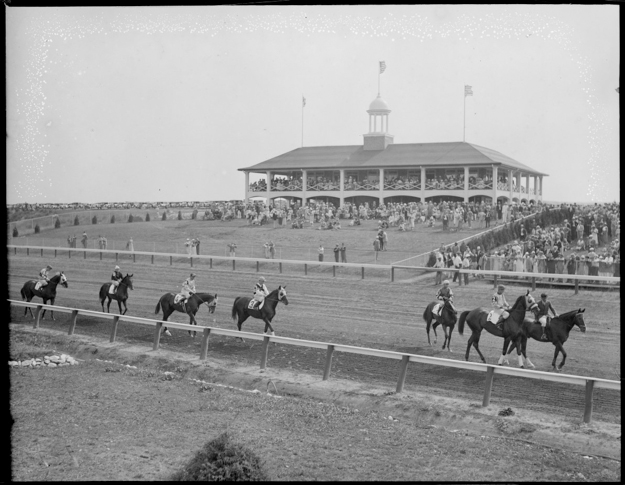 With the nation overwhelmed by the financial downturn, legalised betting was suddenly heralded as a quick-fire way to bolster the struggling economy. Eager to receive its lucrative revenues, one state after another legalised pari-mutuel wagering on horses in the 1930s. New Hampshire followed suit in 1933.
Meanwhile, Rockingham Park had fallen into disrepair. It had been purchased two years earlier for $300,000 and its new owners, the New Hampshire Breeders Association, set about refurbishing it. After a $200,000 facelift, Rockingham was permanently reopened on June 21, 1933. It was an instant success, drawing a 15,000-strong crowd.
Rockingham's summer Thoroughbred meeting grew from strength to strength. Special trains from Boston were laid on to carry racegoers right up to the grandstand. During the middle decades of the century, revenues from the racecourse constituted a 20 percent average of the state's general fund appropriations.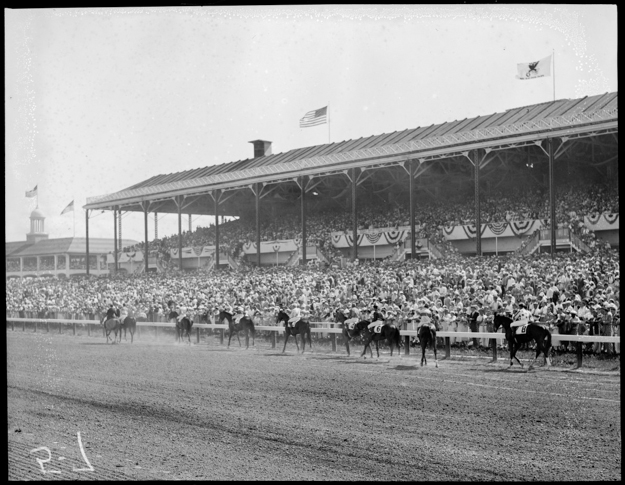 By the 1970s, though, Rockingham began to wane. Audiences and profits were declining. It was a familiar pattern seen at racecourses nationwide. A calamitous fire in 1980 only made matters worse. The grandstand was destroyed and the clubhouse substantially damaged. The racecourse was sold and its new owners, the Rockingham Venture, built a new, red-roofed stand and relaunched the track on May 26, 1984. Despite further improvement works – including a seven-furlong turf course in 1986 and a covered picnic pavilion in 1991 – Rockingham's glory days were behind it. The dwindling interest in the sport, combined with competition with out-of-state tracks where slots and casinos had been legalised, spelt Rockingham's downfall. It hosted its last live Thoroughbred meeting in 2002. Notwithstanding a brief switch to harness racing, it hosts only simulcasting today; its 170 acres lay strewn with empty buildings and deserted stables.
Narragansett Park, Rhode Island
In its 1930s and 1940s heyday, Narragansett Park was a playground for the high society of nearby summer resort, Newport. It opened in 1934, immediately after the state's legalisation of pari-mutuel wagering following the lucrative precedent set by Rockingham Park in New Hampshire a year earlier. Constructed in only two months at a cost of $1.2 million on the 130-acre site of an erstwhile airport, Narragansett Park consisted of a one-mile track, a grandstand seating 14,000, clubhouse, judges' stand, 270 pari-mutuel booths, and 22 barns with a capacity of 1,650 horses.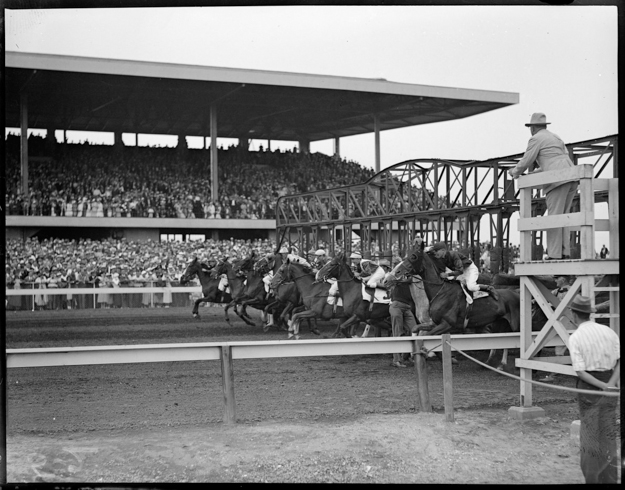 It launched on Aug. 1 to a throng of 37,281 patrons, amongst them the notable breeders C. V. "Sonny" Whitney and Alfred G. Vanderbilt II, and Senator Jesse H. Metcalf. And the crowds kept coming. On the Labor Day holiday a few weeks later, Narragansett welcomed nearly 54,000 racegoers – at the time, it was the largest attendance of any sporting event in Rhode Island. Celebrities flocked there, including Jimmy Durante, Mickey Rooney, and Babe Ruth. A dedicated railway was built, on which "Gansett Specials" made daily trips from Boston, while a four-lane highway was built leading up to the Park's entrance.
Quickly, it became financially successful too. By September 1936, it could boast a net profit of $2,017,381.54 since its opening day a little more than two years earlier, making it one of the most profitable racecourses in the country. It played a considerable part in augmenting Rhode Island state revenues, contributing $800,000 (more than 10 percent of the state's entire budget) in 1934 alone.
The boom of the early years was not to last, however. Already by the 1950s, Narragansett Park had begun a gradual decline. Beset by misfortunes – fires in the backstretch in 1960 and 1976 in which horses were killed and hundreds of thousands of dollars worth of damage was done – and facing waning public interest in the sport and added competition for the gambling dollar from greyhound racing and state lotteries; by the 1970s, it had hit hard times. Attendances decreased, handles plummeted, superior horses stayed away, and its physical fabric became run down.
When Narragansett closed its doors for the last time in 1978, it had an audience of only 2,882. The following year, the racecourse was sold to the City of Pawtucket for $5.6 million for commercial and residential redevelopment. Yet a small vestige of the site's sporting history remains: several of the new roads created – Whirlaway Place, Seabiscuit Place, War Admiral Place – pay homage to Narragansett's former stars in their nomenclature.
Massachusetts Fair Circuit
It was dubbed by some as "the leaky roof circuit," likened by jockeys to riding a bull ring, and was notorious for its corruption, yet the Massachusetts Fair Circuit drew crowds in their swarms. With its first track – Marshfield Fair – opening soon after the state legalisation of wagering in 1935, the circuit circumnavigated the state every year from early summer to autumn.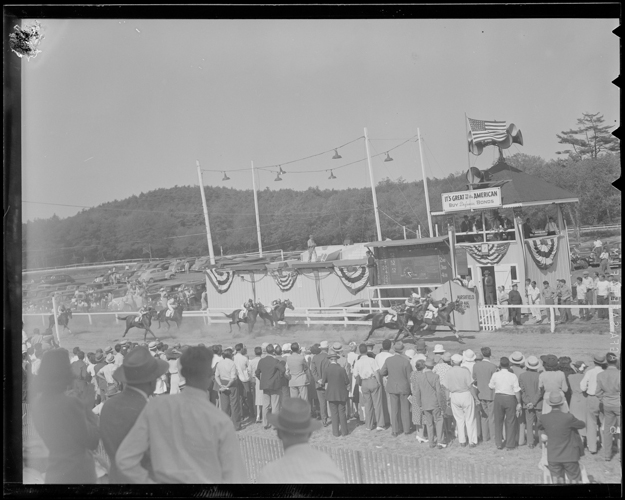 The seven courses that made up the circuit – Berkshire Downs, Brockton Fair, Great Barrington Fair, Marshfield Fair, Middleborough Fair, Northampton Fair, and Weymouth Fair – must surely hold the accolade of hosting New England's most colourful race meetings. The tracks combined horse racing with candy floss (cotton candy) stalls, Ferris wheels, and tractor pulls. The runners were slow, the prizes were small, and the results were questionable, but the fairs were beloved for their vivacity and unpredictability.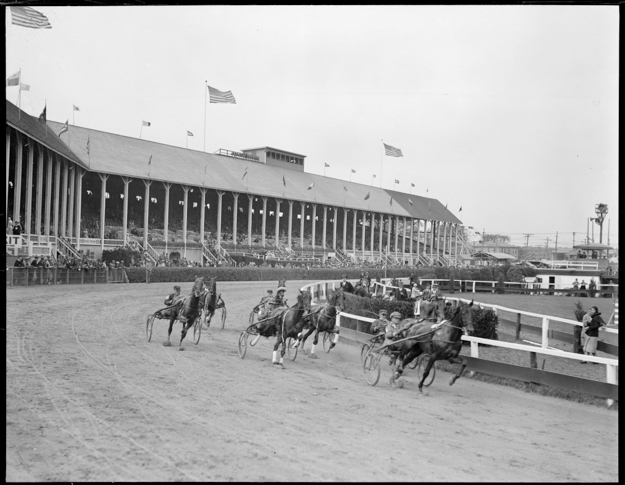 By the turn of the 1980s, though, the fair tracks were facing the same general malaise in racing's popularity as New England's other racecourses. One by one, they closed. The final survivor – Northampton Fair – held its last meeting in 2005.
Suffolk Downs, Massachusetts
"Staid Boston struck off another of her puritanical shackles yesterday and hied [hastened] away to Suffolk Downs, a toyland fantasy of a race track." The Boston Record announced the opening of Massachusetts's first permanent Thoroughbred racecourse on July 10, 1935. The state legislature had legalised pari-mutuel wagering in the spring of 1935, and it took the Eastern Racing Association just 62 days to open Suffolk Downs.
The $2-million track was constructed on approximately 200 acres of landfill in East Boston and Revere. A taskforce of more than 3,000 labourers, wielding 24 power shovels, 36 bulldozers, and 638 trucks, was applied to create this state-of-the-art facility. It boasted the country's first concrete grandstand – accommodating 16,000 – and, reportedly, then the world's largest clubhouse, seating 5,000, the two separated by a horse path that connected the track to the paddock behind.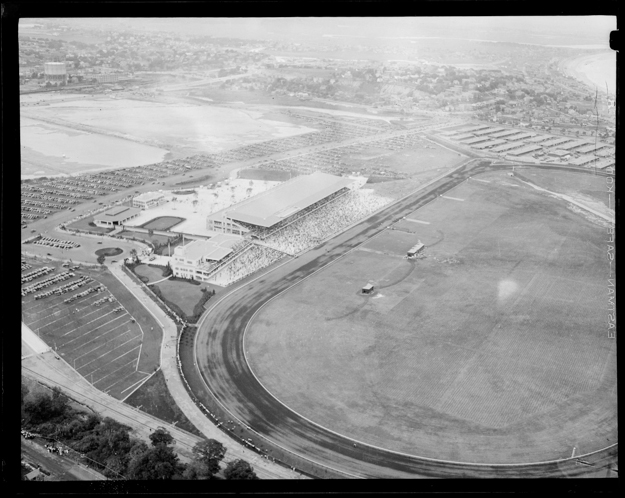 Upon opening, the racecourse was lauded as one of the most modern in North America. The Boston Record wrote of its "palatial clubhouse" and "comfortable grandstand;" The New York Times deemed it "one of the largest and finest race tracks in the world." More than 35,000 racegoers were there to watch its inaugural race. By closing day on Aug. 10, attendance had reached 52,726. Quickly, Suffolk Downs became a stalwart of the Boston sporting social circuit.
In the 1960s, changes in ownership prompted a decade of change for the racecourse's physical fabric. The open-air grandstand was enclosed, the grandstand and clubhouse were linked together to expand spectator capacity, and a new paddock and walking ring was opened between the track and grandstand. In 1968, its infield turf course was reconstructed, and the following year, it launched what was then the richest turf race in the world – the $252,750 Yankee Gold Cup. After attracting only an unremarkable crowd and handle, though, the race was never held again.
As at Rockingham and Narragansett Park, in the 1970s Suffolk Downs began to struggle to maintain its attendance figures. Racing dates were drastically expanded, first to more than 100, then to 150, and reaching 200 by 1976. Yet, with lotteries and sweepstakes by then legalised, and mounting other entertainment and leisure options to lure away the crowds, Suffolk Downs was increasingly feeling the pinch.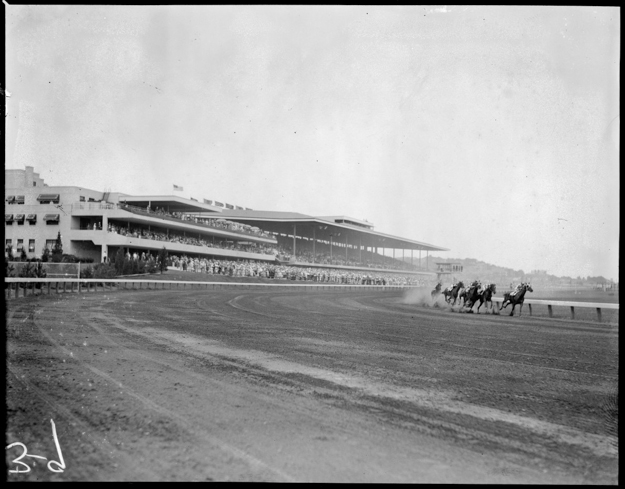 Numerous ownership changes did nothing to stabilise its fortunes and come the mid-1980s, it was so dogged by insouciant management, recurrent race-fixing allegations, and low-quality horses that it became known as the poorest-run Thoroughbred venue in America. The atrophy was such that the track was closed in 1989.
Soon, though, Suffolk Downs made its comeback. After infrastructure improvements totalling millions of dollars, it reopened again in 1992. Slowly but surely, the standard of racing returned.
Suffolk Down's ascendency was not long to last, though. In the late 1990s, a cocktail of regulatory issues and competition from casinos in neighbouring states saw the racecourse's luck reverse once more. Attendances and handles again stated a gradual decline.
In 2014, after an arduous and unsuccessful bid to obtain a casino license, Suffolk Downs's owners announced the racecourse would close its doors for the final time on Oct. 4. The track that once hosted Seabiscuit, Funny Cide, Cigar, and other greats, will no longer ring with thundering hooves, and New England loses its sole remaining Thoroughbred facility.
---
The authors are indebted to many sources in composing this article. The following were particularly valuable:
R. Temple, The Pilgrims Would Be Shocked: The History of Thoroughbred Racing in New England (2009)
T. D. Thornton, Not By A Long Shot: A Season at a Hard Luck Horse Track (2007)
A. Loder, 'Remembering Rockingham Park: A Story Of Prestige And Decline'