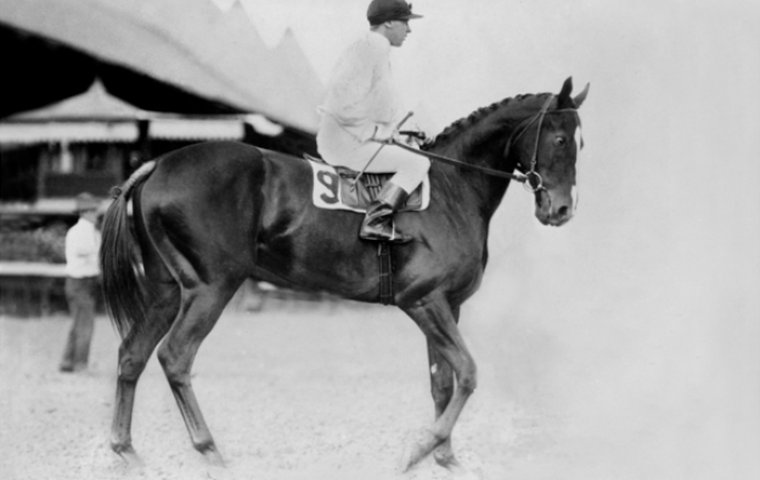 Her name is known mostly in record books, alongside those of Genuine Risk and Winning Colors, and she merits an occasional mention in articles written around the first Saturday in May. As a result, few realize that Regret, the first filly to win the Kentucky Derby, exactly a century ago, was more than just a groundbreaker. She was a fine racehorse.

A bright chestnut with a white blaze, not unlike Genuine Risk, Regret was bred by her owner, Harry Payne Whitney, at Brookdale Farm in New Jersey. H.P. Whitney (1872-1930) was leading owner eight times between 1905 and 1930 and bred 192 stakes winners.
Regret was by Broomstick, leading sire from 1913-15, out of the Hamburg mare Jersey Lightning, and her third dam was Modesty, winner of the first American Derby in 1884.
Regret is often considered by historians to be the horse most responsible for bringing to the Kentucky Derby the national notoriety it now enjoys. Publicity for the event, however, was steadily building following the victory of Donerail at 91-1 in 1913 and the track record effort of Old Rosebud a year later.
Eastern owners pretty much snubbed the Derby until the 1915 edition, when three Eastern-owned runners went to the post: Whitney's Regret, James Butler's Pebbles, and S.L. Parsons' Sharpshooter. That's the order in which they ran for most of the big race, and that's how they finished.
After his filly's history-making triumph, Whitney proclaimed: "I do not care if she never wins another race, nor if she never starts in another race, she has won the greatest race in America, and I am satisfied." With that, the Eastern establishment put their stamp of approval on the Run for the Roses.
Regret almost didn't make it to the race, as her trainer was disinclined to run her. James Rowe Sr. (1857-1929) was born in Fredericksburg, Virginia, began his career as a jockey at age 10 and went on to win two Belmonts, in 1872 and '73. He trained the brilliant Miss Woodford, the first runner of either sex to earn $100,000. In addition to Regret, he trained other classic winners: Hindoo, winner of the 1881 Derby, Preakness winner Broomspun (by Regret's sire Broomstick), and eight Belmont winners from 1883-1913, including the undefeated Colin. He trained back-to-back winners of the race three times -- 1883-84, 1907-08, and 1910-13 (the race was not run in 1911-12).
It was mainly through the urging of her jockey, Joe Notter, that Regret took her place in the Derby field. In 1908, Notter rode Colin to victory in the Belmont and that year went on to earn $464,322 in prize money, a substantial sum in those days.
Regret shipped west to Louisville six days before the Derby and worked twice over the Churchill Downs oval at the Derby distance of a mile and a quarter, the first in 2:14 and change and the second, three days before the race, in 2:08 3/5. Rowe was concerned about running her after these slow works. It was reported that "she pulled up a bit tired" after the latter work. The Daily Racing Form described her as "of queenly appearance." News of the war in Europe dominated the Form's "General News Notes of the Day" column.
An event thousands of miles from Kentucky nearly put a stop to Regret's chances of starting in the race. On Friday, May 7, the day before the Derby, the passenger liner RMS Lusitania, sailing from New York to Liverpool, was sunk by a German submarine off the Irish coast with almost 1,200 lives lost.
One of them was H.P. Whitney's brother-in-law, Alfred G. Vanderbilt. Newspaper accounts at the time said Vanderbilt died a hero, giving his life jacket to a female passenger and, when he found another life jacket for himself, giving that one away as well. There was some thought that, out of respect for his brother-in-law, Whitney would scratch the filly.
The Daily Racing Form on the Wednesday after the race included this item:
"It is stated that because of the report that Alfred Gwynne Vanderbilt had gone to his death in the sinking of the Lusitania, H.P. Whitney at first announced that Regret would not start for the Kentucky Derby, but afterwards acceded to the solicitations of friends and permitted her to start."
Fourteen fillies before Regret had tried to win the Derby without success. Regret was going postward as the favorite and the only filly in the field of 16, the largest Derby field up to that time.
Regret had earned her Derby favoritism with a brief but stellar 2-year-old campaign that saw her win all three of her starts, all at Saratoga and all against males, beginning with a one-length score in the Saratoga Special. She led from start to finish, completing the six furlongs in 1:11 3/5 under 119 pounds.
One week later she captured the Sanford Memorial Stakes, also at six furlongs, by a length and a half, this time under 127 pounds, giving 14 pounds to runner up Solly and 20 pounds to third place Dinah Do. The chart footnote referred to Regret as "a high-class filly."
A week after that came another victory, this time in the Hopeful Stakes. Once again carrying 127, Regret went the six furlongs in heavy going in 1:16 2/5. She had been favored in all three of her starts.
Regret was given the rest of the year off at Brookdale. Her first start as a 3-year-old would be the 41st Kentucky Derby, Saturday, May 8.
Asked to carry only 112 pounds, Regret got to the front easily under Notter and stayed there, with Pebbles, under 117 (the Derby weight of 126 had not yet been established), chasing her the entire trip. She won by two lengths. Her final time was 2:05 2/5 on a track that had dried out after rain the previous day.
It would be 1980 - 65 years - before another of her gender, Genuine Risk, would come along to duplicate her accomplishment and assume a place beside her in the record books.
Seven Derby winners have gone into the race with an unblemished record, but only Regret managed to remain undefeated throughout her sophomore year. This was likely because she only ran once more that season, in the Saranac Handicap at a mile for 3-year-olds.
Regret carried 123 pounds to the 126 carried by The Finn, winner of that year's Belmont, who finished third in the field of eight. She won under "stout restraint" according to the race chart. In the Saranac, Regret raced in the colors of L.S. Thompson. Whitney had turned his stable over to Thompson for the remainder of the year after the Derby and Thompson ended up the year's leading owner.
After the Saranac, Regret was put away and came back at four in the Saratoga Handicap. She led for almost a half mile of the mile and a quarter race then weakened to finish last under 123 pounds. It was her first career defeat. She won her only other start that year, a mile allowance at Saratoga 18 days later. It was said that Rowe didn't want to compromise Regret's chances of becoming a broodmare by over-racing her.
Her first start at 5 was also her first exclusively against members of her own sex, a sprint at Belmont, which she won by eight lengths. Next came the Brooklyn Handicap. The field of 11 included three Kentucky Derby winners: Regret, 1914 winner Old Rosebud, and 1917 winner Omar Khayyam. Regret finished the best of the trio, but was still a nose behind her stablemate, a 9-year-old gelding named Borrow. Old Rosebud finished a length behind Regret in third, while Omar Khayyam was 10th. Final time for the mile and an eighth was 1:49 2/5, a new American record.
After the Brooklyn, Regret won the Gazelle at Aqueduct by three lengths carrying 129 pounds. In the final start of her career, she set a track record for seven furlongs at Aqueduct. She retired with nine wins from 11 starts.
Regret died of an internal hemorrhage on April 14, 1934 at the farm of Whitney's son, C.V. Whitney in Lexington three days after foaling a bay filly by Royal Minstrel who was later named Tale of Woe. She produced 11 foals, eight of them fillies, and none as good as their dam on the racetrack. Regret was inducted into the Racing Hall of Fame in 1957.
Regret was Whitney's first Derby winner, and he would try 16 more times before winning the race again, with Whiskery in 1927.
On the night of Whiskery's Derby victory, a bonfire burning at the top of a hill on the farm caught C.V. Whitney's attention. As he got closer he could see about 100 African-American stablehands singing spirituals, the figure of a horse outlined against the firelight. The horse was Regret. The farm's first Derby winner had been taken out of her stall so they could sing to her as a way of celebrating the farm's newest Derby winner.
"I just stood there and watched as the music of the old spirituals filled the night air," Whitney said, "and Regret stood like a statue, as if aware of what was happening."
----------
Sources:
Horses in the National Museum of Racing Hall of Fame, compiled by the National Turf Writers Association, undated.
"Regret's Win in 1915 Generated National Publicity for Derby," Jim Bolus, 1989 Kentucky Derby magazine.
"Death of Regret," Thoroughbred Record, April 21, 1934.