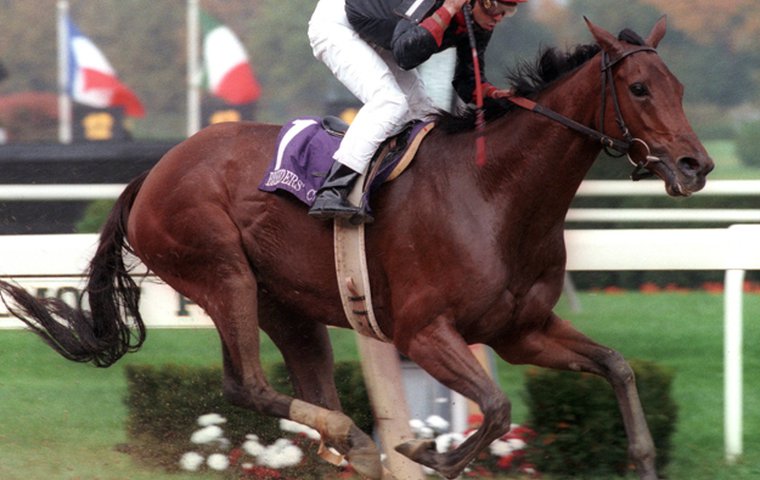 As part of the new, inflated Belmont Stakes Day mega-card, the 2015 installment of the G1 Ogden Phipps Stakes for fillies and mares will be contested sometime in the middle of the afternoon on Saturday, June 6. Televised on NBC Sports Network, the race kicks off the North American portion of the 2015 Breeders' Cup Challenge Series (along with the G1 Metropolitan Mile) as a Win and You're In event for the Breeders' Cup. This year marks the 47th running of the Phipps (née Hempstead), though the race has only been a G1 since 1984. Last year's version was arguably the best race on a star-studded card. This year's favorite will undoubtedly be Untapable, 2014's champion 3-year-old filly, who rebounded from a runner-up finish in the Azeri Stakes at Oaklawn, to capture that track's Apple Blossom Handicap in her last start.

Twenty years ago, Heavenly Prize, a powerfully-built bay, bred and owned by Ogden Phipps, finished second in the Oaklawn Breeders' Cup Handicap (which later became the Azeri), then won the Apple Blossom as the even-money favorite. Like Untapable, she was also champion 3-year-old filly the previous year. Heavenly Prize went on to win the 1995 Hempstead Handicap as part of a string of four consecutive G1 victories. It was Ogden Phipps' third win in the Hempstead, all coming during a halcyon seven-year stretch in which the Phipps family won just about every big race in New York at least once. After Ogden's death in 2002, the Hempstead was renamed in his honor.
I've always loved my New York teams and in racing, for me, the closest thing to a home uniform around these parts is listed in your program as "black, cherry cap." The Phipps family has won every significant stakes race at Aqueduct, Belmont, and Saratoga many times over; they have done it almost exclusively with homebreds, and they have done it consistently for decades.
The conduit for the continued success of the Phipps stable, and the reason their horses seem so recognizable, is the bloodstock. It's easy to develop affection for a horse when you can recall, vividly, seeing his or her dam and grandam run and win, at the very same track, in the very same colors. When a Phipps horse, especially a filly, is entered, with a chance -- they always have a chance -- in an allowance or maiden race in the middle of a sunny summer day at Belmont, it's like stumbling onto an airing of your favorite movie on television on a lazy Sunday afternoon. "Oh, she's out of Oh What a Windfall? I loved her!"
"They're only in the breeding business to produce a nice race horse, nothing beyond that," the Phipps family's trainer of almost 30 years, Shug McGaughey, told me last week. And for what seems like an eternity, they've produced an array of very nice horses; they are sans pareil in American Thoroughbred breeding. Breeders and owners for years have carried a mix of jealousy and admiration for the Phipps' collection of broodmares, an assembly line of equine princesses that renews itself every generation without hiccup. Phipps mares win races on the track and then produce winners in the breeding shed. You know the saying that great race mares don't make great broodmares? It doesn't apply here. See that champion in black silks? Her mother was a G1 winner, and her mother was a G1 winner, and her mother was a G1 winner
On the racetrack, homebred Phipps fillies peaked in 1995, when they combined to win 16 graded stakes races, including nine G1s (seven at New York tracks.) The primary catalysts were two 4-year-old fillies: aforementioned Heavenly Prize, and her speedy cohort Inside Information. And they didn't just win races, they stomped out their competition.
On a Wednesday afternoon at Belmont Park in mid-September, 1993, a 6 furlong, split-division maiden for 2-year-old fillies produced a pair of blowouts by two first-time starters from the same barn. Mike Smith gave Shug McGaughey a "Wow!" after guiding Inside Information home easily in the 3rd race, and then a "Double wow!" after doing the same thing aboard stablemate Heavenly Prize in the 5th. The margins were virtually the same, and the times were close (Inside Information had to go wide, probably accounting for the ⅗ difference).
The next month, on Breeders' Cup Preview Day, Heavenly Prize put on an eye-catching display in the Frizette, winning by a country mile, and doing so two-fifths faster than the highly-regarded Dehere in the Champagne. The victory was one of four graded stakes wins by the Phipps barn on one of racing's richest days (Shug had five stakes wins!) Though it was only Prize's second career start, the word "special" seemed to flutter about the box area in the denouement after her performance… this was a filly destined for big things.
As a juvenile, Inside Information wasn't quite as precocious, but early the next year, she began to realize her enormous potential, and took the spotlight from her stablemate with devastating, under-wraps demolitions of G1 fields in the Ashland and Acorn. Inside Information would spend the latter half of 1994 on the sidelines with injury, but Heavenly Prize got the baton back when she ran away from Mother Goose-winner Lakeway in the Alabama. It was a return to form for Prize, who had yet to win in '94, and in the words of NYRA handicapper Andy Serling, her decimation of the California-based favorite "wasn't quite like the redemption of Easy Goer in the Belmont, but in its own way, it felt close." The Alabama was the first of three consecutive, decisive G1 wins at New York tracks for Heavenly Prize. Between the two of them, Inside Information and Heavenly Prize won 6 stakes races in 1994 by a combined total of 41 lengths.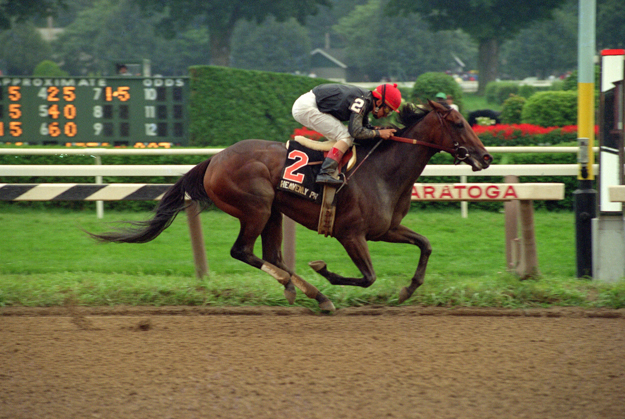 In 1995, as the undisputed coregents of their division, Heavenly Prize and Inside Information took turns annihilating their competitors. Though neither was invincible (they combined for four defeats), the two fillies orbited a star that others could only view from a telescope. In the '95 Breeders' Cup Distaff, finally pitted against one another, Inside Information rode the rail to a victory described by Tom Durkin as "colossal" while Heavenly Prize got up for second. They finished in the same order in the voting for the Champion Older Mare Eclipse Award the following January.
"I truly loved both those horses, and always rooted for them whether betting or not," Serling reminisced to me recently. This was typical sentiment; since Inside Information and Heavenly Prize were so frequently heavy favorites -- show pools tended toward the bridge-jumper variety any time either of them set foot on a track -- they were rarely involved in particularly good betting races, meaning gamblers could sit one out, and simply appreciate greatness. Most New York stakes races for older fillies and mares in 1995 were exhibitions of equine brilliance -- Heavenly Prize also won a literal exhibition race in the '94 Beldame -- turning even the most analytical handicappers into fawning fanboys for two hometown heroines, whose ascendancy could unearth the poetic soul inside any railbird.
It's difficult to separate the two in my mind, even though they had polar opposite running styles. Inside Information was at times speed-crazy, and possessed the kind of instantaneous acceleration that makes you stutter when you speak; Heavenly Prize was at her best when she had time to settle, building up energy and then hitting her powerful stride like a runaway truck with the brakes cut. If they ever ran as an entry -- as they did when finishing 1-2 in the 1995 Breeders' Cup Distaff -- their complementary styles would be unstoppable.
Heavenly Prize, through the time-altered prism of my own subjective memory, always got a bit more acclaim, seemingly of truer gait than her sports car stablemate. Indeed, even Shug McGaughey admitted he "always thought Heavenly Prize was a bit better… though, after the Distaff, that all changed." I tended to prefer Inside Information, if only to be a contrarian… even though the difference between the two was paper thin. It's remarkable actually, that Inside Information was overlooked at all, given that she only lost three times in her 17-start career, and had major excuses in all three losses.
Weirdly, or perhaps not-so-weirdly, my most vivid recollections of both horses from 1995 are actually the losses. Inside Information's defeat in the Ballerina -- to giant killer Allen Jerkens' Classy Mirage -- came on a day when many (gulp, me too) had singled her at the end of a Pick-6 with a huge carryover. Inside Information went to her knees out of the gate, spotting her rival several lengths, but made a huge move on the turn to draw on even terms, before running out of gas and finishing second. Despite the calamitous start, I believe every single person at the Spa that day thought Inside Information was going to blow right by Classy Mirage when they turned for home. The shock of seeing her lose was more memorable than any of her blowout victories.
Heavenly Prize's loss in the Beldame was not quite as shocking, if only because the filly that beat her (Serena's Song) was a champion who had every single thing break her way. Still, when Prize got in gear for her closing kick, it was hard to envision her not getting up under the wire. I remember shooting my parents a puzzled, "Wait a minute, Heavenly Prize lost?" look immediately after they crossed the finish line with Serena's Song a half-length in front. "Are you sure? Must've been an optical illusion."
Though the black-and-cherry silks had continued success through the rest of the '90s -- highlighted by My Flag (a perfectly-bred mare, by Easy Goer and out of Personal Ensign) taking a handful of New York stakes races, including the fourth victory (1996) in the G1 Gazelle for the Phippses in six years -- the enduring image of that decade of dominance will always be, to me, Heavenly Prize isolated in victory under the wire at Saratoga, or Inside Information splashing home in the mud on Breeders' Cup day. Over the course of the decade, 17 different Phipps homebred fillies won graded stakes races in New York, and as most of their dams before them, many would go on to produce stakes-winning babies… but none were as knee-weakening or awe-inspiring as Heavenly Prize or Inside Information.
A prestigious route on the dirt for fillies and mares at Belmont is the perfect race to carry the name of a family that has been synonymous with so many of the best ladies ever to grace its deep, mammoth dirt oval. Twenty years later, the sovereignty of Heavenly Prize and Inside Information remains the epitome of everything great about the Phipps breeding and racing operations. In my mind, the Odgen Phipps Stakes is their legacy.