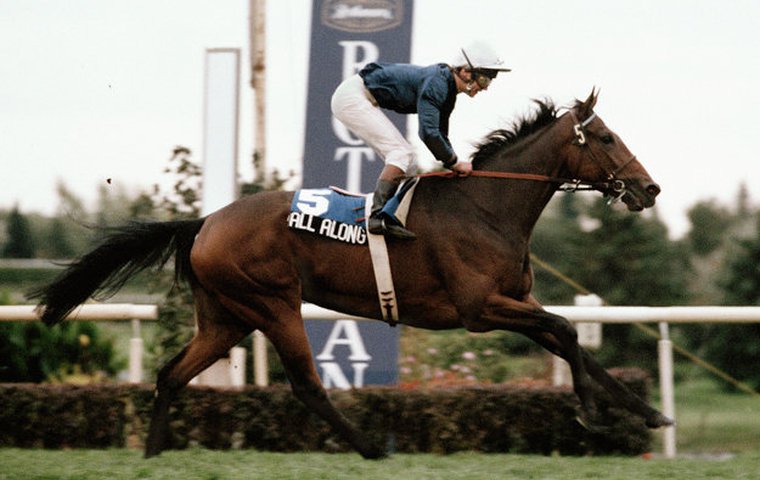 How stunning French filly All Along used Woodbine's 1983 Rothmans International as a springboard to one of the most amazing turf feats in racing history.

She was, to put it mildly, stunning.
The leggy French supermodel was accustomed to turning heads long before she jetted to Toronto for the first time. Mesmerizing the locals would be a fait accompli. Impressing her? Well, that wouldn't be as easy.
When a gray dawn cast a pall over Woodbine Racetrack on the Sunday of the 1983 Rothmans International, All Along took one look and turned up her Parisian nose at the notoriously fickle Canadian weather that had already produced a deluge on Wednesday, followed by a violent storm on Thursday. When it came to racing on soggy grass, All Along was a bit of a princess. Not that anyone would know it from watching her tear up the turf, dry or otherwise.
That the Toronto weather on Oct. 16, 1983 threatened, but ultimately acquiesced to the glamorous star — as if it too had become smitten with her — was a minor, but important footnote to one of the most remarkable turf accomplishments in the history of the sport and one of the greatest champions in the 76-year history of what is now called the Pattison Canadian International.
Thirty-one years after All Along dropped jaws in Toronto, leave it to Woodbine's Hall of Fame publicist Bruce Walker to succinctly place her in racing history.
"No other horse has accomplished such a magnificent tour de force on grass — four Grade 1 wins in the space of 41 days. Unheard of," Walker, now retired, wrote in an email.
The numbers, even three decades on, are staggering. In a barnstorming tour from Oct. 2 to Nov. 12 that covered more than 5,500 miles, hit three countries and four racetracks on two continents, the 4-year-old homebred daughter of Targowice out of Agujita by Vieux Manoir defeated 51 world-class, mostly male, opponents. In that 41-day stretch, she earned just more than $2.1 million thanks to claiming the inaugural North American Turf Triple bonus of $1 million that was awarded to the winner of the $520,250 Rothmans International, the $585,700 Turf Classic at Aqueduct in New York on Oct. 29, and the $250,000 D.C. International Nov. 12 at Laurel Park in Maryland.
All this after defeating 25 rivals to win the famed Prix de l'Arc de Triomphe at Longchamp in her native France at odds of 17-to-1; a race in which fillies grabbed the top four spots.
"There are a number of things about that era that I think are important," said Michael Veitch, the turf columnist for The Saratogian in Saratoga Springs, New York, and a long-time member of the National Museum of Racing's Hall of Fame committee that inducted All Along in 1990. "The first thing that was significant was that those four races, that streak, that was the time before the Breeders' Cup [that started in 1984]. Those four races were very, very, very important. Today, almost all of them are prep races for the Breeders' Cup, but then they were great events in and of themselves.
"I don't know how to say it any other way," he continued. "For her to target those three races [in North America], plus the Arc, and to do it the way she did is quite phenomenal… She is an immortal."
All Along was bred and owned by Daniel Wildenstein, who amassed a fortune and reputation as one of the world's great art dealers. The filly was trained by Frenchman Patrick Biancone, and ridden during her remarkable four-race stretch by English jockey Walter Swinburn, who was just 22 when All Along shocked the world and barely made it to Toronto in time to ride her. Swinburn rode at Newmarket the day before the Rothmans, then sped to London Heathrow Airport to hop on the Concorde to New York. Engine trouble delayed departure from London, meaning the jockey was two hours late getting to John F. Kennedy International Airport, but he still managed to make a connecting flight to Toronto and arrived with an hour to spare.
Biancone was 31 in 1983 when he was the private trainer for the racing side of Wildenstein's equine empire that, at that time, had some 250 horses.
Woodbine's historian Tom Cosgrove was training horses at the Toronto track in 1983. He said he remembers Biancone, "holding court with a cigarette with the press," after All Along defeated Thunder Puddles by two lengths in 2 minutes 45 seconds in the Rothmans, which was contested over 1 5/8 miles. "[Biancone] really polished the role. He probably learned from the master at that who was Maurice Zilber, who brought over Dahlia and Youth and horses like that."
Cosgrove's memory of All Along is even more vivid.
"I remember how striking she was in terms of her presence," Cosgrove said. "She was very elegant in the way she walked up and down on the horse path… I remember thinking, 'Wow.' Here was an international star coming to Woodbine. She had equine glamour."
As such, she was instrumental in elevating a race that Secretariat put on the international map in 1973 when he ended his racing career with a stirring victory in the Canadian International.
"Secretariat opened up the world for Woodbine and the Rothmans. The quality of horses just went up and up and up," said Lou Cauz, the longtime steward of the Canadian Horse Racing Hall of Fame, now retired. "The next year, Dahlia came along and she was Horse of the Year. Then Snow Knight, Windfields' great horse, then Youth, Exceller, Majesty's Prince won it twice. Majesty's Prince won it in '82 and '84. All Along broke up his quest for three in a row."
Cauz was at Longchamp to see All Along "come from way out of it" to win the Arc de Triomphe.
"There was a 26-horse field that she circled to win that race," he said. "She won it with an incredible stretch run and it is a long stretch at Longchamp. So, when it was announced that she was coming to Toronto to run in the Rothmans International I said, 'You won't believe what kind of horse we're going to see here.'"
The $1-million turf bonus was an obvious incentive, but the filly's connections spoke with admiration about Woodbine, particularly after the rain held off, the track's famed turf course held up with aplomb — despite being officially listed as "yielding" — and Swinburn's sky blue silks and white cap helped brighten the celestial mood. Even news of the death of Kelso that same day — and Liberace for that matter — couldn't dampen the enthusiasm of the Canadian race fans in attendance privileged to have witnessed a truly special performance.
Twenty-seven days later, less than two weeks after winning the Turf Classic at Aqueduct, the filly Biancone called Cheval de Fer (the Iron Horse) overcame her distaste for a soggy course and won the D.C. International at Laurel Park. That victory capped an almost unthinkable stretch of triumph that made her a lock for U.S. Horse of the Year honours, bucking tradition.
"For a French filly who was a turf specialist, no less, to wind up as the Horse of the Year at a time when most people — and most of them still do — think that racing on dirt is what gets you the title, for her to pull that off 30 years ago is pretty doggone special," Veitch said. "She simply was so good that you simply couldn't start to argue for another horse on the dirt… She was that dominant."
Before Wildenstein died in a Paris hospital in 2001 at the age of 84, he built a track in All Along's honour at the training course in Lamorlaye.
All Along spent her post-race life as a broodmare at Three Chimneys Farm in Midway, Kentucky, where she had modest success and was laid to rest in the farm's Old Bradley Place cemetery in 2005 after being humanely euthanized at age 26 due to the infirmities of old age.
Yet, in Toronto, they will remember All Along in perpetuity as the fetching young French starlet that stood astride the world in 41 days and helped put the Canadian International on the global map.
---
The author is indebted to many sources in composing this article. The following were particularly valuable:
"All Along is all alone" - By William Leggett, Sports Illustrated, Nov. 21, 1983
"International star All Along Euthanized" - By Glenye Cain, Daily Racing Form, Feb. 25, 2005
As well as a 1983 Canadian Thoroughbred article written by Neil A. Campbell.